30 Low-Carb Cucumber Salads
Here are 30 Low-Carb Cucumber Salads, and when cucumbers are fresh from the garden I never get tired of eating them! And if you're a cucumber fan like I am, I bet there are salads here you'll want to make over and over.
PIN the cucumber salads to try some later!
How do you feel about cucumbers? I'm always kind of shocked when someone tells me they don't like them, but then I realize maybe those cucumber-adverse people have only had grocery store cucumbers. Those overly large waxy creatures are a poor substitute for fresh garden cucumbers, which are loaded with a delicate flavor that I love.
And as soon the weather gets hot I start craving cucumber salads. And it's HOT right now in many places across the U.S., so I'm updating this collection of 30 Low-Carb Cucumbers Salads. Don't you agree that cucumbers are especially great when the weather is really hot, and they'll cool you down no matter how you eat them.
I hope you enjoy trying my favorite cucumber salads all summer long! I've put the salads into categories to make it a bit easier to find the ones yo might like; enjoy!
What kinds of cucumber salads are featured here?
This post has cucumber salads with tomatoes of course. But there are also cucumber salads with fresh herbs, creamy dressing, radishes, fish or seafood, and salads with spicy flavors. Just click or tap any recipe title to see the complete recipe on this site.
Cucumbers in Salads with Tomatoes: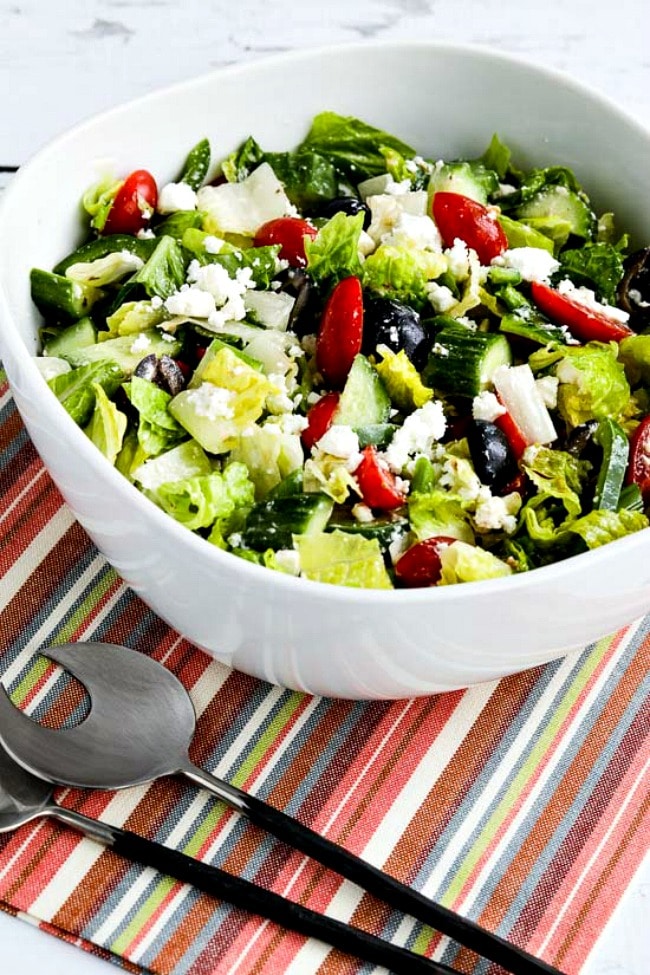 American Greek Salad (with Lettuce) has been one of my favorite salads for many years, and you can make it with more tomatoes and cucumbers and less lettuce if you prefer.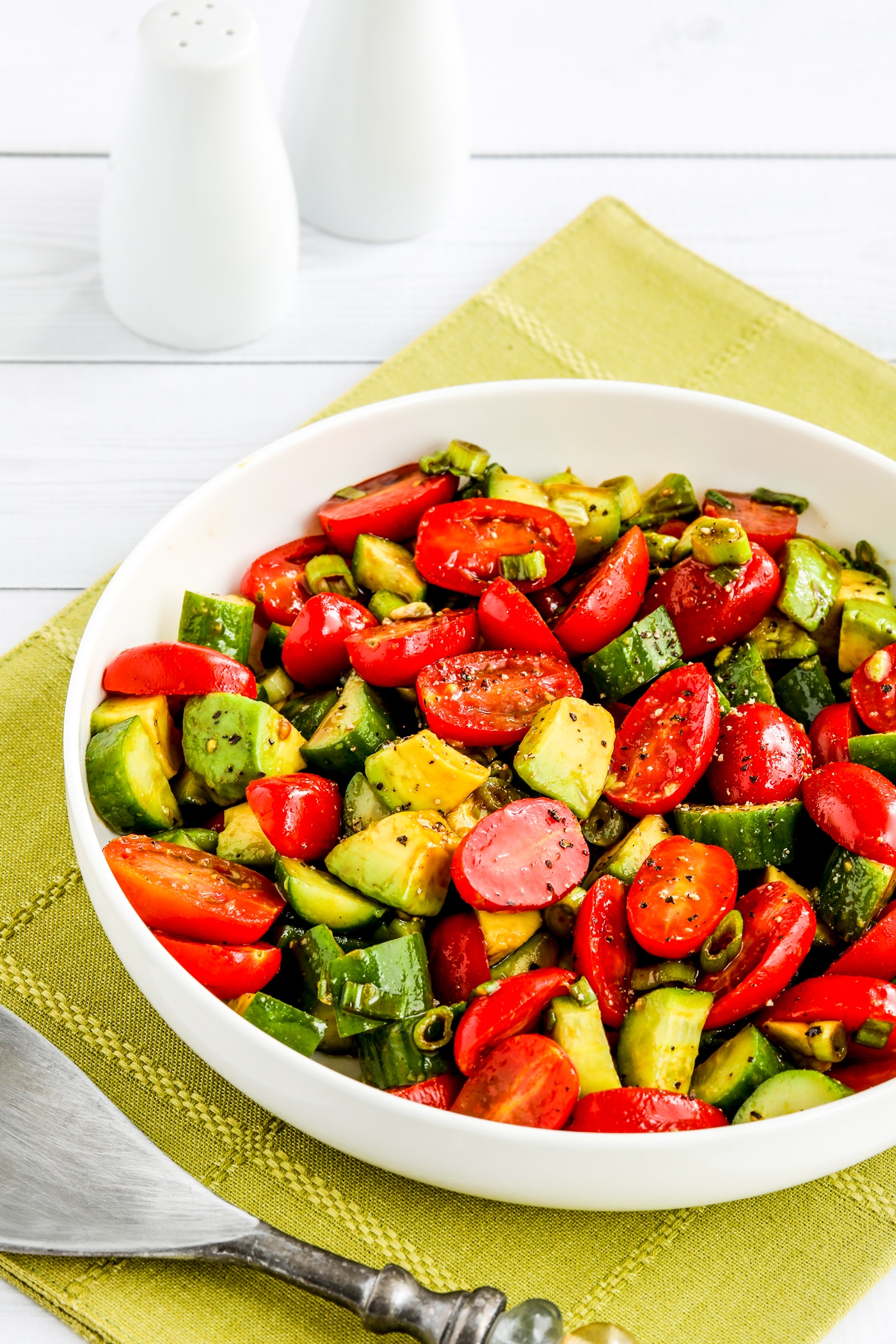 Tomato Cucumber Avocado Salad is a super-easy classic salad that's been popular on the blog every summer for years! And this recipe was sent to me by a reader.
More Salads with Tomatoes and Cucumbers:
Cucumbers in Salads with Fresh Herbs: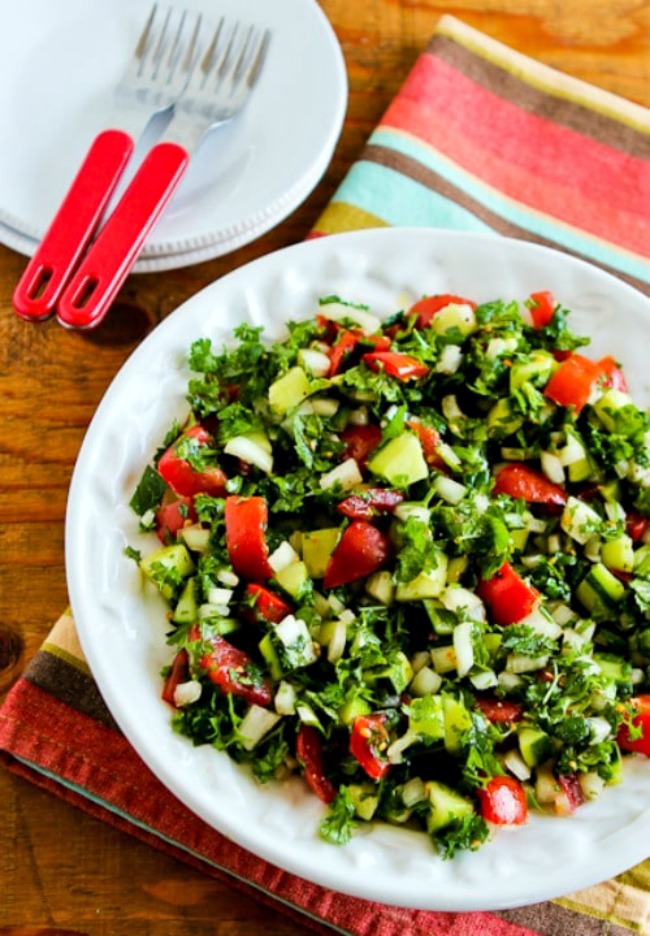 Middle Eastern Tomato Salad is a classic combination of cucumbers, tomatoes, onions, parsley, and mint, and I've been enjoying this for years!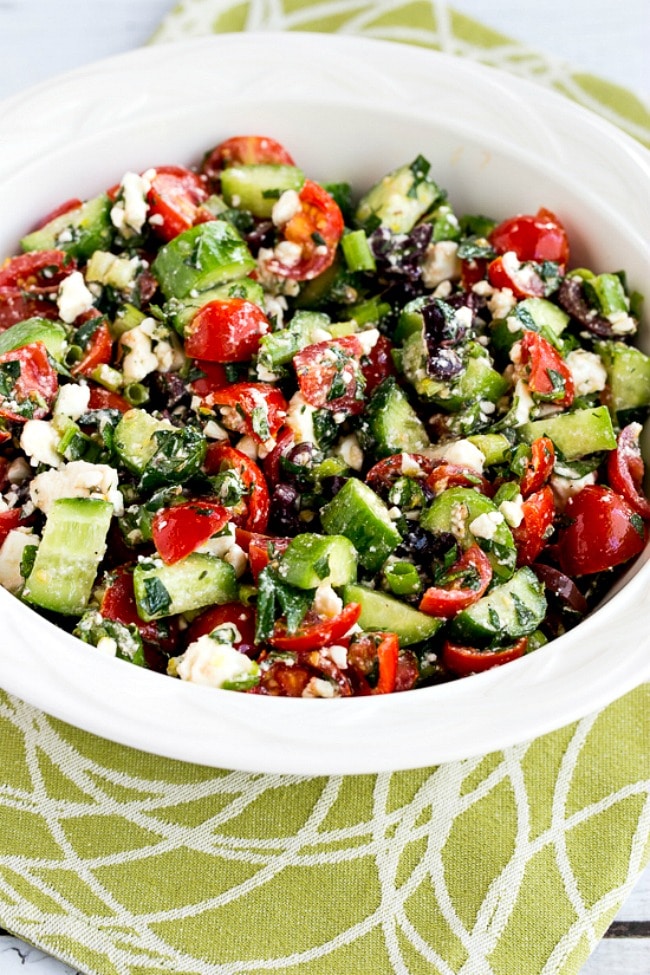 Tomato Cucumber Salad with Mint and Feta is a classic I make all summer long. I never get tired of this one!
More Salads with Cucumbers and Fresh Herbs:
Cucumbers in Salads with Creamy Dressing:
It doesn't get any easier than this Cucumbers Caesar, and this is always a hit!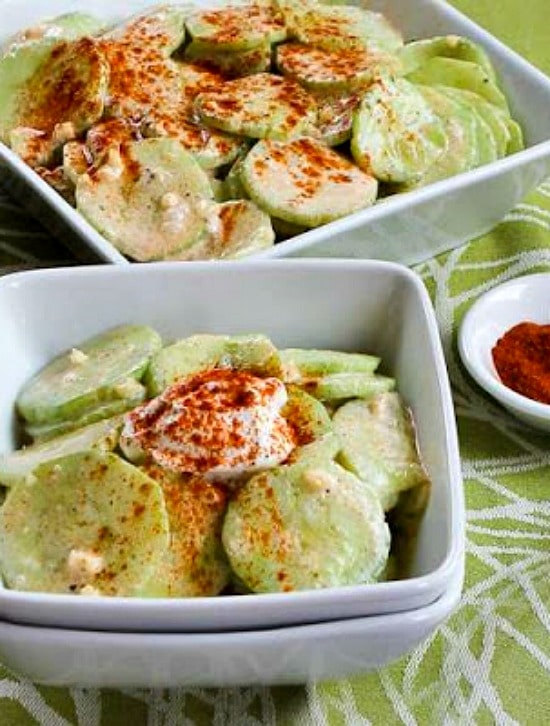 When I got the recipe for Al's Famous Hungarian Cucumber Salad (from my friend Al Church), it rocked my world. If you like cucumbers, this salad is not to be missed!
More Salads with Cucumbers and Creamy Dressing
Cucumbers in Salads with Radishes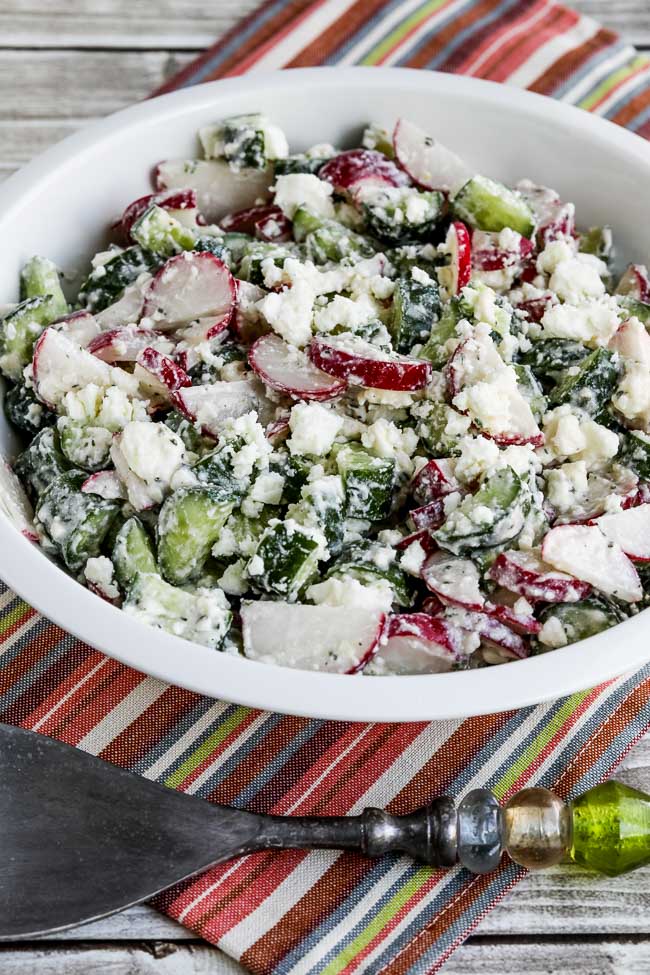 I also love this Cucumber and Radish Salad with Feta Dressing. It's the Feta dressing that makes this a wow!
This Tomato, Cucumber, and Radish Salad is my attempt at re-creating a salad I enjoyed in Chicago with my blogging friend Lydia.
More Cucumbers in Salads with Radishes:
Cucumbers in Salads with Fish or Seafood: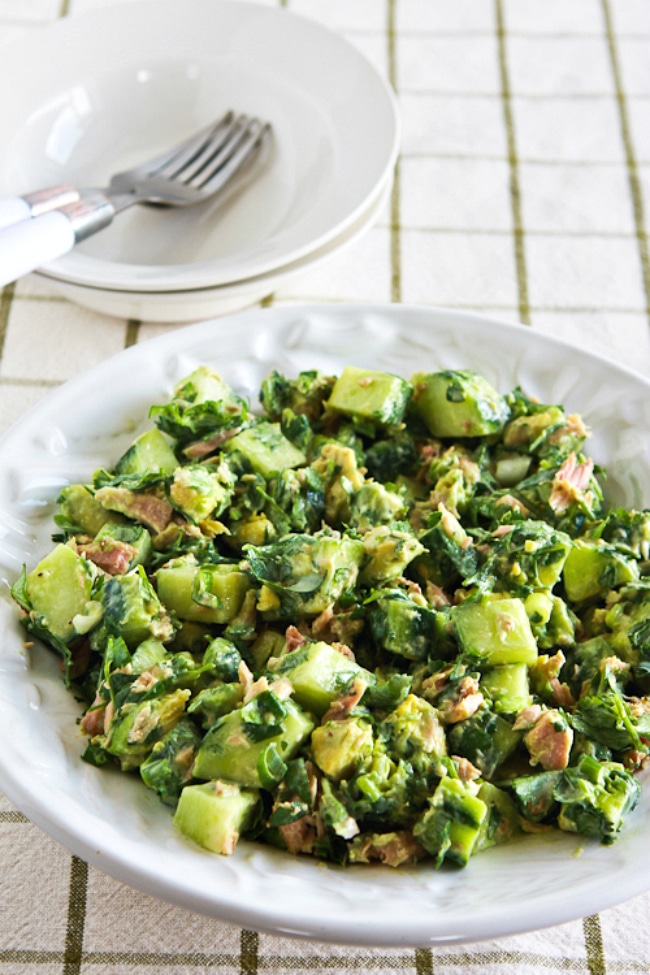 It's unusual, but this Cucumber Avocado Salad with Tuna is a combination that really works!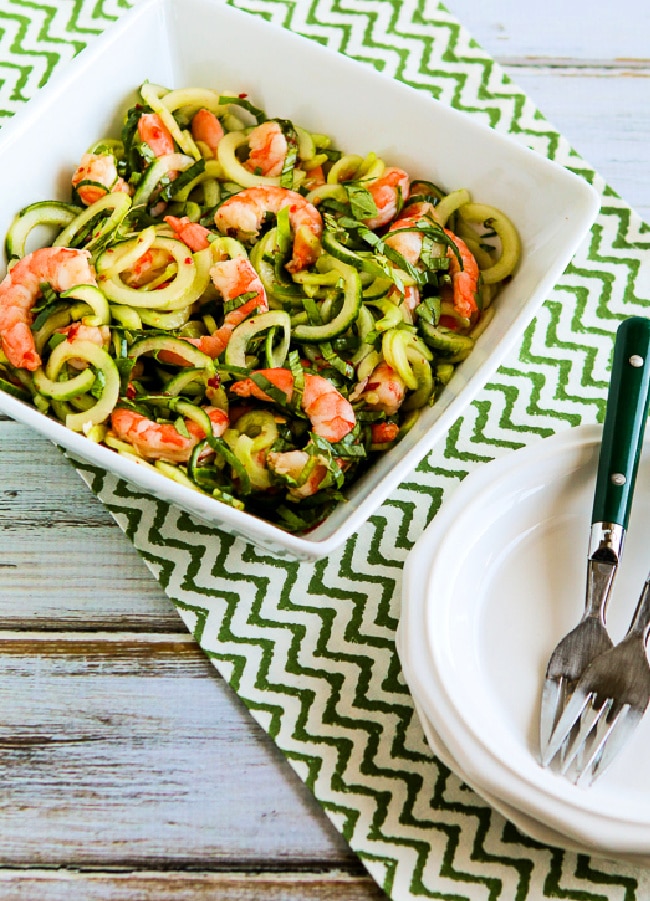 This tasty Cucumber Noodle Salad with Shrimp has a tasty dressing with Thai flavors, and we used the Spiralizer to make the cucumber noodles.
More Salads with Cucumbers and Fish or Seafood
Cucumbers in Salads with Spicy Flavors:
This tasty Thai Cucumber Salad is a recipe I make every summer, and I love the way the flavors in this salad really wake up your tastebuds!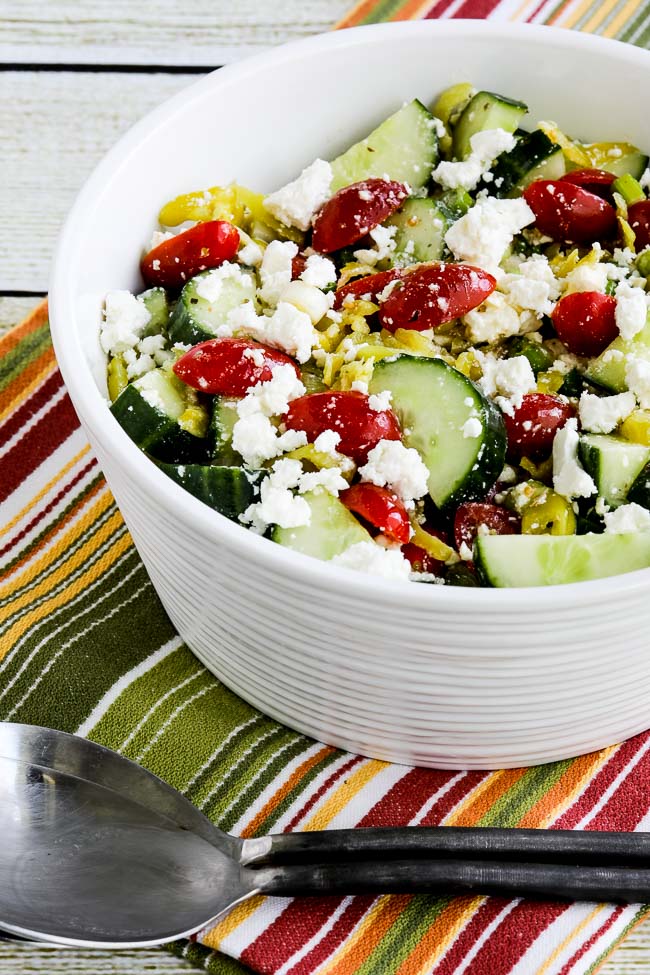 Everyone who loves Feta and spicy Greek Peperoncini with love this Tomato-Cucumber Salad with Peperoncini!
More Cucumbers in Salads with Spicy Flavors:
Want even more cucumber recipes?
Use cucumber recipes to see all the recipes with cucumbers on this site. And you can use Recipe Round-Ups to see more low-carb round-ups like this one.
We are a participant in the Amazon Services LLC Associates Program, an affiliate advertising program designed to provide a means for us to earn fees by linking to Amazon.com and affiliated sites. As an Amazon Associate, I earn from qualifying purchases.