Cheesy Crustless Quiche Lorraine (Video)
Cheesy Crustless Quiche Lorraine is my low-carb and Keto version of this classic French quiche that's also gluten-free. And this crustless Quiche Lorraine recipe uses ingredients you might keep in the house!
PIN Crustless Quiche Lorraine to try it later!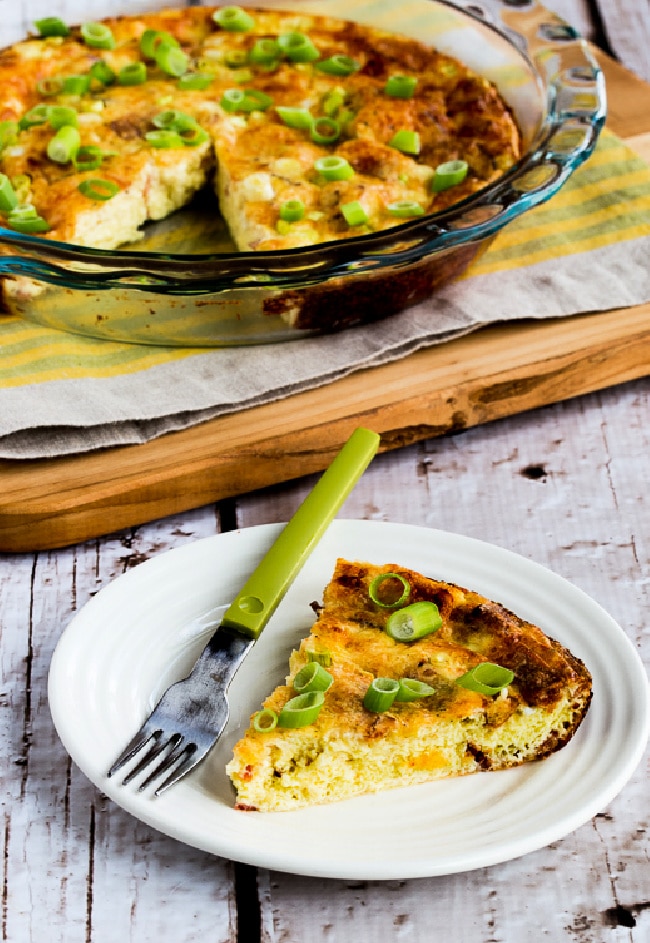 Cheesy Crustless Quiche Lorraine is my Friday's Favorites pick for this week, and this is a recipe I think would be perfect for a special breakfast. I learned to love Quiche Lorraine when I worked part-time during college at a charming (and long-gone) Salt Lake City French restaurant called Le Parisien.
You may have had this traditional french quiche that has a flaky pastry crust filled with custard that contains bacon, onions, and cheese. My crustless Quiche Lorraine is a low-carb version that's just as delicious.
And in case anyone is wondering how this differs from one of my usual low-carb breakfast casseroles other than the obvious use of a round pie dish, it's the step of mixing half and half into the eggs for more of a custard consistency. And of course a lot of the good flavor in this comes from bacon, and using grated Swiss cheese, Mozzarella, and Parmesan for lots of rich flavors in the dish.
What ingredients do you need for this recipe?
bacon
green onions
grated Swiss cheese
grated Mozzarella cheese
coarsely grated Parmesan cheese
fresh ground black pepper to taste
Spike Seasoning (affiliate link) or use another seasoning blend
cayenne pepper (affiliate link), optional
eggs
half and half
Can you make crustless Quiche Lorraine lower in fat?
The use of half-and-half, bacon, and three types of cheese make crustless Quiche Lorraine a delicious dish. But if you're not up for that much fat you can definitely make a delicious version using milk, lower-fat cheese, and/or turkey bacon if you prefer.
Why is it called Quiche Lorraine?
The word quiche comes from the German word for cake, and Lorraine is the name of a region in France where this dish originated.
Does Quiche Lorraine always contain cheese?
You may be surprised to hear that originally Quiche Lorraine was made with just eggs, cream, and bacon but some years ago people started adding cheese. Now you can see lots of recipes for cheesy Quiche Lorraine like this one.
Want more crustless quiche recipes?
I'm a huge fan of crustless quiche, and you can find lots more tasty options in my collection of Low-Carb and Keto Crustless Quiche Recipes from blogs around the web!
Weekend Food Prep:
This recipe has been added to a category called Weekend Food Prep where you'll find recipes you can prep or cook on the weekend and eat during the week!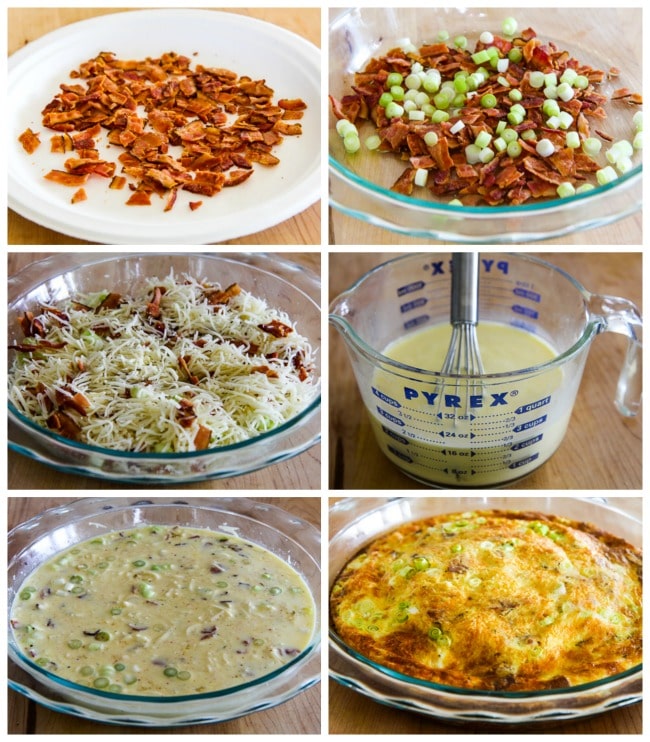 How to make Cheesy Crustless Quiche Lorraine:
(Scroll down for complete printable recipe with nutritional information.)
I used pre-cooked bacon that has a lot of the fat already cooked out and then cooked it in the microwave and blotted off more fat before I crumbled it.
Put the crumbled bacon and sliced green onions into a 9-10″ glass pie dish and top with the cheeses.
Sprinkle with Spike Seasoning (affiliate link) or another seasoning blend that's good with eggs, black pepper, anda little cayenne pepper (affiliate link).
Beat the eggs, then whisk in the half and half. (Use 6 eggs for a thinner richer quiche, or use 8 eggs for a thicker quiche.)
Pour egg mixture over the other ingredients and gently stir.
Bake in a pre-heated 350F/180C oven for 45-50 minutes. It will puff up while it cools, but it settles down as it cools a bit.
Serve hot and enjoy, garnished with some diagonally sliced green onion if you'd like!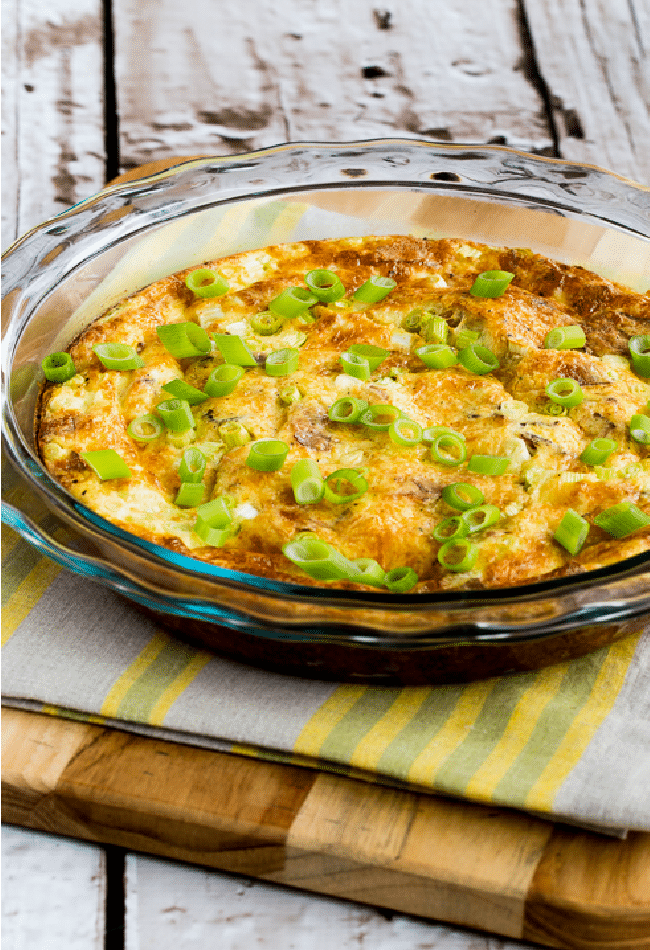 More Eggs for a Breakfast Treat:
Yield: 6 servings
Cheesy Crustless Quiche Lorraine
Prep Time 15 minutes
Cook Time 45 minutes
Total Time 1 hour
Cheesy Crustless Quiche Lorraine is my version of this classic French quiche that's low-carb, Keto, and gluten-free.
Ingredients
8 slices bacon (see notes)
1/2 cup sliced green onions (white part preferred)
1 1/2 cups grated Swiss cheese
1/2 cup grated Mozzarella cheese
1/4 cup coarsely grated Parmesan cheese
fresh ground black pepper to taste
1/4 tsp. Spike Seasoning, see notes (or use another seasoning blend that's good with eggs)
1/8 tsp. Cayenne Pepper, optional (see notes)
8 eggs (see notes
3/4 cup half and half (see notes)
2 T diagonally sliced green onion for garnish (green part preferred)
Instructions
Preheat oven to 350F/180C. Spray a 9-10 inch pie dish with nonstick spray.
Cook bacon using your preferred method until it's very crisp; then blot away as much fat as you can and crumble the bacon. (I used Costco pre-cooked bacon which I cooked in the microwave for 1 minute and then blotted the fat.)
Slice green onions and grate cheese if you need to.
In the pie dish layer the bacon, green onions, Swiss cheese, Mozzarella cheese, and Parmesan cheese. Season with ground pepper, Spike Seasoning, and Cayenne Pepper.
Beat the eggs until yolks and whites are completely combined, then whisk in the half and half.
Pour the egg mixture over the other ingredients; then use a fork to gently stir so all ingredients are combined.
Bake 45 minutes or until the center is firm and the top is browned to your liking. The quiche will puff up as it cooks, but when it cools slightly it will sink down into the dense custardy consistency you see in these photos.
Serve warm, garnished with green onions if desired.
This will keep in the refrigerator for several days and can be reheated in the microwave.
Notes
I originally made this with six eggs for a thinner richer quiche with a more custardy texture, but now I'd prefer to use eight eggs. You could use turkey bacon or chopped Canadian bacon for this recipe if you're wanting lower fat. Use heavy cream or milk instead of half and half if you prefer.
Spike Seasoning (affiliate link) is one of my favorite seasonings for eggs, but any blend that's good with eggs will work. I love a touch of Cayenne Pepper (affiliate link) in this, but it's definitely optional.
This recipe created by Kalyn and Kara and inspired by Crustless Three-Cheese Tomato Basil Quiche and memories of working at Le Parisien Restaurant.
Nutrition Information:
Yield:
6
Serving Size:
1
Amount Per Serving:
Calories: 357
Total Fat: 26g
Saturated Fat: 13g
Unsaturated Fat: 11g
Cholesterol: 310mg
Sodium: 589mg
Carbohydrates: 5g
Fiber: 0g
Sugar: 2g
Protein: 25g
Nutrition information is automatically calculated by the Recipe Plug-In I am using. I am not a nutritionist and cannot guarantee 100% accuracy, since many variables affect those calculations.
Low-Carb Diet / Low-Glycemic Diet / South Beach Diet Suggestions:
This Cheesy Crustless Quiche Lorraine would be great for low-carb or Keto diet plans. If you're faithfully following the South Beach Diet, you'd need to use turkey bacon, low-fat cheese, and milk to make this approved for Phase One, and even then it might be best as an occasional treat for South Beach.
Find More Recipes Like This One:
Use Breakfast Dishes to find more recipes like this one. Use the Diet Type Index to find more recipes suitable for a specific eating plan. You might also like to follow Kalyn's Kitchen on Pinterest or on Facebook to see all the good recipes I'm sharing there.
We are a participant in the Amazon Services LLC Associates Program, an affiliate advertising program designed to provide a means for us to earn fees by linking to Amazon.com and affiliated sites. As an Amazon Associate, I earn from qualifying purchases.