Butternut Squash Kale Soup
Butternut Squash Kale Soup uses favorite Autumn ingredients, and this tasty vegetarian soup has gluten-free and lower-carb options.
Pin Butternut Squash Kale Soup to try it later!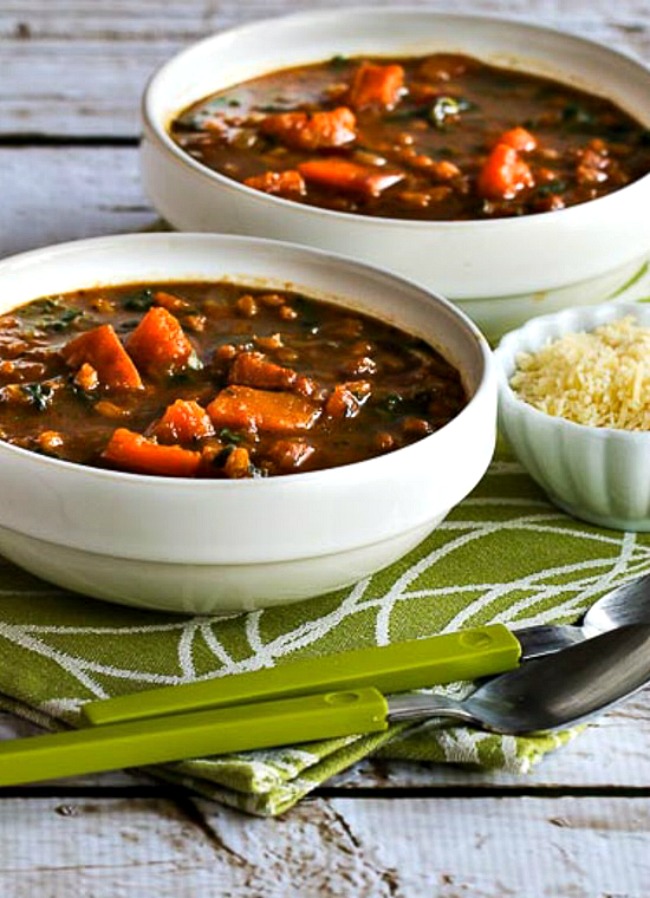 Sometimes a recipe comes together out of whatever's on hand and then then turns out to be some of my favorites, and this Butternut Squash Kale Soup is one I came up with when I had butternut squash and kale in the fridge. And I ended up loving this flavorful soup with two of my favorite Autumn ingredients!
The bonus ingredient in this soup is the Farro I'd been craving ever since I first tried it in Farro with Mushrooms. The butternut, kale, and farro combination here was wonderful, but I know that Farro isn't gluten-free or low in carbs, so keep reading for other options if that isn't going to work for you.
What ingredients do you need for this recipe?
Farro
onion
Olive Oil (affiliate link)
Dried Thyme (affiliate link)
Dried Sage (affiliate link)
vegetable broth
butternut squash
kale
salt and black pepper
Balsamic Vinegar (affiliate link)
Parmesan for serving (optional, dairy-free without the Parmesan)
Do you hate cutting up butternut squash?
I wrote a post about How to Peel and Cut Up a Butternut Squash and I think for Roasted Butternut Squash it's definitely better when you cut it up yourself. But to use in soup, those packages of pre-cut butternut squash that show up at Costco this time of year are great!
Want Butternut Squash Kale Soup that's gluten-free or lower-carb?
You can easily make a gluten-free version of this soup by switching out the Farro for brown rice; I would use Ben's Brown Rice (affiliate link). Butternut squash has some carbs, so this can't ever be a super low-carb recipe. But you can make a tasty lower-carb version by using more kale and less butternut squash and switching out the Farro for cauliflower rice or Palmini Rice (affiliate link).
Who else LOVES Butternut Squash?
I'm a huge butternut squash fan from way back in childhood, which is why my carb-conscious recipe blog has so many butternut squash recipes, and when it's fall I just have to have it a few times every year. You can use My Favorite Winter Squash Recipes or My Favorite Roasted Butternut Squash Recipes to see more of my butternut squash faves!
How to Make Butternut Squash Kale Soup:
(Scroll down for complete recipe with nutritional information.)
If you're using farro, start by soaking it for at least 15 minutes.
If you don't want to Peel and Cut Up a Butternut Squash, I think pre-cut squash cubes are great for soup.
Cut the squash into pieces not more than 3/4 inch across.
Saute the diced onion with the thyme and sage in the soup pot.
Add the stock to the onions and herbs and bring to a low simmer; then add the farro and simmer 10 minutes. (You can skip this extra ten minutes if you're using brown rice; cauliflower rice will be added towards the end of the cooking time.)
Add the squash cubes and simmer about 30 minutes.
Mash the squash a bit so some pieces will thicken the soup, then add the kale (and cauliflower rice if you're using that) and simmer 20-30 minutes more.
Stir in a little balsamic vinegar if desired, and serve hot.
This is good with a little Parmesan cheese sprinkled on at the table.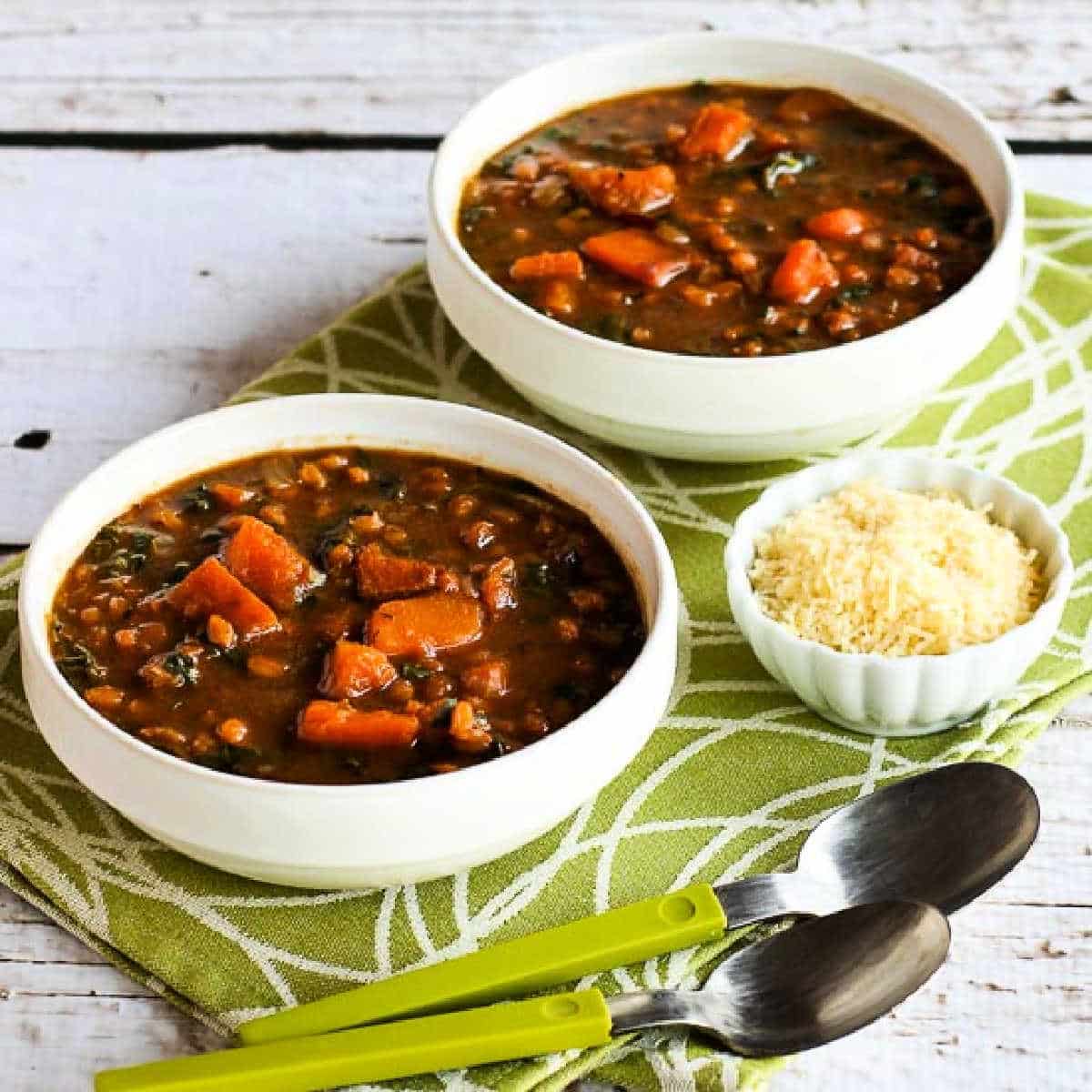 More Delicious Soups with Butternut Squash:
Weekend Food Prep:
This recipe has been added to a category called Weekend Food Prep to help you find recipes you can prep or cook on the weekend and eat during the week! And this recipe would be perfect to make on the weekend and enjoy for a meatless lunch or dinner.
Yield: 8 servings
Butternut Squash Kale Soup
Prep Time 45 minutes
Cook Time 1 hour
Total Time 1 hour 45 minutes
This delicious Butternut Squash Kale Soup has some of my favorite fall and winter ingredients.
Ingredients
1 cup Farro (see notes)
1 onion, finely chopped
2 tsp. olive oil
1 tsp. dried thyme
1/2 tsp. dried sage (rubbed sage)
6 cups vegetable broth
6 cups diced butternut squash
4 cups chopped kale
salt and fresh ground black pepper to taste
1-2 T balsamic vinegar (optional)
freshly grated Parmesan for serving (optional, this soup is dairy-free without the Parmesan)
Instructions
Soak Farro in cold water 15-30 minutes. (Rice does not need soaking)
Cut butternut squash into cubes not more than 3/4 inches across.
Chop onion, then heat olive oil in bottom of large soup pot, add onion and saute about 5 minutes.
Add thyme and sage and cook 2-3 minutes more.
Add vegetable stock to the soup pot and bring to a low simmer.
Drain Farro and add to stock, then simmer 10 minutes. (You could skip this initial ten minutes of cooking with brown rice.)
Add butternut squash cubes and simmer about 30 minutes, or until squash is quite soft.
Use a potato masher to mash some of the squash so it dissolves into the soup, leaving other pieces whole.
While soup simmers, wash and chop kale.
Add kale to soup (and cauliflower rice if you are using that) and simmer about 20-30 minutes more.
I like the greens cooked fairly well in my soup, check sooner if you prefer chewier greens.
Season to taste with salt and fresh ground black pepper.
If desired, stir in a tablespoon or two of balsamic vinegar right before you serve the soup.
Serve hot, with freshly-grated Parmesan cheese to add at the table if desired.
Notes
Use one cup of brown rice for gluten-free option or 2 cups frozen cauliflower rice for low-carb option. If you don't care if it is vegetarian, this would be great made with homemade chicken stock.
Nutritional information is for the version made with Farro and doesn't include optional ingredients.
Recipe created by Kalyn.
Nutrition Information:
Yield:
8
Serving Size:
1
Amount Per Serving:
Calories: 148
Total Fat: 2g
Saturated Fat: .3g
Trans Fat: 0g
Unsaturated Fat: 1.4g
Cholesterol: 0mg
Sodium: 595mg
Carbohydrates: 32g
Fiber: 8g
Sugar: 6.3g
Protein: 5g
Nutrition information is automatically calculated by the Recipe Plug-In I am using. I am not a nutritionist and cannot guarantee 100% accuracy, since many variables affect those calculations.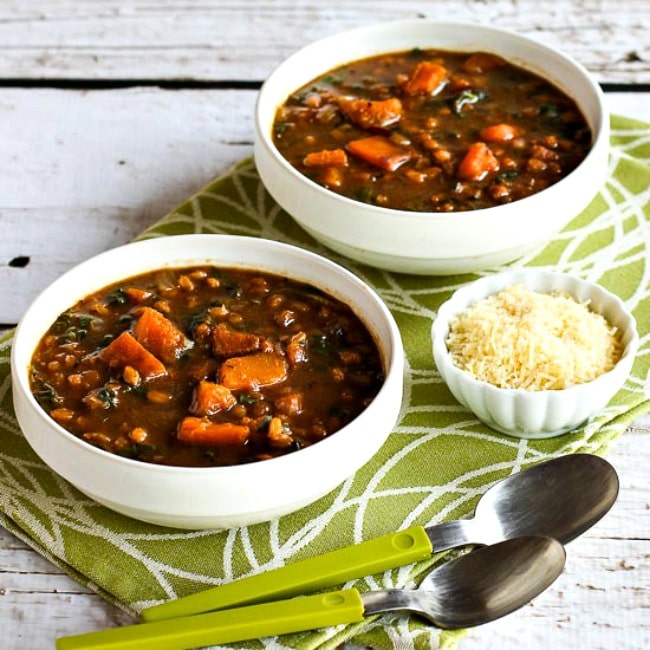 Low-Carb Diet / Low-Glycemic Diet / South Beach Diet Suggestions:
The use of butternut squash and farro would make this Butternut Squash Kale Soup phase two or three for the original South Beach Diet. You could make a lower carb soup by making this with Cauliflower Rice or another type of low-carb rice product, but soup with butternut squash will never be super low in carbs. Use brown rice to replace the Farro if you want the soup to be gluten-free.
Find More Recipes Like This One:
Check out Soup Recipes for more tasty and healthy soups! Use the Diet Type Index to find recipes suitable for a specific eating plan. You might also like to follow Kalyn's Kitchen on Pinterest, on Facebook, on Instagram, on TikTok, or on YouTube to see all the good recipes I'm sharing there.
Historical Notes for this Recipe:
This soup recipe with butternut squash, kale, and farro was first posted in 2008. The photos were updated in 2014 and the recipe was last updated with more information in 2023.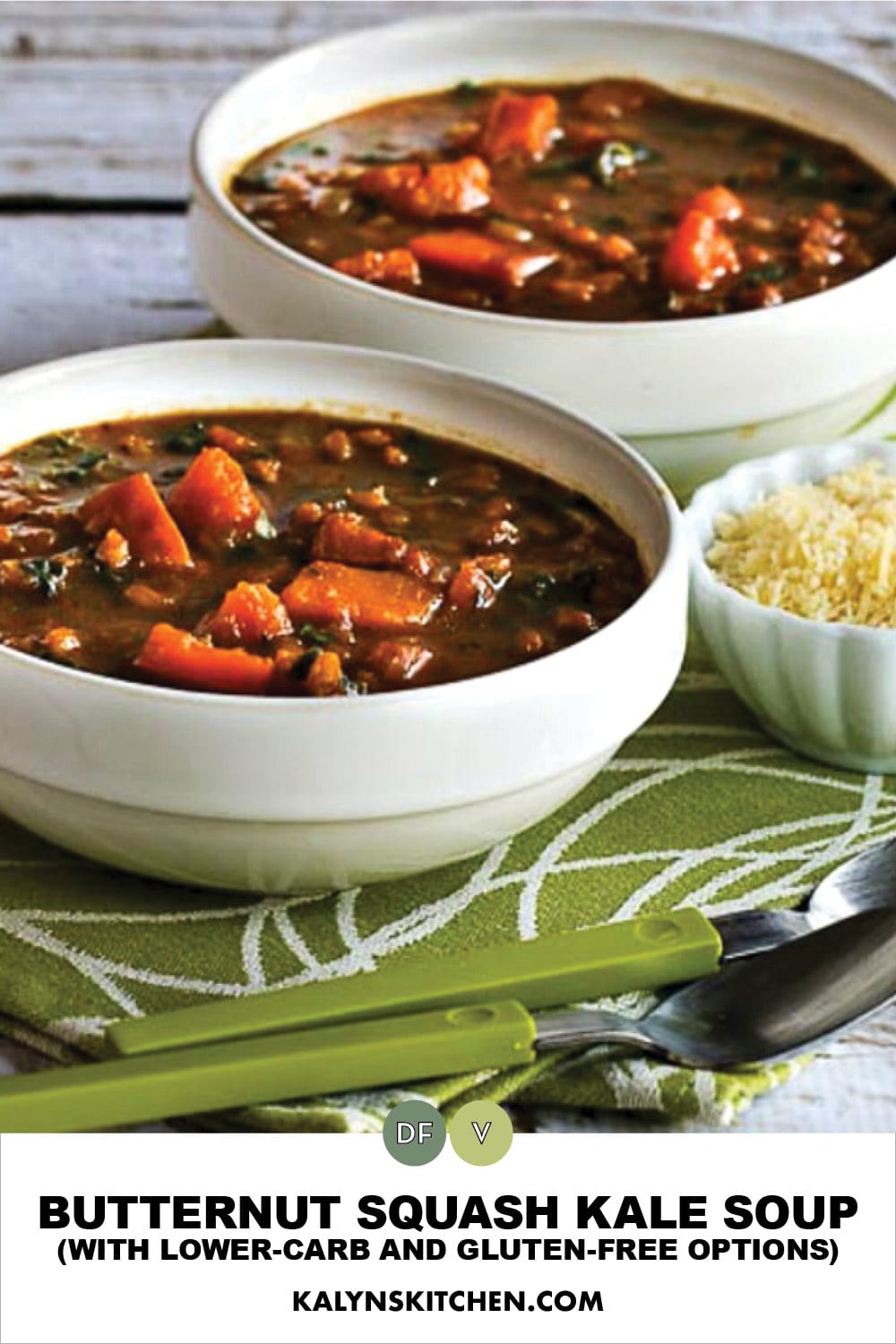 We are a participant in the Amazon Services LLC Associates Program, an affiliate advertising program designed to provide a means for us to earn fees by linking to Amazon.com and affiliated sites. As an Amazon Associate, I earn from qualifying purchases.