Sausage and Lentils with Fried Sage
Sausage and Lentils with Fried Sage is a meal I'd always find comforting and frying the sage really adds flavor here! And this recipe has a lot of sausage and not too many lentils, so a moderate sized serving only has ten net carbs!
PIN Sausage and Lentils with Fried Sage to try it later.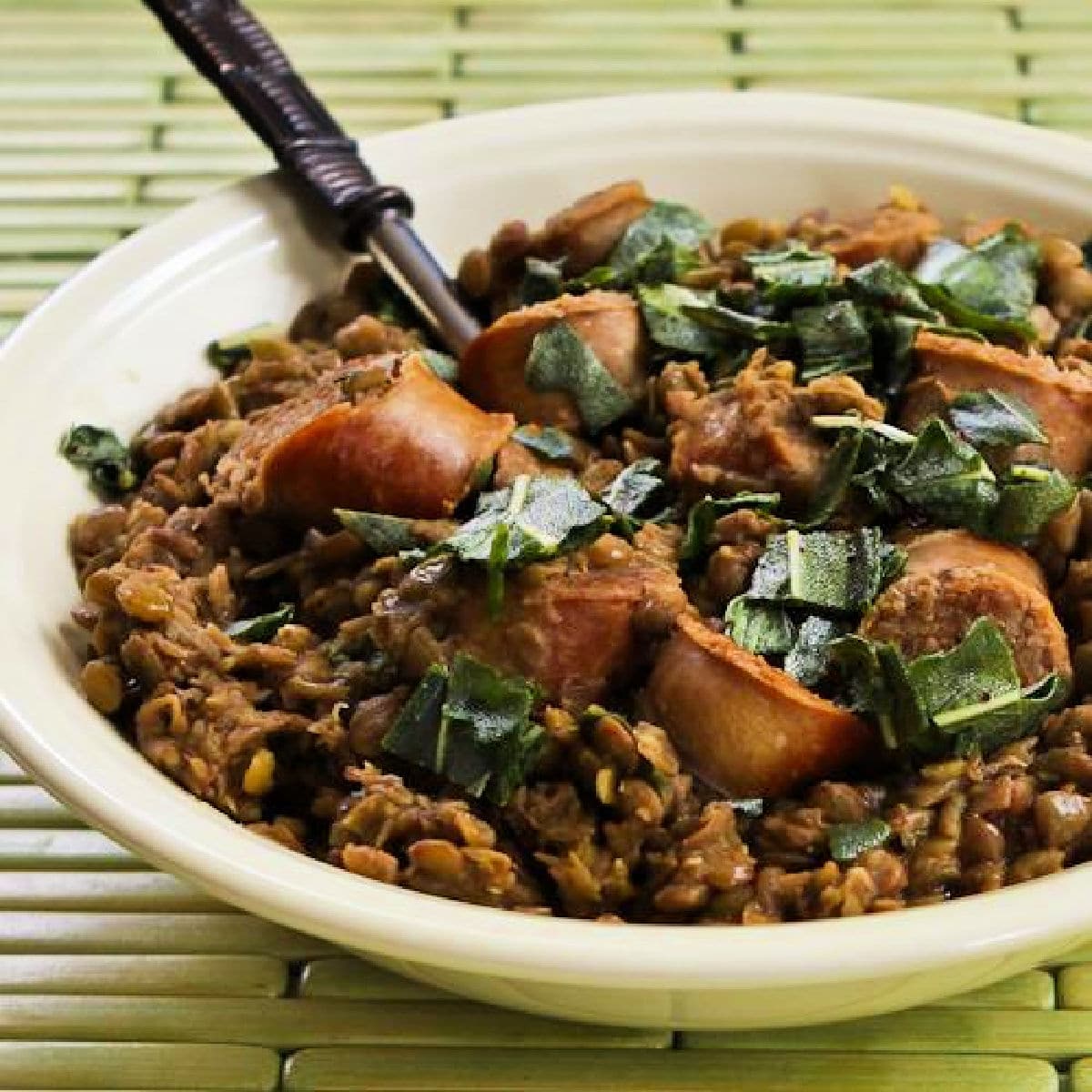 My love for lentils is pretty obvious on this site, and this recipe for Sausage and Lentils with Fried Sage is definitely something I'd enjoy eating any time of year. And this year I have sage growing in my windowsill over the winter, score!
The sausage and lentils recipe was inspired by one I spotted in The Silver Spoon (affiliate link), a classic Italian cookbook that I think every serious cook should own. The addition of fried sage was my idea after seeing it on restaurant menus, and the fried sage was a wonderful addition to this dish, if I do say so myself.
Sage is something I have growing abundantly for most of the year, and when you fry it the sage flavor intensifies just a bit as the leaves are transformed into crispy morsels of sage-flavored goodness. But if you like Italian Sausage and Lentils but don't have fresh sage, this dish would still be very good without the sage.
What ingredients do you need for this recipe?
(This is only a list of ingredients; please scroll down for complete printable recipe. Or if you use the JUMP TO RECIPE link at the top of the page, it will take you directly to the complete recipe.)
hot turkey Italian Sausage (or use pork sausage)
dried lentils
celery
carrot
onion
Better than Bouillon Roasted Chicken Base (affiliate link), or your favorite brand
Olive Oil (affiliate link)
fresh sage leaves (optional but recommended)
garlic cloves
How to Make Sausage and Lentils with Fried Sage:
(Scroll down for complete recipe with nutritional information.)
I picked a generous amount of sage from my garden, but if you have to buy sage you can use less.
The lentils are simmered with a few vegetables and some Better than Bouillon Roasted Chicken Base (affiliate link) for extra flavor.
Meanwhile, brown the sausages well, until they're nicely browned on all sides. Then let sausages cool enough to handle, slice them, and brown again so the cut sides are also nicely browned. Don't rush the browning, because that creates flavor.
When you're ready to fry the sage, garlic is heated in oil to flavor it (in the same pan), and then the sage is fried for just a minute or two. Check the photo above for how the fried sage looked after it had cooled a bit and been chopped.
Here is where the photo-taking got sidetracked when we got busy and forgot to take a photo of the cooked lentils and sausages mixed together in the pan with half the fried sage. You'll have to use your imagination for that.
Serve the dish with some fried sage sprinkled on top.
Make it a Meal:
This would be delicious with Ottolenghi's Perfect Lettuce Salad on the side for a low-glycemic meal.
More Tasty Recipes with Lentils:
Yield: 6 servings
Sausage and Lentils with Fried Sage
Prep Time 25 minutes
Cook Time 45 minutes
Total Time 1 hour 10 minutes
This classic dish of Sausage and Lentils with Fried Sage is a meal I'd always find comforting.
Ingredients
one 19.5 oz. package hot turkey Italian Sausage
2 cups dried lentils
1 piece celery, cut in 3 inch pieces
1 whole carrot, cut in 3 inch pieces
1 small onion, cut in half
generous T chicken flavor base (optional, see notes)
1 T + 2 T olive oil (or more, depending on your pan)
30 fresh sage leaves (more or less, depending on what you have)
4 large garlic cloves
Instructions
Put lentils, celery, carrot, onion, and chicken flavor base (if using) in large pot, cover with water and start to simmer.
Let lentils cook until they are quite tender. Cooking time will depend on how fresh the lentils are, but probably about 45 minutes.
While lentils are cooking, brown sausage well in 1 T olive oil in large frying pan.
Let sausages cool enough to handle, and cut in diagonal slices about 1 inch thick.
Put back in pan and brown cut sides of sausage very well. Don't rush the browning step, it may take as long as 20 minutes.
When lentils are tender, drain well and remove carrot, celery and onion and discard.
Put 2 T olive oil in frying pan that sausages were browned in, add garlic and saute until barely starting to color (don't let it get very brown or it will be bitter). Remove garlic and discard.
Add sage leaves to hot oil and cook just until crisp, not more than a minute or two.
Remove sage and chop with knife.
Add cooked lentils and sausages with half the sage back to pan, and saute 3-5 minutes in seasoned olive oil.
Remove to serving platter, sprinkle over rest of fried sage and serve hot.
Nutrition Information:
Yield:
6
Serving Size:
1
Amount Per Serving:
Calories: 321
Total Fat: 15g
Saturated Fat: 3g
Trans Fat: 0g
Unsaturated Fat: 10g
Cholesterol: 90mg
Sodium: 657mg
Carbohydrates: 16g
Fiber: 6g
Sugar: 2g
Protein: 30g
Nutrition information is automatically calculated by the Recipe Plug-In I am using. I am not a nutritionist and cannot guarantee 100% accuracy, since many variables affect those calculations.
Low-Carb Diet / Low-Glycemic Diet / South Beach Diet Suggestions:
Lentils are usually high in carbs for a traditional low-carb diet plan, but this recipe has a lot of sausage and not too many lentils so a moderate serving only has ten net carbs. Sausage and Lentils with Fried Sage is suitable for the original South Beach Diet, but it's important to use lower-fat turkey Italian sausage if you're making this for South Beach.
Find More Recipes Like This One:
Use Bowl Meals to find more recipes like this one. Use the Recipes by Diet Type photo index pages to find more recipes suitable for a specific eating plan. You might also like to follow Kalyn's Kitchen on Pinterest, on Facebook, on Instagram, on TikTok, or on YouTube to see all the good recipes I'm sharing there.
Historical Notes for this Recipe:
This sausage and lentils recipe from The Silver Spoon was first posted in 2006. It was last updated with more information in 2023.
We are a participant in the Amazon Services LLC Associates Program, an affiliate advertising program designed to provide a means for us to earn fees by linking to Amazon.com and affiliated sites. As an Amazon Associate, I earn from qualifying purchases.