Healthy Recipes for Leftover Turkey
Here are my favorite Healthy Recipes for Leftover Turkey, and there are some long-time favorites in this collection! And of course any recipe that uses leftover chicken can be made with turkey. Check the links below if you want strictly low-carb options for using leftover turkey!
PIN Healthy Recipes for Leftover Turkey to try some later!
It's Thanksgiving Day and every one who celebrates Thanksgiving has probably been up for a few hours putting the turkey in the oven, right? I'm going to be taking a few days off to enjoy the holiday, but first I wanted to update this collection of Healthy Recipes for Leftover Turkey. If you're lucky enough to have some leftover turkey I hope you find something here that catches your eye for an idea to use it!
I love, love, love Thanksgiving and the way it reminds us to be grateful for the blessings we have in our lives, and I hope all my readers have a wonderful Thanksgiving with plenty of leftover turkey! Now on to the healthy recipes for leftover turkey; enjoy!
Leftover Turkey and Leftover Chicken:
This collection of ideas for leftover turkey includes plenty of recipes that were made with leftover chicken, because any recipe that uses chicken can also be made with turkey, and vice-versa!
Want low-carb recipes for leftover turkey?
The recipes in this round-up are partly comfort food Thanksgiving leftovers, so even though they're healthy recipes, not all of them are super low in carbs. If you want to see my low-carb options for leftover turkey, check out Low-Carb Recipes for Leftover Turkey or Low-Carb and Keto Turkey Soup Recipes!
Leftover Turkey Quesadillas with Green Chiles and Cheese might be the perfect dish for Thanksgiving leftovers if you want something quick and easy! I make these with low-carb tortillas, but use any tortillas you prefer.
An after-Thanksgiving classic is this Leftover Turkey Casserole that has brown rice, mushrooms, and a creamy cheesy sauce, and this recipe is usually a hit with everyone!
A delicious option for leftover turkey that's been wildly popular is this Green Chile and Chicken Mock Enchilada Casserole. This one is actually fairly low in carbs, especially if you can find a Green Chile Enchilada Sauce that's low in carbs.
You can use turkey to make this Low-Carb Green Chile Chicken Enchilada Casserole; this recipe uses low-carb flour tortillas, and it's actually pretty low in carbs for a dish like this.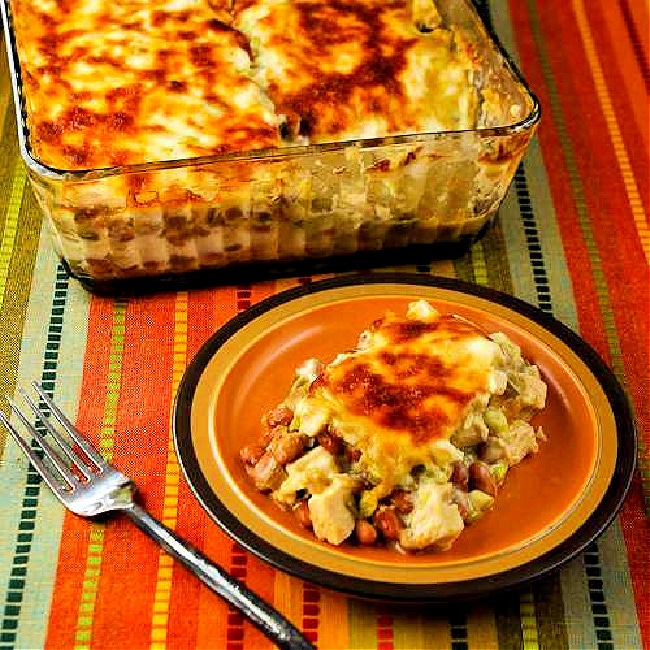 You can't go wrong with using turkey in this Layered Mexican Casserole with Chicken and Pinto Beans. This has been a hit with everyone I've made it for!
A recipe that's a big favorite is this Slow Cooker Turkey Soup with Spinach and Lemon. Try using cauliflower rice instead of orzo if you want a low-carb and gluten-free version.
Slow Cooker Sour Cream Chicken Enchiladas can definitely be made with leftover turkey; I use low-carb tortillas for this but you can make it with any tortillas you'd like.
Turkey Shepherd's Pie with Cauliflower Topping was a delicious way to use turkey leftovers, and it also uses leftover gravy. (Or just buy some gravy like we did so you can make this!) And if you check the nutritional information you may decide this is not too much of a splurge on carbs!
This Coconut-Lime Turkey and Rice Soup is one of the most interesting recipes for turkey soup I've ever tried. You can also switch out the rice for cauliflower rice for a version that's lower in carbs!
Amy's Amazing White Chicken Chili is made with chicken breasts, but you could use white turkey meat to make this amazing chili as well. And that recipe just got updated with Instant Pot directions, so you can cook it on the stovetop or in the pressure cooker!
For cilantro fans, this Turkey and Pinto Bean White Chili will be a hit. (To make with leftover diced turkey, just add the turkey towards the end of the cooking time.)
And last but not least, one thing I'll for sure be making on Friday is these Leftover Turkey Pitas with Fresh Cranberry Salsa.
More Recipe Ideas for Leftover Turkey:
Spicy Whole Wheat Sesame Noodles with Chicken
Turkey, Sweet Potato, and Black Bean Soup
Chicken and Black Bean Salad
Slow Cooker Turkey Soup with Kale and Sweet Potatoes
Instant Pot Turkey Rice Soup with Cabbage
If you've tried one of these or you've got a good idea for using leftover turkey, tell us in the comments!
We are a participant in the Amazon Services LLC Associates Program, an affiliate advertising program designed to provide a means for us to earn fees by linking to Amazon.com and affiliated sites. As an Amazon Associate, I earn from qualifying purchases.