Summer Tomato Salad with Goat Cheese
Summer Tomato Salad with Goat Cheese has loads of flavor from the Basil Vinaigrette and fresh herbs, and this is a salad I've loved for years!
PIN Summer Tomato Salad with Goat Cheese to try it later!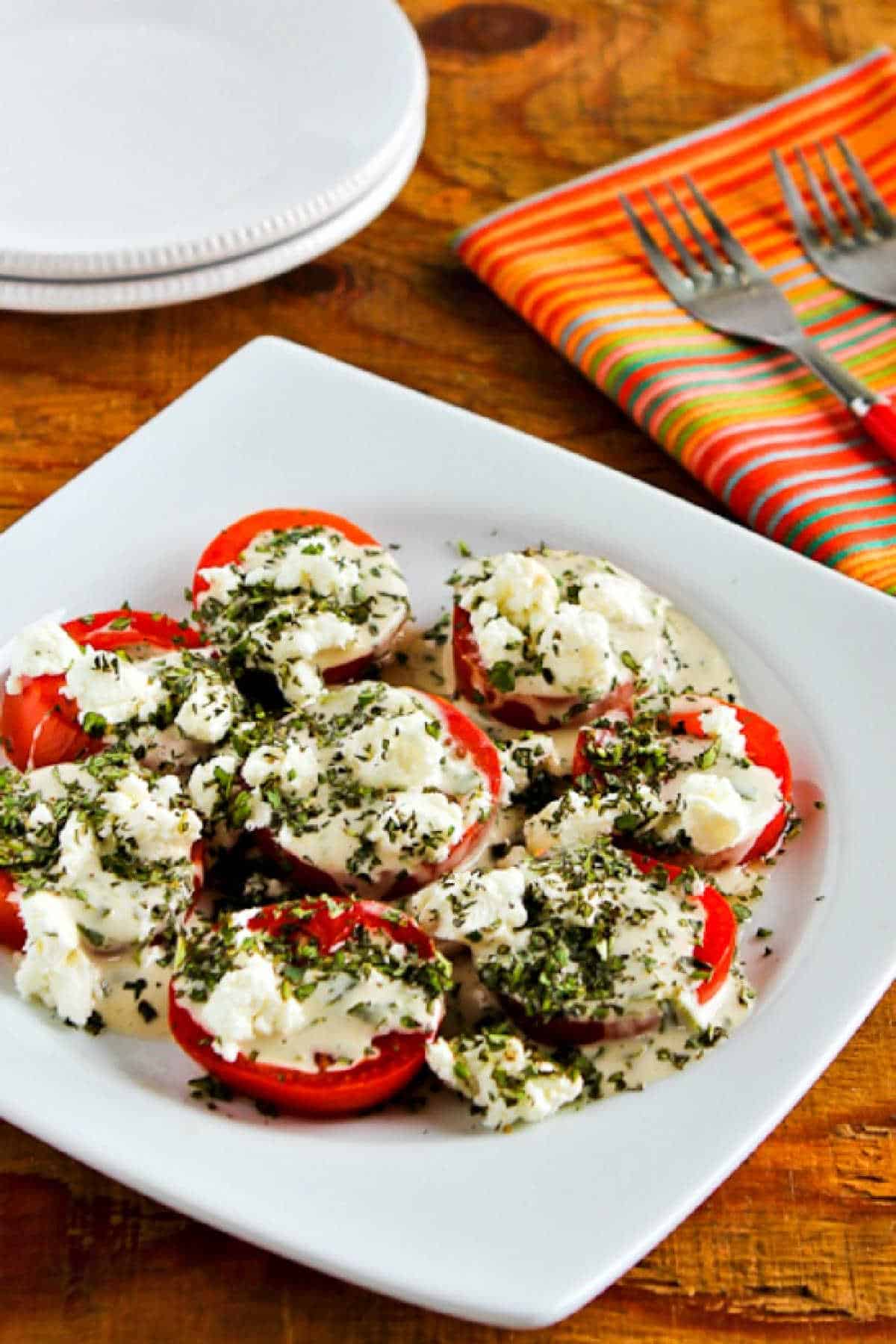 This Summer Tomato Salad with Goat Cheese is something that's been appearing on my table for as many summers as I can remember, and this is my very favorite thing to make with the Basil Vinaigrette I love so much. And it's prime season for garden tomatoes in the northern hemisphere, so I thought it was a good time to remind you about this recipe by featuring it as my Friday Favorites pick.
As long as you have fresh tomatoes and goat cheese, there are several ways I've found to enjoy this salad. Of course I love the salad when I have plenty of fresh chopped basil from the garden to make the basil vinaigrette!
But if you don't have fresh basil, I've even used store-bought basil pesto with vinaigrette dressing to make a dressing, and the salad was still amazing. And of course, fresh basil and fresh herbs sprinkled on top will make the salad even better!
What ingredients do you need for this recipe?
thickly sliced tomatoes
crumbled goat cheese
basil vinaigrette (see options below)
chopped fresh herbs (use basil, Italian oregano, Greek oregano, marjoram, thyme, chives, or other fresh herbs of your choice)
sea salt and fresh ground black pepper if desired
What type of goat cheese did I use?
Since I've been making this salad for years, I've noticed many people think I'm talking about Feta cheese when they hear goat cheese. Certainly Feta would taste good here, but I think the creamy goat's milk cheese that comes in a log is so fabulous with the basil vinaigrette. In the U.S., Montrachet and Chevre are two brands that are widely available. Goat cheese is probably an acquired taste, but I've converted quite a few people to it by making this salad for them, so give it a try if you've never had this type of cheese.
What else could you use for a variation of this Summer Tomato Salad?
I'd love this salad with some sliced olives, capers, or hearts of palm layered on top of the tomatoes. Other cheese such a Gorgonzola, Feta, or fresh Mozzarella could be used in place of the goat cheese.
Want More Summer Tomato Salads?
Check out Favorite Summer Tomato Salads for more amazing salad ideas for summer tomatoes!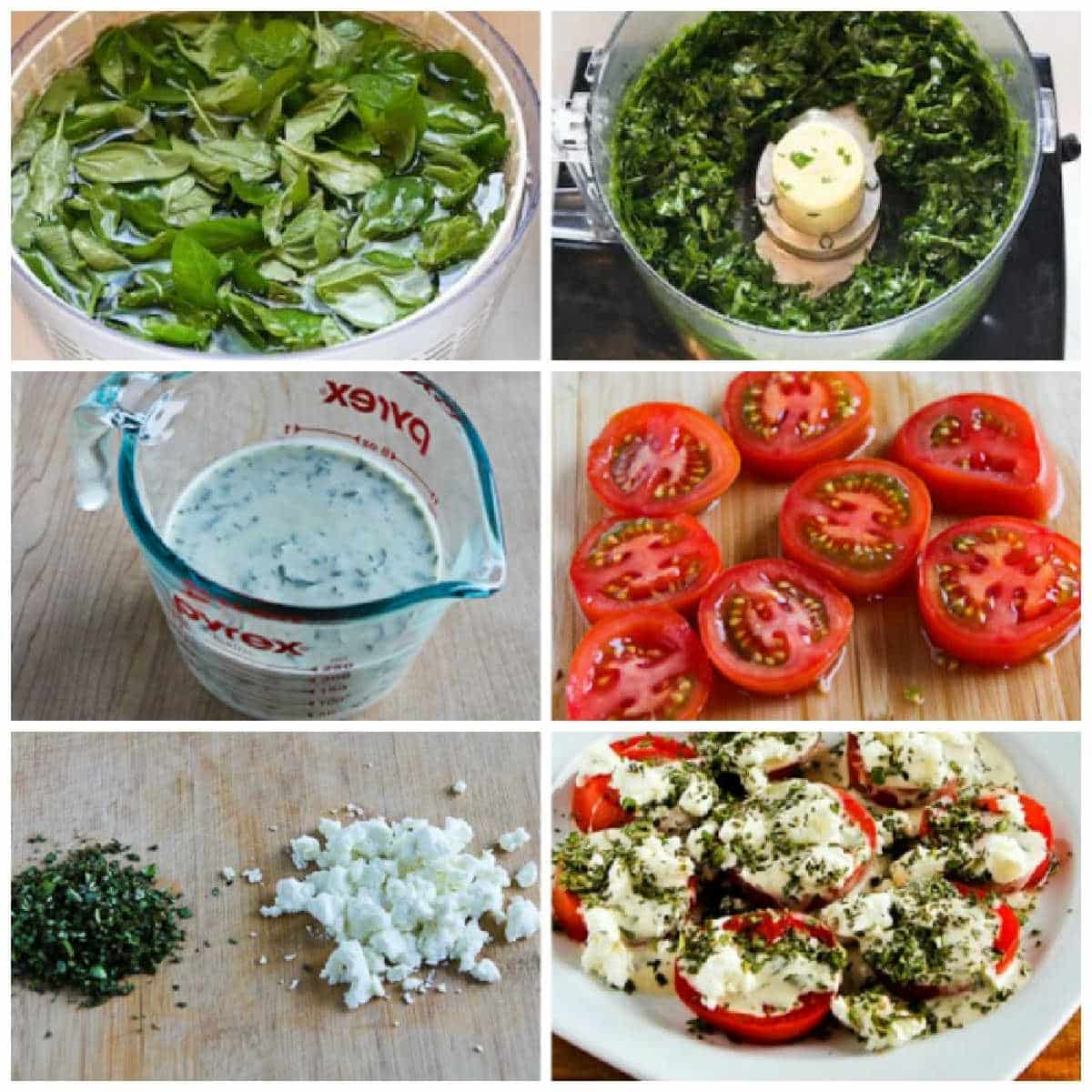 How to make Summer Tomato Salad with Goat Cheese:
(Scroll down for complete printable recipe with nutritional information.)
If you check the recipe there are several ways to make a flavorful basil vinaigrette, but this time had plenty of fresh basil in my garden, so I washed the basil in the salad spinner and chopped it in a food processor. (I like to freeze fresh basil, so I don't mind if there's extra basil.)
I combined fresh chopped basil with Le Parisien Vinaigrette to make the dressing, but use any low-sugar vinaigrette.
Slice or quarter juicy fresh tomatoes. (I've made this salad with every type or color of fresh garden tomato you can imagine, and all were good.)
Finely chop fresh herbs of your choice and crumble goat cheese.
Then arrange the tomatoes on a plate, drizzle the basil vinaigrette over, and sprinkle with the goat cheese and finely chopped herbs.
This amazing summer salad combination could not be easier!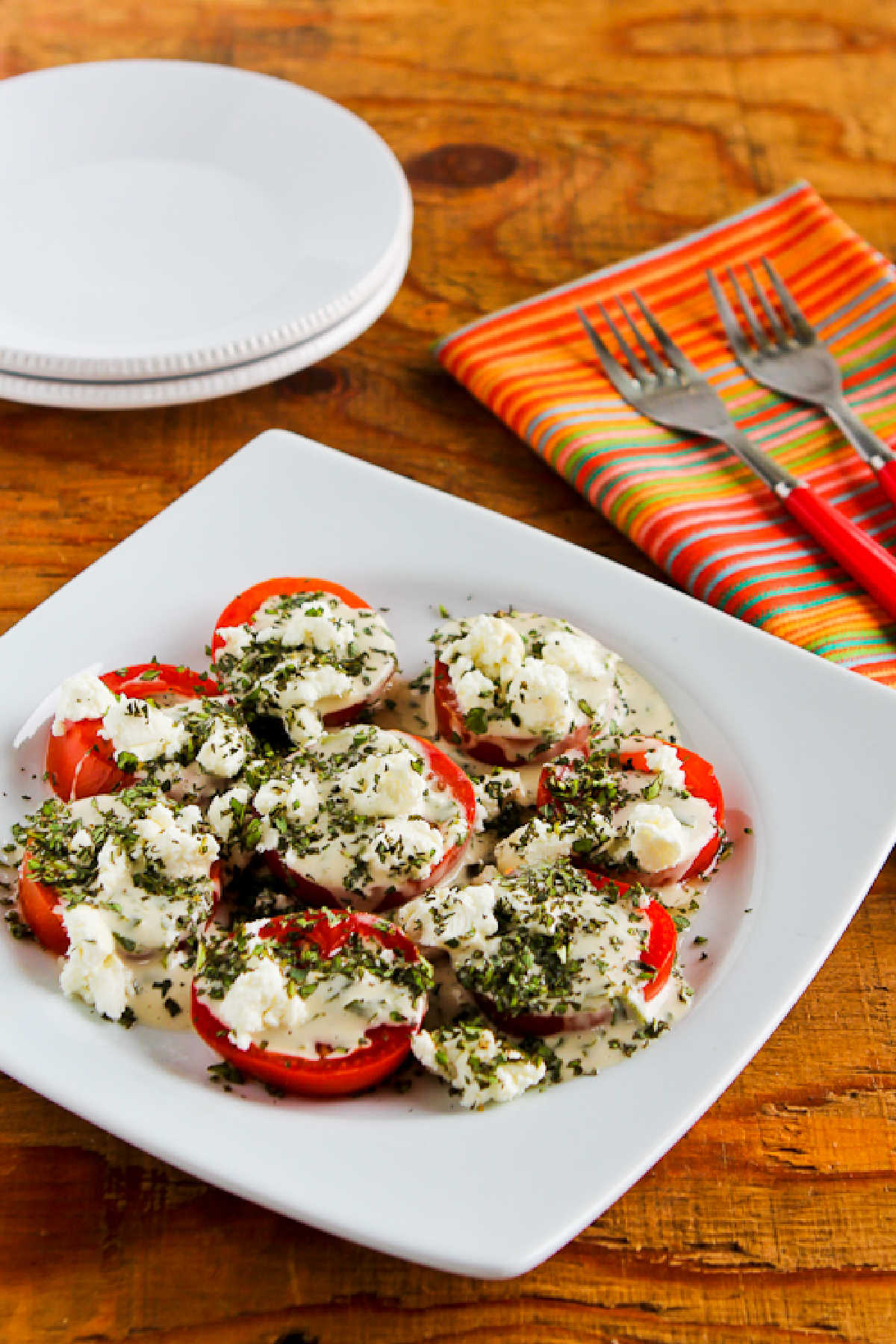 More Ways to Use Basil Vinaigrette:
Grilled Halibut with Basil Vinaigrette
Tomatoes Salad with Hearts of Palm, Olives, and Feta
Asparagus with Basil Vinaigrette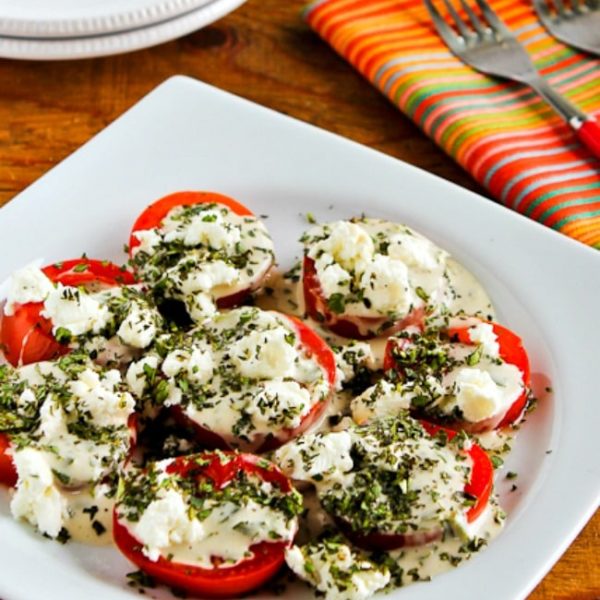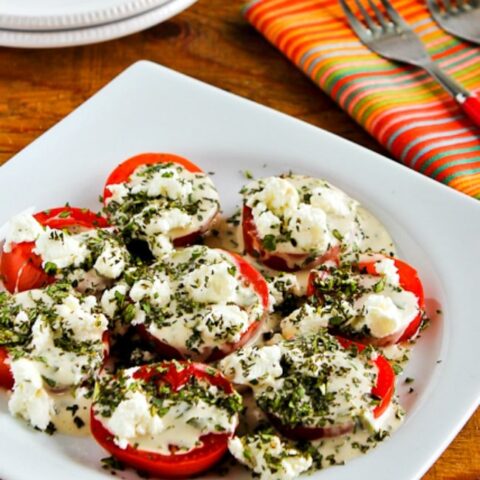 Yield: 2 serving
Summer Tomato Salad with Goat Cheese
Prep Time 20 minutes
Total Time 20 minutes
Nothing says summer like this Summer Tomato Salad with Goat Cheese, and the basil vinaigrette and fresh herbs add so much flavor here!
Ingredients
3 thickly sliced tomatoes
2 T crumbled goat cheese (see notes)
2 T basil vinaigrette (see options below)
2 tsp. chopped fresh herbs (use basil, Italian oregano, Greek oregano, marjoram, thyme, chives, or other fresh herbs of your choice)
sea salt and fresh ground black pepper if desired
Instructions
Basic Salad Directions:
Slice tomatoes in thick slices, half-moon slices, or even large diced pieces if using small tomatoes. Arrange tomatoes on serving dish.
Drizzle tomatoes with basil vinaigrette, then sprinkle goat cheese and chopped herbs over. (Leave the cheese in the refrigerator until you're ready to use it, or it will get too soft and be hard to crumble.)
You can season with sea salt and fresh ground black pepper if desired, but I find this is one of the few ways to serve tomatoes that doesn't really need salt.
Basil Vinaigrette Options; All These Variations are Amazing:
Combine chopped basil and olive oil to make basil puree, then mix pureed basil with your favorite vinaigrette or Italian dressing. (More about Basil Vinaigrette with basil puree here. This is my preferred method for intense basil flavor.)
Combine finely chopped fresh basil and your favorite Vinaigrette or Italian dressing in a jar and shake. If you can do this an hour or so beforehand it will let the flavors blend, but it's not essential.
If you're a gardener who has frozen basil in the freezer, the frozen basil mixed with your favorite vinaigrette or Italian dressing is an easy way to make basil vinaigrette.) If you don't have any fresh or frozen basil, purchased basil pesto mixed with your favorite vinaigrette or Italian dressing will also make a delicious basil vinaigrette.
Notes
Only make this when you have fresh flavorful tomatoes, everything else can be adapted with what you have on hand. I prefer Chevre or Montrachet for the goat cheese, the kind that comes in a log.
This is a summer tomato salad recipe Kalyn has been experimenting with for many years.
Nutrition Information:
Yield:
2
Serving Size:
1
Amount Per Serving:
Calories: 82
Total Fat: 6g
Saturated Fat: 3g
Trans Fat: 0g
Unsaturated Fat: 3g
Cholesterol: 7mg
Sodium: 504mg
Carbohydrates: 4g
Fiber: 1g
Sugar: 2g
Protein: 3g
Nutrition information is automatically calculated by the Recipe Plug-In I am using. I am not a nutritionist and cannot guarantee 100% accuracy, since many variables affect those calculations.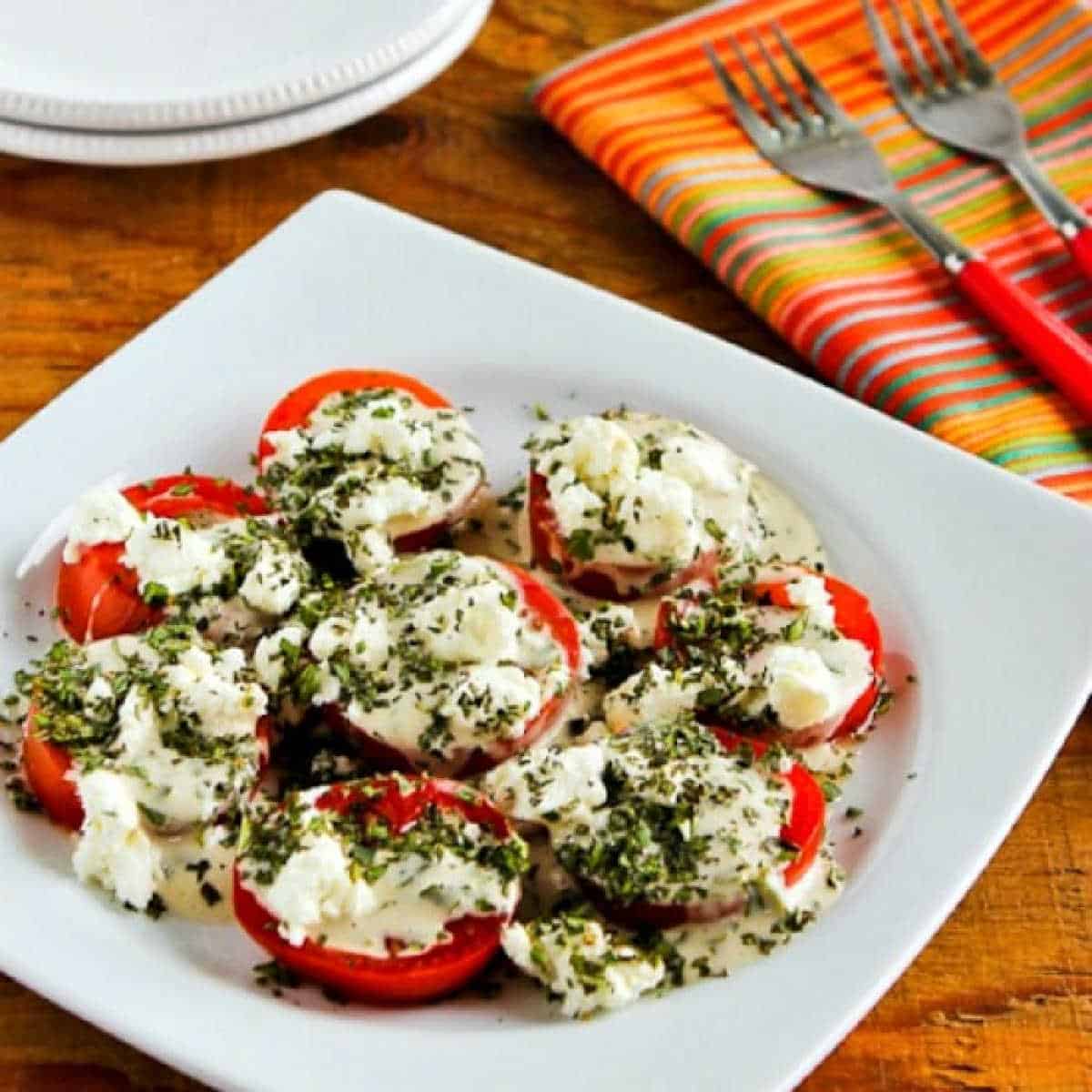 Low-Carb Diet / Low-Glycemic Diet / South Beach Diet Suggestions:
If you're making this Summer Tomato Salad for a low-carb diet, for the original South Beach Diet, or for another Low-Glycemic eating plan, be sure to use a salad dressing with only 2-3 grams of sugar per serving.
Find More Recipes Like This One:
Use Salad Recipes to find more recipes like this one. Use the Diet Type Index to find recipes suitable for a specific eating plan. You might also like to follow Kalyn's Kitchen on Pinterest, on Facebook, on Instagram, or on YouTube to see all the good recipes I'm sharing there.
Historical Notes for this Recipe:
This recipe was first posted in 2005, probably without a single photo in those days! I've been making it ever since, and the recipe was last updated with more information in 2022.
We are a participant in the Amazon Services LLC Associates Program, an affiliate advertising program designed to provide a means for us to earn fees by linking to Amazon.com and affiliated sites. As an Amazon Associate, I earn from qualifying purchases.