Tomato, Olive, and Fresh Mozzarella Salad
This Tomato, Olive, and Fresh Mozzarella Salad uses my favorite Basil Vinaigrette, and this low-carb treat has all the flavors of summer! And you can make this tasty salad with cut-up pieces of Mozzarella if you can't find the Mozzarella Pearls!
PIN the Tomato, Olive, and Fresh Mozzarella Salad to try it later.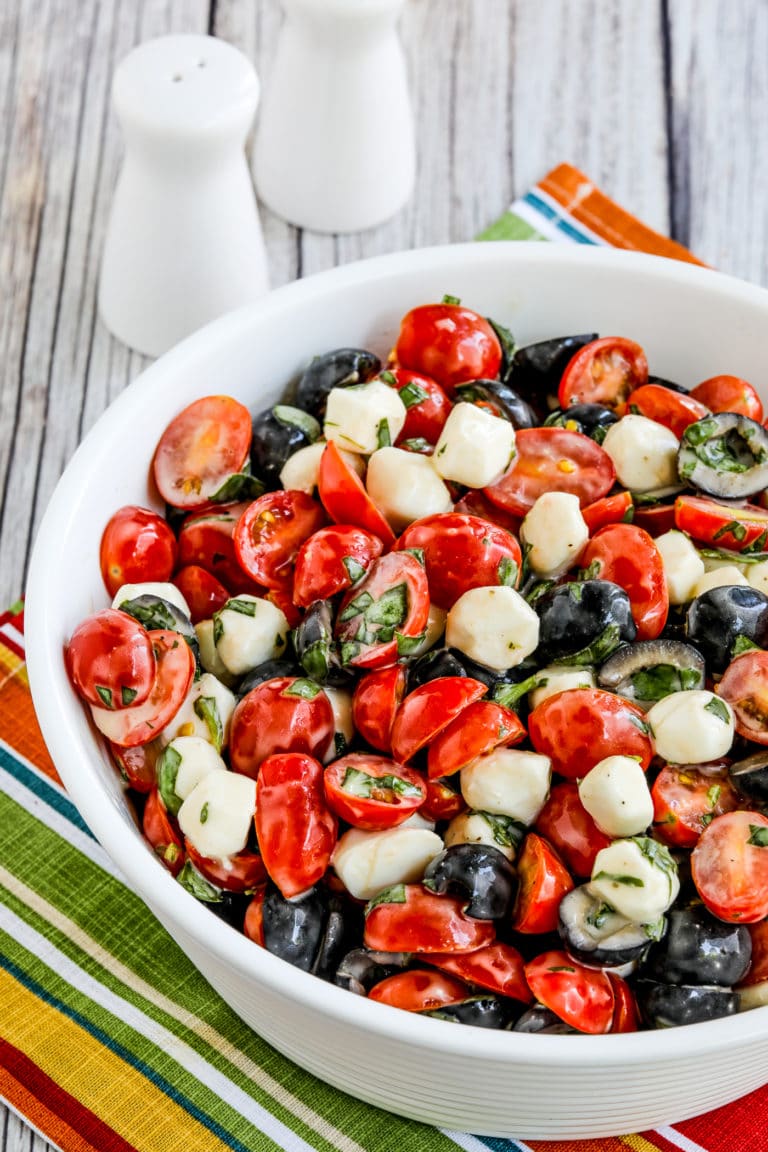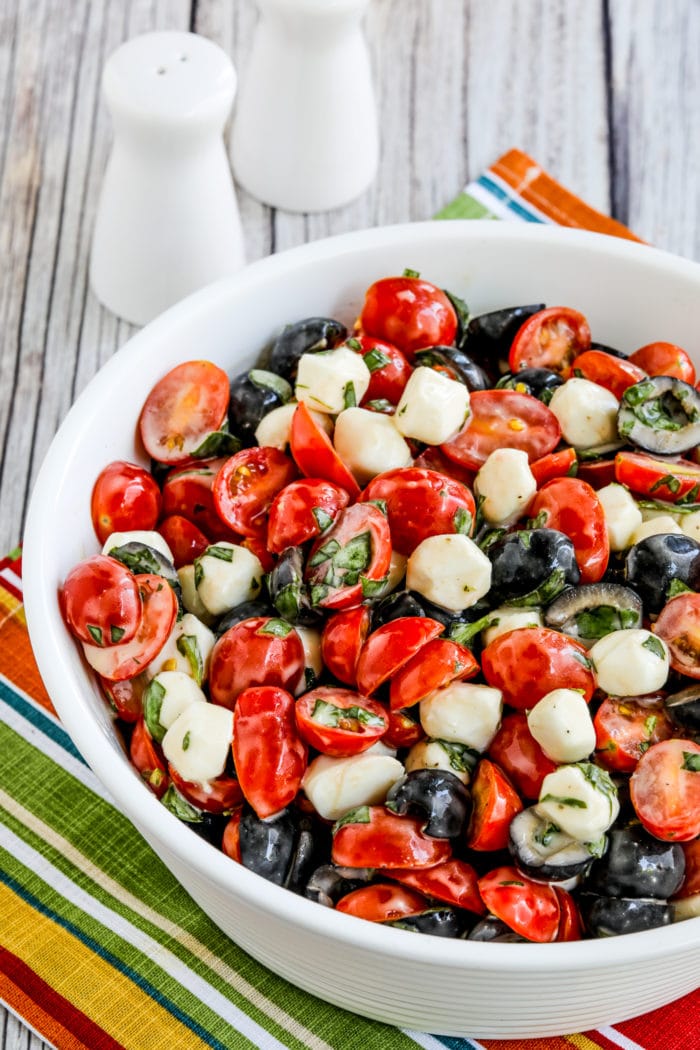 Tomato, Olive, and Fresh Mozzarella Salad is the perfect salad to make when it's fresh tomato season and your garden is bursting with tomatoes and fresh basil. However it can also have mood-enhancing properties if it's a very rainy first week of summer where you live, even if you have to buy tomatoes from Costco and it takes every basil leaf you can manage to snip from your puny plants to make the basil vinaigrette. (And in Utah we were so thankful for a little rain that we actually didn't mind a bit!)
It was the adorable mozzarella pearls made by Bel Gioisio Cheese I found at Costco that first inspired this salad. The "pearls" are tiny pieces about the size of marbles, and they were delicious with the tomatoes and fresh basil. But if you don't find those Mozzarella Pearls at your store, just make this tasty salad with cut-up pieces of Mozzarella, no worries!
What ingredients do you need for this recipe?
can of large black olives
cherry tomatoes
fresh mozzarella pearls (or use regular fresh mozzarella and cut into pieces)
vinaigrette dressing (see notes below)
chopped fresh basil leaves
salt and fresh ground black pepper to taste
What is Basil Vinaigrette?
I think Basil Vinaigrette is one of the essential things to make when it's summer and you have fresh basil. You can make it by simply mixing fresh chopped basil into purchased vinaigrette dressing like I did in this recipe. Or check my post about Basil Vinaigrette for Drizzling on Tomatoes, Veggies, Chicken, or Fish for a more intensely-flavored version and ideas for using it.
More About Fresh Basil:
Basil is considered by many to be the best of all herbs. I've grown it in my garden for about 30 years, and I always start with one or two purchased seedlings, then plant basil seeds for an inexpensive patch of basil. Every year I freeze fresh basil from my garden, and use it all through the winter. The fresh basil flavor is the essence of this salad. Check out my post on Cooking with Fresh Basil if you're also a lover of that fresh basil flavor!
What is Fresh Mozzarella?
If you're not familiar with fresh mozzarella, it's a very soft cheese that comes packed in brine. It can be sold in logs (sometimes sliced), in large balls or in the small mozzarella "pearls" I used to make this salad.
Want More Summer Tomato Salads?
Check out Favorite Summer Tomato Salads for more amazing salad ideas for summer tomatoes!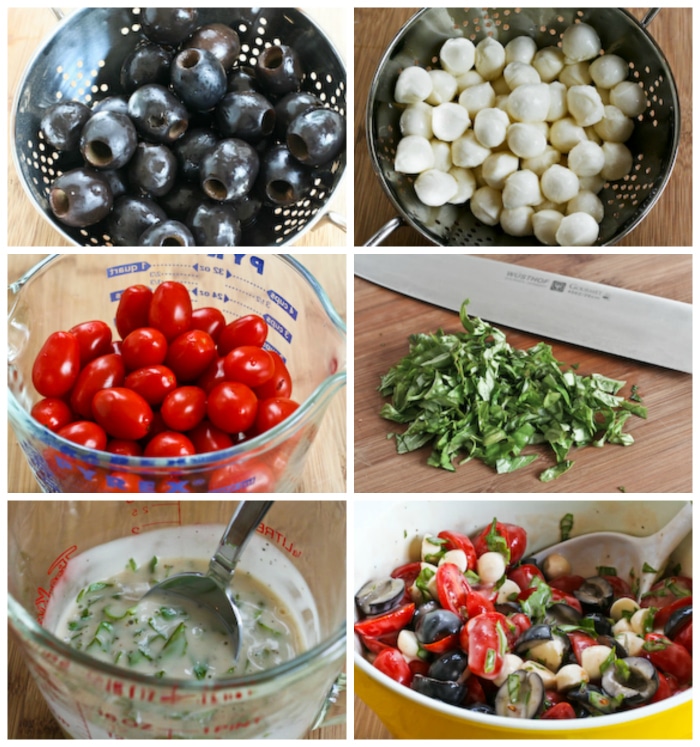 How to make this salad:
(Scroll down for complete recipe with nutritional information.)
Drain olives and fresh mozzarella pearls while you cut cherry tomatoes in half; place tomatoes in bowl.
Cut olives and mozzarella pearls in half and put in bowl with tomatoes.
Wash basil and spin dry in salad spinner or dry with paper towels, then chop or tear basil into small pieces.
Mix chopped basil into vinaigrette dressing, then gently combine dressing with the tomato mixture.
Season to taste with fresh ground black pepper and serve immediately.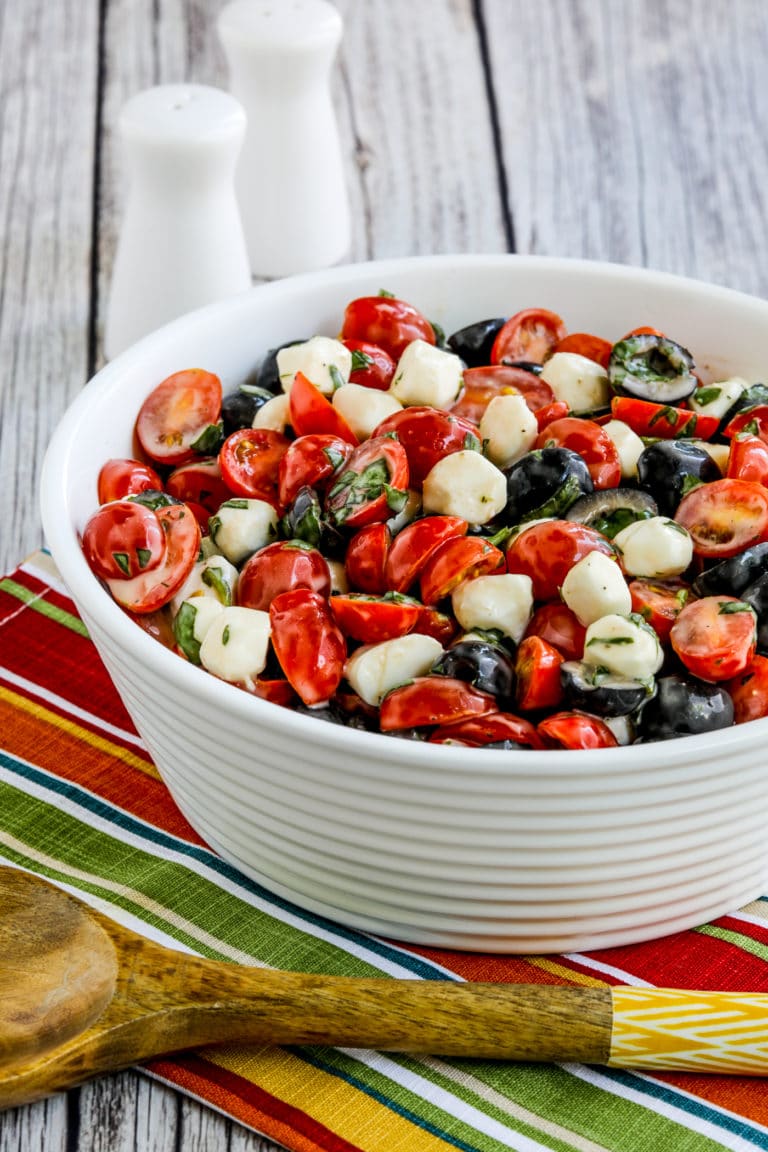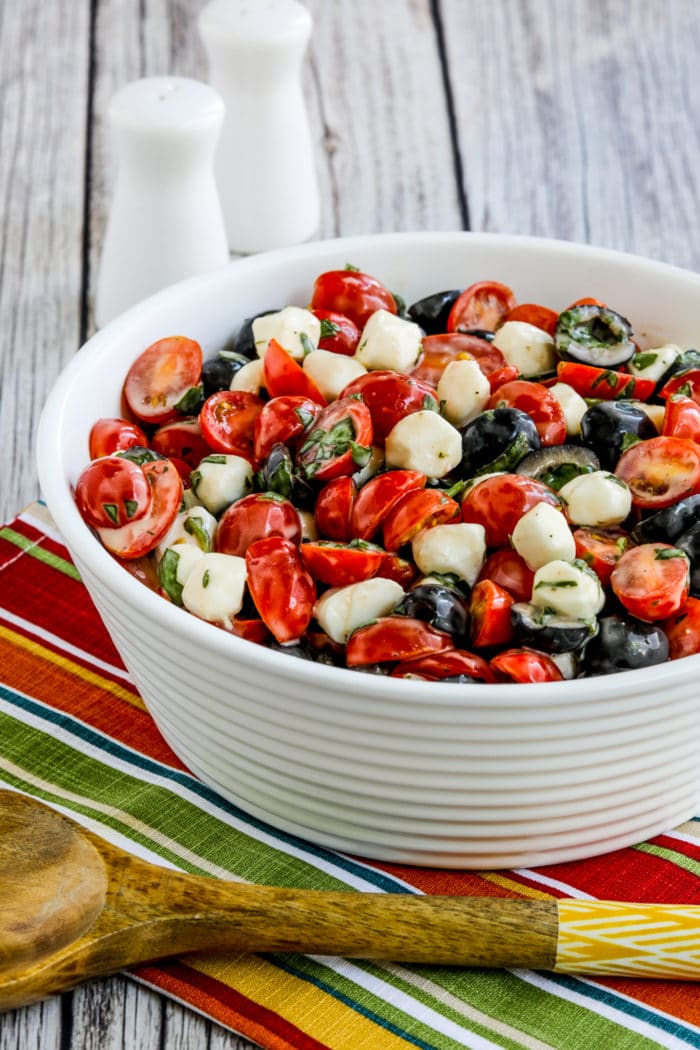 More Recipes with Fresh Mozzarella:
Crustless Tomato-Basil Tarts
Baby Arugula Salad with Chicken, Mozzarella, and Tomatoes
Grilled Zucchini Caprese Stacks
Marinated Fresh Mozzarella with Herbs
Asparagus Frittata with Fresh Mozzarella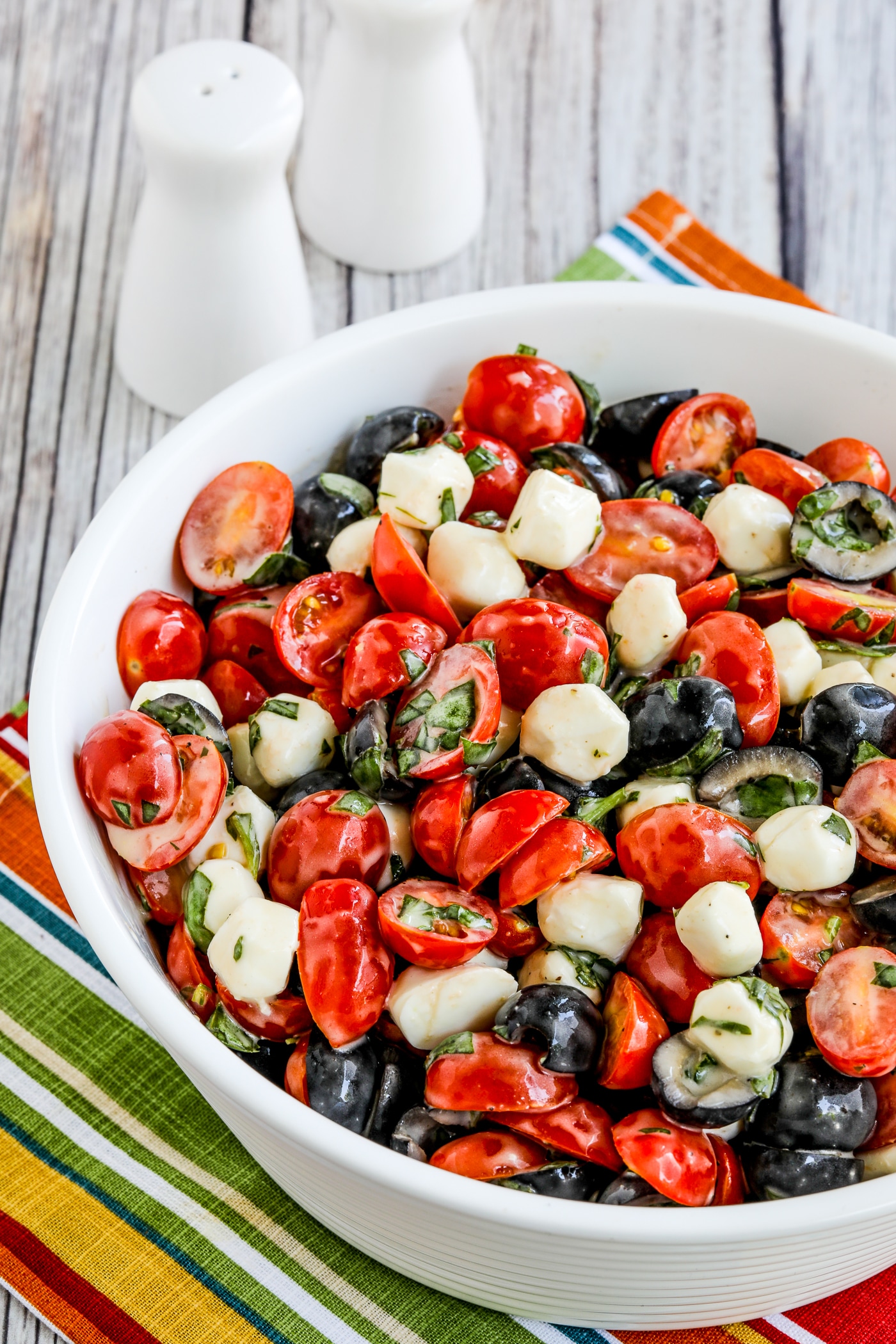 Yield: 4 servings
Tomato, Olive, and Fresh Mozzarella Salad
Prep Time 10 minutes
Total Time 10 minutes
Tomato, Olive, and Fresh Mozzarella Salad has Basil Vinaigrette, and I think this amazing salad has all the flavors of summer!
Ingredients
one 6 oz. can large black olives, drained and cut in half
3 cups cherry tomatoes, cut in half
1 cup fresh mozzarella pearls, cut in half (or use regular fresh mozzarella and cut into pieces
1/2 cup vinaigrette dressing (see notes)
1/2 cup chopped fresh basil leaves
salt and fresh ground black pepper to taste
Instructions
I tried the salad a few different ways, but I actually preferred it with plain old black olives from a can rather than with Kalamata or Spanish olives.
I used the Mozzarella pearls I found at Costco, but if you don't find those just cut fresh Mozzarella into cubes.
If it was fresh tomato season I'd make this with juicy ripe tomatoes, cut into bite-sized chunks, but I used grape tomatoes from Costco.
I drained the olives and Mozzarella pearls, then cut the tomatoes, olives, and mozzarella all in half to make uniform sized pieces.
Wash the fresh basil and chop. Do this right before you're ready to mix it into the dressing.
I used my favorite vinaigrette, but if you can't find that one Newman's Own Classic Oil and Vinegar Dressing (affiliate link) is a good low-sugar vinaigrette.
Mix the chopped basil into the vinaigrette.
Gently combine the dressing with the cut tomatoes, olives, and mozzarella pearls, then season to taste with salt and freshly ground black pepper.
This is best served immediately, but I had some that had been in the fridge overnight, and even though tomatoes never taste as good after they've been refrigerated, it was still surprisingly good.
Nutrition Information:
Yield:
4
Serving Size:
1
Amount Per Serving:
Calories: 249
Total Fat: 18g
Saturated Fat: 8g
Trans Fat: 0g
Unsaturated Fat: 9g
Cholesterol: 41mg
Sodium: 772mg
Carbohydrates: 10g
Fiber: 2g
Sugar: 7g
Protein: 13g
Nutrition information is automatically calculated by the Recipe Plug-In I am using. I am not a nutritionist and cannot guarantee 100% accuracy, since many variables affect those calculations.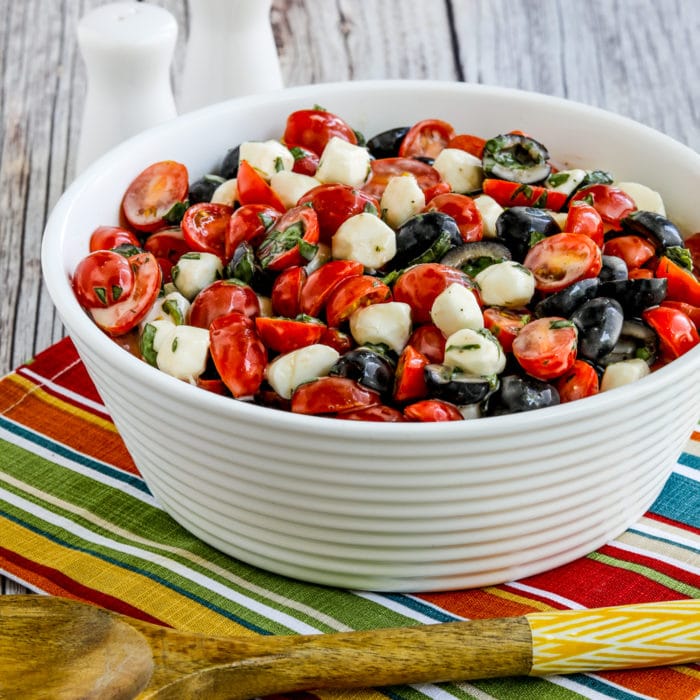 Low-Carb Diet Low-Glycemic Diet / South Beach Diet Suggestions:
This tasty summer is a great choice low-carb and Keto diets, or for any phase of the original South Beach Diet. The highest carb item here is the tomatoes, so use more olives and Mozzarella and less tomatoes if you want fewer carbs. South Beach would prefer low-fat Mozzarella and other low-carb diets will prefer full-fat mozzarella. Be sure to choose a low-sugar vinaigrette to make the Basil Vinaigrette if you're making this for for South Beach or low-carb diets.
Find More Recipes Like This One:
Use Salad Recipes to find more recipes like this one. Use the Diet Type Index to find recipes suitable for a specific eating plan. You might also like to Follow Kalyn's Kitchen on Pinterest to see all the good recipes I'm sharing there.
Historical Notes for this Recipe:
This recipe was first posted in 2009. It was updated with better photos and more information in 2021.
We are a participant in the Amazon Services LLC Associates Program, an affiliate advertising program designed to provide a means for us to earn fees by linking to Amazon.com and affiliated sites. As an Amazon Associate, I earn from qualifying purchases.