Oatmeal Spice Cake with Persimmon
Oatmeal Spice Cake with Persimmon uses white whole wheat flour, Monkfruit Sweetener, and Fuyu Persimmons for a low-sugar cake that's a treat.
PIN Oatmeal Spice Cake with Persimmon to try it later!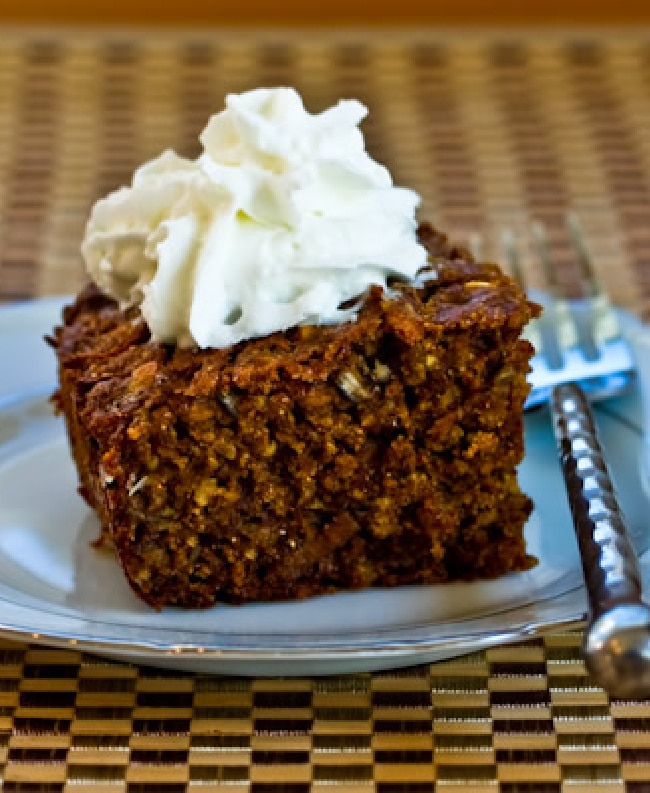 My cake-baking spree started with the Apple Pear Cake I made for Thanksgiving. And then I got persimmons in the mail and had fun trying this Oatmeal Spice Cake with Persimmon! (Thanks again to Andrea from Rookie Cookery for helping me have fun experimenting with persimmons!)
This tasty spice cake has oatmeal for more fiber and a slightly more whole grain texture. And the cake is flavored and sweetener with a generous amount of grated Fuyu Persimmon. Remember that Persimmons are only in season from late October through late December, so I recommend making this before it's too late.
What ingredients do you need?
What are Fuyu Persimmons?
Fuyu Persimmons are an Asian variety of persimmon that can be eaten both raw or cooked. They have bright orange skin and look a bit like orange tomatoes.
What sweetener did I use?
I'm a huge fan of Monkfruit Sweetener (affiliate link) and my preferred brand is Lakanto Monkfruit Zero Calorie Sweetener. You can use either Classic Monkfruit or Golden Monkfruit for this recipe, but for recipes where there isn't much liquid I find the Classic Monkfruit will dissolve better.
Want more low-sugar or sugar-free dessert ideas?
Check out Dessert and Baking to find more desserts that are low in sugar or sugar-free.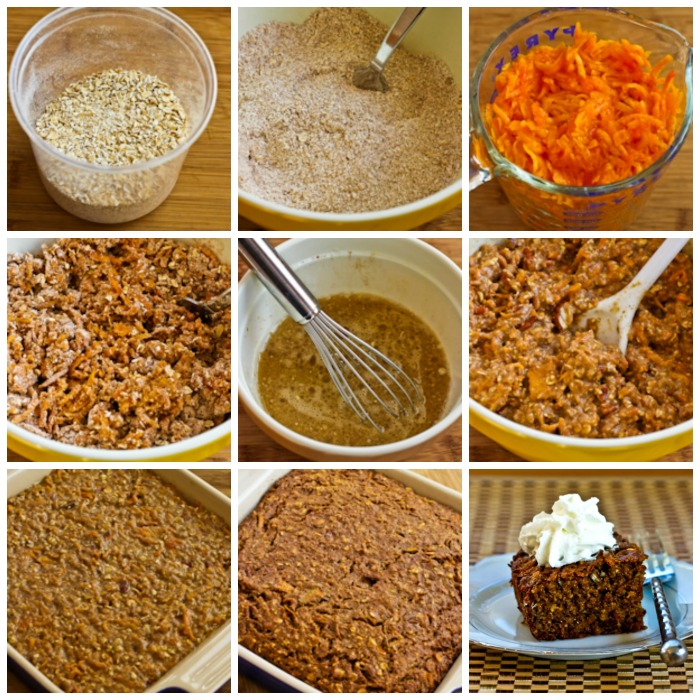 How to make Oatmeal Spice Cake with Persimmon:
(Scroll down for complete recipe with nutritional information.)
I buzzed the oatmeal in the food processor, but it's probably not essential.
Mix the dry ingredients and spices.
Grate the persimmon; I used my Cuisinart Food Processor (affiliate link).
Stir the persimmon into the dry ingredients, then chop the pecans and mix those in as well.
Whisk together the eggs, avocado oil (or vegetable oil of your choice), buttermilk, and vanilla, then stir that into the dry ingredients.
Spread cake batter mixture into a baking dish.
Bake at 350F/175C for 35 minutes, or until the cake is firm and a toothpick comes out clean.
Serve warm or room temperature, with some whipped cream if desired!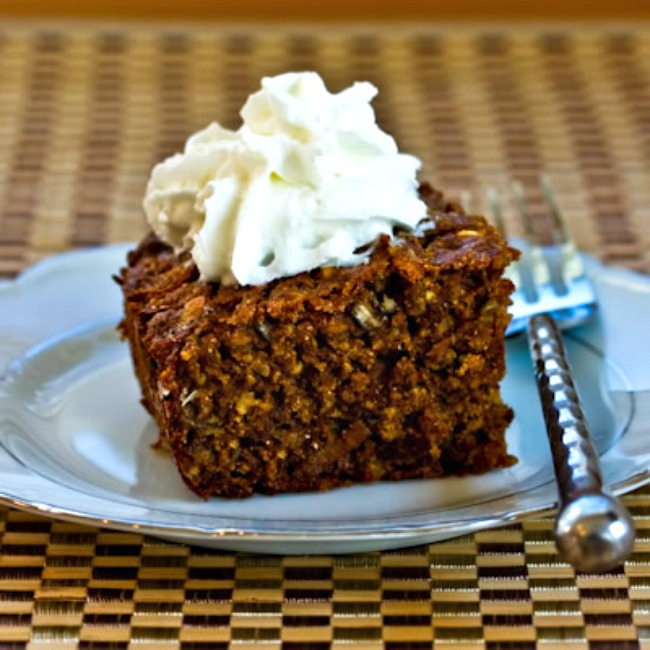 More Tasty Desserts with Fruit:
Low-Sugar Pumpkin Apple Crumble
Low-Carb Cheesecake with Cherry Topping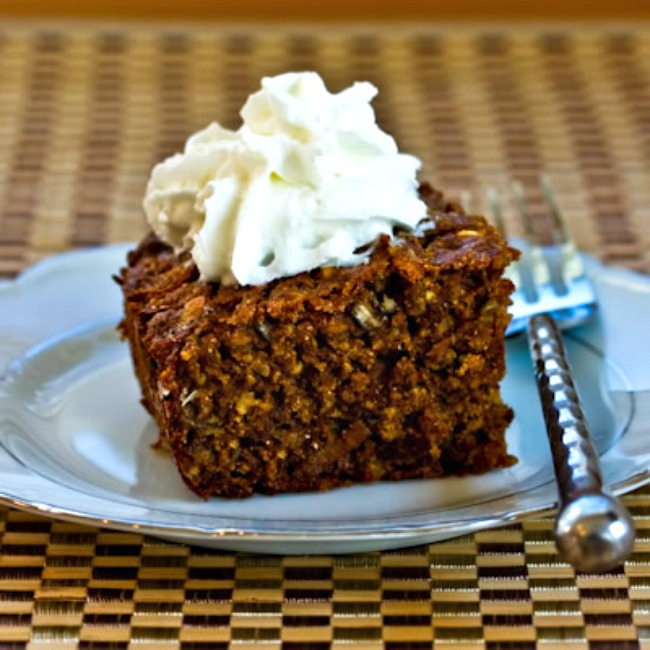 Yield: 9 small servings
Oatmeal Spice Cake with Persimmon
Prep Time 30 minutes
Cook Time 35 minutes
Total Time 1 hour 5 minutes
This Oatmeal Spice Cake with Fuyu Persimmon uses whole wheat flour and Monkfruit sweetener to make it a healthier holiday.
Ingredients
1 cup white whole wheat flour
1/2 cup oatmeal crumbs or rolled oats (oatmeal crumbs that have been buzzed in the food processor will give a finer crumb to the cake)
3/4 cup + 2 T Monkfruit Sweetener (see notes)
1 tsp. cinnamon
1/4 tsp. nutmeg
1/4 tsp. ground cloves (cloves are a strong flavor, some people may prefer to leave out)
1 1/2 tsp. baking soda
1/4 tsp. salt
2 cups grated Fuyu persimmon (see notes)
1/2 cup chopped pecans
2 eggs, beaten
1/4 cup avocado oil (see notes)
1/4 cup buttermilk
Instructions
Preheat oven to 350F/175C.
Spray a 9″ x 9″ cake pan with non-stick spray. (You could probably use a round cake pan for this recipe as well.)
In a large bowl, combine flour, oatmeal crumbs, Monkfruit sweetener, cinnamon, nutmeg, cloves (if using), baking soda, and salt.
Peel persimmons and grate using a food processor or hand grater until you have two cups of grated persimmon.
Then stir the persimmon into the dry ingredients until it's evenly distributed in the mixture.
Measure 1/2 cup pecans and chop with a chef's knife, then stir pecans into the dry ingredient mixture.
Whisk together eggs, oil, buttermilk, and vanilla until well combined, then pour the wet ingredients into the dry ingredients and stir together.
Pour the batter into cake pan and press down with a spoon so the surface is even.
Bake cake about 35 minutes, or until the top is firm and springs back when touched, and a toothpick inserted into the cake comes out clean.
Serve warm or cold. Can be served with regular or low-sugar whipped cream, ice cream, frozen yogurt, or even Greek yogurt.
Notes
I love Monkfruit Sweetener (affiliate link), but use any no-calorie sweetener you prefer. I would use Avocado Oil (affiliate link, but use any vegetable oil you prefer. Two cups of grated persimmon is about about 5-6 persimmons.
Recipe created by Kalyn with inspiration from Garden Harvest Cake.
Nutrition Information:
Yield:
9
Serving Size:
1
Amount Per Serving:
Calories: 223
Total Fat: 12g
Saturated Fat: 2g
Trans Fat: 0g
Unsaturated Fat: 10g
Cholesterol: 42mg
Sodium: 305mg
Carbohydrates: 25g
Fiber: 5g
Sugar: 7g
Protein: 5g
Nutrition information is automatically calculated by the Recipe Plug-In I am using. I am not a nutritionist and cannot guarantee 100% accuracy, since many variables affect those calculations.
Low-Carb Diet / Low-Glycemic Diet / South Beach Diet Suggestions:
Using less sugar, whole wheat flour, and oatmeal all makes this Oatmeal Spice Cake with Persimmon better for the original South Beach Diet than traditional cakes, but with 2 cups of fruit, this is still a relatively sweet cake, so I'd consider it a "once-in-a-while treat" for phase 2 or phase 3 for South Beach dieters It would be too high in carbs for a traditional low-carb diet plan.
Find More Recipes Like This One:
Use Dessert Recipes for more ideas like this one. Use the Diet Type Index to find recipes suitable for a specific eating plan. You can also Follow Kalyn's Kitchen on Pinterest to see all the good recipes I'm sharing there.
Historical Notes for this Recipe:
This recipe was posted in 2009. It was last updated with more information in 2021.
We are a participant in the Amazon Services LLC Associates Program, an affiliate advertising program designed to provide a means for us to earn fees by linking to Amazon.com and affiliated sites. As an Amazon Associate, I earn from qualifying purchases.