How to Make Socca
If you can't travel to the south of France, this recipe can show you how to make Socca Chickpea Flatbread at home. Of course a rustic flatbread made with chickpea flour does have some carbs, but check the nutritional information and you may be surprised that this is not super high in net carbs for an occasional treat.
PIN Socca Chickpea Flatbread to try it later!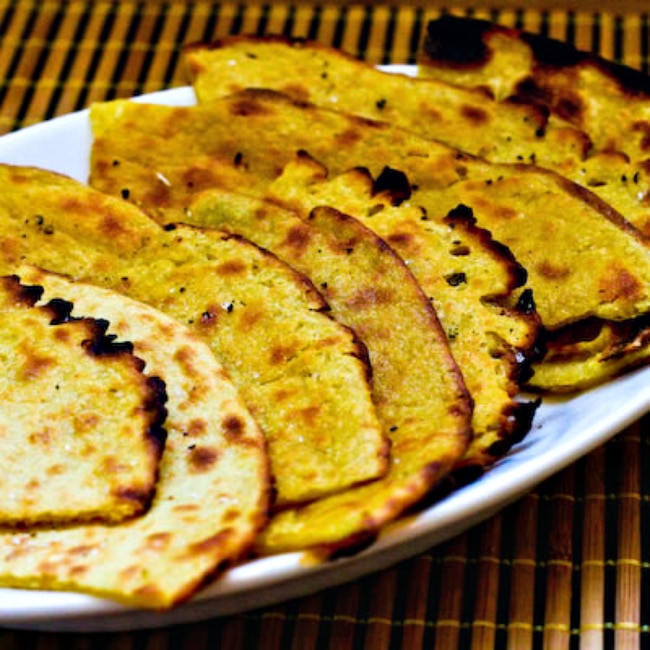 When I found chickpea flour at a middle eastern market in L.A., I experimented with making Farinata, producing something that tasted great but seemed too thick and looked different than other versions of Farinata I saw around the web. But I was intrigued with trying to make something tasty with chickpea flour!
And then I had some e-mail discussion with David Lebovitz, who told me he loved the Socca he found in France and had been experimenting with making Socca. And I became obsessed with figuring out How to Make Socca!
David told me there can be quite a lot of variation in different types of chickpea flour, which only made me more determined to try it again. Fast forward to the release of David's new book The Sweet Life in Paris, and the perfected Socca recipe on his blog, which rekindled my desire to try making it. I was also lucky enough to happen upon a great little cast iron griddle, small enough to fit under the broiler, so a few days ago I gave it a try.
If only I knew how to say it was fantastic in French, I could properly express how much I liked this. Definitely thinner and less crispy than my previous Farinata experiment, and perfectly delightful eaten hot from the griddle, with a bit of olive oil drizzled on and some salt and fresh ground black pepper. And did I mention that this low-glycemic chickpea flatbread is also gluten free and loaded with nutrients?
What ingredients do you need for this recipe?
chickpea flour
water
sea salt
ground cumin (affiliate link)
olive oil
What is Socca?
Socca is a type of rustic flatbread made from chickpea flour, water, and olive oil. It's prepared as a batter, poured into a pan or on a small griddle, and baked or fried. This is found in southern France where it's served with lots of fresh-ground pepper.
What else can you make with chickpea flour?
Chickpea flour is used all over the world to make thin flatbread crepes, pancakes, or crackers. Depending on where they're made, they can be called Pappadum (India), Farinata (Italy) or Socca (France). Farinata and Socca may or may not be the same, depending on which expert you ask, but they're definitely similar.
How to make Socca Chickpea Flatbread:
(Scroll down for complete recipe with nutritional information.)
I found this brand of garbanzo or chickpea flour at Whole Foods, and it seemed yellower and not as fine as the type I used for my Farinata, so I had hopes it would be more similar to what's used in Europe.
As David recommended, after I mixed chickpea flour, water, salt, ground cumin (affiliate link), and olive oil, I let the batter rest for a few hours.
This is my lovely new cast iron griddle, purchased at Smith's Marketplace in Salt Lake City for $12.79. What a bargain, huh?
To cook the Socca, you brush the griddle with olive oil, heat it under the broiler, pour on a thin layer of batter, and cook under the broiler.
Maybe I was nervous about burning it, because my first attempt turned out a little pale, although it was quickly devoured with no complaints!
My second try was better, but by the third one I learned that I got best results when I poured the batter straight down in the middle and let it naturally run out to the edges. I recommend leaving them under the broiler until they browned a bit, but were still slightly soft and could easily be folded.
I guess I'll have to go to Italy and France and try authentic Farinata and Socca to see how my results would compare, but in the meantime I'll definitely keep making them at home.
More Tasty Recipes with Chickpeas:
Chickpea Salad with Tomatoes, Olives, and Herbs
Garlicky Roastsed Chickpeas with Feta, Mint, and Lemon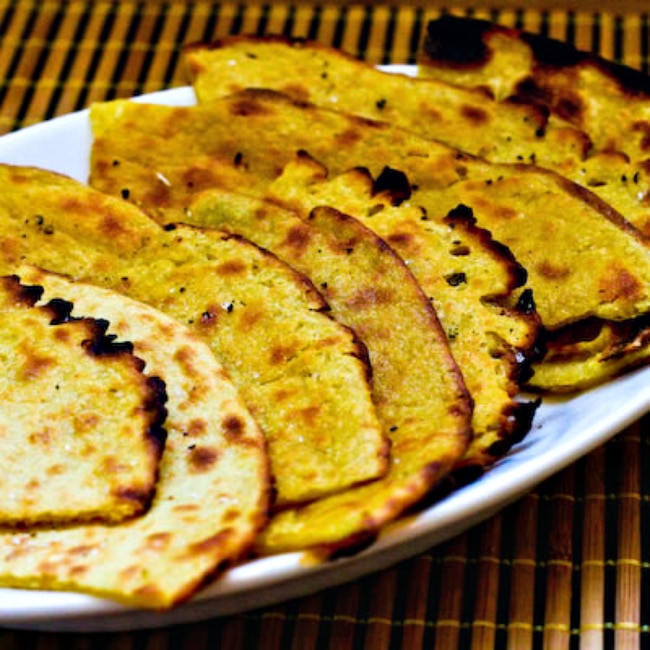 Yield: Makes about 3 thin flatbread pancakes
Socca Chickpea Flatbread
Prep Time 10 minutes
Cook Time 6 minutes
Additional Time 2 hours
Total Time 2 hours 16 minutes
Socca is a tasty chickpea flatbread from France, and you can easily make it at home.
Ingredients
1 cup chickpea flour
1 cup plus 2 T water
3/4 tsp. sea salt
1/4 tsp. ground cumin
1 1/2 T olive oil (plus a bit more for brushing griddle and drizzling on finished Socca)
Instructions
Whisk together the chickpea flour, water, cumin, and olive oil.
Cover container and let rest for 2 hours at room temperature.
When ready to cook Socca, preheat broiler. (I have a gas broiler, so I'm not sure how the results would be different with an electric broiler.)
When broiler is hot, brush cast iron griddle or frying pan with olive oil, heat under the broiler for 2 minutes, then remove from oven (use a mitt!) and pour on a thin layer of batter.
Cook Socca under the broiler until it has firmed and well-browned, especially on the edges.
For me, this took about 4 minutes under the broiler, but watch the time on your first one.
Continue to make Socca pancakes like this, brushing the griddle with oil and heating it between each one.
Cut finished Socca into rough triangular pieces, sprinkle with sea salt and fresh ground black pepper and drizzle with olive oil.
Serve hot.
Nutrition Information:
Yield:
3
Serving Size:
1
Amount Per Serving:
Calories: 179
Total Fat: 9g
Saturated Fat: 1g
Trans Fat: 0g
Unsaturated Fat: 7g
Cholesterol: 0mg
Sodium: 602mg
Carbohydrates: 18g
Fiber: 3g
Sugar: 3g
Protein: 7g
Nutrition information is automatically calculated by the Recipe Plug-In I am using. I am not a nutritionist and cannot guarantee 100% accuracy, since many variables affect those calculations.
Low-Carb Diet / Low-Glycemic Diet / South Beach Diet Suggestions:
Socca Chickpea Flatbread is somewhat high in carbs for traditional low-carb diet plans, but if you check the nutritional info it may be lower in net carbs than you'd think. It's low-glycemic and approved for the original South Beach Diet Phase Two. I think this would make a great gluten-free replacement for pita bread and I can imagine serving it with Hummus, Falafel, or Tzatziki Sauce.
Find More Recipes Like This One:
Use Beans and Legumes to find more recipes with chickpeas. Use the Diet Type Index to find recipes suitable for a specific eating plan. You might also like to follow Kalyn's Kitchen on Pinterest or on Facebook to see all the good recipes I'm sharing there.
We are a participant in the Amazon Services LLC Associates Program, an affiliate advertising program designed to provide a means for us to earn fees by linking to Amazon.com and affiliated sites. As an Amazon Associate, I earn from qualifying purchases.