Pasta with Sweet Potatoes
This Pasta with Sweet Potatoes also has arugula and Parmesan Cheese making this such a flavorful vegetarian pasta dish. You can also serve this as a side dish, and make this tasty pasta dish with spinach if you're not an arugula fan!
PIN Pasta with Sweet Potatoes to try it later!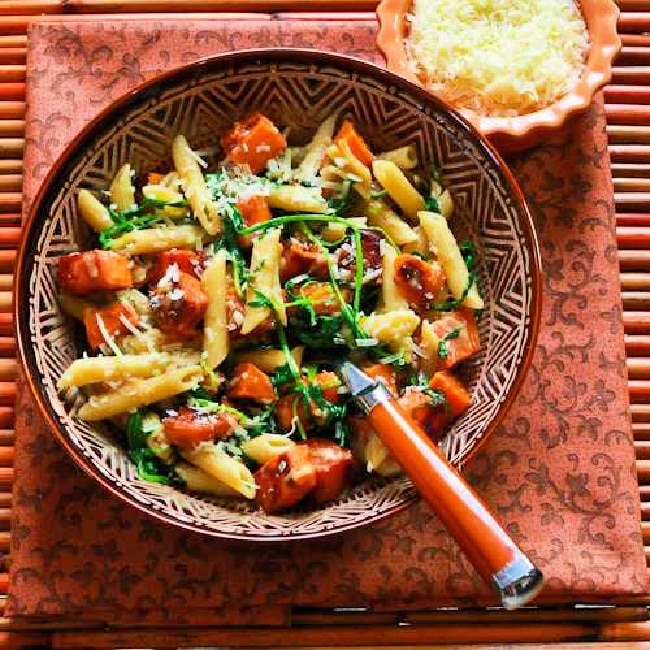 Sometimes my best recipes happen when I have a certain ingredient I've been infatuated with but suddenly I want to do something different with it. A few weeks ago that happened with my favorite Baby Arugula Salad. Oh yes, I love that baby arugula salad, but that day I found myself with half a tub of baby arugula and a yearning for something different than a salad.
I knew arugula was great with pasta, and I always have sweet potatoes on hand, so I ended up creating this Pasta with Sweet Potatoes that had great flavors from arugula and Parmesan cheese! This recipe combines sweet potatoes sauteed and glazed with balsamic vinegar, wilted baby arugula, and a generous handful of good quality Parmesan cheese. This easy meatless pasta dish was comforting and satisfying on a colder-than-I-might-have-wanted November day.
What ingredients do you need for this recipe?
orange-fleshed sweet potato
extra-virgin Olive Oil (affiliate link)
baby arugula
penne pasta
Colavita Aged Balsamic Vinegar (affiliate link), or other good-quality Balsamic Vinegar
salt and fresh ground black pepper to taste
coarsely-grated Parmesan cheese
What types of pasta can you use?
I made this recipe with penne pasta, but other short tubular pasta shapes will also work, and I think thicker long pasta like linguini or fettucine or whimsical shapes like farfalle would also be good. And this can never be completely low in carbs due to the sweet potato, but I'd love to try this with Palmini Low-Carb Linguini (affiliate link) which would make it much lower in carbs.
What if you don't like arugula?
I know there are a few arugula-haters out there, so if you're not a fan of arugula I would recommend making this just like the recipe below but with baby spinach. Other types of greens such as kale, swiss chard, or collard greens could be used, but they need more cooking so they'll need to be sauteed separately and then added to the pasta.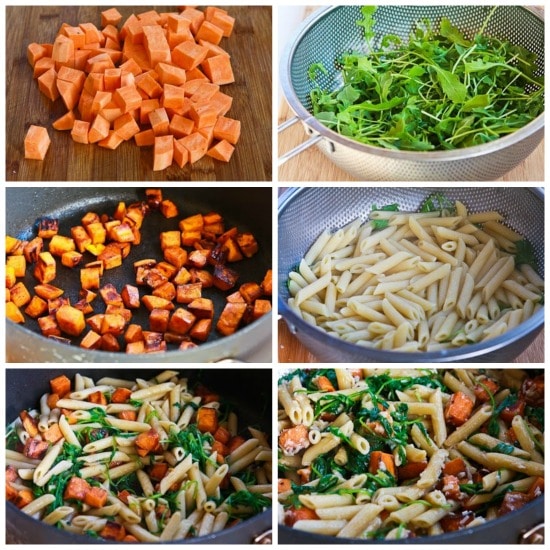 How to Make Pasta with Sweet Potatoes:
(Scroll down for complete recipe with nutritional information.)
Cut up one large orange-fleshed sweet potato into cubes not bigger than one inch square.
Heat 1 tablespoon of olive oil in a large frying pan and start to cook the sweet potatoes.
Cook the pasta in a large pot of salted water until just barely al-dente, according to package directions.
Wash the arugula if needed, then put it in the strainer where you're going to drain the pasta and the hot water will wilt it just enough.
Once the sweet potatoes are cooked through and lightly browned, add 1 tablespoon good-quality balsamic vinegar to the pan and cook just until sweet potatoes are glazed with the vinegar.
Season sweet potatoes with salt and freshly-ground black pepper.
Drain the pasta over the arugula, saving 1/2 cup of the pasta cooking water
Add the drained pasta and arugula to the glazed sweet potatoes and toss.
Add the pasta cooking water and stir gently to combine.
Then stir in the freshly-grated Parmesan cheese and stir again gently. (I stirred in most of the cheese but saved a little to add at the table.)
Serve hot.
More Meatless Pasta to Try: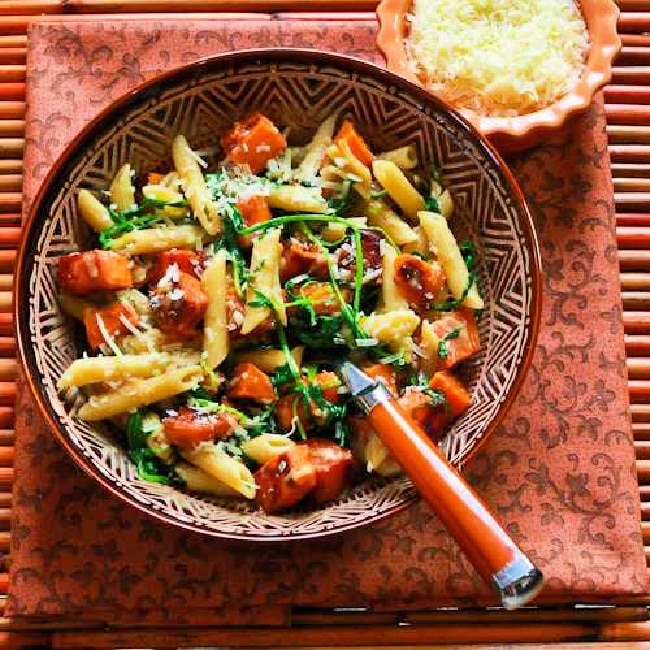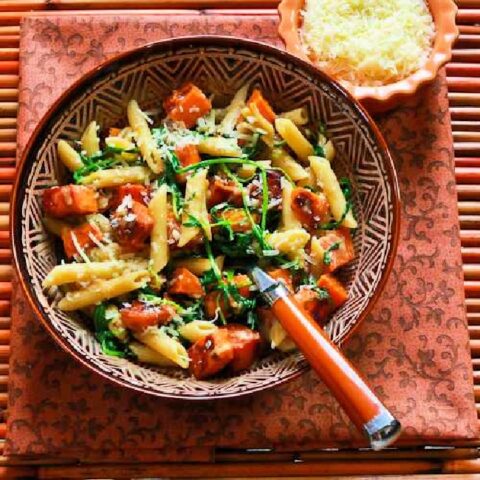 Yield: 4 servings
Pasta with Sweet Potatoes
Prep Time 20 minutes
Cook Time 20 minutes
Total Time 40 minutes
Pasta with Sweet Potatoes has added flavor from arugula and plenty of Parmesan Cheese, and this is a great vegetarian pasta dish.
Ingredients
1 large orange-fleshed sweet potato, peeled and cut into 1 inch cubes
1 T + 1 tsp. extra-virgin olive oil
5 oz. baby arugula
2 cups (dry) penne pasta
1 T good-quality balsamic vinegar (or a little more)
salt and fresh ground black pepper to taste (for seasoning sweet potatoes)
2/3 cup coarsely-grated Parmesan cheese
Instructions
Bring a large pot of salted water to a boil for the pasta.
While the water heats, peel sweet potatoes and cut them into 1 inch pieces.
Heat olive oil in a large heavy frying pan (big enough to hold the finished pasta dish) and begin to saute the sweet potatoes over medium heat, stirring occasionally so they don't burn on one side.
When water boils, add the pasta, stir, and let it come back to a boil; then lower the heat to a medium simmer and cook just until the pasta is barely al-dente. (That was 9 minutes for the pasta I used.)
If you want to make this with kale, swiss chard, or collard greens, they need to be washed, chopped, and then sauteed in additional olive oil in a separate pan, about 10 minutes total cooking time.
Then add them to the sweet potatoes when you add the cooked pasta.)
When sweet potatoes are soft and cooked through (about 8-10 minutes), turn heat to low and add the other 1 tsp. of olive oil and balsamic vinegar.
Saute over low heat, stirring often, for 3-5 minutes more or until the sweet potatoes are all glazed with the vinegar.
Season sweet potatoes well with salt and fresh-ground black pepper.
Wash the arugula (or spinach) if needed and then place in the bottom of the colander where you're going to drain the pasta.
When pasta is done, scoop out 1/2 cup pasta cooking water; then pour the hot pasta over the arugula.
Let it drain for a minute or so, then add the pasta and arugula to the pan with the sweet potatoes and stir to combine.
Add the reserved pasta cooking water and stir gently again.
Then add most of the Parmesan cheese and stir again.
Serve hot, with the reserved Parmesan cheese to sprinkle over each serving at the table.
Notes
This recipe doesn't reheat that well, so I'd make as much of this as you'll eat at one time.
Recipe created by Kalyn.
Nutrition Information:
Yield:
4
Serving Size:
1
Amount Per Serving:
Calories: 240
Total Fat: 7g
Saturated Fat: 3g
Trans Fat: 0g
Unsaturated Fat: 3g
Cholesterol: 14mg
Sodium: 469mg
Carbohydrates: 35g
Fiber: 4g
Sugar: 7g
Protein: 10g
Nutrition information is automatically calculated by the Recipe Plug-In I am using. I am not a nutritionist and cannot guarantee 100% accuracy, since many variables affect those calculations.
Low-Carb Diet / Low-Glycemic Diet / South Beach Diet Suggestions:
Sweet potatoes are much more low-glycemic than regular white potatoes, but they are still restricted to phase 2 or 3 of the original South Beach Diet. If you're making this Pasta with Sweet Potatoes for South Beach, it's important to use whole grain or reduced-carb pasta. Of course pasta can't ever be low-carb and with sweet potatoes this is not suitable for low-carb diets, but I'd love to try it with Palmini Pasta (affiliate link) for a lower-carb version.
Find More Recipes Like This One:
Use Pasta Recipes to find more recipes like this one. Use the Recipes by Diet Type photo index pages to find more recipes suitable for a specific eating plan. You might also like to Follow Kalyn's Kitchen on Pinterest to see all the good recipes I'm sharing there.
Historical Notes for this Recipe:
This recipe was first posted in 2011. It was last updated with more information in 2021.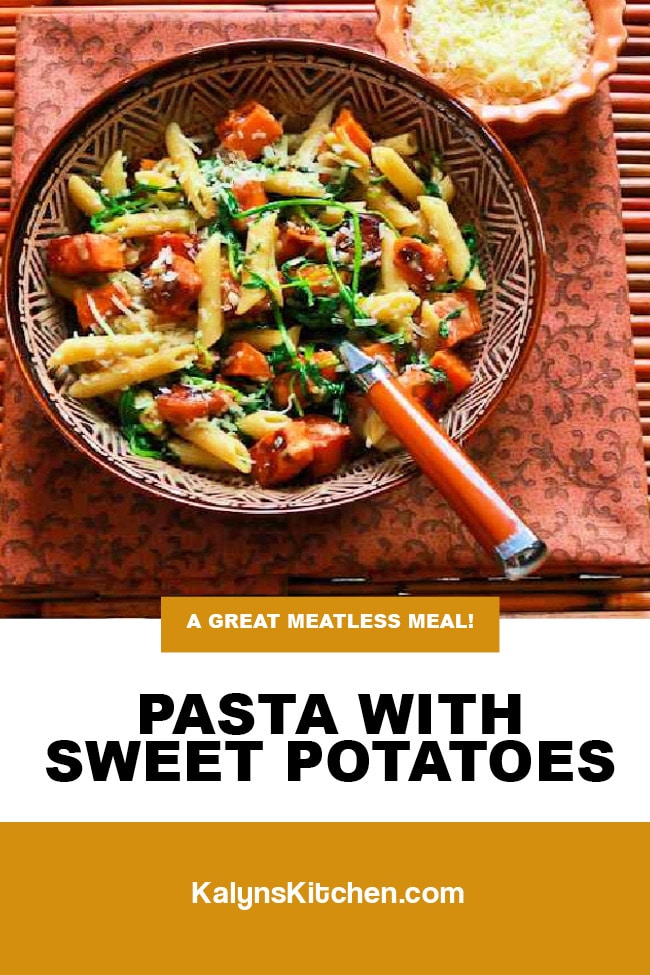 We are a participant in the Amazon Services LLC Associates Program, an affiliate advertising program designed to provide a means for us to earn fees by linking to Amazon.com and affiliated sites. As an Amazon Associate, I earn from qualifying purchases.