Curried Rice and Red Lentils
Curried Rice and Red Lentils is a delicious side dish or a meatless main dish, and because you use vegetable stock this recipe is vegan.
Click to PIN Curried Rice and Red Lentils!
This dish combining Curried Rice and Red Lentils is an old favorite that I recently I made with Jake, and we both loved how the simple combination of ingredients creates so much flavor. And since the combination of lentils (or beans) and rice are famous in vegetarian cooking for the way they create a complete protein, it really is a recipe that's perfect for meatless meals.
This was another one of those recipes I loved from Mark Bittman's The Best Recipes in the World (affiliate link) and when Jake and I cooked it the only change we made was to use stock to cook the lentil-rice combination instead of water. And since we're using vegetarian stock that would makes this recipe vegan. Of course I liked the garnish of cilantro, but if you're not a cilantro fan I think some sliced green onions or parsley would be nice.
What kind of lentils did we use?
There are many types of lentils, but it's important to use red lentils in this dish, so they'll be done in the 20 minutes it takes for the rice to cook. Here is a good reference about various types of lentils. Hope you enjoy trying this easy recipe that's loaded with flavor!
How to Make Curried Rice and Red Lentils:
(Scroll down for complete recipe with nutritional information.)
Heat the oil in a heavy flat pan with a tight-fitting lid; then cook the onions until they're starting to get nicely browned on the edges. (This browning adds a lot of flavor, so don't rush it.)
Then add the curry powder and saute it for 1-2 minutes, until it's very fragrant.
Add the vegetable stock and let it come to a boil; then stir in the rice and red lentils.
Bring it back to a boil, then reduce the heat to the barest possible simmer and let cook covered for 20 minutes.
After 20 minutes check to see if rice and lentils are done and all the water is absorbed. Ours was completely perfect, but if needed cook uncovered for a few minutes more.
Season to taste with salt and fresh ground black pepper and serve immediately.
Make it a Meal:
For a meatless meal, I would love this with Amazing Asian Green Salad or Tomato, Cucumber, and Radish Salad on the side.
More Tasty Ideas with Red Lentils: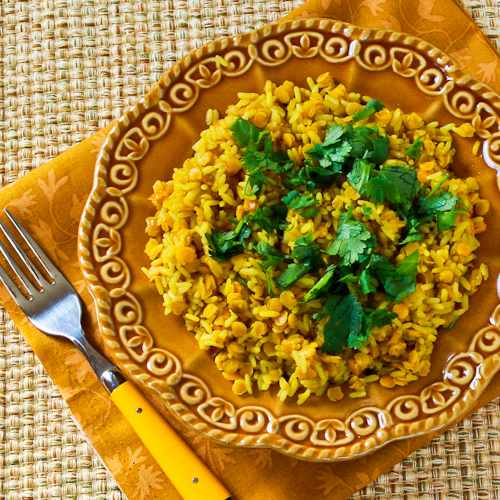 Yield: 6 servings
Curried Rice and Red Lentils
Prep Time 25 minutes
Cook Time 20 minutes
Total Time 45 minutes
Curried Rice and Red Lentils is a delicious vegan side dish or meatless main dish.
Ingredients
2 T vegetable oil
1 large onion, chopped
1 T curry powder (see notes)
3/4 cup uncooked red lentils
1 cup uncooked long grain white rice (see notes
3 cups vegetable stock (see notes)
salt, pepper to taste
chopped parsley or cilantro, for garnish (optional)
Instructions
Put the oil in a large, heavy pan with a tight lid and heat for one minute.
Add onion and saute 3-5 minutes, until starting to brown on the edges.
Add curry powder and saute 1 minute, then add water and bring to a boil.
Add lentils and rice, bring back to a boil, then lower heat to a steady simmer and cover.
Cook 20 minutes, or until rice is done and lentils are tender. (Mark Bittman says if the liquid is not all absorbed, boil off the excess, but after 20 minutes all my water had been absorbed.)
Season with salt and pepper.
Garnish with chopped parsley or cilantro if desired.
I haven't tried freezing it, but my prediction would be that this freezes well.
Notes
I used Uncle Ben's Converted Rice (affiliate link) which has the lowest Glycemic Index of any white rice. I'm a fan of curry powder from Penzeys, and I used a mix of sweet and hot curry powder. You can use two cans vegetable broth and add a little water to make 3 cups.
Recipe adapted from The Best Recipes in the World (affiliate link) by Mark Bittman.
Nutrition Information:
Yield:
6
Serving Size:
1
Amount Per Serving:
Calories: 181
Total Fat: 5g
Saturated Fat: 1g
Trans Fat: 0g
Unsaturated Fat: 5g
Cholesterol: 0mg
Sodium: 434mg
Carbohydrates: 27g
Fiber: 4g
Sugar: 2g
Protein: 7g
Nutrition information is automatically calculated by the Recipe Plug-In I am using. I am not a nutritionist and cannot guarantee 100% accuracy, since many variables affect those calculations.
Low-Carb Diet / Low-Glycemic Diet / South Beach Diet Suggestions:
Curried Rice and Red Lentils would be suitable for phase two or three of the original South Beach Diet, if you use Uncle Ben's Converted Rice as mentioned above. Lentils are considered a "good carb" for South Beach, but this would be too high in carbs for a low-carb diet plan.
Find More Recipes Like This One:
Use Side Dishes to find more recipes like this one! Use the Diet Type Index to find recipes suitable for a specific eating plan. You can also Follow Kalyn's Kitchen on Pinterest to see all the good recipes I'm sharing there.
We are a participant in the Amazon Services LLC Associates Program, an affiliate advertising program designed to provide a means for us to earn fees by linking to Amazon.com and affiliated sites. As an Amazon Associate, I earn from qualifying purchases.