Pepperoni Pizza Keto Crustless Quiche (Video)
When you're craving the flavors of Pepperoni Pizza but don't want the carbs, this Pepperoni Pizza Keto Crustless Quiche will always be a winner! And if pepperoni is not really your thing, use any low-carb pizza toppings your family prefers for this Keto quiche recipe!
PIN Pepperoni Pizza Keto Quiche to try it later!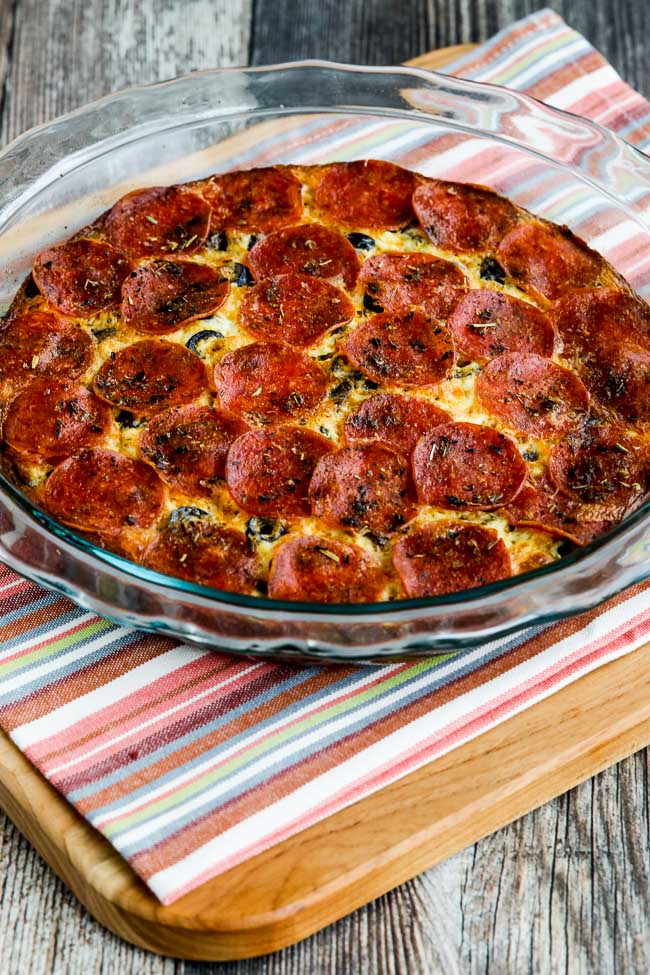 During January all the low-carb eaters who overindulged during the holidays go back to low-carb eating with a vengeance! I can relate to that myself so I always try to start out the year with low-carb recipes that will help people not feel deprived.
That's why so many popular recipes with pizza flavors like Low-Carb Deconstructed Pizza Casserole and Low-Carb Pepperoni Pizza Chicken Bake made their first appearance on the blog during January!
And this year I'm excited to share this new recipe for Pepperoni Pizza Keto Crustless Quiche! This crustless Keto quiche was such a wow for us when we tested the recipe, and I loved it for leftovers when I warmed some up for breakfast the next day as well.
And it's a fun story about how I got the recipe! During December I shared a collection of The Best Low-Carb and Keto Crustless Quiche Recipes. When that post went out to the e-mail subscibers, a faithful reader name Cherie sent me her family's favorite quiche recipe.
Cherie's Pepperoni Pizza Quiche had a crust, which of course we eliminated, and we made a few other little changes to come up with this crustless quiche recipe that I know you're going to love! So once again Thank You to Cherie for sharing a great recipe idea with the Kalyn's Kitchen readers!
What ingredients so you need for this recipe?
(This is only a list of ingredients; please scroll down for complete printable recipe. Or if you use the JUMP TO RECIPE link at the top of the page, it will take you directly to the complete recipe.)
mushrooms
Olive Oil (affiliate link)
can of sliced black olives
shredded Mozzarella cheese
shredded Italian Blend cheese
Italian Herb Seasoning (affiliate link)
4 eggs
heavy cream
Garlic Powder (affiliate link)
sliced pepperoni
Can you use other pizza toppings for this Keto quiche recipe?
If you're not a pepperoni fan or just want to make more variations of the recipe you can use any low-carb (precooked) pizza topping you enjoy such as sausage, ground beef, ham, bacon, Canadian bacon, bell peppers, artichokes, and more!
Can you make the Keto quiche without heavy cream?
The heavy cream gives the dish a nice flavor and texture, but use half and half or milk instead of heavy cream if you prefer.
Will this Keto quiche keep in the fridge?
This Keto crustless quiche will stay good in the fridge for several days, and can easily be reheated in the microwave or toaster oven.
Want more Low-Carb Pizza ideas?
For more dishes with pizza flavors without the carbs, check out my HUGE round-up of 60+ Low-Carb Pizza Recipes that has great ideas from Kalyn's Kitchen and other blogs from around the web!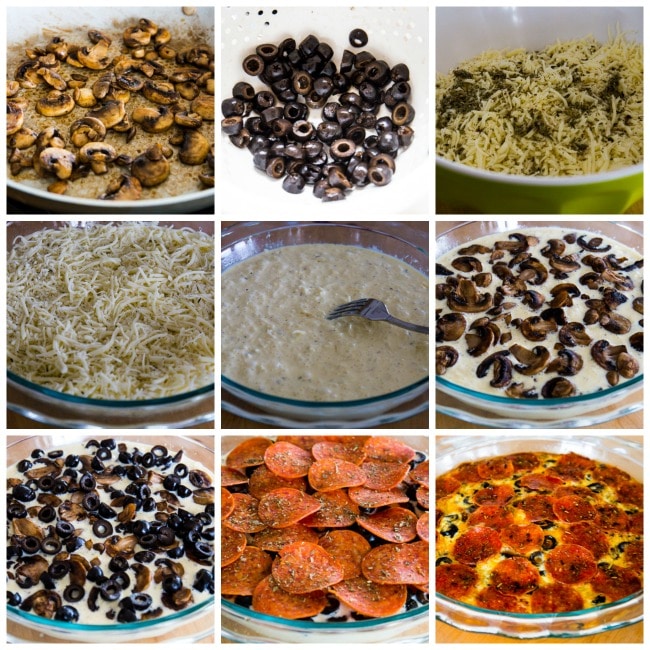 How to Make Pepperoni Pizza Keto Crustless Quiche:
(This is only a summary of the steps for the recipe; please scroll down for complete printable recipe. Or if you use the JUMP TO RECIPE link at the top of the page, it will take you directly to the complete recipe.)
We used mushrooms, black olives, Italian Herb Seasoning, pepperoni, and cheese and make this Keto quiche have those pizza flavors so many people love.
Preheat the oven and spray a glass or ceramic pie pan with non-stick spray.
Heat olive oil in a non-stick pan and cook mushrooms until they have released their liquid and are slightly browned.
Drain a small can of sliced black olives.
Combine the two kinds of cheese in a bowl and mix in 1 tsp. Italian Herb Blend.
Put the cheese/dried herb mixture into the pie plate.
Then beat 4 eggs with the heavy cream and a little garlic powder and add it to the cheese.
Stir with a fork until the cheese and eggs/cream mixture is completely combined.
Make a layer of the browned mushrooms over the top.
Add the sliced olives among the mushrooms, and then cover the top with an overlapping layer of pepperoni. (It will shrink quite a bit as it cooks, as you can see, so don't worry about using too much pepperoni.)
Sprinkle the rest of the Italian Herb Blend over the pepperoni.
Bake 30-35 minutes, or until the quiche is completely firm and the pepperoni is starting to slightly brown.
Serve hot.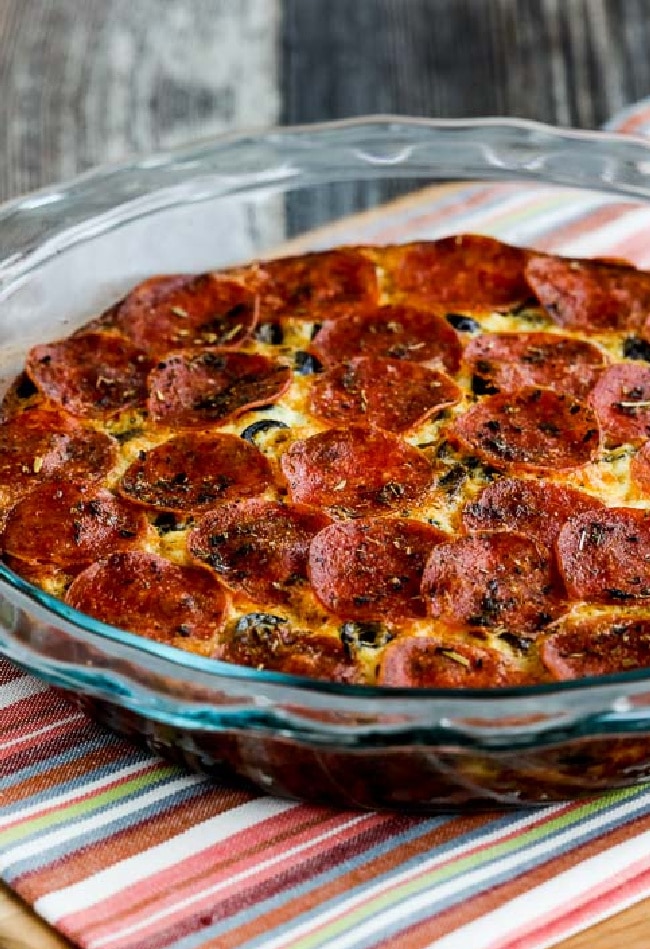 More Low-Carb Meals with Pizza Flavors:
Weekend Food Prep:
This Keto quiche recipe has been added to a category called Weekend Food Prep to help you find recipes you can prep or cook on the weekend and eat during the week!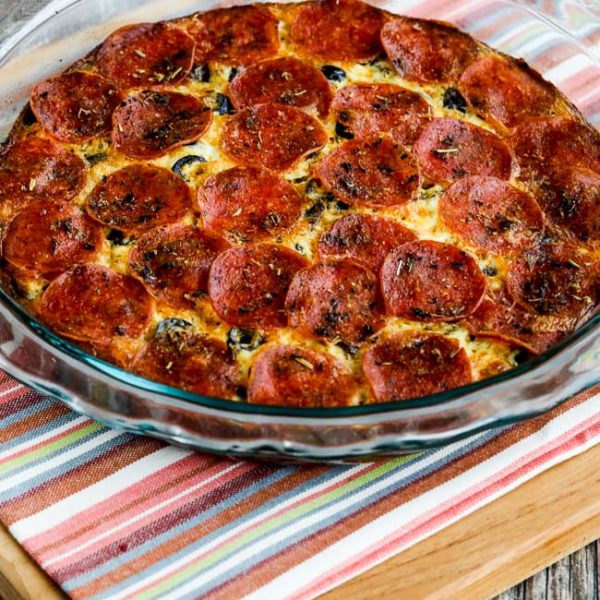 Yield: 6 servings
Pepperoni Pizza Keto Crustless Quiche
Prep Time 10 minutes
Cook Time 35 minutes
Total Time 45 minutes
Pepperoni Pizza Keto Crustless Quiche will make a tasty breakfast option when you're craving pizza but don't want the carbs!
Ingredients
8 oz. sliced mushrooms
2 tsp. olive oil (for browning mushrooms)
1 2.25 oz. can sliced black olives, drained well (Olives are optional but they're good if you like olives on pizza.)
1 cup shredded Mozzarella cheese
1 cup shredded Italian Blend cheese (sometimes called Pizza cheese)
1 tsp. + 1/2 tsp. Italian Herb Seasoning
4 eggs, beaten well
1/2 cup heavy cream (see notes)
1/4 tsp. garlic powder
2 oz. sliced pepperoni
Instructions
Preheat oven to 400F/200C. Spray a 9 - 10 inch glass pie dish with non-stock spray.
Heat the olive oil in a non-stick frying pan. (I used my favorite 12" Green Pan Ceramic Non-Stick Frying Pan.)
Add the sliced mushrooms and cook over medium-high heat until mushrooms release the liquid, the liquid evaporates, and mushrooms are cooked and lightly brown.
While mushrooms cook, dump olives into a colander placed in the sink and let them them drain well.
Combine the Mozzarella and Italian Blend Cheese in a bowl and sprinkle over the 1 tsp. Italian Herb Blend (affiliate link). Stir the cheese with a fork so the dried herbs are evenly distributed in the cheese. Place the cheese in the pie dish.
Beat the eggs with a fork, then mix in the heavy cream, half and half, or milk and the garlic powder.
Mix the egg/cream mixture into the cheese in the pie dish, stirring well with a fork until all the cheese is completely coated with the egg mixture.
Make a layer of browned mushrooms on top of the cheese/egg mixture. Top that with the sliced olives if using.
Arrange the pepperoni slices in an overlapping layer over the top of the mushrooms and olives. Sprinkle with the other 1/2 teaspoon of Italian Herb Blend.
Bake the quiche 30-35 minutes, or until the eggs are completely set and the pepperoni is starting to brown.
Let quiche cool 3-5 minutes (it will sink down slightly as it cools. Serve hot.
This will keep for several days in the refrigerator and reheats well in the microwave or in a pan on the stove.
Nutrition Information:
Yield:
6
Serving Size:
1
Amount Per Serving:
Calories: 331
Total Fat: 28g
Saturated Fat: 13g
Unsaturated Fat: 12g
Cholesterol: 185mg
Sodium: 546mg
Carbohydrates: 6g
Fiber: 1g
Sugar: 2g
Protein: 16g
Nutrition information is automatically calculated by the Recipe Plug-In I am using. I am not a nutritionist and cannot guarantee 100% accuracy, since many variables affect those calculations.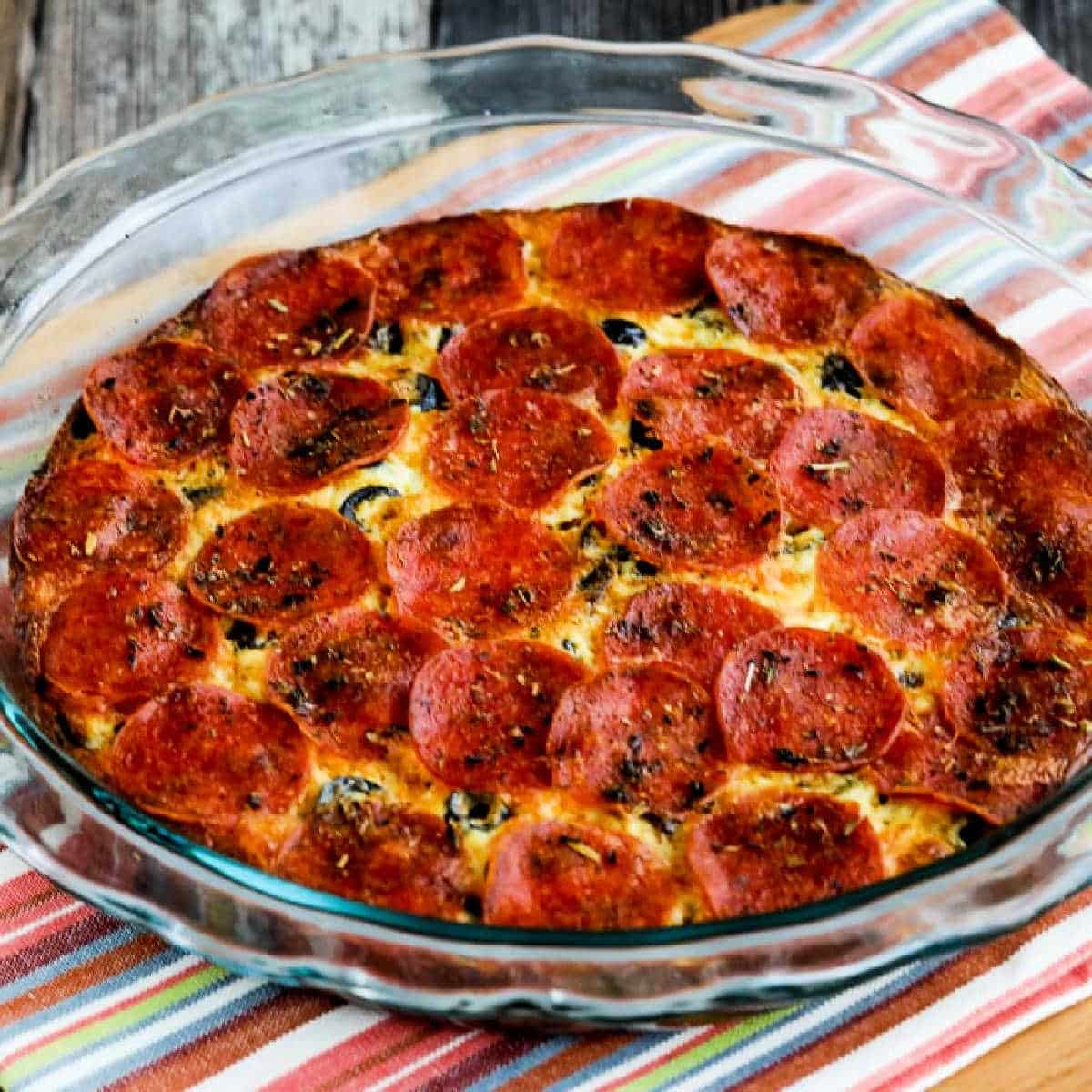 Low-Carb Diet / Low-Glycemic Diet / South Beach Diet Suggestions:
This Pepperoni Pizza Keto Quiche is a good breakfast recipe for low-carb or Keto diets. This would be too high in fat for the original South Beach Diet, but if you used low-carb milk, turkey pepperoni, and low-fat cheese you could make a South Beach Diet friendly version that would still be really good.
Find More Recipes Like This One:
Use Breakfast Recipes to find more low-carb and Keto breakfast ideas like this one! Use the Diet Type Index to find recipes suitable for a specific eating plan. You might also like to follow Kalyn's Kitchen on Pinterest, on Facebook, on Instagram, on TikTok, or on YouTube to see all the good recipes I'm sharing there.
Historical Notes for this Recipe:
This Keto quiche recipe with pizza flavors was posted in 2019. It was last updated with more information in 2023.
We are a participant in the Amazon Services LLC Associates Program, an affiliate advertising program designed to provide a means for us to earn fees by linking to Amazon.com and affiliated sites. As an Amazon Associate, I earn from qualifying purchases.