My Favorite Low-Carb Snacks
Here are My Favorite Low-Carb Snacks, and many of these snack ideas are Keto or South Beach Diet friendly as well. And don't you agree that low-carb snacks so are important to keep you satisfied!
PIN the Low-Carb Snacks to try some later!
For over 17 years now I've been writing this blog and (mostly) sticking to a pretty carb-conscious way of eating. I started out my healthy eating journey following the original South Beach Diet, and now it's evolved into my own personal lower-carb way of eating, where I focus on carb-conscious meals but sometimes eat things that are a bit of a splurge on carbs.
But no matter what kind of healthier diet you're trying to stick with, having some favorite low-carb snacks can really help you stay on track, so I thought I'd share My Favorite Low-Carb Snacks for anyone who needs ideas. And all these low-carb snack ideas are things I eat regularly when I need something to nibble on, and these are all snacks that I really enjoy! I like to nibble on things with some crunch, as you can tell!
What Low-Carb Snacks are featured here?
There are snacks here that have a recipe you'll need to prepare and some snacks that you simply buy and keep on hand. But all the snack ideas featured here are low-carb favorites for me!
Low-Carb Snack Recipes to Try: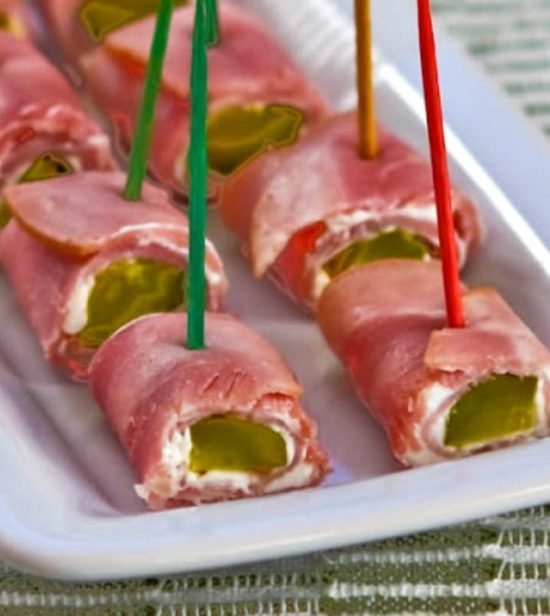 Ham and Dill Pickle Roll-Ups are something I love to make in batches and keep in the fridge to eat for a snack! And these are great for party food too.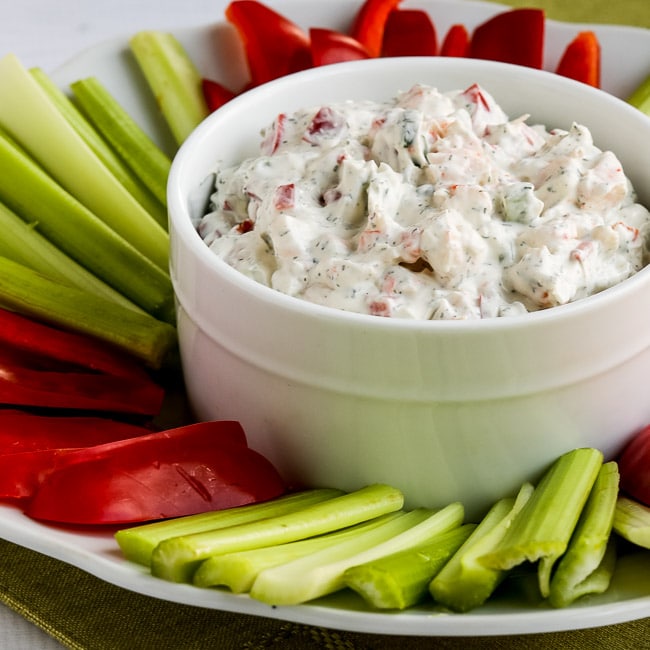 Sheila's Low-Carb Shrimp Dip will keep in the fridge for a couple of days, and this is a snack that feels like an absolute treat!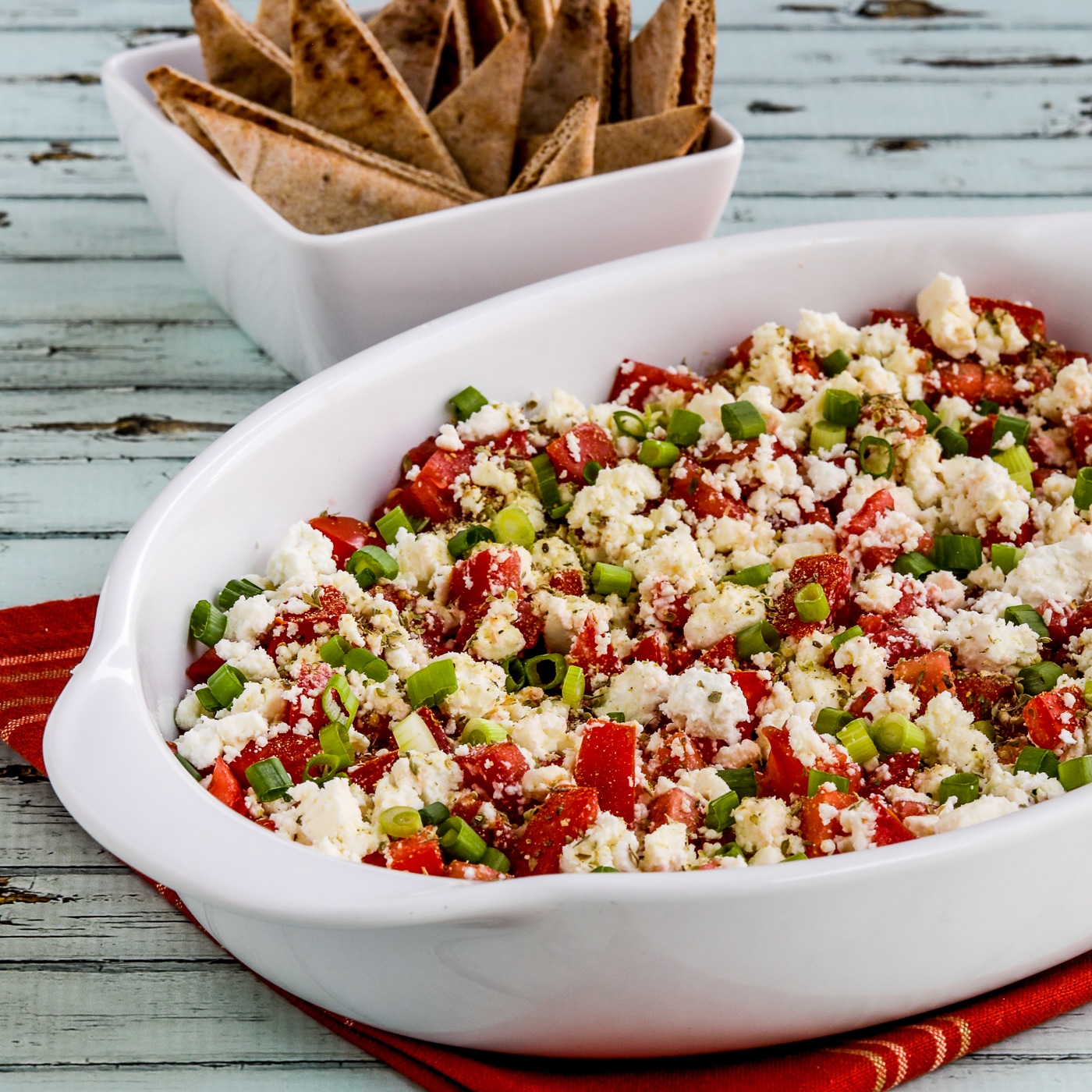 Greek Dip with Tomatoes and Feta is something I love to scoop up with low-carb pita bread, and this is great to serve for a party as well.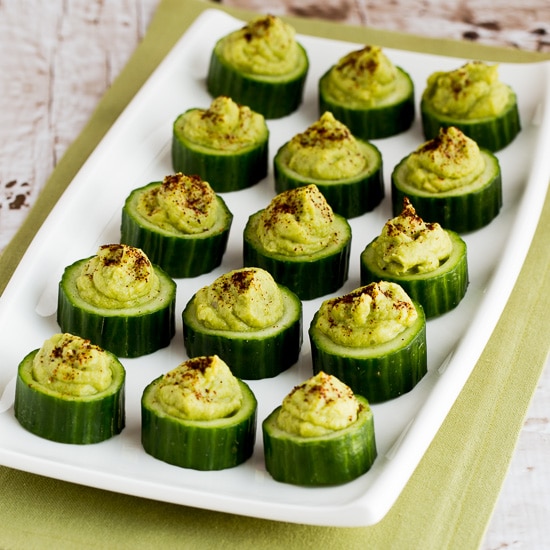 After I discovered a single-serving guacamole that I loved, I started making these Cucumber Guacamole Appetizer Bites. Or just cut a cucumber in strips and dip up the guacamole if you want an easier version!
They do take a bit of work compared to most of the other snacks, but these Almond Flour Cheese Crackers are absolutely a wow, and you'll love them for a snack.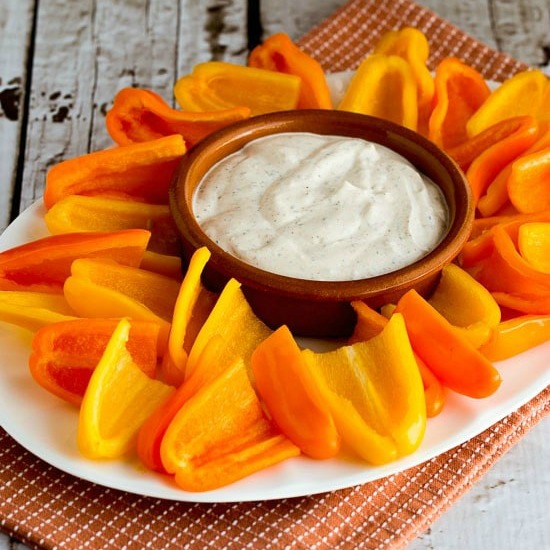 I love sweet mini-peppers which come in red, yellow, or orange. I eat these plain, or you can cut them in half lengthwise and use as a scoop for veggie dip. If you want to get a little fancier, make Southwestern Ranch Dip and scoop it up with the sweet mini-peppers for a low-carb spin on chips and dip!
Perfect Hard-Cooked Eggs are always great for a snack, or make them into Deviled Eggs if you have a bit more time. I love, love, love deviled eggs and have a great collection of deviled egg recipes on the blog. But if I had to pick just one, it might have to be Deviled Eggs with Green Olives!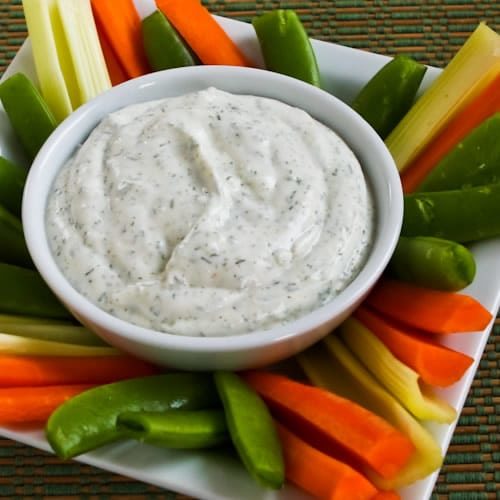 I love Ranch dip, and Grandma Denny's Homemade Ranch Dip is something you'll always find in my fridge!
I love celery so much, I have a whole post with Carb-Conscious Snacks with Celery. And celery stuffed with peanut butter is a great low-carb snack when you use my favorite low-sugar peanut butter.
Purchased Low-Carb Snacks to Keep on Hand: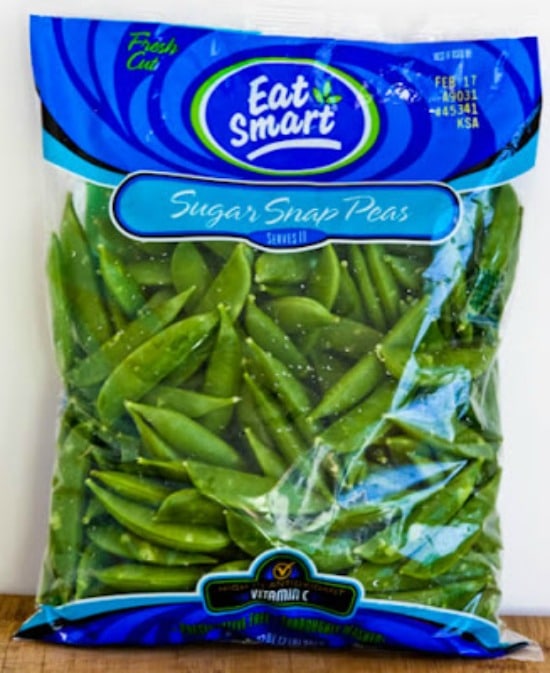 Sugar Snap Peas are great to eat plain, or enjoy them with some kind of veggie dip. When you haven't had sugar for a while, these taste like candy! And despite the word sugar in the name, they're not that high in carbs. I buy these at Costco, and they're something I always have in the fridge. (They're good cooked as well!)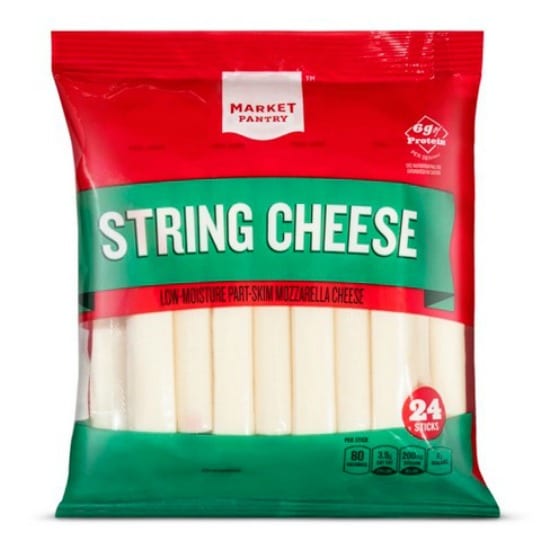 Cheese is a perfect low-carb snack and buying these pre-packaged cheese sticks is a good way to exercise portion control. I buy an assortment of different cheese stick varieties, and I eat this for a snack almost every day. (Photo from Target.com.)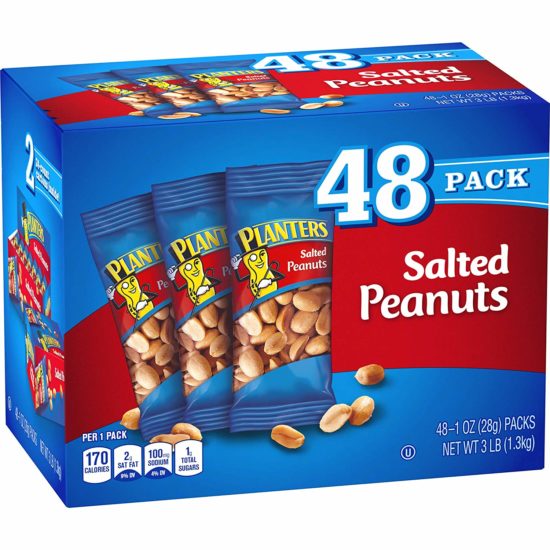 Nuts are definitely one of my favorite low-carb snack and when I'm really being healthy I use a 1/4 cup measuring cup and measure them out into little baggies or buy the packages like this. This is the snack I'm most likely to eat too much of. (Photo from Amazon.com.)
Historical Notes for this Post:
This collection of My Favorite Low-Carb Snacks was first posted in 2007. It was updated with a few more snacks I've been eating lately in 2022. Use Appetizers to find more low-carb appetizers or snacks. (Brand name products shown here were purchased by me and I haven't been compensated to show any products.)
If you have a favorite low-carb snack, I'd love to hear about it in the comments!
We are a participant in the Amazon Services LLC Associates Program, an affiliate advertising program designed to provide a means for us to earn fees by linking to Amazon.com and affiliated sites. As an Amazon Associate, I earn from qualifying purchases.