Kalyn's Kitchen Picks: Air Fryer Parchment Paper
Air Fryer Parchment Paper is a new product that has rocked my world, and I bet you're going to love this parchment paper made for the Air Fryer. This product prevents sticking and makes it so much easier to keep the Air Fryer basket clean!
PIN this post to find the information later!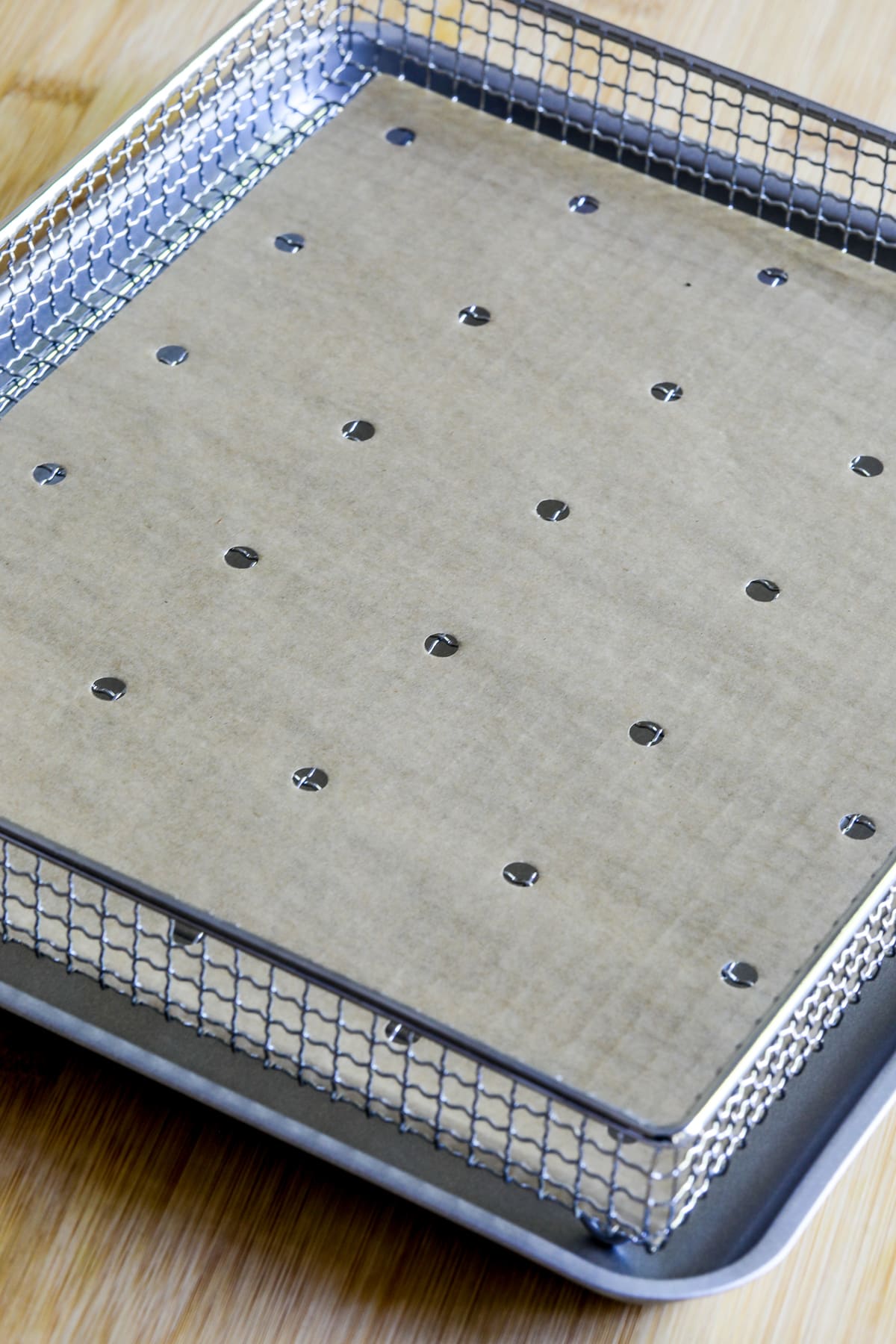 Recently I posted a great collection of 100 Keto Air Fryer Recipes, and if you're an Air Fryer fan, I hope you'll find some new ideas there for things to make in the Air Fryer. I had so much fun finding them, and in that post I included a shout-out for this Air Fryer Parchment Paper that's a new product has rocked my world since I recently discovered it and started using it!
If you're familiar with parchment paper that's used in baking, then you'll understand the appeal of parchment paper made for the Air Fryer! I definitely love cooking easy meals in my Air Fryer, but I've consistently struggled with keeping the basket clean. Now I just put a sheet of this parchment paper in my Air Fryer basket, and the food still cooks perfectly with a lot less mess.
Will this Parchment Paper fit your Air Fryer?
It was someone on the Kalyn's Kitchen Facebook page that told me about this product, and since I have the Cuisinart Convection Air Fryer Toaster Oven (affiliate link) that has an extra large basket, I was skeptical that I'd find parchment paper that was the right size. But when I searched for Air Fryer Parchment Paper (affiliate link) on Amazon, I found one that was perfect. Or if you have the Cuisinart Air Fryer that I use, you might want to invest in a Cuisinart Non-Stick Air Fryer Basket (affiliate link), which was recommended to me by a reader who left a comment on my Air Fryer round-up post! Check out the sizes of parchment paper on Amazon and if you have a common Air Fryer model I bet you'll find a size that works. I was amazed at how many different sizes they had!
Is Air Fryer Parchment Paper expensive?
The packet of parchment paper I bought for my Air Fryer was $11.99 for 100 sheets, and considering how hard it is to keep the Air Fryer basket clean, I consider that a very good buy! If you have an Air Fryer with a smaller basket, it will be even cheaper.
Can you use regular Parchment Paper in the Air Fryer?
From what I can tell by reading online, it seems like this product was invented when people started cutting regular sheets of parchment paper to use in the Air Fryer. But I haven't tried that and I did see some warnings about it. Personally I would stick with the product that's made to work in the Air Fryer. Plus the parchment paper made for the Air Fryer has holes to help with the circulation of hot air, which is what makes the Air Fryer cook things so quickly.
Tips for using Parchment Paper for Air Fryer Cooking:
Never put parchment paper into the Air Fryer basket when you are preheating the Air Fryer. Put the parchment paper in when you add the food.
For most foods, you will have better results if you buy the Air Fryer Parchment Paper (affiliate link) that has perforated holes to let the air circulate. This is especially true for foods where you want the surface of the food to get crisp in the Air Fryer.
Only use Air Fryer Parchment Paper when you have enough food in the basket to hold down the Air Fryer sheets. Loose sheets of parchment paper could possibly fly up and touch the heating elements in the Air Fryer.
Don't leave the Air Fryer unattended when you're cooking in it with parchment paper.
Using parchment paper is especially useful if you're cooking things with a coating or breading that may fall off in the Air Fryer.
The Air Fryer Parchment Paper is also extra beneficial when cooking foods that have a sticky sauce. I didn't know about the parchment paper for the Air Fryer when I made this Maple Glazed Salmon, but it would have prevented the sauce that dripped down on to the tray which you can see in the photos!
NEVER used waxed paper in the Air Fryer.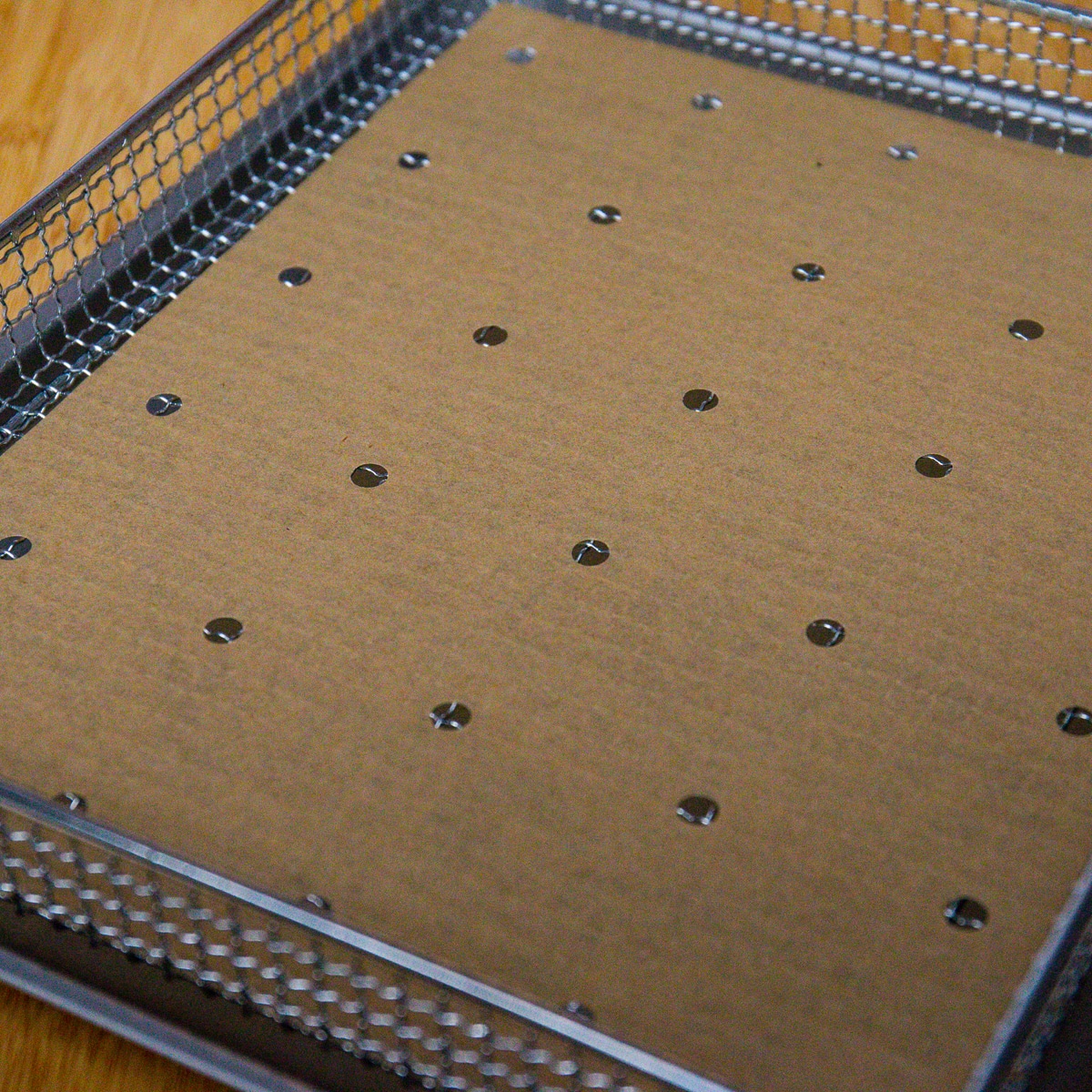 Want more product recommendations like this one?
You can see all the products I've spotlighted at Kalyn's Kitchen Picks.
Blogger Disclosure for Kalyn's Kitchen Picks:
I bought the parchment paper shown in the photos above myself from Amazon.com and the company has no idea I am writing about their product. All items featured as Kalyn's Kitchen Picks are things I happily buy over and over, and because I want readers to know that my opinions are completely unbiased, I no longer accept sample products of any kind.
We are a participant in the Amazon Services LLC Associates Program, an affiliate advertising program designed to provide a means for us to earn fees by linking to Amazon.com and affiliated sites. As an Amazon Associate, I earn from qualifying purchases.