Sugar-Free Jelled Ricotta Pudding
This Sugar-Free Jelled Ricotta Pudding is a very low-carb and South Beach Diet friendly dessert recipe I got from a reader! It's extra simple to make and if you're strictly watching carbs you might like it for a simple treat!
Click to PIN Sugar-Free Jelled Ricotta Pudding!
Many years ago I got this simple recipe for Sugar-Free Jelled Ricotta Pudding from a reader named Janet, a garden writer and photographer from Toronto who told me that she and her husband had recently started the South Beach Diet. (This was the original South Beach Diet, before the diet was sold and became a packaged meal approach.) Janet said they did miss having something a little sweet after dinner, so she'd been experimenting with phase one desserts.
She was surprised how good the sugar-free Jello (affiliate link) tasted when you weren't eating sugar, and she'd also tried the ricotta creme desserts in the original South Beach Diet Book (affiliate link). Combining those ideas, she mixed ricotta cheese with sugar-free jello and came up with a dessert she thought was pretty good.
When I tried Janet's creation, I was surprised how good it tasted for a completely low-carb, sugar-free, and South Beach phase one dessert, even with the slightly gritty texture of the ricotta cheese. You can use any flavor of Jello that appeals to you, but I made her layered pudding using raspberry Jello in the photo above.
This might be a welcome treat for any low-carb eaters or South Beach Dieters who aren't into making fancy desserts. And Janet reports she has since gone on to more sugar-free Jello experiments, including replacing the ricotta with low-fat plain yogurt and adding fruit for a layered phase two dessert.
What ingredients do you need for this recipe?
More Easy Sugar-Free Desserts:
Sugar-Free Pumpkin Pudding (Stunningly easy and this has been a big hit!)
Sugar-Free Yogurt Pie (This is another easy dessert idea from a reader!)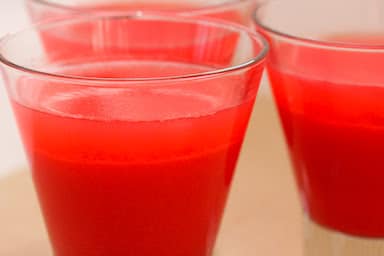 Yield: 4 servings
Sugar-Free Jelled Ricotta Pudding
Prep Time 10 minutes
Additional Time 2 hours
Total Time 2 hours 10 minutes
If you don't want sugar but aren't into making fancy desserts, you might like this Sugar-Free Jelled Ricotta Pudding for a simple treat!
Ingredients
one four oz. pkg. sugar-free Jello
1 cup boiling water
2/3 cup ricotta cheese
1/2 cup cold water
Instructions
Put ricotta cheese into bowl and stir with fork or whisk until it's slightly softened.
Have four glass dishes (slightly over 1/2 cup each) ready on counter to pour the hot Jello mixture into.
Put powdered Jello from package into large glass measuring cup, pour in boiling water and whisk for 1-2 minutes, until all Jello is dissolved in the water.
Stir in ricotta, then cold water and mix together.
Pour into glass bowls and place in refrigerator to set.
I waited about 2 hours until the mixture was partly firm, then covered it with cling wrap.
Serve cold, from individual dishes.
Notes
Recipe shared by a reader named Janet Davis and tested by Kalyn.
Nutrition Information:
Yield:
4
Serving Size:
1
Amount Per Serving:
Calories: 60
Total Fat: 3g
Saturated Fat: 2g
Trans Fat: 0g
Unsaturated Fat: 1g
Cholesterol: 13mg
Sodium: 52mg
Carbohydrates: 3g
Fiber: 0g
Sugar: 0g
Protein: 5g
Nutrition information is automatically calculated by the Recipe Plug-In I am using. I am not a nutritionist and cannot guarantee 100% accuracy, since many variables affect those calculations.
Low-Carb Diet / Low-Glycemic Diet / South Beach Diet Suggestions:
Sugar-Free Jelled Ricotta Pudding is a great dish for low-carb diet plans, and for any phase of the South Beach Diet.
Find More Recipes Like This One:
Use Dessert Recipes for more recipes like this one. Use the Recipes by Diet Type photo index pages to find more recipes suitable for a specific eating plan. You might also like to Follow Kalyn's Kitchen on Pinterest to see all the good recipes I'm sharing there.
We are a participant in the Amazon Services LLC Associates Program, an affiliate advertising program designed to provide a means for us to earn fees by linking to Amazon.com and affiliated sites. As an Amazon Associate, I earn from qualifying purchases.