Sugar-Free (or Low-Sugar) Cookies and Brownies
Here are my favorite Sugar-Free (or Low-Sugar) Cookies and Brownies, and most of them are low-carb and gluten-free as well!
PIN the Cookies and Brownies to try some later!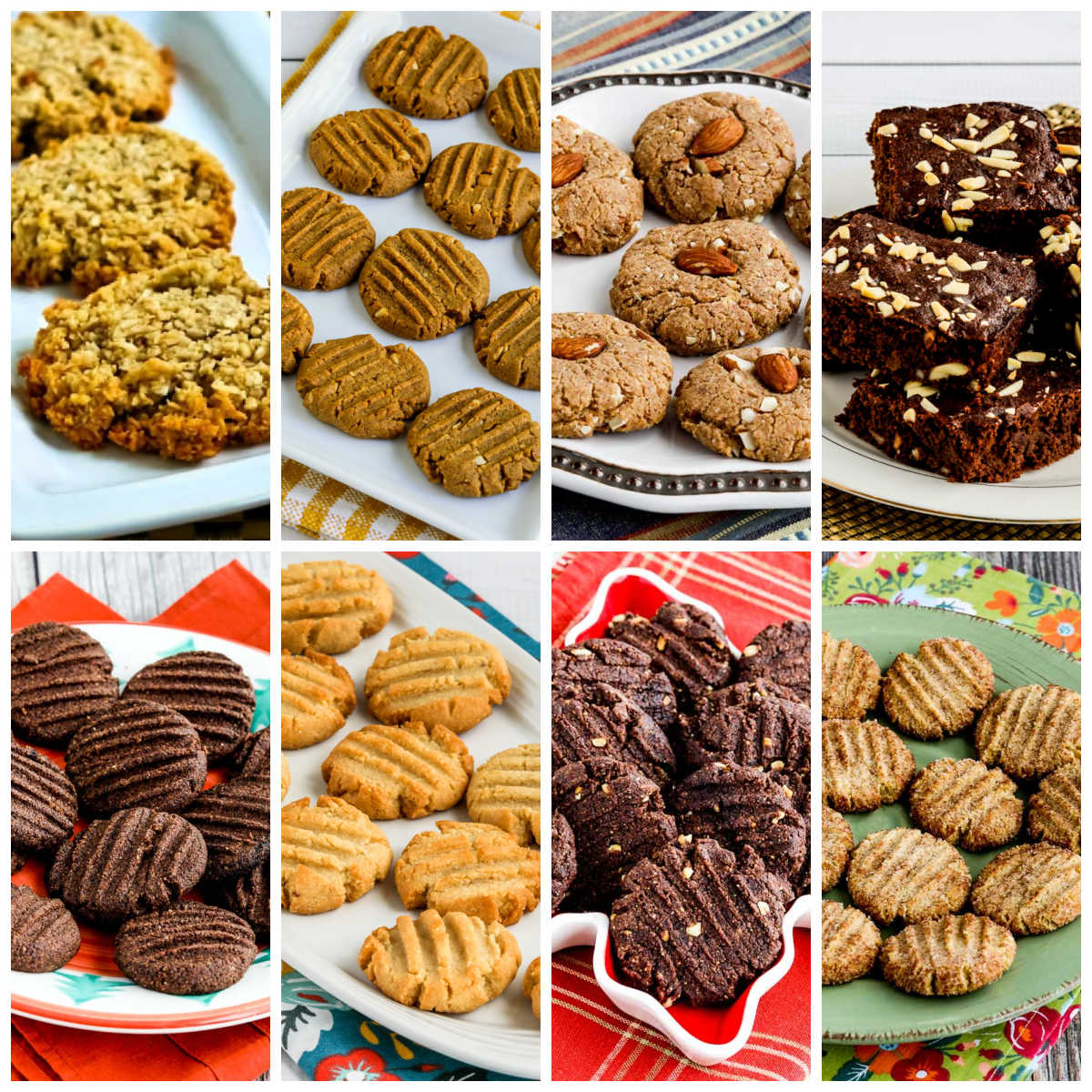 If you've followed my blog at all, I'm sure it's obvious that I'm a creative and passionate cook and not so much of a baker. And for sure I've experimented with a lot of cookie recipes through the years that didn't ever make it on the blog! But these Sugar-Free (or Low-Sugar) Cookies and Brownies are the ones that made the cut, and a few of these are cookies I make over and over and store in the freezer to pull out when I need something sweet.
These are cookie recipes that come from 18 years of blogging, and during that time my eating habits have changed a bit so there are several types of cookie recipes here.
There are cookies that use almond flour or other ground nuts, so they're low-carb and gluten-free.
There are a couple of cookies that use unsweetened coconut so they're gluten-free but have a bit more carbs.
And there are a few cookie recipes here from the early days of the blog when I used to bake with white whole wheat flour, so those are not gluten-free.
I divided the cookies into categories to help you find the ones that work for your way of eating. And I hope you find some cookie recipes here that will be a hit at your house.
What Sweetener do I like for Sugar-Free Cookies and Brownies?
For a long time I used Stevia Granulated Sweetener (affiliate link) mixed with a tiny amount of brown sugar to make low-sugar cookies. But now that I've discovered Monkfruit Sweetener (affiliate link) and Golden Monkfruit Sweetener (affiliate link) I'd definitely use one of those for my low-sugar baking. And I'm starting to feel that classic Monkfruit Sweetener sometimes mixes in best in cookie recipes that don't have much liquid.
But please, use granulated Stevia, Monkfruit sweetener, Golden Monkfruit Sweetener, Splenda, or any other sweetener that measures 1:1 with sugar, whichever you prefer. One thing I do know about sweeteners is that different sweeteners don't taste the same to everyone. You can even make these cookies with sugar if that's what works for you, and please, no judgements about what sweeteners people choose to use!
Sugar-Free, Gluten-Free Cookies and Brownies with Almond Flour: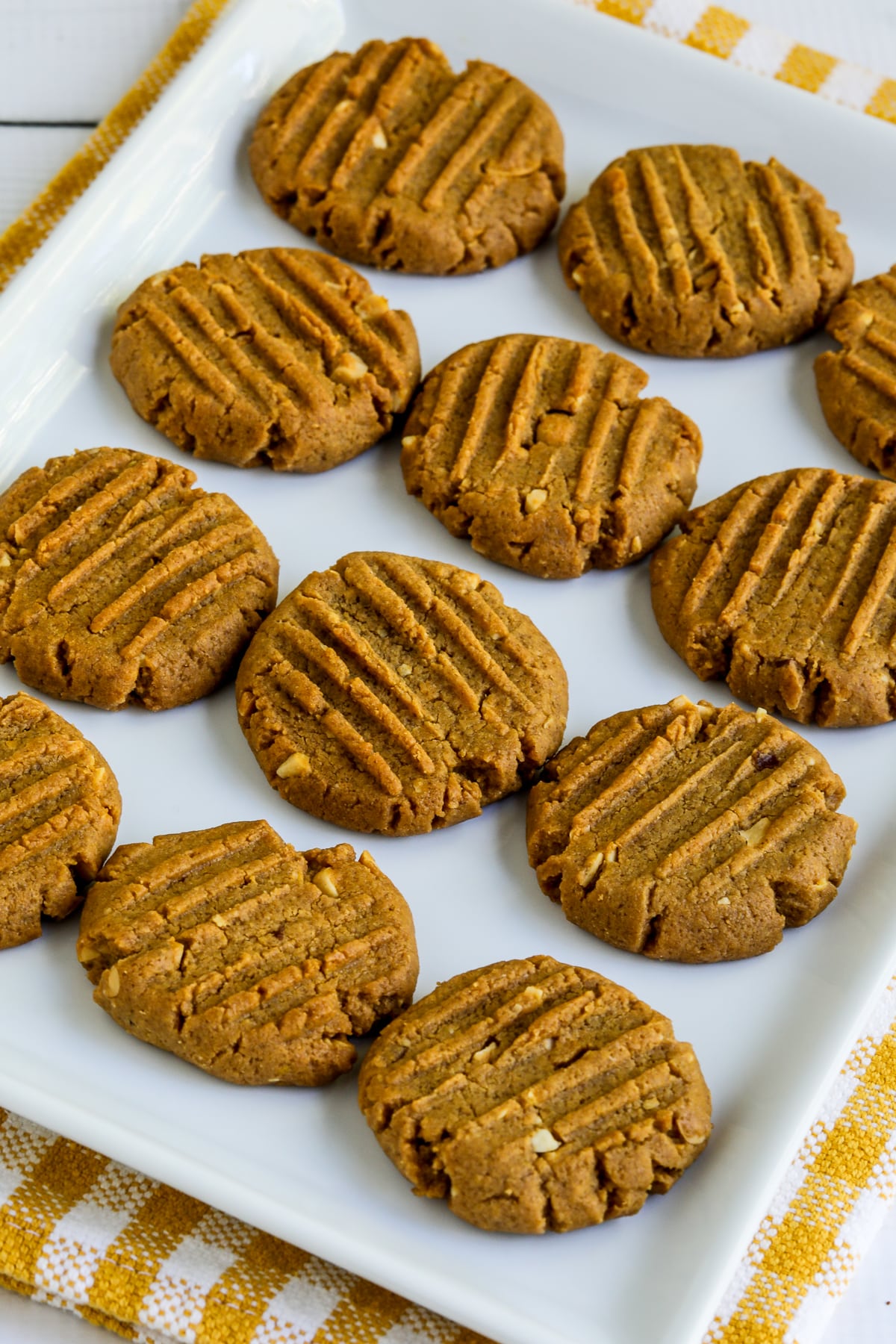 If I had to choose a favorite cookie, it might be these Sugar-Free Peanut Butter Cookies that are also gluten-free. This recipe recently got reposted in a new-and-improved version that's amazing.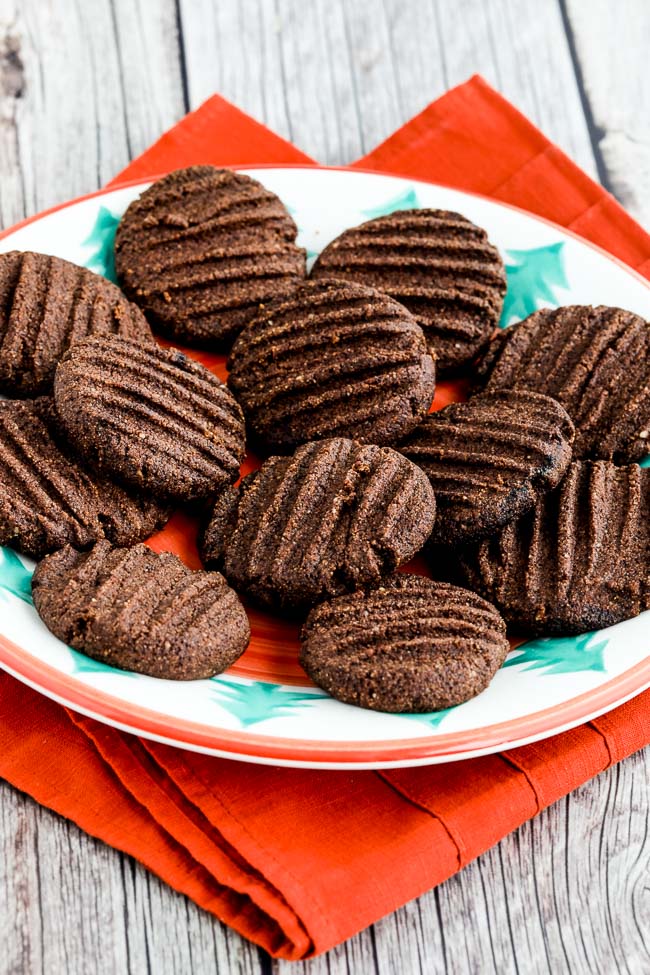 Flourless Sugar-Free Chocolate Shortbread Cookies are also gluten-free. These cookies use butter and almond meal so they're definitely calorie-dense, but delicious!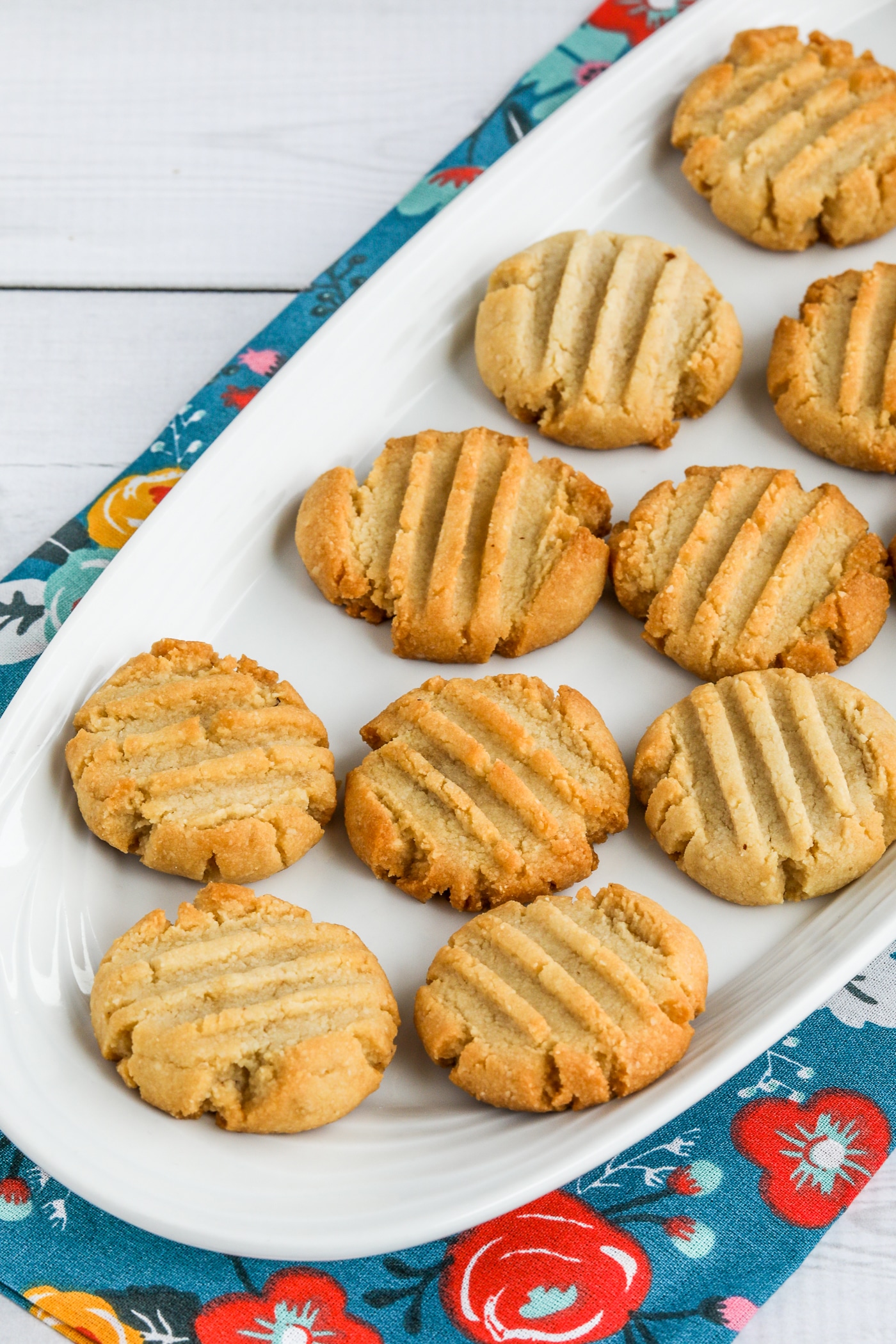 Almond Flour Shortbread Cookies are a popular cookie recipe on the blog, and this was completely a wow for us when we tested the recipe!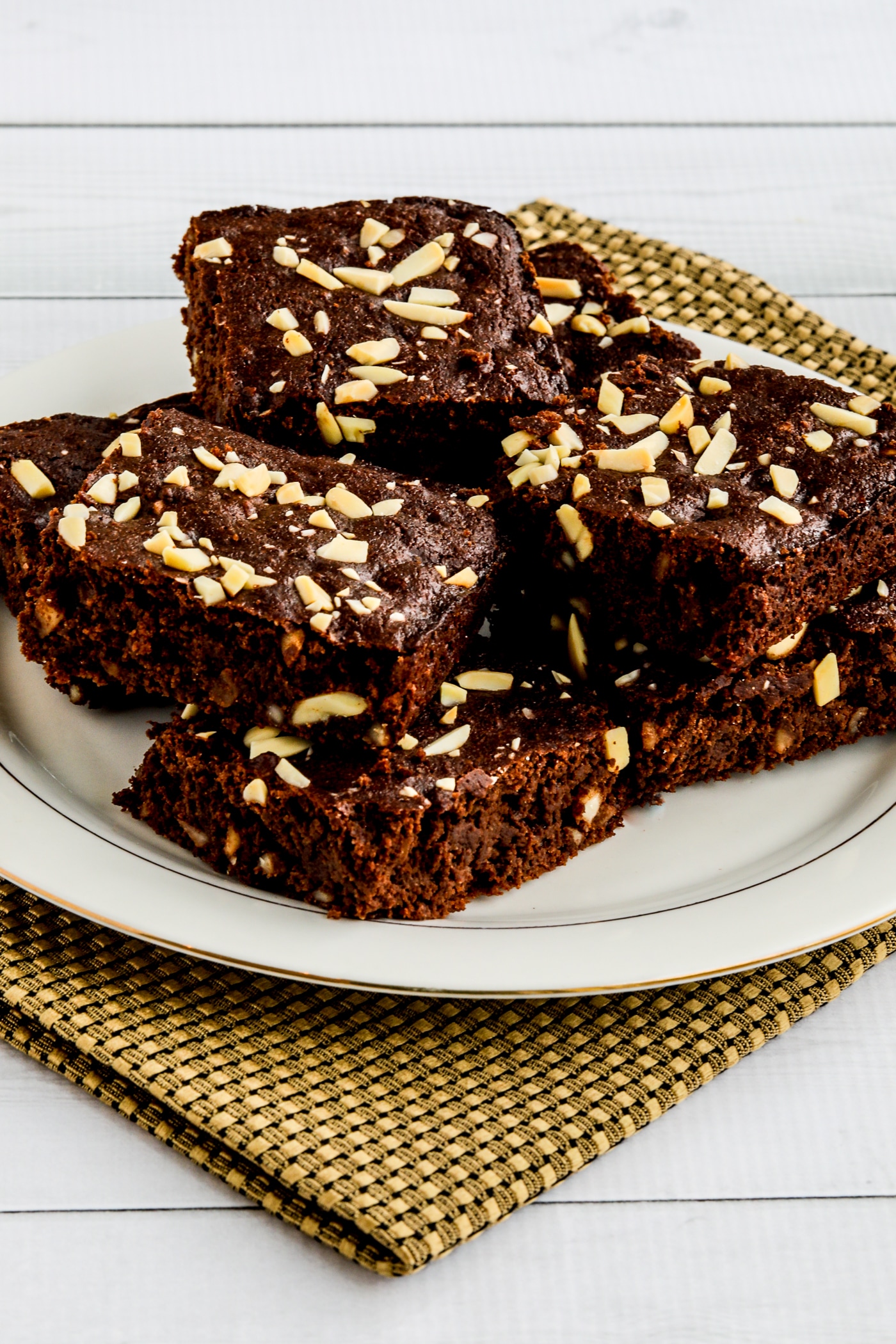 We loved these Almond Flour Brownies when we worked on the recipe and they're Keto, low-carb, and gluten-free!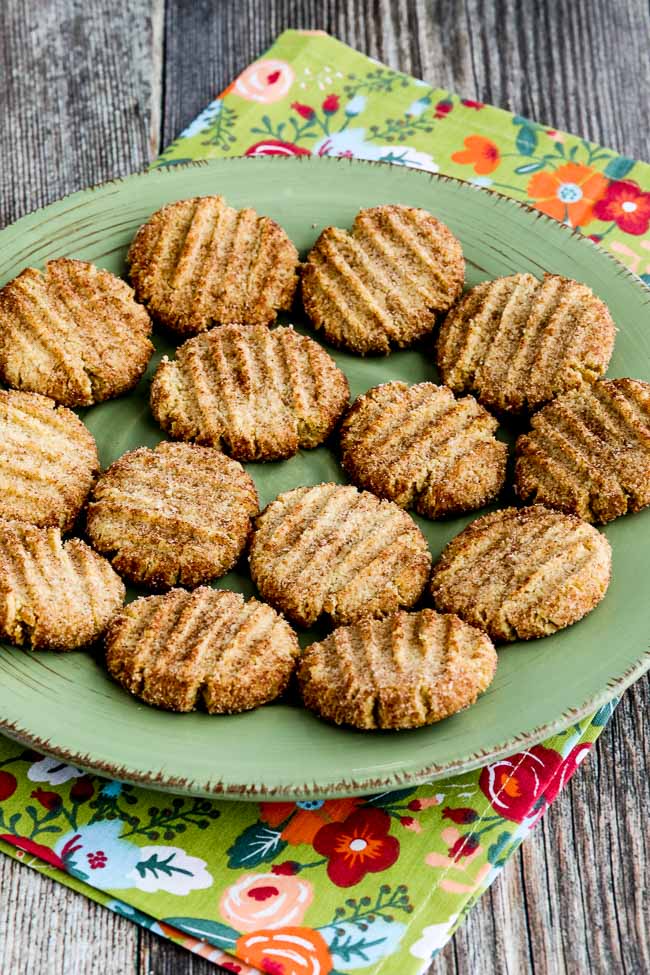 Sugar-Free Flourless Almond Flour Flaxseed Cookies taste a bit like Snickerdoodles, with a flavor that's slightly more complex. These are gluten-free.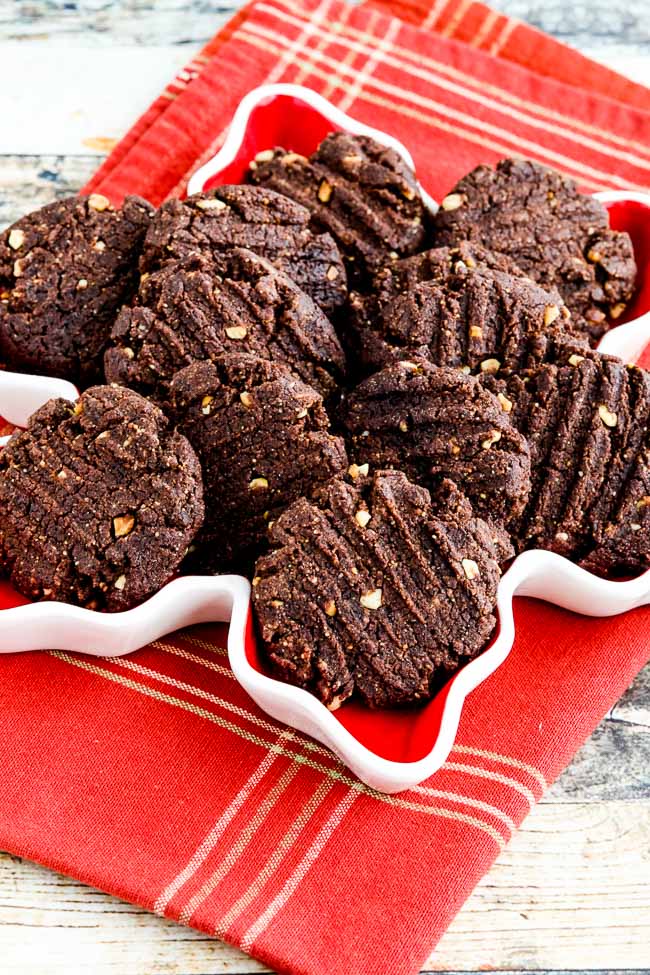 Flourless Sugar-Free Peanut Butter Chocolate Cookies are also gluten-free and dairy-free.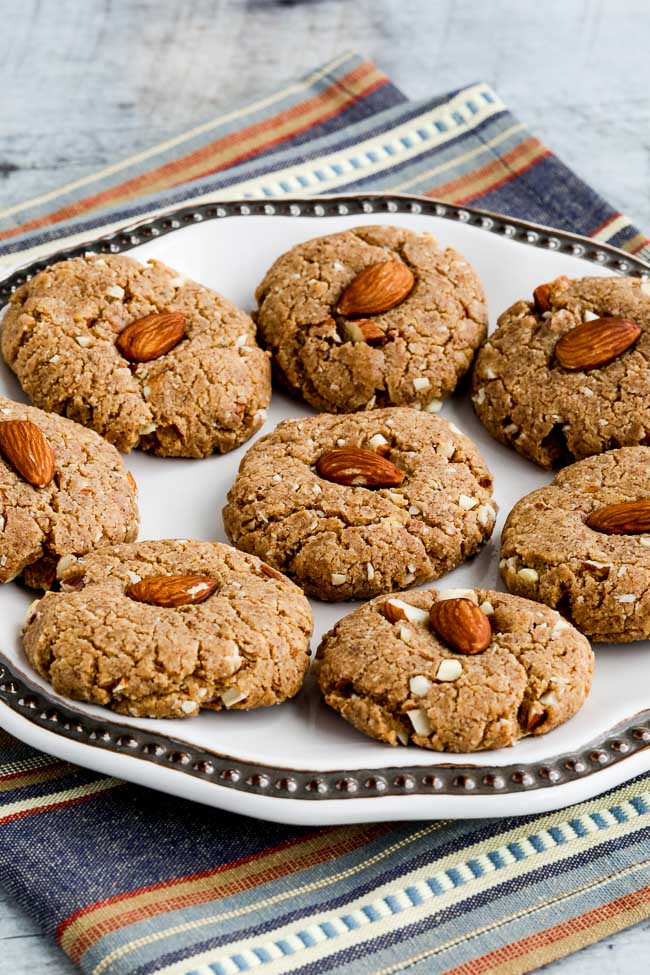 Sugar-Free Gluten-Free Almond Cookies have almond butter, almond flour, and chopped almonds in the cookies, and if you really want lots of almond flavor you can use the optional almond extract.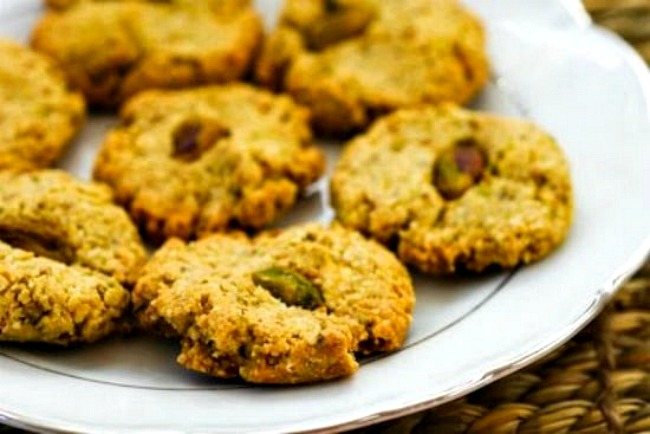 Four-Ingredient Flourless Sugar-Free Pistachio Cookies are a gluten-free cookie made from almond flour and ground pistachios. This is a tiny cookie that's really fun for Christmas.
Sugar-Free, Gluten-Free Cookies with Coconut or Oatmeal: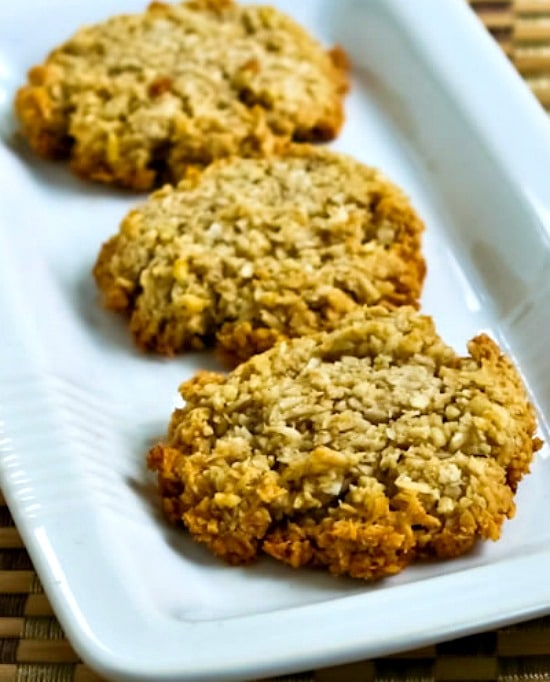 Sugar-Free Coconut Macaroon Cookies use unsweetened coconut, and even though that has a tiny bit of natural sugar I'm calling them sugar-free because there's no added sugar and these cookies are gluten-free, very low in carbs, and Phase One for the original South Beach Diet.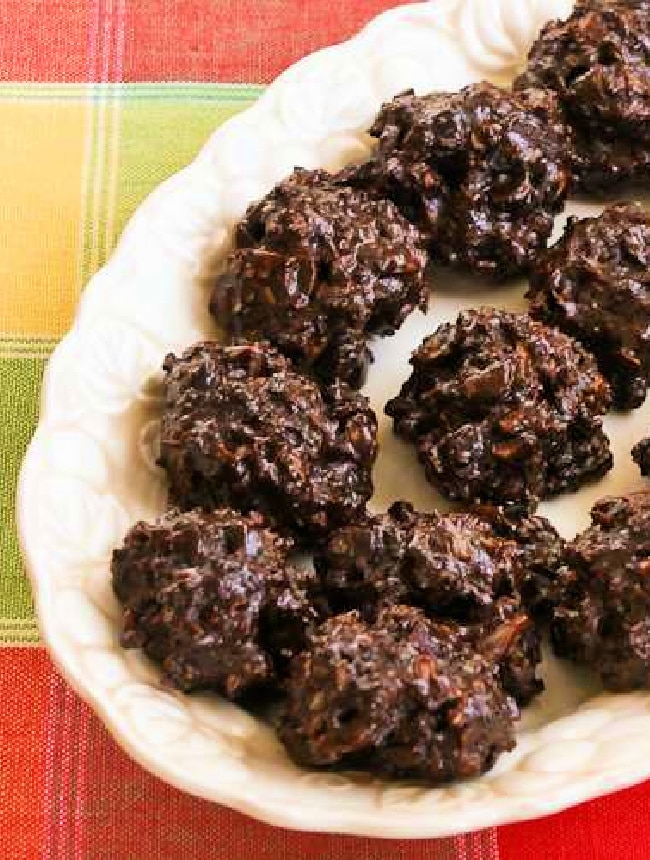 We loved these Sugar-Free Chocolate Coconut Drops, and these are gluten-free, although they do have a few carbs from unsweetened coconut.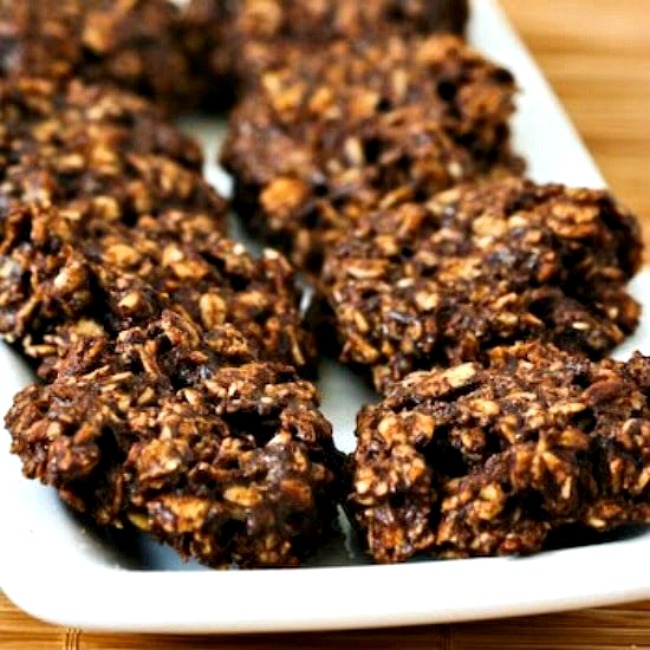 Sugar-Free Flourless Chocolate Oatmeal Cluster Cookies are a tasty cookie made with oatmeal, and if you make sure the rolled oats are gluten-free this is a gluten-free cookie with 5.6 net carbs per cookie.
Sugar-Free Cookies and Brownies that aren't Gluten-Free: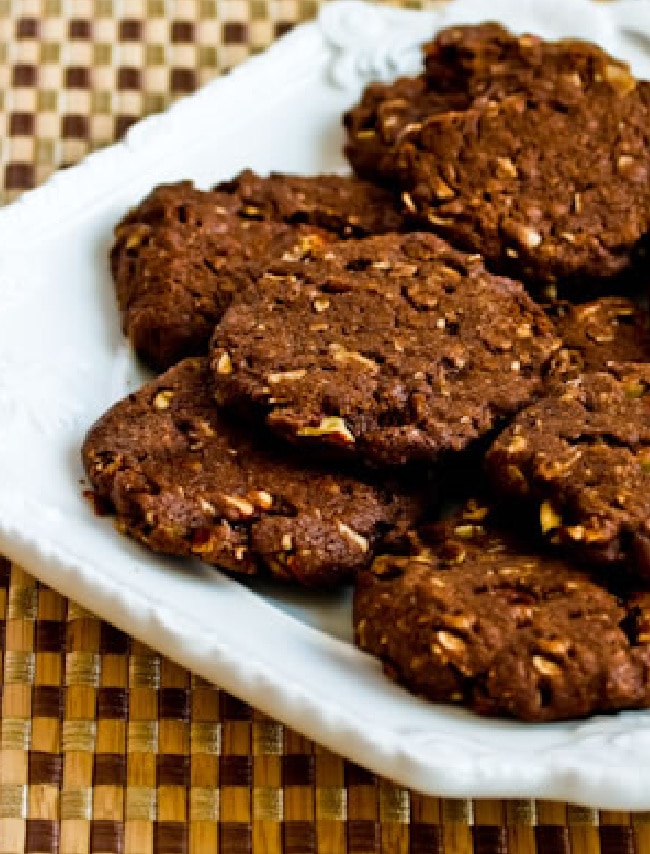 Sugar-Free Chocolate Cookies with Pecans are a sugar-free cookie made with whole wheat flour. These are relatively low in net carbs for a cookie made with flour; check it out and see what you think.
Sugar-Free Ranger Cookies have pecans, coconut, and chocolate, and these whole-wheat cookies are delicious for a healthier cookie option!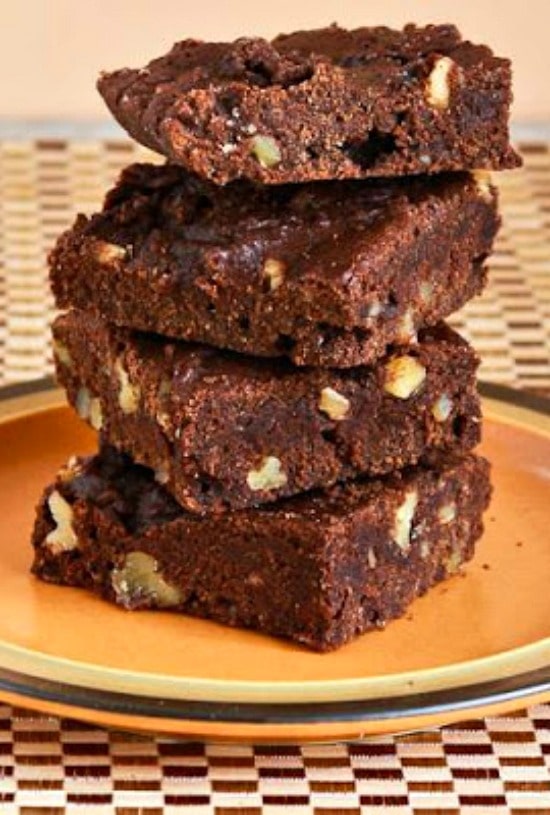 These Sugar-Free Whole Wheat Brownies were made in memory of my sister's mother-in-law who was famous for her brownies.
Low-Sugar Healthy Molasses Cookies are a cookie with great flavor. These don't have added sugar, but molasses does have some sugar.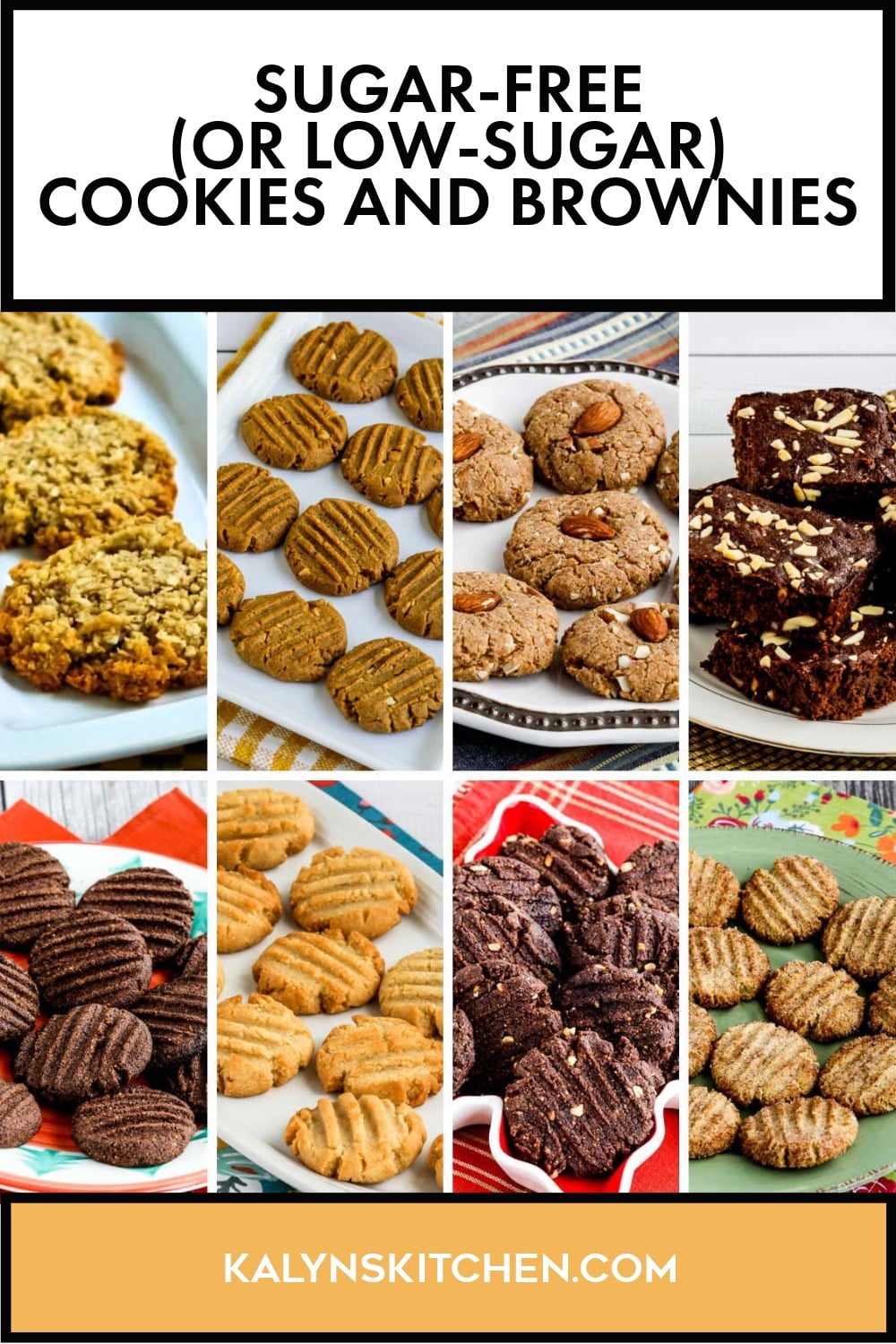 We are a participant in the Amazon Services LLC Associates Program, an affiliate advertising program designed to provide a means for us to earn fees by linking to Amazon.com and affiliated sites. As an Amazon Associate, I earn from qualifying purchases.