Meatball Casserole with Artichokes (Video)
This tasty Meatball Casserole with Artichokes was an idea that just popped into my head and this comfort food dish was a winner.
PIN Meatball Casserole with Artichokes to try it later.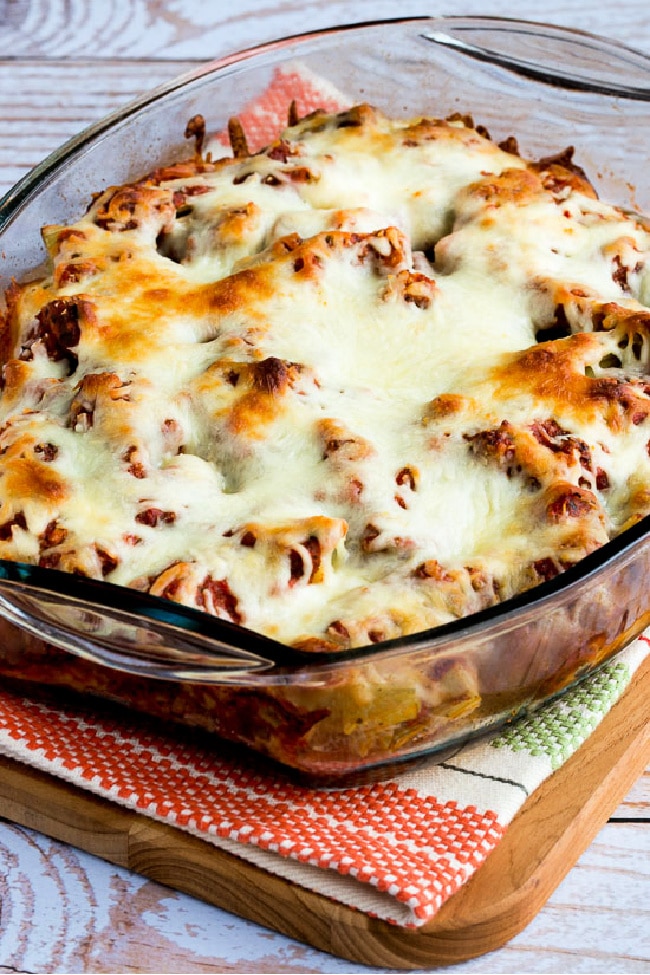 People are always asking me "How do you think of the recipes?" Sometimes I've credited a cookbook, magazine, or other blogger who has inspired me with an idea, but there are some recipes like this one where I have no idea why the recipe popped into my head! And surprisingly enough, some of those recipe ideas that just pop into my head turn out to be favorites.
Meatball Casserole with Artichokes was inspired by some chicken meatballs I sampled at Costco. I originally made this with big packages of meatballs and a big jar of artichokes hearts too, but now I've adapted the recipe to use the size you'll probably find in your store!
This easy and cheesy meatball casserole is simply a combination of meatballs, artichoke hearts, low-sugar marinara sauce, and grated mozzarella, all melted together into a cheesy dish that's quick to throw together. There aren't many recipes on this blog that just assemble purchased ingredients, but I promise you that this casserole is really good. And everyone has those nights when you need something that goes together quickly, right?
What ingredients do you need for this recipe?
Can you use marinated artichoke hearts?
I haven't made this recipe with marinated artichoke hearts. But if you like the marinated ones, I can't imagine they wouldn't be good.
What meatballs did I use?
I used Aidells Organic Chicken Meatballs with Basil and Garlic for this recipe, but any pre-cooked chicken or turkey meatballs that you like the flavor of will be fine.
Are artichokes low in carbs?
Artichokes do have some carbs. But they are low in fiber, so the net carbs are fairly low.
Why do I use Rao's Pasta Sauce:
The lowest-carb pasta sauce I've found is Rao's Pasta Sauce, and I like it so much I've featured it as one of my ingredient picks. Check out Low-Carb Recipes using Rao's for more ideas.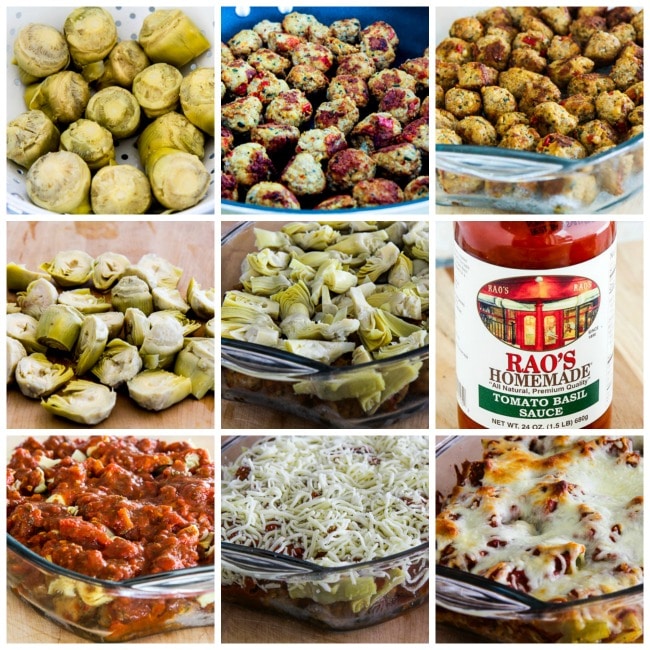 Steps for Making Meatball Casserole with Artichokes:
(Scroll down for complete recipe with nutritional information.)
Drain the water from the artichoke hearts well. (I was careful about turning each artichoke heart over in the colander so the maximum amount of water could drain out. You can get by with a lot less artichokes, and that will reduce the carbs as well.)
Heat a little olive oil in a large frying pan and brown the meatballs well.
Put the browned meatballs in a large casserole dish.
Cut the well-drained artichokes into fourths or halves and layer them over the meatballs.
If you can find it I recommend Rao's Pasta Sauce (affiliate link) which has no added sugar and only 20 carbs in the whole jar!
Spread the sauce over the meatballs and artichoke hearts and top with grated cheese.
Bake 40 minutes, or until cheese is melted and the casserole is bubbling and browned to your liking.
Serve hot, with something like Roasted Asparagus or Roasted Broccoli on the side for a low-carb meal.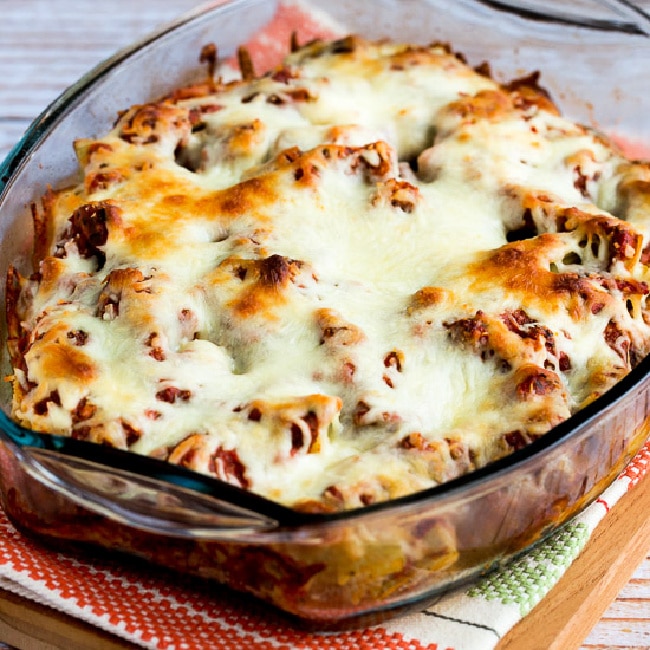 More Meatballs for Dinner:
Weekend Food Prep:
This recipe has been added to a new category called Weekend Food Prep to help you find recipes you can prep or cook on the weekend and eat during the week!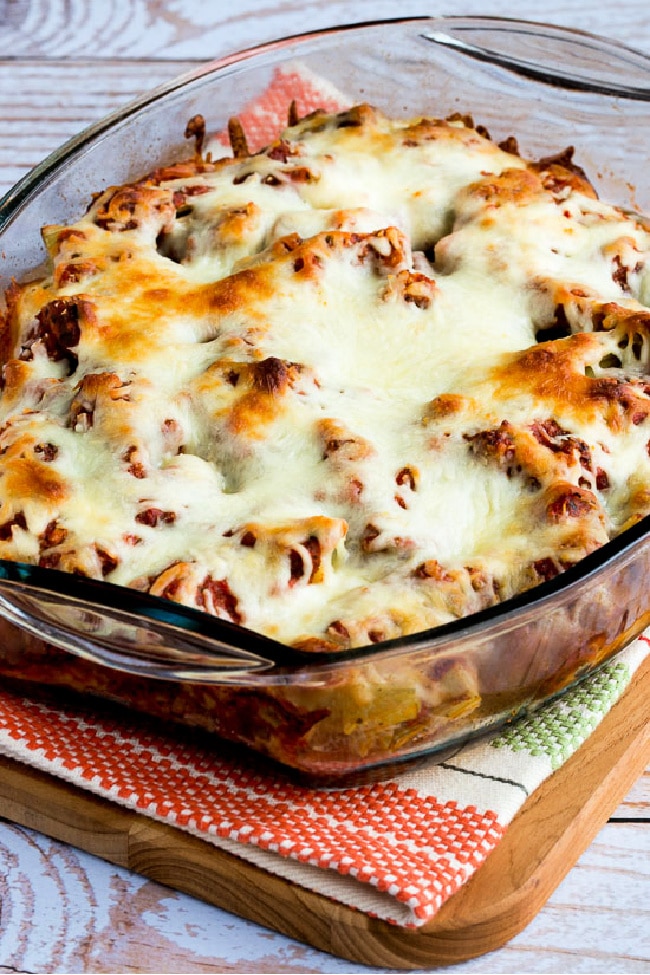 Yield: Makes 8 servings
Meatball Casserole with Artichokes
Prep Time 20 minutes
Cook Time 40 minutes
Total Time 1 hour
This Meatball Casserole with Artichokes is delicious and super easy to make. Use less artichoke hearts if you prefer and that will reduce the carbs even more!
Ingredients
2 14 oz. cans artichoke hearts packed in water (see notes)
2 12 oz. packages pre-cooked chicken meatballs (see notes)
2 tsp. olive oil
24 oz. jar Rao's Marinara Sauce (see notes)
1 cups grated Mozzarella cheese (or more)
Instructions
Dump the artichoke hearts into a colander placed in the sink and let the water drain out while you brown the meatballs. (I turned each artichoke heart so the open side was down and the maximum amount of water could drain out).
Preheat oven to 375F/190C. Spray a casserole dish (9″ x 13″ or close to that size) with non-stick spray.
Heat the oil in a large frying pan, add the meatballs, and cook over medium-high heat, turning a few times, or until all the meatballs are nicely browned. (Browning the meatballs is probably optional, but we thought it added flavor. You may need to brown them in two batches if you don't have a large enough frying pan.)
Put the browned meatballs in the bottom of the casserole dish.
Wipe artichoke hearts dry with paper towels and cut each one into half or fourths, depending on how big they are.
Put the artichoke hearts over the meatballs in the casserole dish.
You can simmer the sauce for about 15 minutes to cook off some of the water if you want to; we made this both ways and although when we didn't simmer the sauce there was a tiny bit of water in the bottom, we felt it wasn't worth the extra step of reducing the sauce.
Pour the sauce over the artichokes and meatballs.
Sprinkle the grated cheese over the top.
Bake 40 minutes, or until the dish is bubbling hot and the cheese is nicely browned.
Serve hot.
I haven't tried freezing this, but it did keep in the fridge for several days and and reheated well.
Notes
I used to buy big jars of artichoke hearts at Costco, but when I could no longer find them I started making this with cans of Artichoke Hearts packed in water (affiliate link) and of course using only one can artichoke hearts will reduce the carbs!
I like Aidell's Organic Chicken Meatballs with Basil and Garlic for this recipe, which have only 2 carbs in three meatballs.
I used Rao's Pasta Sauce (affiliate link), which is the lowest-sugar sauce I've found.
Nutritional information was based on the chicken meatballs I used and Rao's pasta sauce. Remember that artichokes have a lot of fiber, so be sure to check the net carbs.
This recipe created by Kalyn.
Nutrition Information:
Yield:
8
Serving Size:
1
Amount Per Serving:
Calories: 1145
Total Fat: 71g
Saturated Fat: 20g
Unsaturated Fat: 46g
Cholesterol: 458mg
Sodium: 2177mg
Carbohydrates: 10.8g
Fiber: 6g
Sugar: 4g
Protein: 89g
Nutrition information is automatically calculated by the Recipe Plug-In I am using. I am not a nutritionist and cannot guarantee 100% accuracy, since many variables affect those calculations.
Low-Carb Diet / Low-Glycemic Diet / South Beach Diet Suggestions:
Artichoke hearts do have some carbs, but they also have a lot of fiber, which makes the amount of net carbs relatively low. If you use low-carb meatballs and look for a sauce without added sugar, this would be a good dish for low-carb eating plans and any phase of the original South Beach Diet.
Find More Recipes Like This One:
Use Casserole Recipes to find more recipes like this one. Use the Diet Type Index to find recipes suitable for a specific eating plan. You might also like to Follow Kalyn's Kitchen on Pinterest to see all the good recipes I'm sharing there.
Historical Notes for this Recipe:
This recipe was first posted in 2016. It was last updated with more information in 2021.
We are a participant in the Amazon Services LLC Associates Program, an affiliate advertising program designed to provide a means for us to earn fees by linking to Amazon.com and affiliated sites. As an Amazon Associate, I earn from qualifying purchases.