Easy Brussels Sprouts Gratin (Video)
This Easy Brussels Sprouts Gratin has Swiss and Parmesan cheese, and it's a perfect low-carb side dish for a special meal.
PIN Easy Brussels Sprouts Gratin to try it later!
For years now I've been sharing healthy Thanksgiving options that are carb-conscious but still amazingly delicious for holiday food.. And for sure this Easy Brussels Sprouts Gratin is one of my favorites every year for a Thanksgiving side dish that's low-carb, Keto, and Gluten-Free!
So for today's Friday Favorites post I'm reminding you about this favorite side dish recipe! These delicious Brussels Sprouts are definitely the siblings of several other easy vegetable gratin recipes I've made through the years, and any of these gratin dishes can be assembled earlier in the day and then put in the oven to finish cooking while you carve the turkey and make the gravy.
I tested this out on my gorgeous niece Alyson who stopped by to pick up some soup, and she gave it an enthusiastic two thumbs up! And if you're looking for a new way to cook Brussels Sprouts, please give this one a try.
What ingredients do you need?
What is a Gratin?
A Gratin is a dish where food is topped with a browned crust that usually contains cheese, breadcrumbs, or butter. I've become a huge fan of cheesy gratin dishes like this, and don't think any breadcrumbs are needed!
Do Brussels Sprouts smell bad when they're cooking?
When they are boiled or cooked too long it's true Brussels Sprouts can have kind of an unpleasant smell. But when they are quickly cooked by roasting or pan-frying they don't smell that way.
Do you have to use Swiss Cheese for the Brussels Sprouts Gratin?
I love the melting properties and flavor of Swiss Cheese in this tasty dish. But if you don't have Swiss or don't like it, any white cheese that melts well will be fine.
Want more ideas for Thanksgiving side dishes?
Check out my Top Ten Healthy Thanksgiving Recipes or Keto Vegetable Recipes for Thanksgiving to see more options for low-carb holiday side dishes! And check out Keto Brussels Sprouts Recipes if you really like Brussels Sprouts.
How to Make Easy Brussels Sprouts Gratin:
(This is just a summary of the steps; scroll down for complete printable recipe with nutritional information._
Brussels sprouts can be kind of dirty, so I trim the stems, cut into halves (or quarters if they're large) and give them a good wash in the salad spinner. Be sure to spin really dry.
Put the sprouts into a small bowl and toss with 1 tablespoon olive oil, thyme, and some fresh-ground black pepper.
I like to grate my own Swiss cheese so I can get it really fine, and you don't need more than a few ounces to make a cup of grated Swiss when it's this finely grated.
Mix together the mayo, lemon juice, Dijon, and black pepper; then mix in the finely grated Swiss to make the gratin topping.
Mist or brush a large non-stick frying pan with olive oil and heat over medium-high heat.
When the pan is hot, add the brussels sprouts and cook, stirring occasionally, until the sprouts have turned bright green and are starting to brown. Here's how my brussels sprouts looked after 6 minutes. They're going to cook more in the oven so keep them pretty crisp for this initial cooking.
Put sprouts into an oven-proof gratin dish.
Spread the topping mixture over the sprouts using a rubber scraper.
Sprinkle the top with the coarsely-grated Parmesan.
Bake at 400F/200C for 20-25 minutes, depending on how done you like the cheese. As you can tell, I like it kind of well-done and I devoured about half of this for lunch immediately after I took these photos!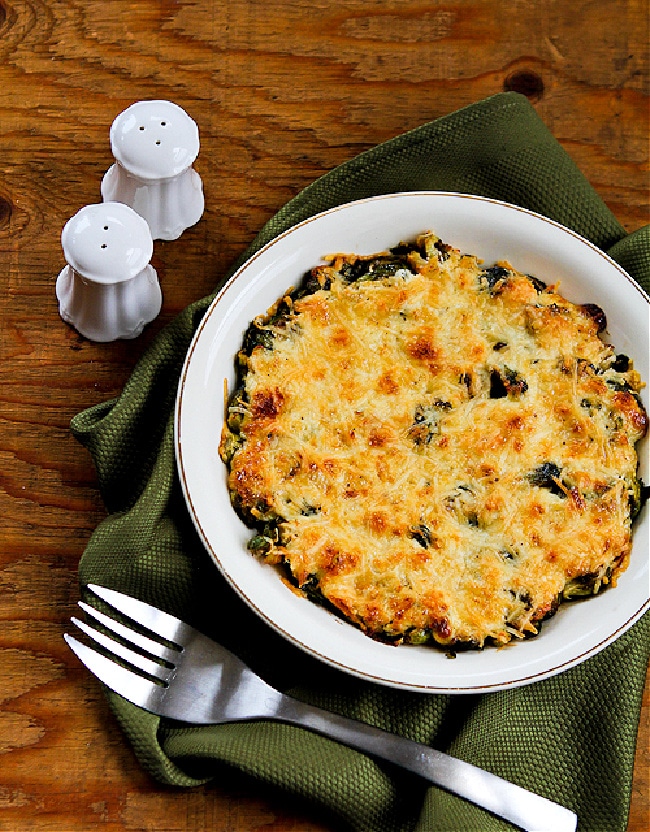 More Amazing Brussels Sprouts Recipes:
Yield: 4 servings
Easy Brussels Sprouts Gratin
Prep Time 30 minutes
Cook Time 25 minutes
Total Time 55 minutes
This Easy Brussels Sprouts Gratin is perfect for Thanksgiving or any time you want a special side dish!
Ingredients
1 lb. fresh Brussels Sprouts, trimmed and cut into halves or quarters
1 T olive oil
1/2 tsp. dried thyme
1 cup finely grated Swiss cheese (not packed down)
6 T mayo (see notes)
1 T lemon juice
1/2 tsp. Dijon (or a little more)
fresh-ground black pepper to taste
2 T coarsely grated Parmesan cheese
Instructions
Preheat oven to 400F/200C (unless you are preparing the dish ahead and plan to bake it later.)
Trim the stem ends from the brussels sprouts and cut each one into halves or quarters (depending on how big each one is.)
Put the cut Brussels Sprouts into a salad spinner or colander and wash well with cold water. Spin dry very well (or let drain and blot dry with paper towels if you don't have a salad spinner.)
Put dried Brussels Sprouts into a bowl and toss with 1 tablespoon olive oil, dried thyme, and a little freshly ground black pepper.
Use a hand grater to finely grate the swiss cheese until you have about a cup (not packed).
Mix together the mayo, lemon juice (I used my fresh-frozen lemon juice), Dijon, and a few grinds of black pepper, then stir in the grated cheese to make the gratin topping.
Mist or brush a large non-stick frying pan with olive oil and heat over medium-high heat until it feels hot when you hold your hand there.
Add the Brussels Sprouts and cook, stirring occasionally, until sprouts have turned bright green and started to brown slightly, about 6 minutes. (Don't overcook at this point; they will cook more in the oven.)
Put sprouts into a gratin dish and spread into a flat layer.
Put spoonfuls of the gratin topping in several spots over the top; then use a rubber scraper to spread the topping out into a thin layer. (Don't put it all in the middle and try to spread out; you'll never get it spread out that much.)
Sprinkle the coarsely-grated Parmesan over the top. (At this point the dish can be put in the refrigerator to be baked later. I would let it come to room temperature before you bake it, and bake slightly longer at a slightly lower temperature to be sure the center gets hot before the cheese topping is done.)
Put the dish into the preheated oven and bake 20-25 minutes, or until the top is nicely browned and the mixture is heated through.
Serve hot.
Notes
Nutrition Information:
Yield:
4
Serving Size:
1
Amount Per Serving:
Calories: 327
Total Fat: 28g
Saturated Fat: 8g
Trans Fat: 0g
Unsaturated Fat: 18g
Cholesterol: 36mg
Sodium: 237mg
Carbohydrates: 11g
Fiber: 3g
Sugar: 3g
Protein: 11g
Nutrition information is automatically calculated by the Recipe Plug-In I am using. I am not a nutritionist and cannot guarantee 100% accuracy, since many variables affect those calculations.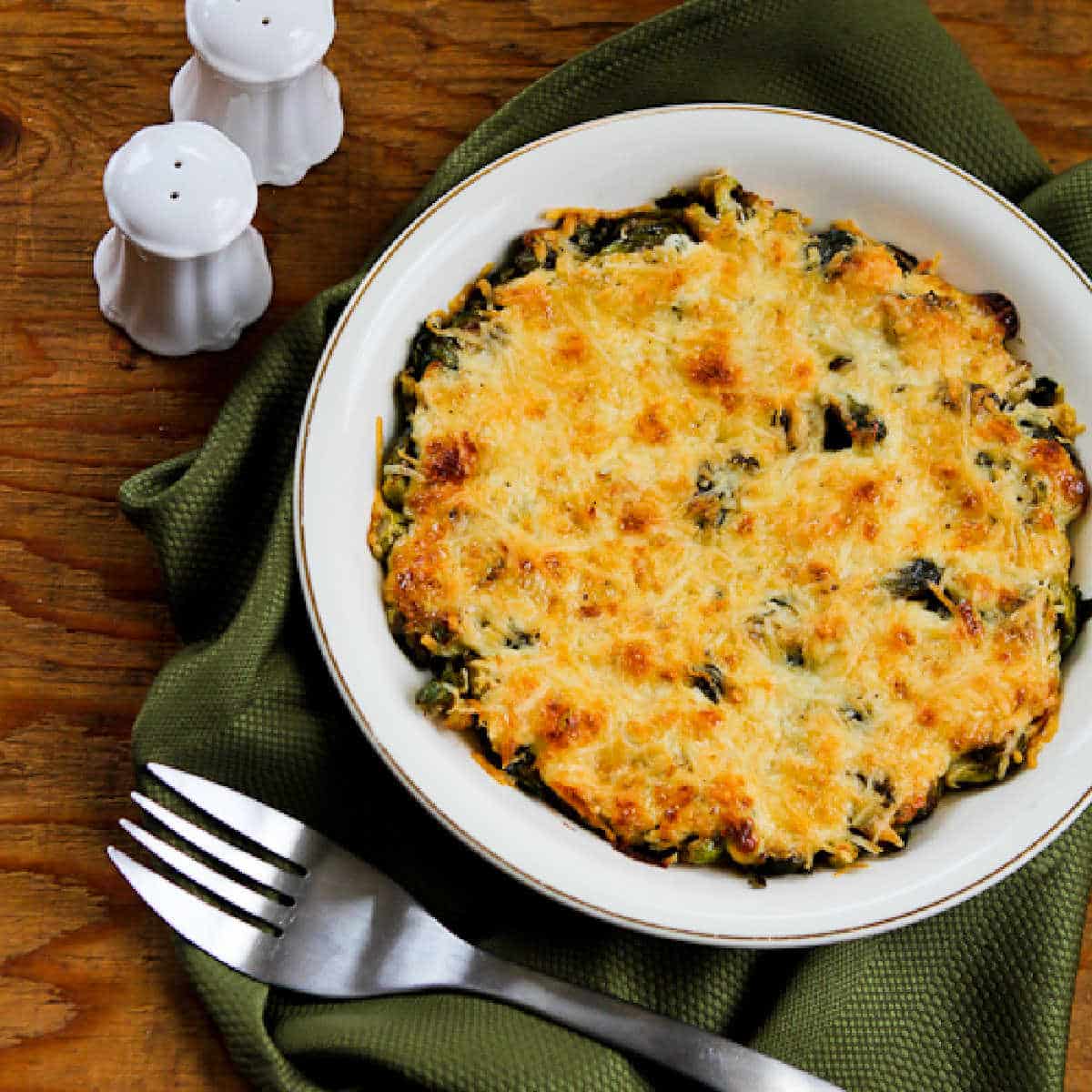 Low-Carb Diet / South Beach Diet Suggestions:
This recipe is great for low-carb eating or Keto eating plans, and low-carb plans will prefer full-fat dairy products. I would eat this Easy Brussels Sprouts Gratin for any phase of the original South Beach Diet, but make this a "once-in-a-while treat" for a special occasion (like Thanksgiving!) South Beach would recommend using the light mayo (and low-fat cheese if you can find it).
Find More Recipes Like This One:
Check out Brussels Sprouts or Side Dishes for more tasty recipes like this one! Use the Diet Type Index to find recipes suitable for a specific eating plan. You might also like to follow Kalyn's Kitchen on Pinterest, on Facebook, on Instagram, on TikTok, or on YouTube to see all the good recipes I'm sharing there.
Historical Notes for this Recipe:
This recipe was posted in 2013. It was featured for Friday Favorites in 2021 and was last updated with more information in 2022.
We are a participant in the Amazon Services LLC Associates Program, an affiliate advertising program designed to provide a means for us to earn fees by linking to Amazon.com and affiliated sites. As an Amazon Associate, I earn from qualifying purchases.