Garlic Lover's CrockPot Beef Stew (Video)
There's a generous amount of garlic in this Garlic Lover's CrockPot Beef Stew and the garlic gets sweet and delicious in the slow cooker.
PIN the garlicky CrockPot Beef Stew to try it later!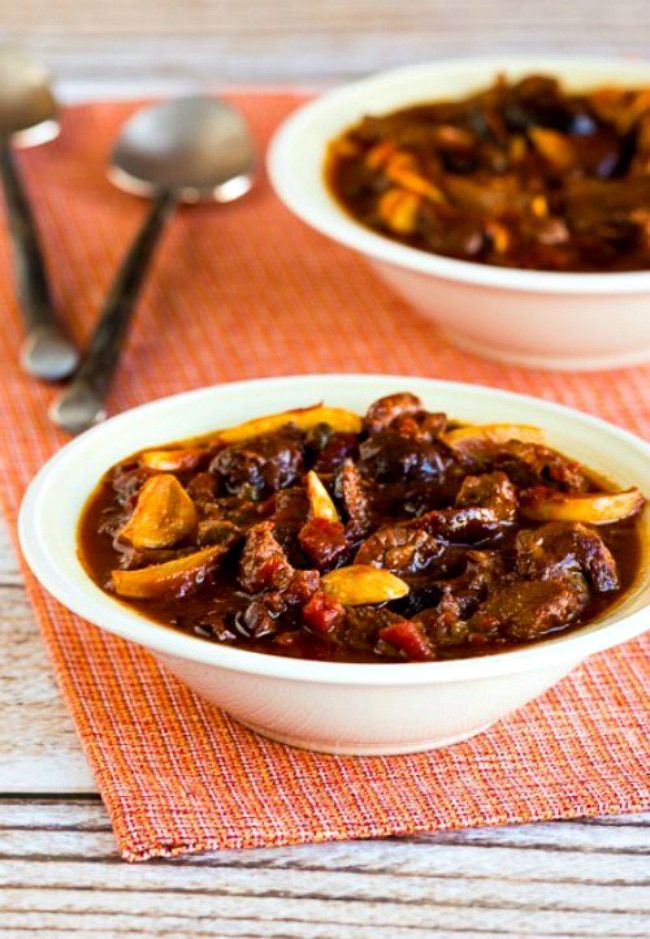 I have so many cookbooks that invariably a book I really like gets pushed to the bottom of the pile, and then I rediscover it. That's exactly what happened when I made this Garlic Lover's CrockPot Beef Stew, inspired by a recipe from The Olive and the Caper (affiliate link), a book about Greek Cooking written by Susanna Hoffman.The inspiring recipe calls for 100 cloves of garlic, and although I used less than that, this is a stew for people who really like the flavor of slow-cooked garlic. If you've never had garlic that's been cooked for a long time, it's sweet and delicious, and this stew smelled amazing while it was cooking.
Besides the garlic, there are Kalamata Olives, capers, bay leaves, Greek Oregano, and a touch of red-wine vinegar adding a lot of flavor to the tomato-based stew. I cooked this on high for a little over four hours, but if you're looking for something that can cook on low all day, this recipe would be perfect for that. I do recommend browning the beef, which you can do the night before and keep it in a container in the fridge overnight, just in case your mornings are a bit rushed! And even if you decide not to go for a whole cup of garlic cloves or use regular olives instead of Kalamata Olives, I promise this will be delicious!
What ingredients do you need for this recipe?
beef chuck roast
Olive Oil (affiliate link) (for browning beef)
can of reduced-sodium beef broth
garlic cloves
Kalamata Olives
Capers (affiliate link)
Bay Leaves (affiliate link)
dried Greek Oregano (affiliate link)
can of diced tomatoes with juice
tomato sauce
tomato paste (optional)
Red Wine Vinegar (affiliate link)
fresh ground black pepper to taste
What ingredients give this CrockPot Beef Stew Greek flavors?
I wouldn't claim this is an authentic Greek recipe since I adapted it from a cookbook, but there are lots of greek flavors like garlic, Kalamata olives, capers, Greek oregano, and of course tomatoes!
Want more ideas for Low-Carb Beef Stew?
You can use Low-Carb and Keto Stew Recipes to find more low-carb stews like this one.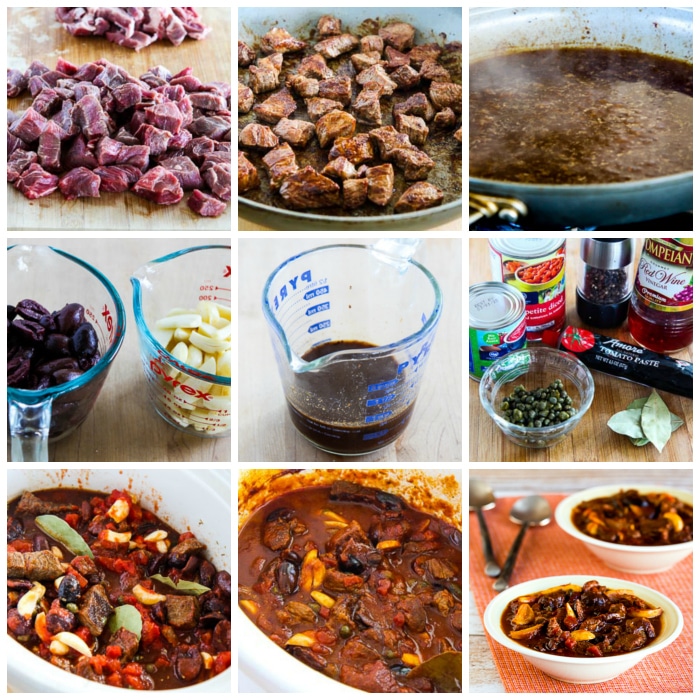 How to Make Garlic Lover's CrockPot Beef Stew:
(Scroll down for complete recipe with nutritional information.)
Cut the beef into 1 inch pieces and trim fat, as much as desired.
Heat oil in a large non-stick frying pan and brown the beef well. Remove browned beef to the slow cooker.
Deglaze the pan with the beef stock and then simmer until it's reduced to 3/4 cup.
While the stock simmers, prepare one cup each of sliced Kalamata Olives and Garlic Cloves. (I used peeled Christopher Ranch Garlic Cloves for the garlic, which made it easy.)
Measure stock when you think you have reduced it and stop cooking when it's 3/4 cup.
Gather the capers, bay leaves, diced tomato, tomato sauce, tomato paste, red wine vinegar, and also some Greek Oregano (which didn't make it into the photo! (You can do all this preparation the night before and keep ingredients in the fridge in a covered container if your mornings are busy.)
Put all ingredients into slow cooker and cook on high for about 4 hours or low for about 8 hours.
And here's how it looked when it was done. So, so delicious; hope you will try it if you like garlic.
Make it a Low-Carb Meal:
I'd love this with Pureed Cauliflower with Garlic, Parmesan, and Goat Cheese, Air Fryer Artichoke Hearts, or Cauliflower Rice with Basil, Parmesan, and Pine Nuts for a tasty low-carb meal.
More Recipes for Garlic Lovers:
Garlicky Green Beans Stir-Fry
Roasted Broccoli with Garlic
Cauliflower with Garlic and Lemon
Weekend Food Prep:
This recipe has been added to a category calledWeekend Food Prep to help you find recipes you can prep or cook on the weekend and eat during the week!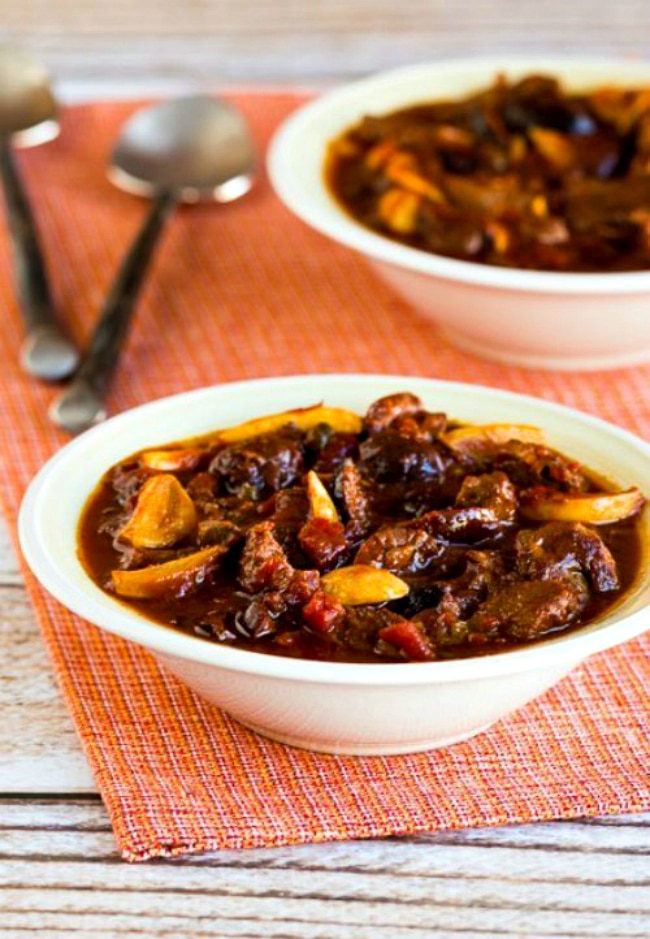 Yield: 6 servings
Garlic Lover's Crockpot Beef Stew
Prep Time 20 minutes
Cook Time 4 hours
Total Time 4 hours 20 minutes
Garlic Lover's Crockpot Beef Stew is a perfect slow cooker meal for people who love roasted garlic.
Ingredients
3 lb. beef chuck roast, trimmed as desired and cut into pieces about 1 inch
1 T olive oil (for browning beef)
one 15 oz. can reduced-sodium beef broth
1 cup garlic cloves, peeled and cut into lengthwise slivers
1 cup Kalamata Olives, cut in half lengthwise
2 T capers, rinsed
3 bay leaves
1 tsp. dried Greek oregano
one 14.5 oz. can diced tomatoes with juice
one 8 oz. can tomato sauce
2 T tomato paste (optional)
3 T red wine vinegar
fresh ground black pepper to taste
Instructions
Trim beef cubes, cutting off fat as much as desired.
In heavy frying pan, heat the oil over medium-high heat and brown half of beef cubes, turning several times so it's well browned on all sides.
Put browned beef in crockpot and brown the rest of beef, adding more oil if needed. Put second batch of browned beef cubes in crockpot.
Add beef broth (or homemade beef stock) to frying pan, scraping up any browned bits from the bottom of the pan, and simmer until beef broth is reduced to 3/4 cup.
While beef is browning, cut the garlic into slices and cut the Kalamata Olives in half.
Measure stock to see when it's reduced to 3/4 cup and add reduced broth to crockpot.
Add garlic and olives to crockpot along with rinsed capers, bay leaves, oregano, canned tomatoes and juice, tomato sauce, tomato paste (if using), red wine vinegar, and pepper.
Cook on high for about 4 hours or a little longer, until meat is tender and flavors are well blended. (This could also be cooked in the slow cooker on low for 8-9 hours.)
Serve hot.
Notes
I used my Crock-Pot 3-1/2-Quart Slow Cooker (affiliate link) for this recipe, but it could have been a little smaller. This freezes really well, so if you only have a big slow cooker I'd just double the recipe. 
You could also cook this on top of the stove in a heavy dutch oven if you have a stove that will simmer at very low heat. I haven't made it on the stove, so I don't know exactly how long the cooking time would be.
Recipe adapted from The Olive and the Caper (affiliate link) by Susanna Hoffman.
Nutrition Information:
Yield:
6
Serving Size:
1
Amount Per Serving:
Calories: 665
Total Fat: 42g
Saturated Fat: 15g
Trans Fat: 2g
Unsaturated Fat: 24.4g
Cholesterol: 188mg
Sodium: 726mg
Carbohydrates: 14g
Fiber: 3.3g
Sugar: 3.6g
Protein: 59g
Nutrition information is automatically calculated by the Recipe Plug-In I am using. I am not a nutritionist and cannot guarantee 100% accuracy, since many variables affect those calculations.
Low-Carb Diet / Low-Glycemic Diet / South Beach Diet Suggestions:
Served alone, this Crockpot Beef Stew has 10.7 net carbs per serving, so it should work for most low-carb diet plans.It's a perfect main dish for a low-glycemic eating plan or any phase of the original South Beach Diet.
Find More Recipes Like This One:
Use Stew Recipes or Slow Cooker Recipes to find more recipes like this one. Use the Recipes by Diet Type photo index pages to find more recipes suitable for a specific eating plan. You might also like to Follow Kalyn's Kitchen on Pinterest to see all the good recipes I'm sharing there. Find more Slow Cooker / Pressure Cooker Recipes on my other site!
Historical Notes for this Recipe:
This recipe was first posted in 2008. The photos were updated in 2015 and the recipe was last updated with more information in 2021.
We are a participant in the Amazon Services LLC Associates Program, an affiliate advertising program designed to provide a means for us to earn fees by linking to Amazon.com and affiliated sites. As an Amazon Associate, I earn from qualifying purchases.