Easy Avocado Sauce
If you love avocados you'll enjoy this Easy Avocado Sauce on just about everything, and this post has ten ideas for using this delicious low-carb sauce!
PIN Easy Avocado Sauce to try it later!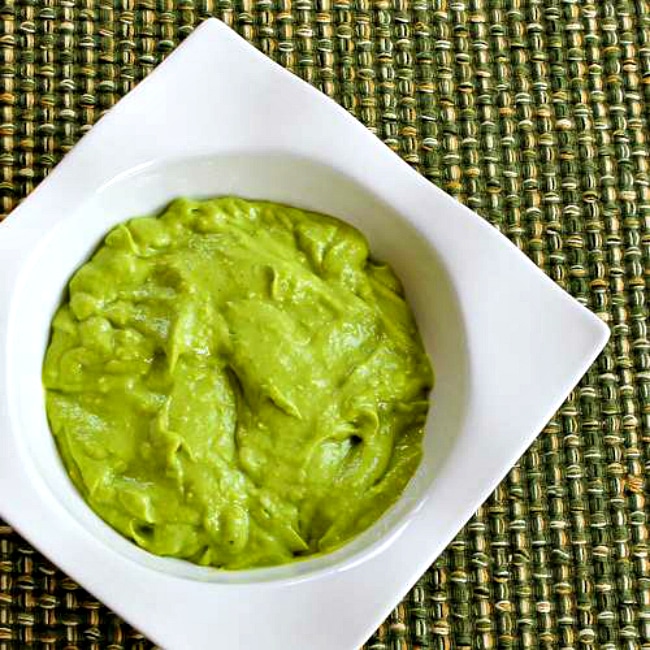 Are you a sauce person? I'm one of those people who wouldn't mind some kind of dressing or sauce on just about everything I eat, and when I made this Easy Avocado Sauce with my nephew Jake, we couldn't stop thinking of good ways to eat it. And I promise that if you're an avocado fan you'll love this recipe. The recipe has a lot of healthy buttermilk, which adds tang and makes the avocado go a bit farther. And if you're following a high-fat low-carb eating plan feel free to use more avocado and less buttermilk! Enjoy!
This delicious low-carb avocado sauce can be served on top of chili, as a dip for vegetables, or over grilled meat or veggies, and people who aren't dieting will definitely be dipping their chips into it! I first made the sauce with lemon juice, but now I'd use my fresh-frozen lime juice. Take your choice on that, but if you're an avocado fan you have to try this recipe!
What ingredients do you need for this recipe?
How to Make Easy Avocado Sauce:
(Scroll down for complete recipe with nutritional information.)
Dice up the avocados and toss with part of the lime (or lemon) juice.
Put the avocado, thinly sliced green onion, and the rest of the lime or lemon juice in the food processor and process until the green onions are chopped and the mixture is well combined.
Then add the buttermilk, celery salt, Green Tabasco Sauce (affiliate link), and ground cumin (affiliate link) and process until the mixture is fairly smooth.
That's it! Serve on everything you can think of and enjoy!
Ten Ways to Use Ultra Easy Avocado Sauce:
–Use inside an omelet.
–Serve over scrambled eggs.
–Serve as a sauce over grilled chicken, fish, beef, or pork.
–Serve over grilled eggplant, zucchini, or yellow squash.
–Mix with tuna and stuff into celery.
–Use with sour cream as a topping for chili.
–Serve as a sauce with tacos or burritos.
–Serve as a spread on sandwiches or inside pita bread.
–Serve as a dip with veggies, chips, or toasted pita bread.
–Serve over Falafel or bean patties of any type.
More Recipe Ideas with Avocados:
Avocado Spinach Egg Salad from We Are Not Martha
Chicken and Avocado Salad with Lime and Cilantro from Kalyn's Kitchen
Creamy Avocado Pasta from In Good Taste
Heart of Palm Salad with Tomato, Avocado, and Lime from Kalyn's Kitchen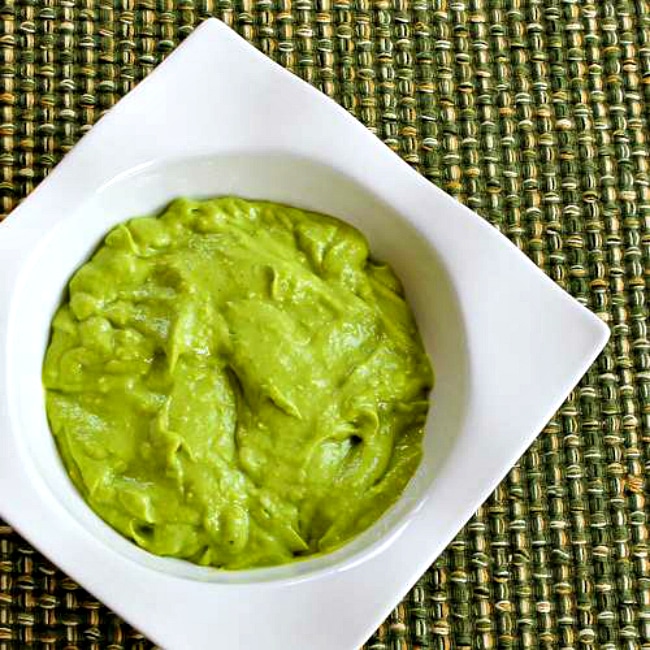 Yield: 8 servings
Easy Avocado Sauce
Prep Time 15 minutes
Total Time 15 minutes
If you like avocados, this easy avocado sauce is great on just about everything!
Ingredients
2 large ripe avocados
2 green onions, very thinly sliced
3 T fresh-squeezed lime juice (see notes)
1 cup buttermilk
1 tsp. celery salt (or more)
2 tsp. Green Tabasco sauce (or more if you like it spicy)
1/2 tsp. ground cumin
Instructions
Cut avocados in half, remove seeds, dice use a spoon to scoop out the flesh into the bowl of the food processor (with the metal blade in place.)
Add the thinly sliced scallions and lemon juice and process until the scallions are finely chopped and the ingredients are well combined.
Add the buttermilk, celery salt, Green Tabasco Sauce (affiliate link), and ground cumin (affiliate link) and process until the mixture is smooth.
Taste to see if you want to add more Green Tabasco or celery salt.
Serve right away or chill for a few hours before using.
Leftover Avocado Sauce or Dip will last several days in the refrigerator.
Notes
I used my frozen lime juice, use lemon juice if you prefer.
Nutritional information is based on a generous 1/4 cup serving size.
Inspired by Avocado Dressing at Martha Stewart.
Nutrition Information:
Yield:
8
Serving Size:
1
Amount Per Serving:
Calories: 96
Total Fat: 8g
Saturated Fat: 1g
Trans Fat: 0g
Unsaturated Fat: 6g
Cholesterol: 1mg
Sodium: 248mg
Carbohydrates: 7g
Fiber: 4g
Sugar: 2g
Protein: 2g
Nutrition information is automatically calculated by the Recipe Plug-In I am using. I am not a nutritionist and cannot guarantee 100% accuracy, since many variables affect those calculations.
Low Carb Diet / Low-Glycemic Diet / South Beach Diet Suggestions:
This dip is a great choice for low-carb or low-glycemic diets. Avocados are considered a "good fat" for the original South Beach Diet, but they're a limited food, with 1/3 of an avocado being equal to 1 tablespoon of fat (and 2 tablespoons of fat allowed per day.) Since this sauce is mixed with buttermilk, you can eat more of it, but I would limit portion size for the South Beach, especially for Phase One. If you're doing the Keto diet you may want to use more avocado and less buttermilk.
Find More Recipes Like This One:
Check out Sauces for more recipes like this one. Use the Recipes by Diet Type photo index pages to find more recipes suitable for a specific eating plan. You might also like to Follow Kalyn's Kitchen on Pinterest to see all the good recipes I'm sharing there.
We are a participant in the Amazon Services LLC Associates Program, an affiliate advertising program designed to provide a means for us to earn fees by linking to Amazon.com and affiliated sites. As an Amazon Associate, I earn from qualifying purchases.