Keto Recipes with Zucchini Noodles
Here are 20 Keto Recipes with Zucchini Noodles, with some delicious ways to expand your low-carb zucchini noodle options! This round-up has all my favorites for low-carb zucchini pasta dinners from Kalyn's Kitchen, plus some great ideas from other blogs around the web.
PIN the Keto Recipes for Zucchini Noodles to try some later!
Zucchini noodles have been around for a few years, and they're pretty mainstream now that lots of people have started using them as a low-carb substitute for pasta or as the base of a low-carb bowl meal. In fact, you might find pre-cut zucchini noodles in the produce department of your favorite supermarket.
I like zucchini pasta for the low-carb benefits, but I do think it takes some attention to detail to turn zucchini noodles into a dish that's really tasty. But through the years I've made some zucchini noodle recipes I really enjoyed.
And we're entering the time of year when zucchini is abundant, so I hope some of these Keto Recipes with Zucchini Noodles will inspire you to give them a try! And of course some of my readers are in the Southern Hemisphere where winter is approaching, so I've also included some ideas for using zucchini noodles in low-carb soups, which is one of my favorite ways to use them!
I'm also including links for some delicious-looking zucchini noodle recipes from other bloggers; I hope you enjoy trying some of these tasty zucchini noodle recipes!
What are Zucchini Noodles?
Zucchini noodles are simply thin strips of raw zucchini that are used in a recipe in the same way as you might use wheat-based noodles. You can make zucchini noodles yourself (see below) or they are widely available to purchase in most supermarkets. And did you know that these noodles made with strips of zucchini are also called Zoodles or Zucchini Pasta by some people? (Use Spiralizer Recipes for all the zucchini noodle recipes or recipes that could be served with zucchini noodles on this site.)
How Do You Make Zucchini Noodles?
If you're a zucchini noodle newbie, you might want to read my post about Three Ways to Make Zucchini Noodles. Then get yourself one of the three inexpensive gadgets (affiliate links) that can turn zucchini into noodles, and get cooking! Hope you enjoy trying some of these tasty ideas for zucchini noodles, and you can also make noodles from other vegetables if you have a Spiralizer (affiliate link) or one of the other sturdier gadgets for making vegetable noodles.
How do you Cook Zucchini Noodles?
Zucchini noodles can be eaten raw, but when I'm serving them with a heated sauce I like to heat some olive oil, season the oil with sliced garlic (which is then removed) and then cook the zucchini quickly over high heat for just a few minutes. I think that method perfectly softens and seasons the zucchini.
Keto Dinners with Zucchini Noodles: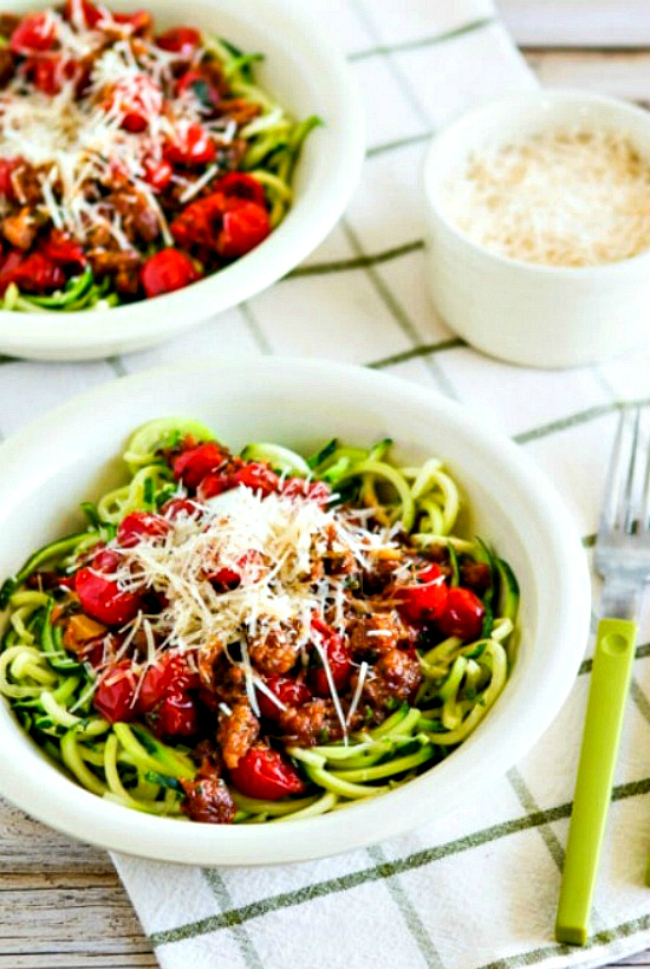 If I had to pick my favorite zucchini noodle dish it might be these Zucchini Noodles with Cherry Tomato Pasta Sauce. You have to check out this unique sauce that's made with olive oil, garlic, cherry tomatoes, herbs, and hot pepper flakes!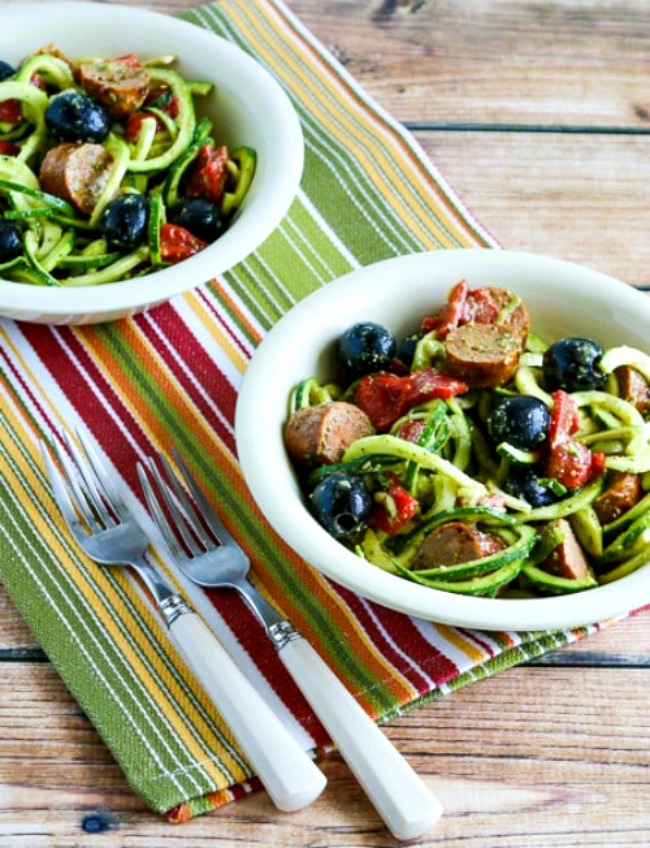 Zucchini Noodle Mock Pasta Salad has Italian Sausage, roasted red peppers, olives, and green onions, plus a delicious basil pesto vinaigrette that bumps up the flavors.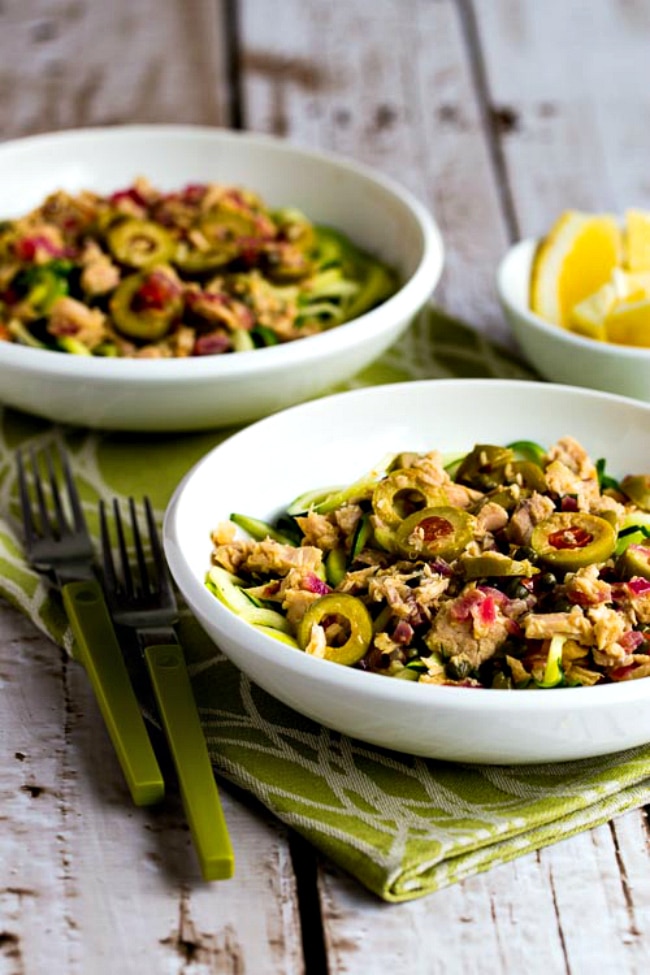 Zucchini Noodles with Tuna and Green Olives are an amazing dinner made mostly with pantry ingredients; if you like tuna you have to give this a try!
Mediterranean Zucchini Noodles are not only low-carb and Keto, they're also vegan for anyone who cares about such things! And there's loads of flavor from onions, garlic, herbs, olives, and capers.
We loved the peanut-tahini sauce for this Ground Beef Zucchini Noodles with Peanut Sauce, but you can use all peanut butter if you don't have tahini.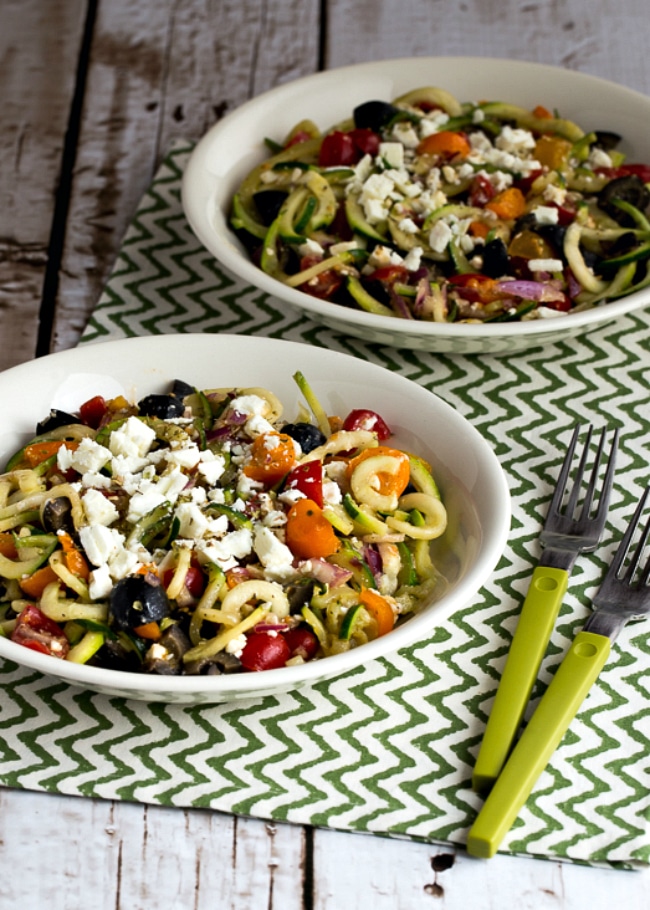 Kara and I swooned over these Greek-Style Zucchini Noodles. They have all the flavors that make Greek Salad so good!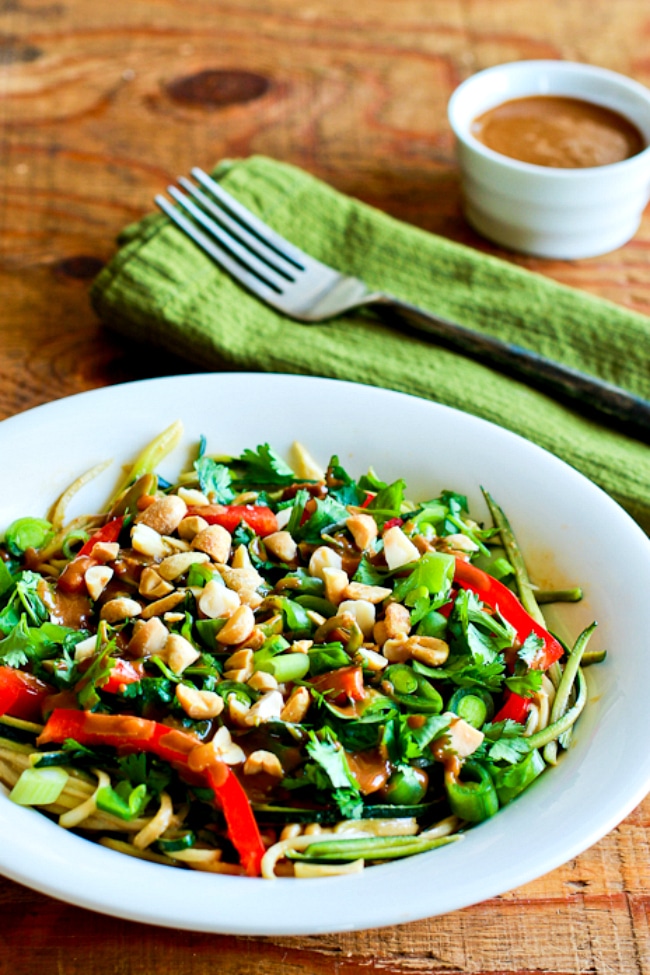 You'll love the amazing peanut sauce for this Zucchini Bowl with Peanut-Sriracha Sauce.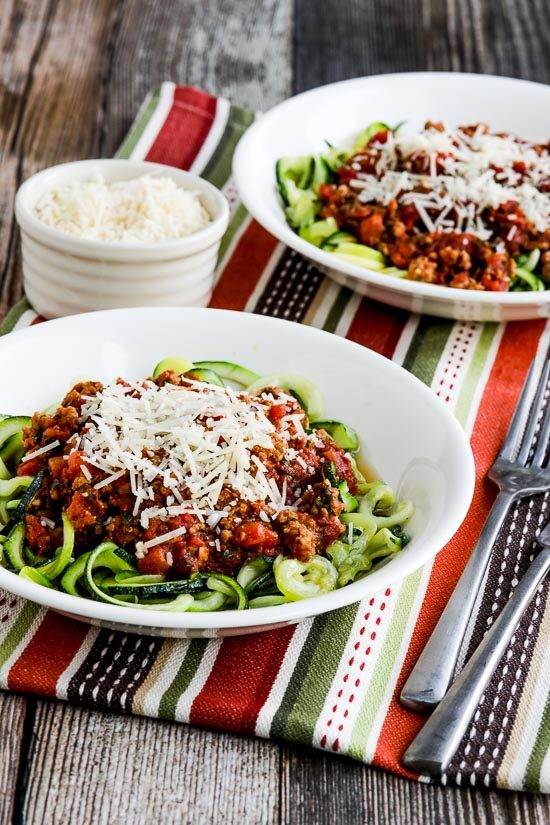 Instant Pot fans will make this Instant Pot Pasta Sauce over and over, and there are stovetop instructions if you prefer that method. This sauce is perfect to serve over zucchini noodles, and some family members can have pasta too if that's how it works at your house!
Tasty Low-Carb Soup Recipes with Zucchini Noodles:
More Keto Dinners with Zucchini Noodles
We are a participant in the Amazon Services LLC Associates Program, an affiliate advertising program designed to provide a means for us to earn fees by linking to Amazon.com and affiliated sites. As an Amazon Associate, I earn from qualifying purchases.