Fattoush Lebanese Salad
Fattoush Lebanese Salad has cucumbers, tomatoes, herbs, and toasted low-carb pita chips, and it's flavored with lemon juice and Sumac. And this is a salad I look forward to making every summer!
PIN Fattoush Lebanese Salad to try it later!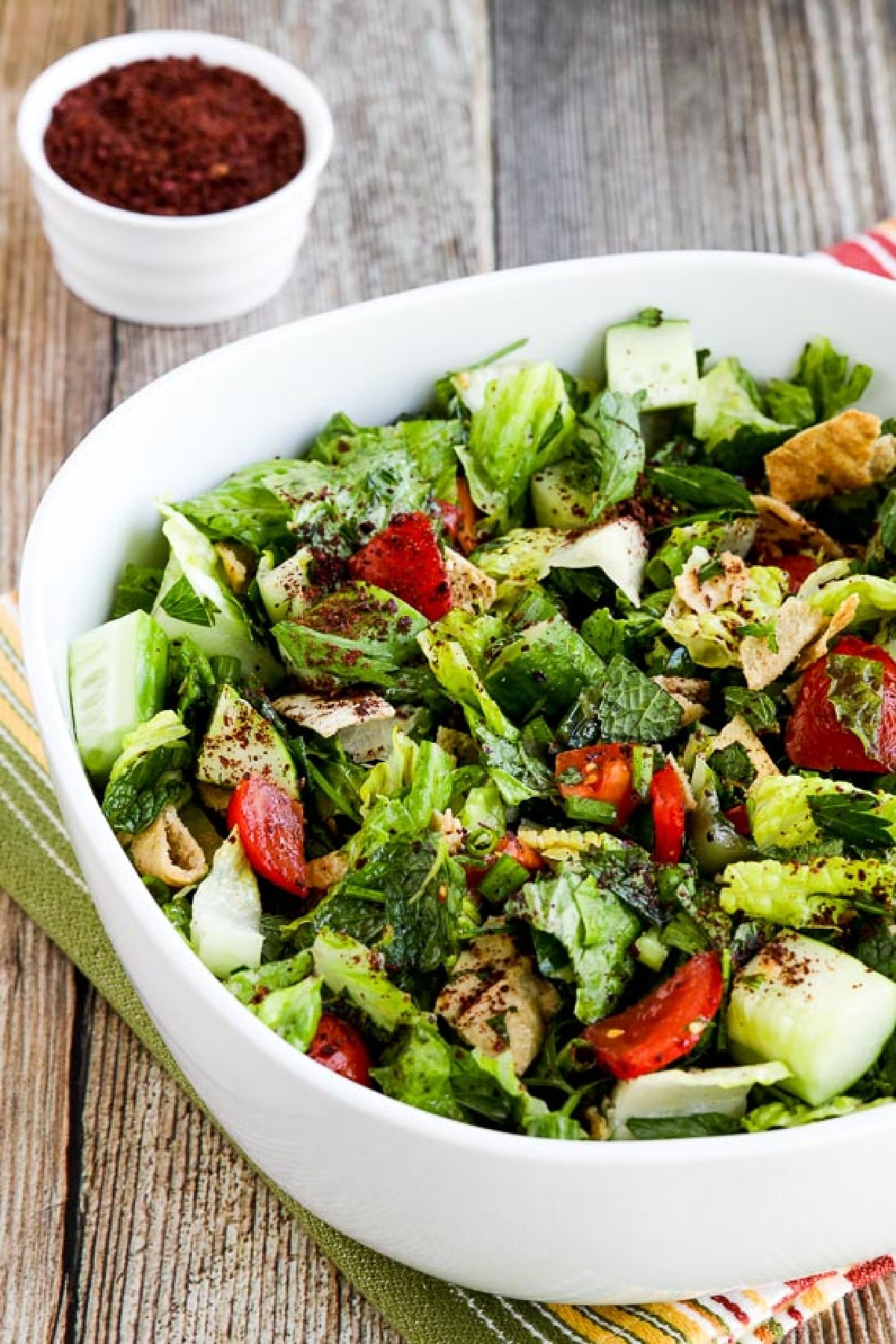 I try not to gush over recipes too much, but there definitely are some recipes that are my absolute must-make favorites. This Fattoush Lebanese Salad is one of those, and it's something I make every summer when fresh herbs, tomatoes, and garden cucumbers start to get abundant.
I originally got the Fattoush Lebanese Salad recipe from a reader named Lori, and I made it three times in four days right after she sent it to me. Then I discovered low-carb pita bread and this became my go-to summer salad. And if you check the carbs on the low-carb pita bread I use for my Fattoush, you'll see it's not that much a a splurge.
And I never get tired of this amazing salad so for this week's Friday Favorites pick I'm reminding you about Fattoush and encouraging you to make it while it's fresh tomato season!
The toasted pita that gets soaked in a lemon juice and olive oil dressing that's seasoned with Sumac is one thing that makes this salad so amazing. Of course, you can definitely use less pita bread (or skip it completely for Keto if you prefer) and the salad will still be great.
What ingredients do you need for this recipe?
whole wheat pita pocket bread; I use Joseph's Low-Carb Pita Bread (affiliate link)
Romaine lettuce
green onion
diced tomatoes
diced cucumber
fresh mint leaves
flat-leaf parsley leaves
chopped fresh garlic
salt, I used fine grind sea salt
fresh squeezed lemon juice, I used my fresh-frozen lemon juice
powdered Sumac (affiliate link), plus more for sprinkling on individual salads if desired)
extra virgin olive oil
What is Fattoush?
Fattoush means "crumbled bread" in Arabic and this is a Lebanese version of bread salad that includes crumbled pita chips, and I promise that my version with low-carb pita bread is just as good as any Fattoush you've had in a restaurant!
What is Ground Sumac?
Ground Sumac (soo-mack, affiliate link) maybe be an ingredient you haven't used before, but it's well worth adding to your spice cabinet and it's absolutely ESSENTIAL to making this salad. Sumac has a slightly lemony flavor, and it's the Sumac, the lemon, and the fresh herbs that really bump this salad up to something memorable you'll want to make over and over. And if you do have Sumac, or buy some for this recipe, just enter "Sumac" into the search bar on this site and you'll find a lot of other recipes where I've used it.
Sumac will wake up your tastebuds!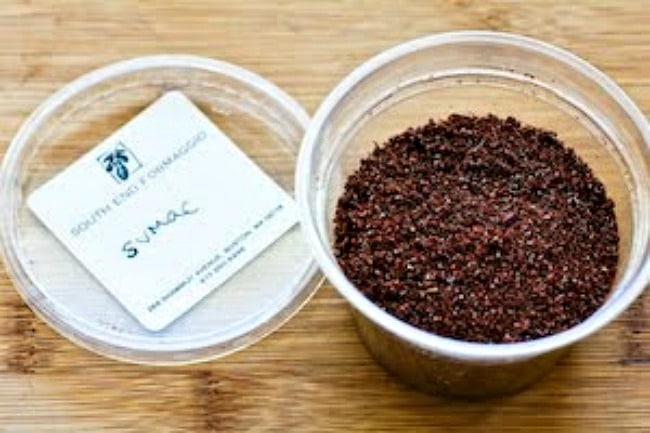 Here's a shot of the life-changing ground Sumac for those who aren't familiar with it. If you like lemon, you'll love this middle eastern spice! Here is more information about cooking with Sumac!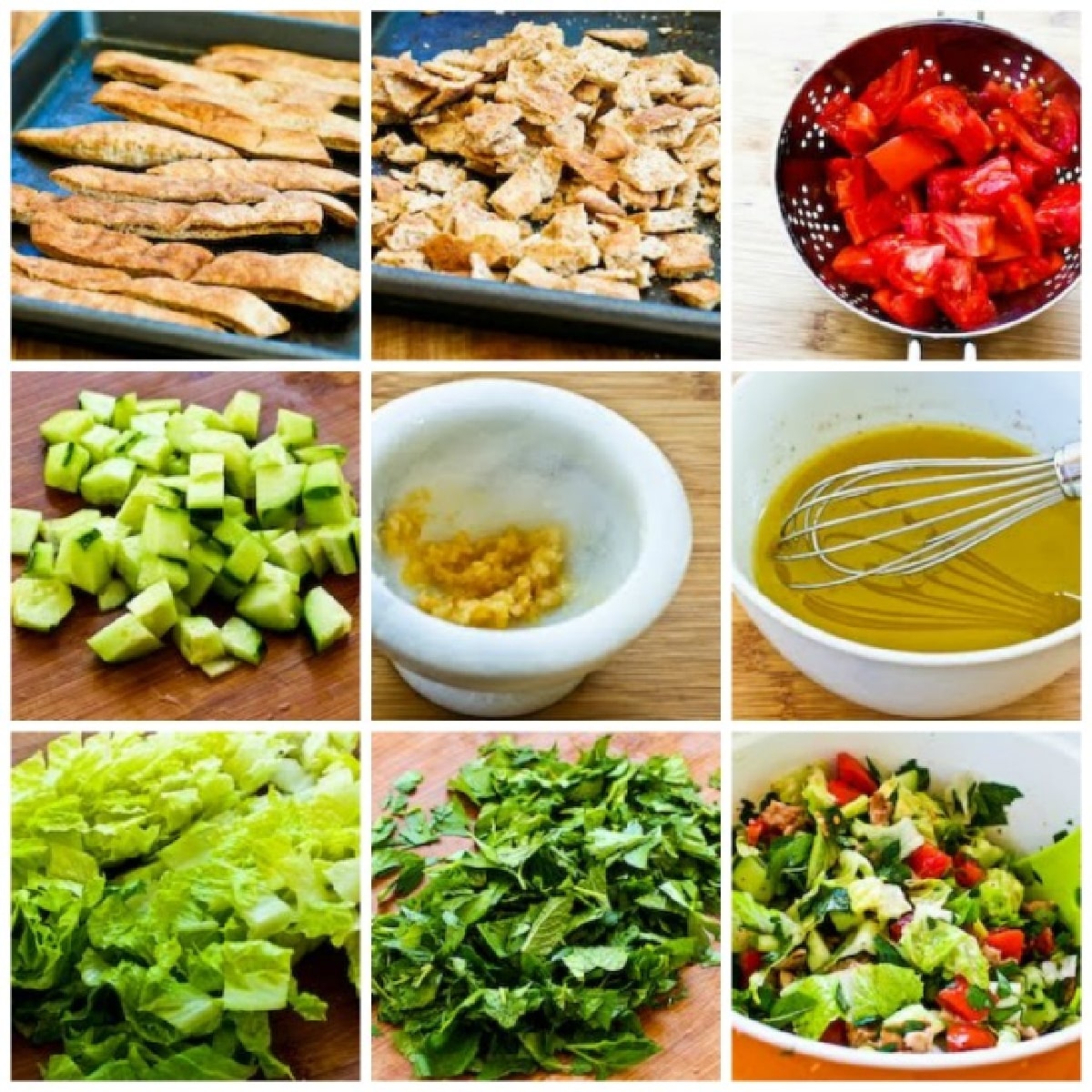 How to make Fattoush Lebanese Salad:
(Scroll down for complete printable recipe with nutritional information.)
After a few times making Fattoush Lebanese Salad, I realized I definitely liked the pita chips best when I cut the low-carb pita bread (affiliate link) into strips for toasting, creating more crisp edges. Watch them carefully, because they can quickly get too brown.
Crumble pita strips once you've toasted them.
Dice the tomatoes and let drain for a minute if they're extra juicy, but don't drain away all the juice, which will flavor the pita chips in the salad. I used grape tomatoes from Costco cut into fourths, which I thought were good, but use fresh garden tomatoes if you have some.
I had cucumbers from my garden, so I left strips of skin on before chopping, but if your cucumbers have a thick skin I would peel them completely.
Start making the dressing by smashing together garlic and salt into a paste to season it. I use the mortar and pestle, but you can do this with the side of a knife or a spoon.
Mix together the garlic-salt paste, lemon juice, and Sumac (affiliate link), and then whisk in the olive oil. This dressing will keep in the fridge for several days so you might want to make extra!
Remove outer leaves from the romaine lettuce, wash and dry, and then chop romaine by cutting it into fourths lengthwise and slicing crosswise for fairly smallish pieces.
Linda's recipe didn't call for mint, but I saw several recipes that used it and I love the flavor of mint and parsley together so I used both. The salad also includes sliced green onion, which I forgot to take a photo of!
Toss the salad vegetables and herbs together, then toss with about half of the dressing, add the pita chips and toss again, adding a little more dressing. (The salad should be quite wet when it's served so the pita chips can absorb the dressing.)
Let salad sit for a few minutes, or longer, then arrange on individual plates and sprinkle each serving with a bit more Sumac if desired. Enjoy!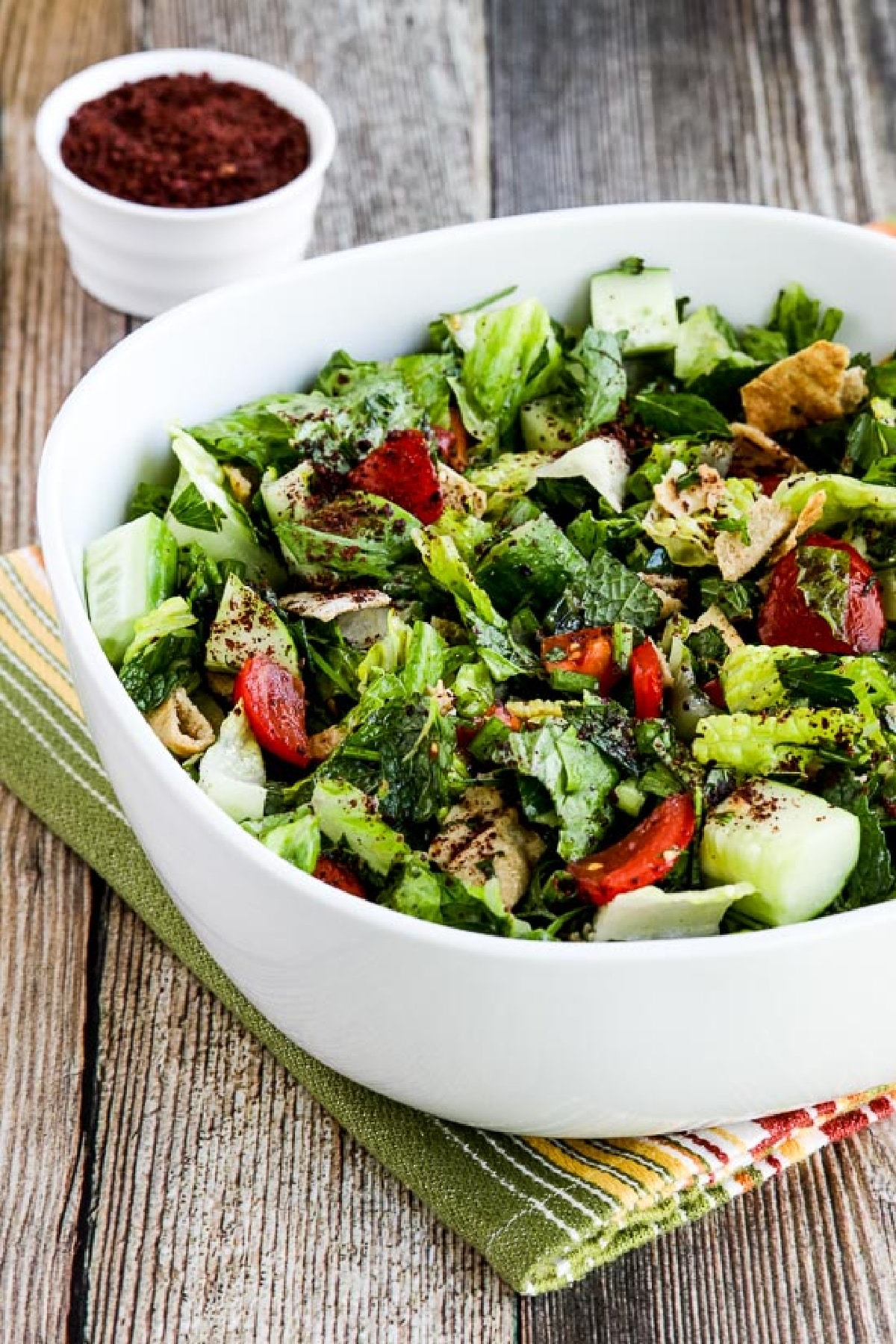 Make it a Low-Carb Meal:
Fattoush Lebanese Salad would taste great with Sriracha-Glazed Grilled Chicken Kabobs, Kabob Koobideh, Grilled Cod, Greek Pork Chops, or just about any kind of meat cooked on the grill!
More Recipes Using Sumac:
Salmon Roasted in Olive Oil ~ Kalyn's Kitchen
Grilled Vegetables with Za'atar Vinaigrette ~ David Lebovitz
Roasted Butternut Squash with Tahini-Yogurt Sauce ~ Kalyn's Kitchen
Balsamic Roasted Fall Vegetables with Sumac ~ Boulder Locavore
Spicy Baked Shrimp with Garlic ~ Kalyn's Kitchen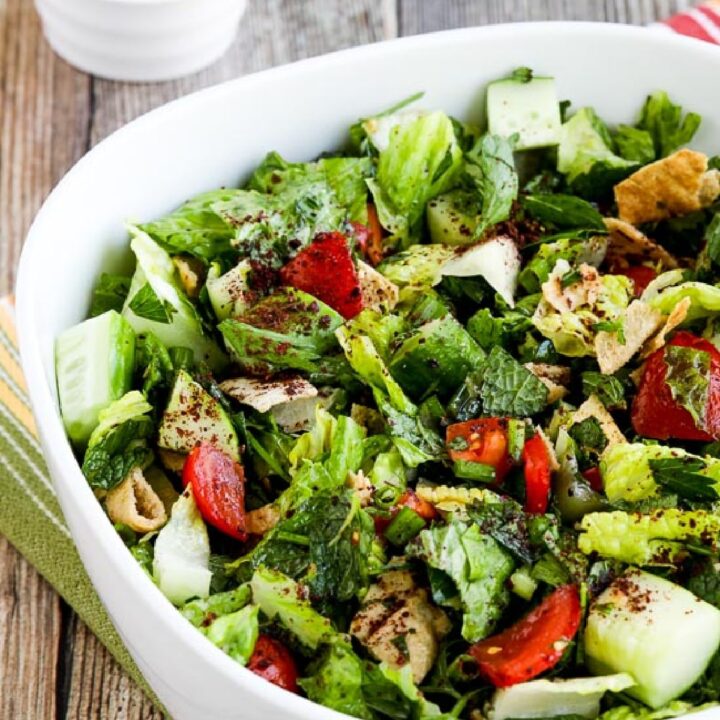 Yield: Makes 6 small salads
Fattoush Lebanese Salad
Prep Time 15 minutes
Cook Time 10 minutes
Total Time 25 minutes
Fattoush Lebanese Salad has cucumbers, tomatoes, herbs, and toasted low-carb pita chips, and it's flavored with lemon juice and Sumac. When I have garden cucumbers, tomatoes, and fresh herbs, I make this over and over!
Ingredients
2 Joseph's Flax, Oat Bran, and Whole Wheat pita bread, cut into strips about 3/4 inch wide, then toasted and crumbled (see notes)
2 heads Romaine lettuce, chopped
1/2 cup thinly sliced green onion
1 cup diced tomatoes (let drain a minute or two if extra juicy)
1 cup diced cucumber (same size as tomatoes)
1/2 cup coarsely chopped fresh mint leaves
1/2 cup coarsely chopped flat-leaf parsley (leaves only, no stems)
Dressing Ingredients:
1 tsp. chopped garlic (2-4 cloves garlic)
1 tsp. salt (I used fine grind sea salt)
1/2 cup fresh squeezed lemon juice, about 2 large lemons (I love lemon, so adjust the amount to your own taste)
1 tsp. powdered Sumac, plus more for sprinkling on individual salads if desired)
1/2 cup extra virgin olive oil
Instructions
Preheat oven or toaster oven to 400F/200C.
Cut whole wheat pita into strips about 3/4 inch wide and arrange on baking sheet. (Some recipes call for brushing the pita with olive oil, but I didn't do that.)
Bake until pita strips are crisp but only barely starting to brown, less than 10 minutes. Watch carefully because they can go from crisp to overly brown rather quickly. Let pita bread strips cool, then crumble into bite-sized pieces.
Chop tomatoes and let them drain a bit if they're extra juicy. Chop cucumbers.
For dressing, mash together the chopped garlic and salt using a mortar and pestle, or the side of a knife or spoon. Put garlic-salt paste in a small bowl, then add lemon juice and 1 tsp. Sumac (affiliate link). Whisk in olive oil and set dressing aside. (You can also make the dressing in a glass jar and shake to combine.)
Remove outer leaves from Romaine, trim stem end, then wash and spin dry or dry with paper towels. Cut Romaine into fourths lengthwise, then turn and chop crosswise into small pieces. (If you have a salad spinner (affiliate link), you can chop the Romaine first, then wash.)
Put chopped Romaine into salad bowl large enough toss all ingredients.
Wash and chop the fresh mint, fresh parsley, and green onions. (Use the ingredients you prefer.)
Add tomatoes cucumber, fresh herbs, and green onions to bowl.
Add about half of the dressing and toss, then add crumbled pita chops and toss again with more dressing. (You may not want all the dressing, but this salad should be quite wet.) At this point the salad should sit for a few minutes (or longer) to let flavors blend and so the pita chips absorb some of the dressing.
To serve, arrange salad on individual plates and sprinkle with a bit more Sumac. You can also serve it in a large bowl with the Sumac sprinkled over.
When I made this for guests I tossed the salad together before they arrived, and it was perfect when I served it about 30 minutes later.
Notes
I use My Favorite Low-Carb Pita Bread to make this. Carbs are calculated based on 7 net carbs per pita from that brand. You can buy Ground Sumac (affiliate link) at Amazon.com if you don't see it in your store.
Optional ingredients for this salad include chopped green pepper or radishes. (I didn't use either of these but Lori's recipe had green peppers and I saw several recipes that added chopped radishes.)
My Fattoush recipe was slightly adapted from a reader sent to me by a reader named Lori. Thanks Lori; I love this salad!
Nutrition Information:
Yield:
6
Serving Size:
1
Amount Per Serving:
Calories: 239
Total Fat: 19.5g
Saturated Fat: 2.6g
Unsaturated Fat: 16g
Cholesterol: 0mg
Sodium: 362mg
Carbohydrates: 15g
Fiber: 7g
Sugar: 4.6g
Protein: 3.8g
Nutrition information is automatically calculated by the Recipe Plug-In I am using. I am not a nutritionist and cannot guarantee 100% accuracy, since many variables affect those calculations.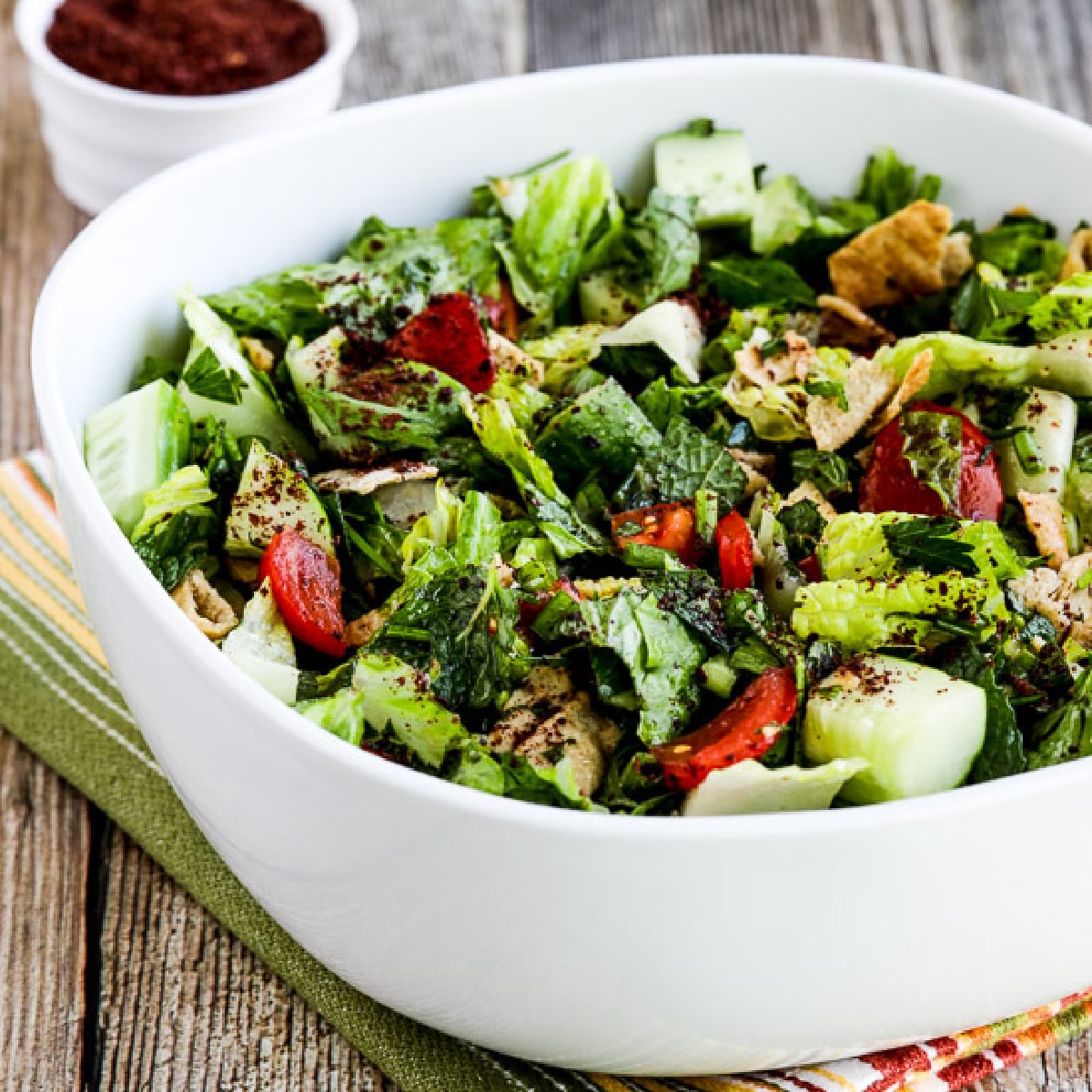 Low-Carb Diet / Low-Glycemic Diet / South Beach Diet Suggestions:
You may be pleasantly surprised if you check the nutritional information and see how low this salad is in net carbs when you use low-carb pita bread like I do. But even though the pita chips are great in this, I'd enjoy it as a Keto salad without the pita chips as well. If it's made with whole wheat pita chips, this Fattoush Lebanese Salad is a great option for phase 2 or 3 of the original South Beach Diet.
Find More Recipes Like This One:
Use Salad Recipes to find more recipes like this one. Use the Diet Type Index to find recipes suitable for a specific eating plan. You might also like to follow Kalyn's Kitchen on Pinterest, on Facebook, on Instagram, or on YouTube to see all the good recipes I'm sharing there.
Historical Notes for this Recipe:
I got this recipe in 2009 from a reader named Lori and I've made it every single summer since then! The recipe was last updated with more information in 2022.
We are a participant in the Amazon Services LLC Associates Program, an affiliate advertising program designed to provide a means for us to earn fees by linking to Amazon.com and affiliated sites. As an Amazon Associate, I earn from qualifying purchases.