Stuffing Muffins (Video)
My Stuffing Muffins are flavored with sausage and parmesan and these are an essential Thanksgiving side dish at my house. And if you use portion control, they aren't that big of a splurge on carbs! (And this recipe now has a gluten-free option!)
PIN Stuffing Muffins to try them later!
This recipe for Stuffing Muffins has been one of my Top Ten Healthy Thanksgiving Recipes for many years. And this is a huge favorite in my own family, and today I'm featuring it for Friday Favorites to remind you about this fun stuffing option in case you want to try it for your family too!
If you like the idea of stuffing that's flavored with sausage and Parmesan and baked in a muffin tin so it's crispy on all the edges, you'll enjoy these little muffins made out of stuffing for a Thanksgiving treat. Of course, these aren't really muffins, but I love the idea of baking stuffing in muffin cups. It also helps with portion control, which may or may not be something you care about for Thanksgiving.
And to make the stuffing muffins healthier than regular Thanksgiving stuffing I use 100% whole wheat bread, and the sausage, Parmesan, and egg are tasty low-carb additions. No doubt about it, these stuffing muffins are really a winner if you're looking for a tasty stuffing idea that's absolutely delicious but still fairly healthy!
What ingredients do you need?
whole wheat bread (see below for gluten-free)
reduced-fat pork sausage
Olive Oil (affiliate link)
onion
celery
butter or olive oil
Dried Sage (affiliate link)
Poultry Seasoning (affiliate link)
salt
Parmesan cheese
chicken broth
eggs
Can stuffing muffins be gluten-free?
My niece who cooks with me has a son who can't have gluten, so I'm not sure why it took us so long to try this recipe with gluten-free bread! But I just heard from Kara that she made the recipe with Franz Bakery Gluten Free Seven Grain Bread (affiliate link) and they turned out perfectly. Kara couldn't find reduced-fat pork sausage so she used regular ground pork breakfast sausage. And otherwise she followed the recipe exactly. (I am guessing this will work with any brand of gluten-free bread that has a texture that's similar to wheat bread; if anyone tries it with a different type of gluten-free bread please let us know in the comments.)
Can stuffing muffins be frozen?
Leftover stuffing muffins can be frozen and thawed and reheated for another meal later. If you want to purposely make them ahead for Thanksgiving, I would slightly undercook them the first time, freeze in an air-tight container, then thaw on the counter and reheat in the original muffin pan in a hot oven while you do the last minute touches on the meal.
Can you make stuffing muffins with turkey sausage?
If you don't want to use pork or can't find the low-fat pork sausage you can definitely make stuffing muffins with ground turkey breakfast sausage.
Want Low-Carb Holiday Food?
I realize some people are gluten-free, don't want to eat bread, or can't have this many carbs. If stuffing muffins made with bread aren't going to work for you or your guests, check my collection of Keto Side Dishes, Appetizers, and Salads for the Holidays for holiday ideas that are all gluten-free and low in carbs.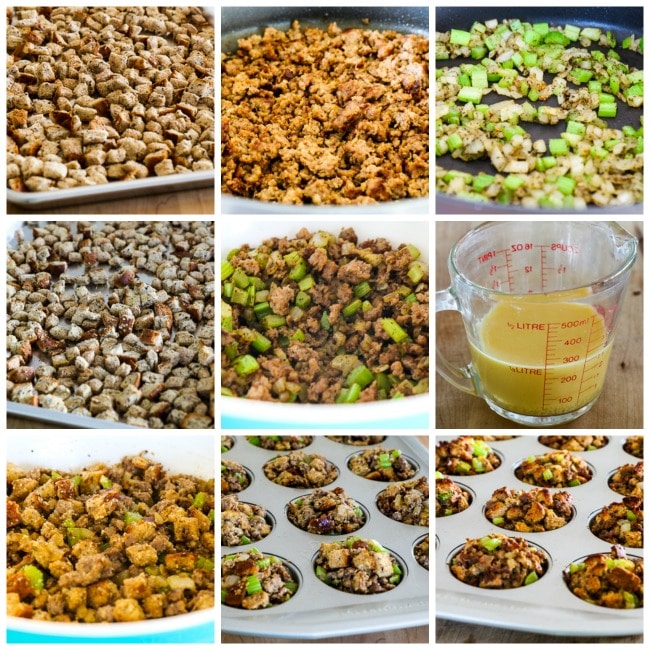 How to make Stuffing Muffins:
(Scroll down for complete printable recipe with nutritional information.)
I like to use two kinds of 100% whole wheat bread; if you're watching carbs or following the original South Beach Diet, choose bread with the lowest amount of sugar you can find.
Cut the bread into cubes about 1/2 inch square and toast on a baking sheet for 10 minutes, then turn and toast for 10 more minutes.
While the bread cubes toast, brown the sausage well in a heavy frying pan, then put the browned sausage into a large bowl.
Then cook celery and onions over medium heat until they're soft, about 10 minutes. Add the dried sage, poultry seasoning, and salt and cook 1-2 minutes more.
By now your bread cubes should be slightly dried out and starting to brown.
Add onion-celery mixture to the bowl with the sausage.
Whisk together stock and eggs.
Mix the bread cubes into the sausage and veggies, stir in the parmesan, then add the stock-egg mixture a little at a time, stirring until all the bread is moistened.
Use a heaping 1/3 cup measure to scoop out stuffing and pack it down into the muffin cup, then I pressed down each "muffin" so it was well-packed together.
Bake the muffins about 30 minutes, or until the top is getting lightly browned and the stuffing is hot clear through. I would start checking them after about 20 minutes; some bread will brown more quickly than others.
If you're going to reheat them when you get to your dinner destination, bake for a shorter time to start out with.
More Side Dishes for Thanksgiving: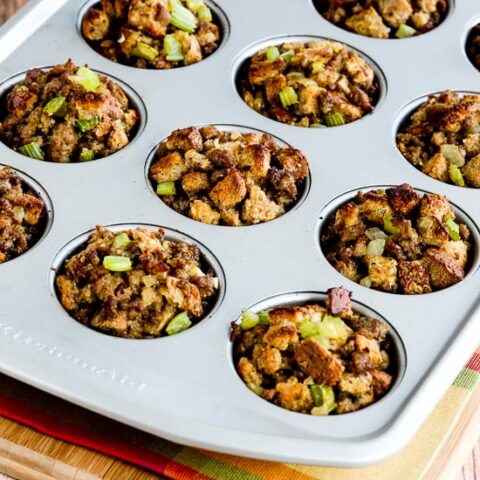 Yield: 12 muffins
Stuffing Muffins
Prep Time 40 minutes
Cook Time 30 minutes
Total Time 1 hour 10 minutes
My family's favorite Stuffing Muffins are flavored with sausage and Parmesan, and these are an essential side dish for Thanksgiving at my house! And this recipe now has a gluten-free option!
Ingredients
8 slices 100% whole wheat bread, cut into cubes about 1/2 inch square (see notes for more info or for gluten-free option.)
12 oz reduced-fat pork sausage (see notes)
1 tsp. olive oil
1 cup finely diced onion
1 cup finely diced celery
1 T butter or olive oil
1 1/2 tsp. dried sage (or use 1 tsp. if you're not a big fan of sage, which is a fairly strong flavor)
1 tsp. poultry seasoning (see notes)
1/2 tsp. salt
1/4 cup finely grated Parmesan cheese
1/2 cup chicken broth (see notes)
2 eggs
Instructions
Preheat oven to 300F/150C.
Cut bread into cubes about 1/2 inch square (you need 5 generous cups of bread cubes.)
Put bread cubes on a large baking sheet and toast in the oven 10 minutes, then turn the bread over and toast 10 minutes more, or until bread is dried out and very lightly browned.
While bread toasts, heat 1 tsp. olive oil in a heavy frying pan, add sausage, and cook until well browned and completely cooked, about 10 minutes.
Break the sausage apart with a metal turner as it cooks so you have small pieces to mix throughout the stuffing.
Put the browned sausage into a large mixing bowl, then wipe out extra fat from the frying pan with a paper towel. (I "patted" with the paper towel to leave the crumbled pieces of sausage in the pan while wiping out the fat.)
Heat 1 T butter or olive oil in the frying pan, then add finely diced onion and celery and cook over medium heat until vegetables are softened and barely starting to brown, about 10 minutes.
Add dried sage, poultry seasoning, and salt and cook 1-2 minutes more. Add the onion/celery mixture to the mixing bowl.
When bread cubes are toasted, add them to mixing bowl and increase oven temperature to 400F/200C. Add Parmesan cheese and mix well so that all the bread cubes are lightly coated with Parmesan.
Whisk together the chicken stock and eggs, then add that 1/3 at a time, pouring over the surface of the stuffing mixture each time and then stirring, so all the bread cubes are lightly moistened.
Spray metal muffin pan very well with nonstick spray. Use a measuring cup to add heaping 1/3 cup to each muffin cup, pressing down each muffin so it's well-packed together. (I used the measuring cup to pack down the "muffins", then pressed them together again with my fingers when they were all filled.)
Bake muffins 30 minutes or until the top is nicely browned and they're hot clear through. (I would start checking after 20 minutes.
If you're going to reheat them when you get to your dinner destination, I'd bake for a shorter time to start and then heat/crisp at a high temperature right before you serve them.)
Let cool for about 5 minutes before you remove them from pan, and then use a knife to go around the edge of each "muffin" before you lift them out of the muffin pan.
Serve hot, with turkey gravy of course!
Notes
You need 5 generous cups of bread cubes for this recipe. In 2021 my niece Kara tested the recipe with Franz Bakery Gluten-Free Seven Grain Bread and it worked perfectly.
If you can find it, use turkey breakfast sausage for even less fat.
I used Penzeys poultry seasoning, click to see the ingredients.
I used homemade chicken stock but canned chicken broth is fine for this.
This recipe created by Kalyn.
Nutrition Information:
Yield:
12
Serving Size:
1
Amount Per Serving:
Calories: 199
Total Fat: 12g
Saturated Fat: 4g
Trans Fat: 0g
Unsaturated Fat: 7g
Cholesterol: 60mg
Sodium: 528mg
Carbohydrates: 12g
Fiber: 2g
Sugar: 2g
Protein: 10g
Nutrition information is automatically calculated by the Recipe Plug-In I am using. I am not a nutritionist and cannot guarantee 100% accuracy, since many variables affect those calculations.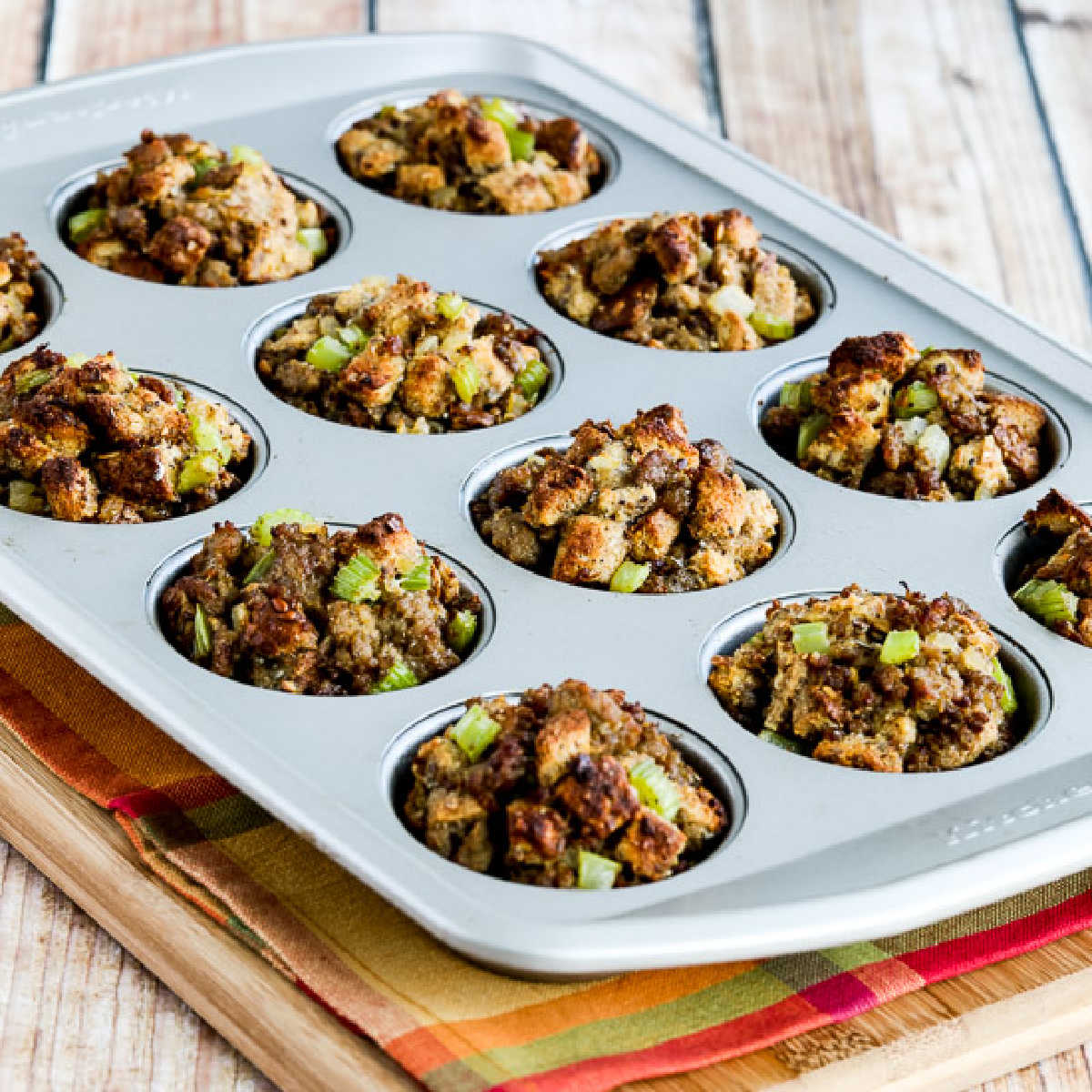 Low-Carb Diet / Low-Glycemic Diet / South Beach Diet Suggestions:
I haven't tried making Stuffing Muffins with a strictly low-carb bread, but I think it would work. But this isn't even too much of a carb splurge for low-carb diet plans if you limit yourself to one muffin; check the nutritional information. If you want make the most South Beach Diet friendly version of Stuffing Muffins, choose bread that has the lowest possible amount of sugar. South Beach would also recommend you use turkey sausage, and cook the vegetables in olive oil instead of butter. However, even if you use low-fat pork sausage and some butter like I did, this is a pretty diet-friendly recipe for a special occasion.
Find More Recipes Like This One:
Use Holiday Recipes to find more recipes like this one.Use the Diet Type Index to find recipes suitable for a specific eating plan. You might also like to follow Kalyn's Kitchen on Pinterest, on Facebook, on Instagram, on TikTok, or on YouTube to see all the good recipes I'm sharing there.
Historical Notes for this Recipe:
Stuffing Muffins were first posted in 2010, after lots of experimenting to perfect the recipe. Now they are a classic dish in my family. The recipe updated with a gluten-free option in 2021 and was last updated with more information in 2022.
We are a participant in the Amazon Services LLC Associates Program, an affiliate advertising program designed to provide a means for us to earn fees by linking to Amazon.com and affiliated sites. As an Amazon Associate, I earn from qualifying purchases.