Low-Sugar Strawberry Frozen Yogurt Pops
These Low-Sugar Strawberry Frozen Yogurt Pops are a low-carb frozen treat that will help cool you down and they're also easy to make! Use any Greek yogurt and sugar-free strawberry preserves for these tasty frozen yogurt pops that are also gluten-free and kid-friendly!
PIN the Frozen Yogurt Pops to try them later.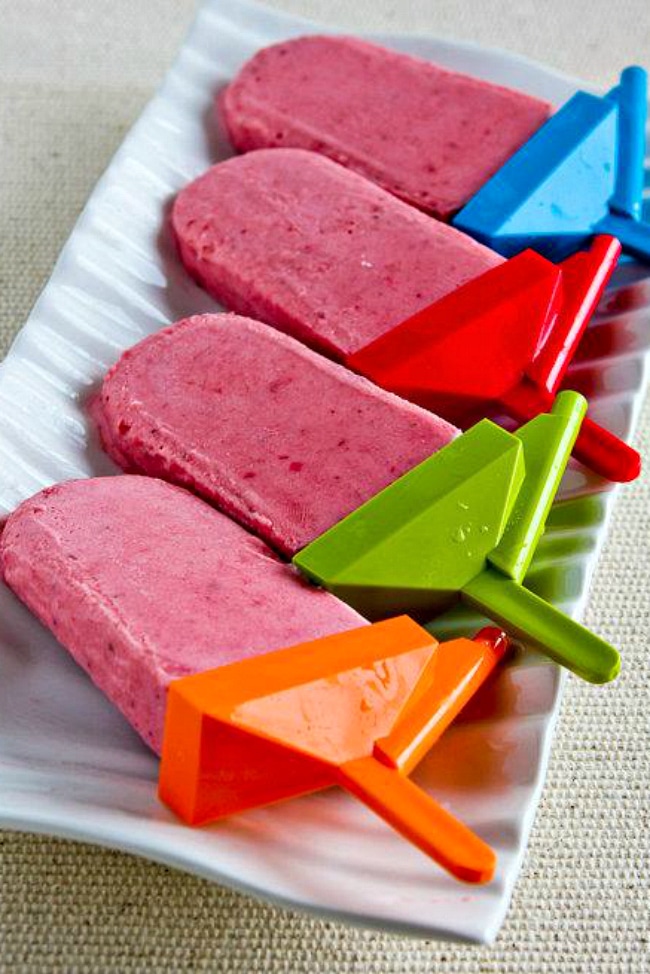 Utah is having a heat wave this summer, so when I was shopping with my sister Val and we discovered popsicle molds on close-out, it was a no-brainer to make some frozen yogurt pops! Then the next day my two nephews Ethan and Mitchell came to stay at my house and we had fun adapting my recipe for Low-Sugar Strawberry Frozen Yogurt into these tasty Low-Sugar Strawberry Frozen Yogurt Pops.
Unfortunately we made the frozen yogurt pops, put them in the freezer, and then headed out to have fun, so I can't tell you exactly how long they take to freeze. But the next day when two more kids came to visit, everyone gobbled up them up, so I can definitely say they're kid approved!
And these if you use some type of sugar-free strawberry preserves for the extra burst of strawberry flavor, they are pretty low in carbs for adults as well.
What ingredients do you need for this recipe?
What sugar-free strawberry preserves did we use?
A recipe that has fresh strawberries can't ever be completely sugar-free, but if you use sugar-free strawberry preserves you can keep the sugar amount pretty low. I would use either Polaner Sugar-Free Strawberry Preserves (affiliate link) or Smucker's Sugar-Free Strawberry Preserves (affiliate link), both of which have a generous amount of fiber. I recently realized the nutritional calculator was calculating the sugar-free preserves incorrectly, so I re-calculated nutritional information using the information on the label and was pleasantly surprised that these were much lower in carbs than I had realized!
What Sweetener did I use?
Monkfruit Sweetener (affiliate link) would be my first choice for this recipe. But use any no-calorie granulated sweetener you prefer, or even sugar if you don't care about the whole low-sugar thing.
How many frozen yogurt pops did we make?
The Popsicle Molds (affiliate link) we used made 5 popsicles from this amount of ingredients. If your molds are smaller (or larger) you will have to adjust the nutritional information.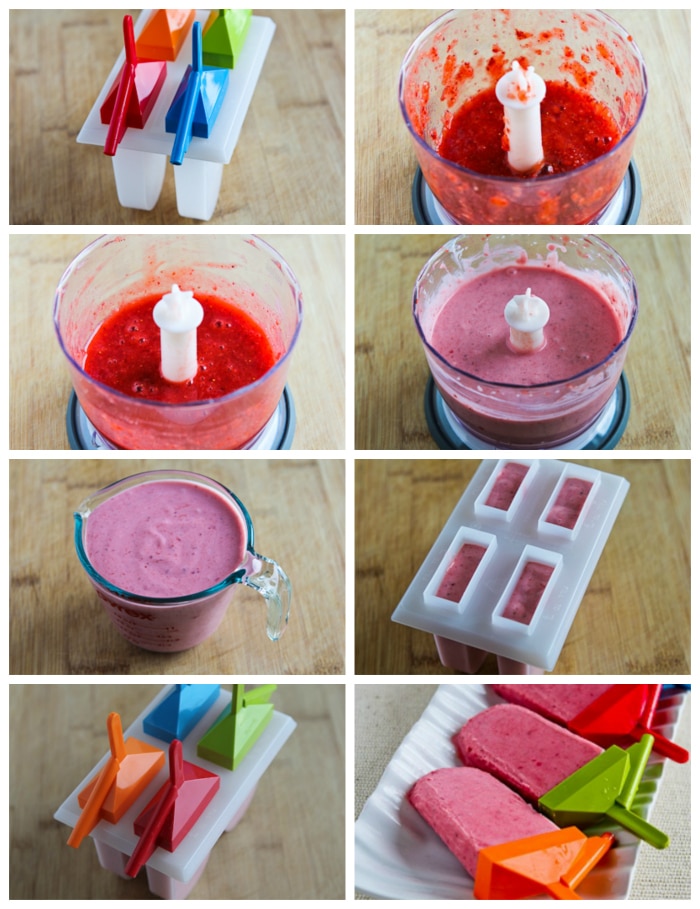 Tips for making Low-Sugar Strawberry Frozen Yogurt Pops:
(Scroll down for complete recipe with nutritional information.)
Here are the Sip-a-Pop Popsicle Molds we found on close-out; if you use molds that are smaller or larger you will need to adjust the nutritional information!
I was only making a few popsicles, so I used the bowl attachment of my Immersion Blender (affiliate link) to puree the strawberries. Double the recipe and use a food processor if you have a lot of popsicle molds.
Then I added the strawberry preserves and sweetener and blended it more.
Then add the yogurt and process just until it's blended.
This makes about 1 1/4 cups of the mixture before freezing.
The kids helped me fill the molds up to the line. (This made 5 popsicles total.)
Here's how they looked when the went into the freezer. We made these in about 20 minutes, but if you're not taking photos, it won't take that long!
And as I mentioned, we left them in the freezer while we were out and about, but I'm guessing they will take at least 6 hours to freeze.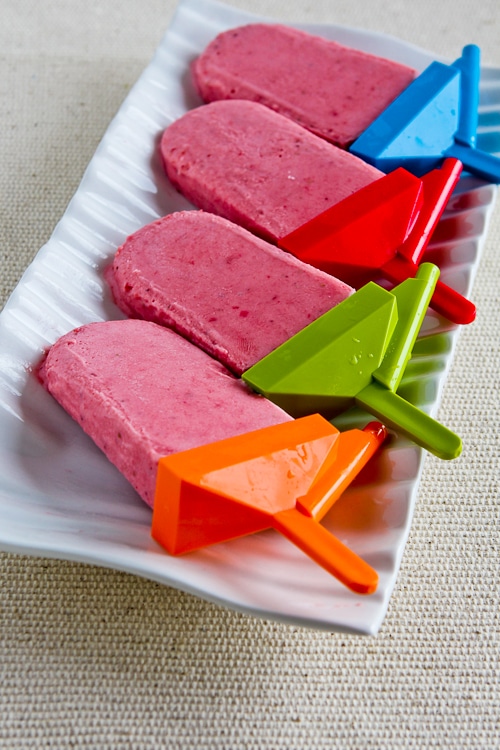 More Low-Sugar Frozen Treats:
Yield: 5 servings
Low-Sugar Strawberry Frozen Yogurt Pops
Prep Time 20 minutes
Additional Time 6 hours
Total Time 6 hours 20 minutes
These Strawberry Frozen Yogurt Pops are a great treat when you need something cool and they only take minutes to make! 
Ingredients
1 generous cup washed and diced strawberries  
1/2 cup sugar-free strawberry preserves (see notes)
1/2 cup Monkfruit sweetener (see notes)
1 cup plain Greek Yogurt (see notes)
Instructions
Use a food processor (or the bowl attachment of an immersion blender) to puree the strawberries.
Add preserves and sweetener of your choice and blend until the mixture is completely combined.
Then add the Greek yogurt and process just until it's mixed.
Pour the mixture into a glass measuring cup (or something else with a pour spout) and use that to pour it into popsicle molds.
Put molds in the freezer and freeze until the pops are hard. (I'm sorry to say we went out to have fun after they were in the freezer so I can only guess, but I'd imagine it would take at least 6 hours for them to get firm. If anyone times them, I would love to edit this!)
Notes
If you don't want the artificial sweetener in the sugar-free preserves, look for preserves labeled "all fruit" which will make the recipe a bit higher in carbs. I love Monkfruit Sweetener (affiliate link), but use any no-calorie granulated sweetener you prefer. You can use fat-free or full-fat yogurt, whichever you prefer. I didn't specify when I calculated nutritional information, but it seems to be calculating it with fat-free frozen yogurt based on results, so if you use full-fat frozen yogurt there will be more fat.
Recipe created by Kalyn with help from Mitch and Ethan.
Nutrition Information:
Yield:
5
Serving Size:
1
Amount Per Serving:
Calories: 62
Total Fat: 0.3g
Saturated Fat: 0.1g
Trans Fat: 0g
Unsaturated Fat: 0.2g
Cholesterol: 2.3mg
Sodium: 25mg
Carbohydrates: 14.5g
Fiber: 5.5g
Sugar: 5.1g
Protein: 4.9g
Nutrition information is automatically calculated by the Recipe Plug-In I am using. I am not a nutritionist and cannot guarantee 100% accuracy, since many variables affect those calculations.
Low-Carb Diet / Low-Glycemic Diet / South Beach Diet Suggestions:
There is natural sugar in the strawberries, so these Low-Sugar Strawberry Frozen Yogurt Pops can't ever be sugar-free but these don't have added sugar, and they're relatively low-carb for a treat. Use full-fat Greek Yogurt for low-carb diets or fat-free Greek Yogurt for Phase 2 or 3 of the original South Beach Diet.
Find More Recipes Like This One:
Use the Dessert Recipes to find more recipes like this one. Use the Diet Type Index to find more recipes suitable for a specific eating plan. You might also like to follow Kalyn's Kitchen on Pinterest, on Facebook, on Instagram, or on YouTube to see all the good recipes I'm sharing there.
Historical Notes for this recipe:
This recipe was first posted in 2013 when my nephews Ethan and Mitchell helped me make them. Now they are both pretty grown-up, but they'd still enjoy a frozen yogurt pop like this! The recipe was updated in 2022 with more information.
We are a participant in the Amazon Services LLC Associates Program, an affiliate advertising program designed to provide a means for us to earn fees by linking to Amazon.com and affiliated sites. As an Amazon Associate, I earn from qualifying purchases.