20 Recipes for Low-Carb and Keto Meatballs
These 20 Recipes for Low-Carb and Keto Meatballs are perfect for a family-friendly dinner, or serve them as appetizers or game-day food! And this post has meatball options from around the web, so everyone can find something they like.
PIN the recipes for Keto Meatballs to make them later!
There are so many tasty-looking ideas in this collection of 20 Recipes for Low-Carb and Keto Meatballs, and I think most people like meatballs, right? I think Keto meatballs are perfect for a family-friendly main dish that will please both kids and adults.
And meatballs are always welcome as an appetizer or as game day food as well! This post features interesting meatball ideas from bloggers around the web. and I hope you'll find a few you might like to try!
What kinds of Keto meatballs are featured here?
In this tasty collection of low-carb meatballs you can find meatballs with Italian, Greek, Swedish, and Asian flavors. There are meatballs with beef, turkey, chicken, lamb, pork, and sausage. Some meatballs are inspired by famous dishes like Buffalo Chicken, Bacon Cheeseburgers, Chicken Piccata or Reuben Sandwiches!
How do you get the complete recipe?
Just click or tap any recipe link to see the full recipe on the original blog. All photos are copyrighted by the blog that originally published the recipe.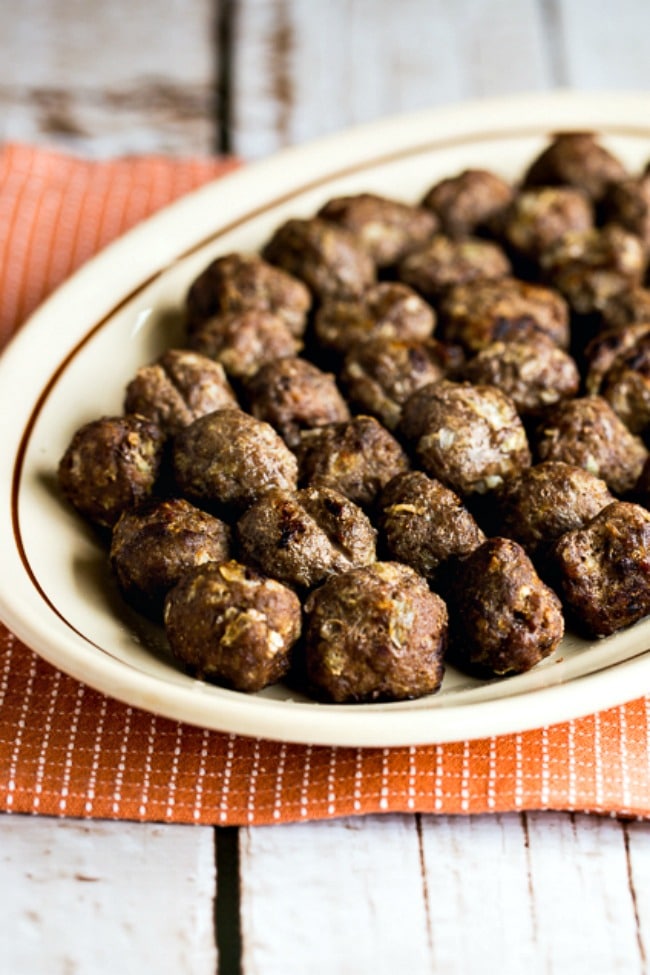 Baked Swedish Meatballs from Kalyn's Kitchen are a meatball recipe I make over and over, and I never get tired of these meatballs.
Keto Meatball Parmesan from I Breathe I'm Hungry look amazing, and Mellissa might be the queen of low-carb meatballs on the web because she did Meatball Monday posts for a long time.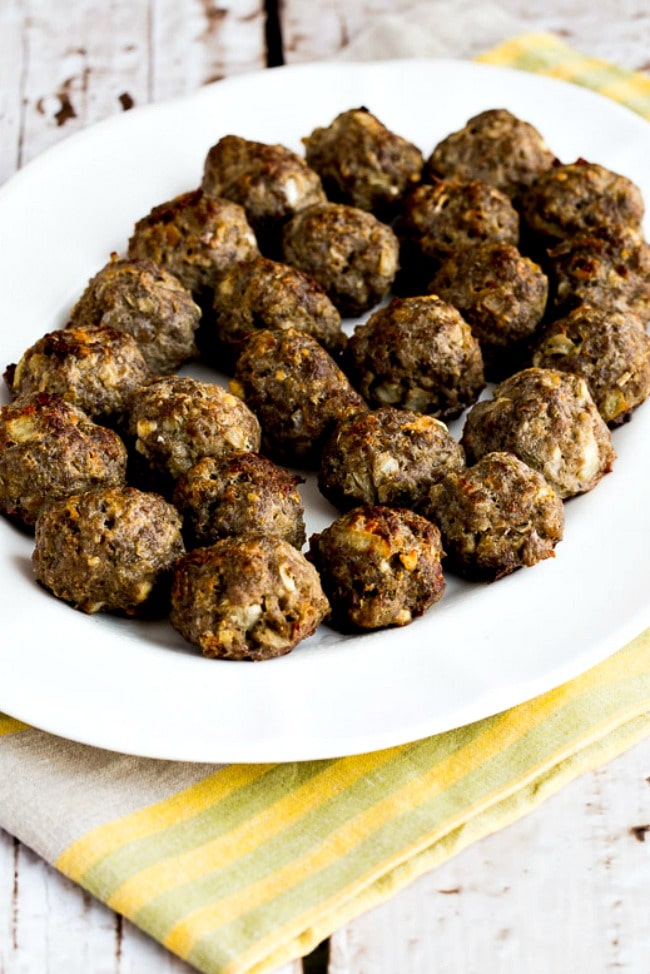 It must be obvious that I love Greek flavors and these Baked Greek Meatballs with Feta from Kalyn's Kitchen have so many of those Greek flavors I crave.
Mom's Low-Carb Meatballs from Low-Carb Maven have a mixture of beef and pork and lots of Italian flavor.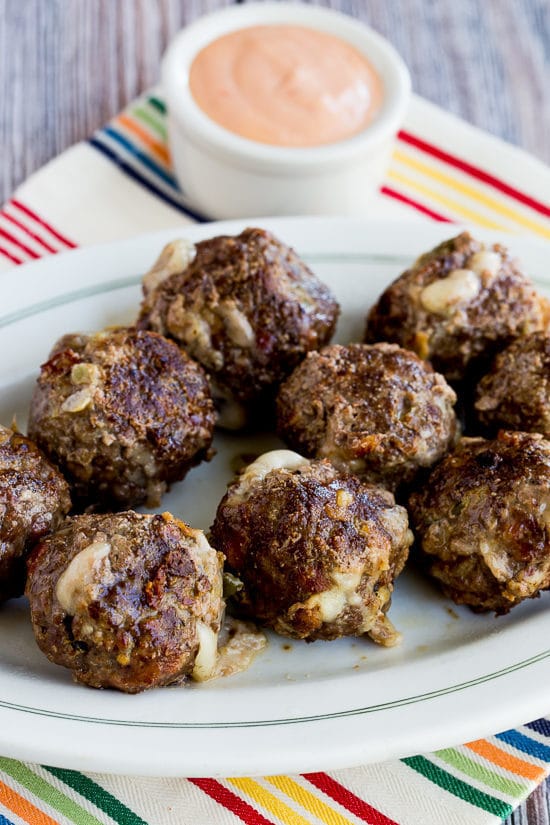 These Bacon Cheeseburger Meatballs from Kalyn's Kitchen have been a hit whenever I've made them, and this recipe is popular on the blog. And these meatballs are cooked on the grill, or on a Stovetop Grill Pan (affiliate link)!
For everyone who loves lamb (like me!) how about Spicy Tandoori Lamb Meatballs from All Day I Dream About Food?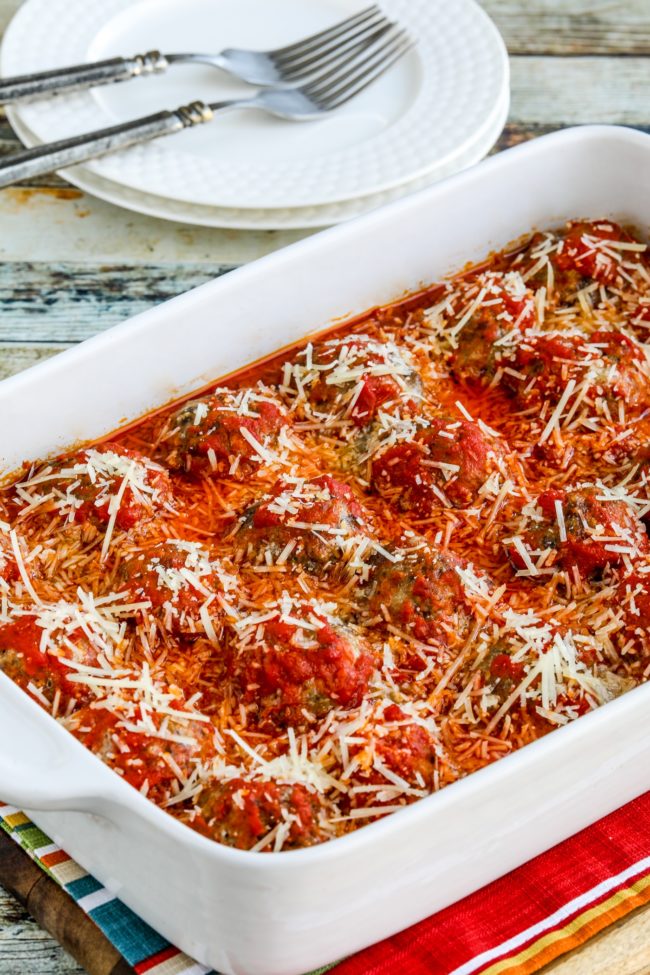 Beef and Sausage Meatballs with Tomato Sauce from Kalyn's Kitchen are a delicious low-carb meatball recipe the whole family is going to love!
I think these Low-Carb Swedish Meatballs from Low-Carb Maven look much better than the ones at IKEA, although I've eaten a few IKEA meatballs in my time!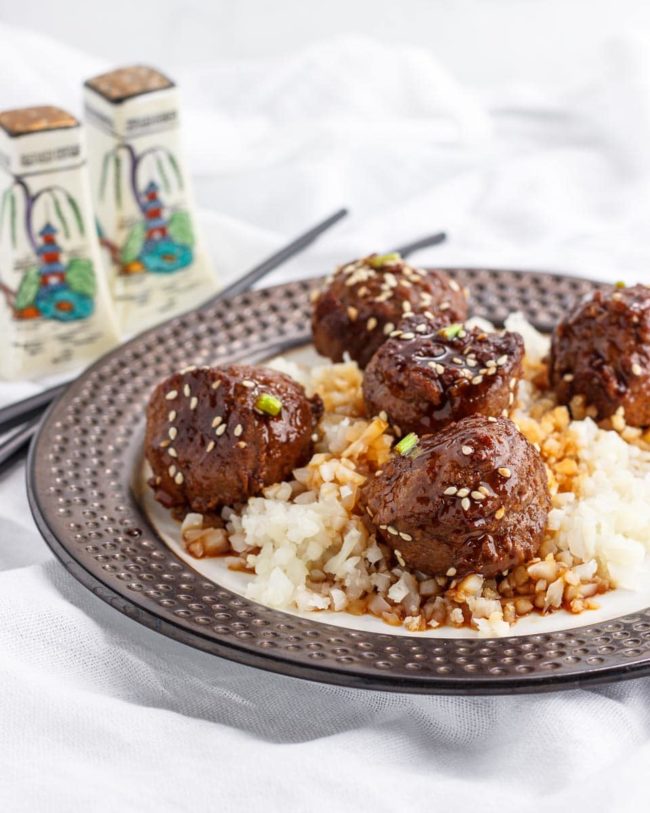 Keto Asian Teriyaki Meatballs from Beauty and the Foodie have a delicious-sounding Keto teriyaki sauce!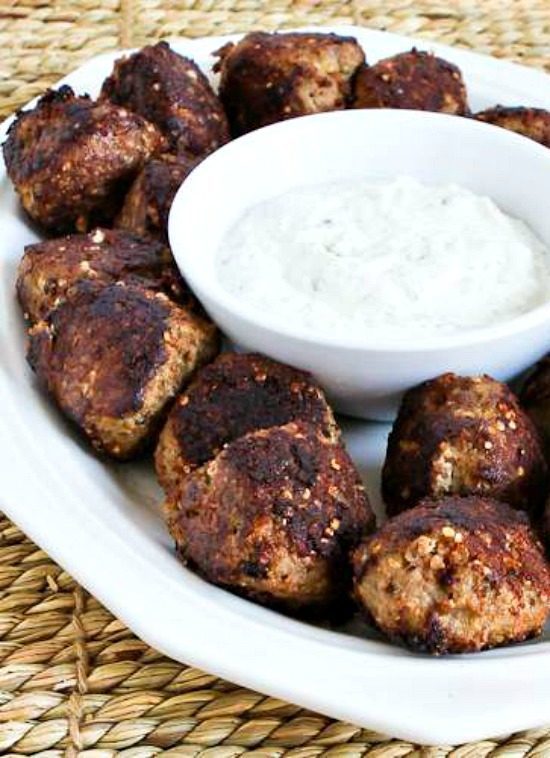 And finally, it's a very old photo, but these Turkey Parmesan Meatballs from Kalyn's Kitchen are delicious, and they have hemp hearts for added nutrition!
More Keto Meatballs to Try:
We are a participant in the Amazon Services LLC Associates Program, an affiliate advertising program designed to provide a means for us to earn fees by linking to Amazon.com and affiliated sites. As an Amazon Associate, I earn from qualifying purchases.