My Top Ten Healthy Thanksgiving Recipes
This round-up has My Top Ten Healthy Thanksgiving Recipes, and I'm also including ten more honorable mentions! These are the Thanksgiving recipes I make over and over!
Click here to PIN My Top Ten Healthy Thanksgiving Recipes!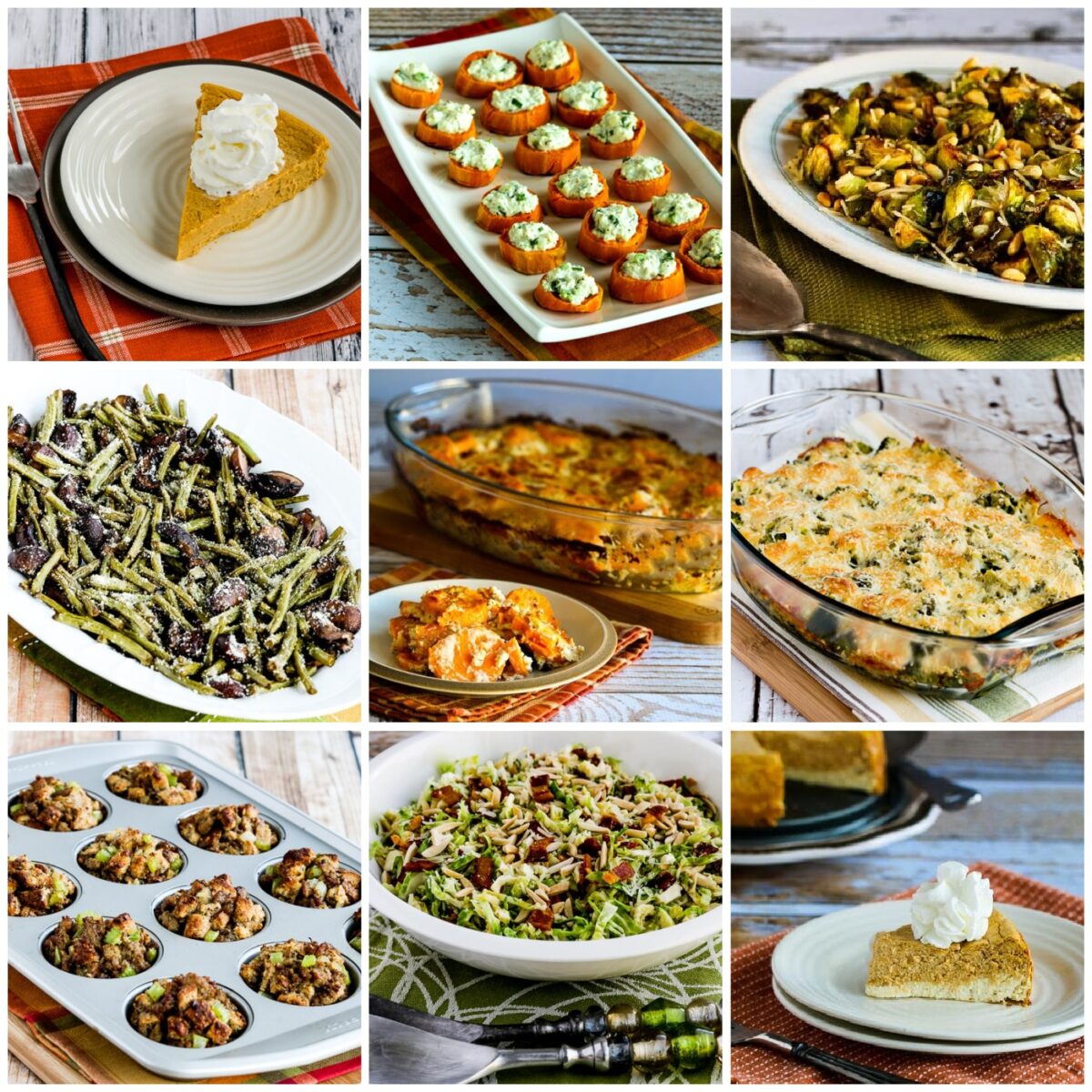 Thanksgiving is coming right up, and I'm noticing people are checking out the Thanksgiving ideas in the Holiday Recipes! So before you get your menu completely set, I want to make sure you see this collection of My Top Ten Healthy Thanksgiving Recipes.
These are my personal favorites, and some of these are recipes I make every single year for Thanksgiving. And there are also some very delicious honorable mention Thanksgiving Recipes listed after the top ten picks; be sure to check those out as well.
There are some carb splurges among my Thanksgiving favorites!
Since this is mostly once-a-year holiday food for me, not every recipe here is low-carb or gluten-free, although quite a few of them are. I promise you'll find some very tasty options here, whether you're keeping it strictly low-carb for Thanksgiving or indulging a bit more for the holiday meal.
Want strictly low-carb and gluten-free Thanksgiving recipes?
If strictly low-carb and gluten-free is what you're looking for, check these recipes in these round-ups:
How do you get the complete recipe?
Just click the recipe title to see any recipe; then you can use the diet-type icons to see which diet types that recipe is suitable for. And if you've tried one of these favorites in years gone by, recipe ratings are always appreciated or leave a comment letting me know how you liked it!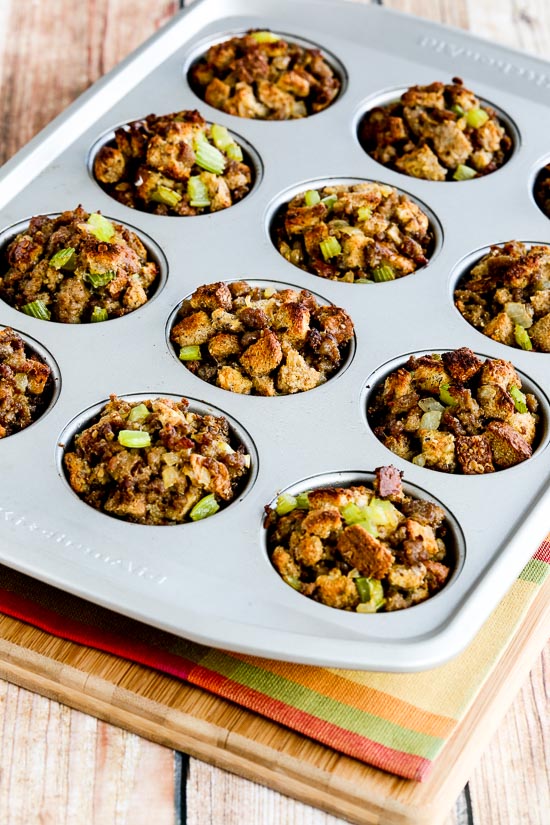 Let's start with Stuffing Muffins with Sausage and Parmesan. I've made these the last few years, and this is something everyone in my family asks for. (EDIT 2021: My niece Kara tested this recipe with Franz Bakery Seven Grain Gluten-Free bread and they worked perfectly so they can be great for a gluten-free option if you use gluten-free bread!)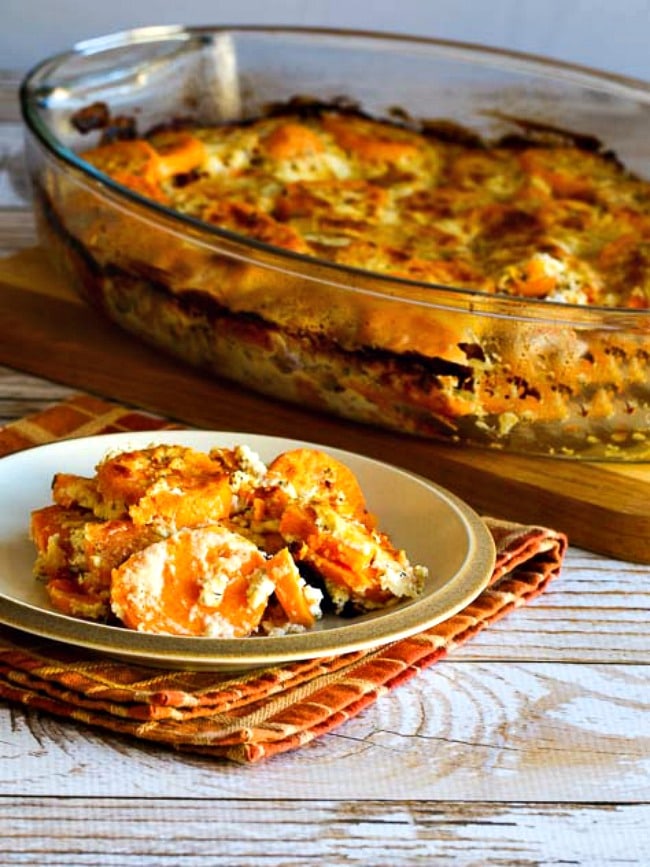 Sweet Potato Gratin was something we couldn't stop eating when we tested the recipe, and when I made it for some food blogging friends they loved it too. And when I go to my sister Pam's house for Thanksgiving, her kids always request that I bring this!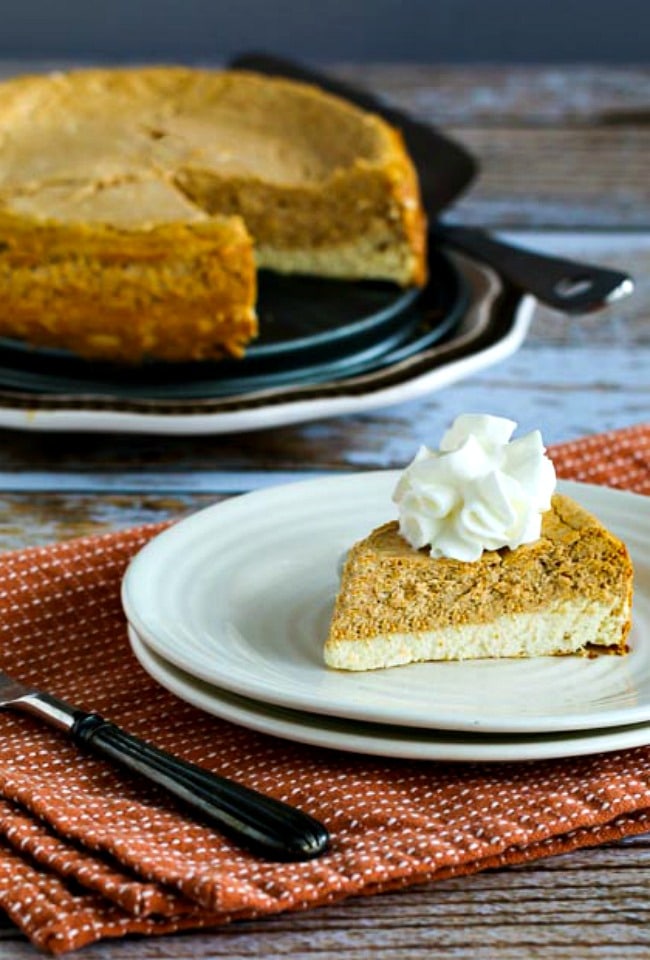 Sugar-Free Layered Pumpkin Cheesecake is a pumpkin treat that I've been making for Thanksgiving for years, and I was happy when I got a better photo to show how good this is!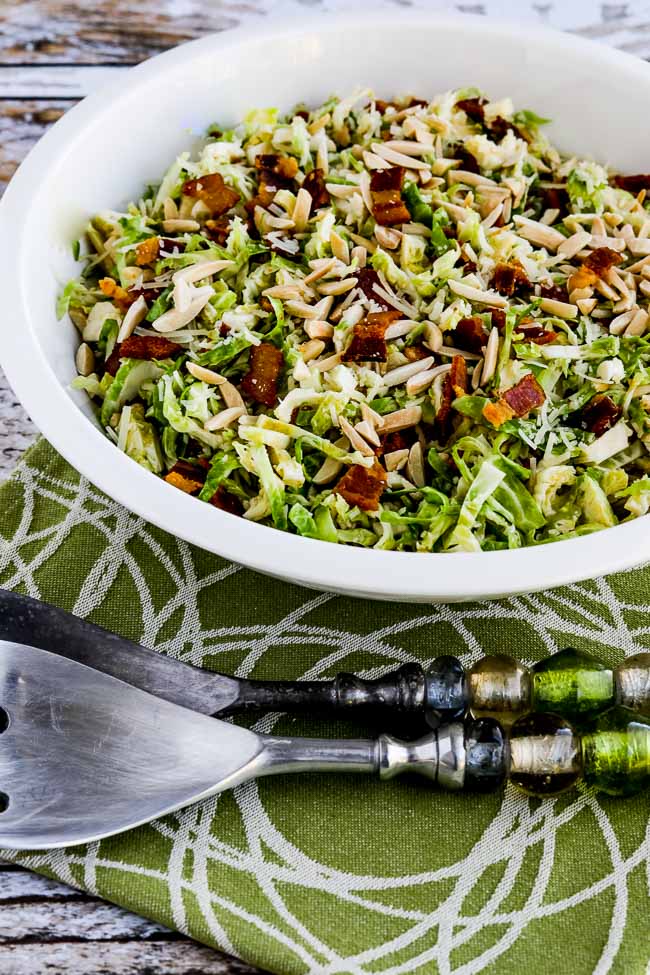 Another recipe I've swooned over for a few years is this amazing Brussels Sprouts Salad with Bacon, Almonds, and Parmesan. If you've never tried raw Brussels Sprouts, they're really delicious; toss in some dried cranberries if you don't mind a few more carbs.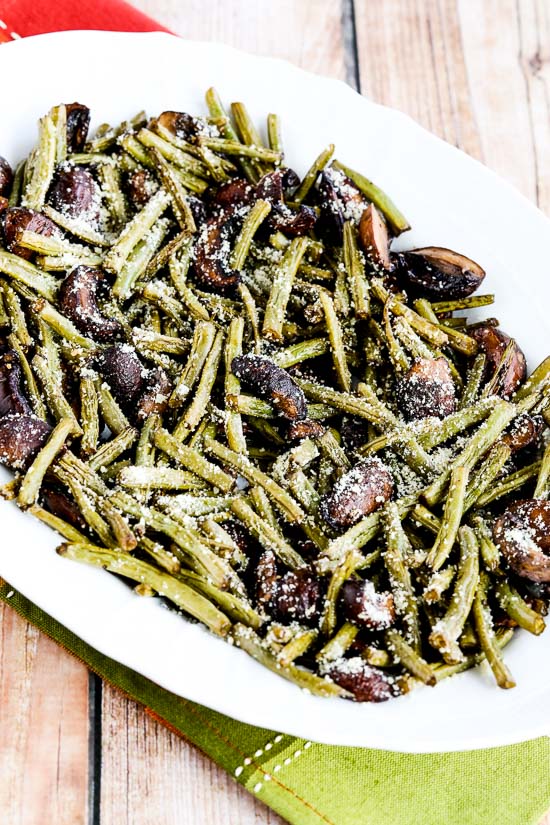 I can tell when it's getting close to Thanksgiving by the visits to this recipe for Roasted Green Beans with Mushrooms, Balsamic, and Parmesan; this recipe has been Pinned and viewed on the blog millions and millions of times!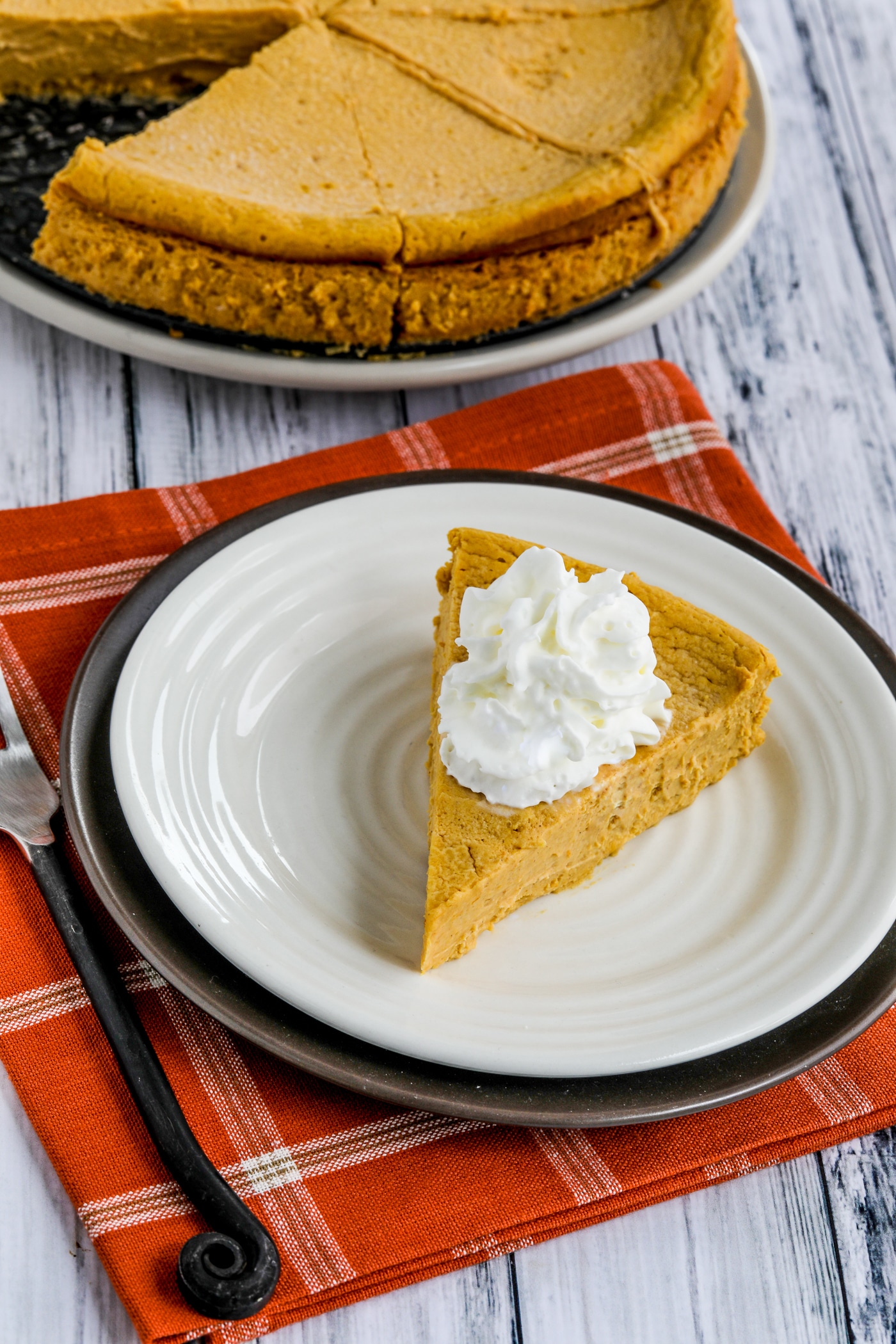 For years I made Low-Sugar Pumpkin Cheesecake Pie in a graham cracker crust, and you can still find that recipe if you're a fan. But in 2021 I had the brainstorm to skip the crust and bake it in a springform pan, and I loved this new idea for Sugar-Free Pumpkin Cheesecake Pie.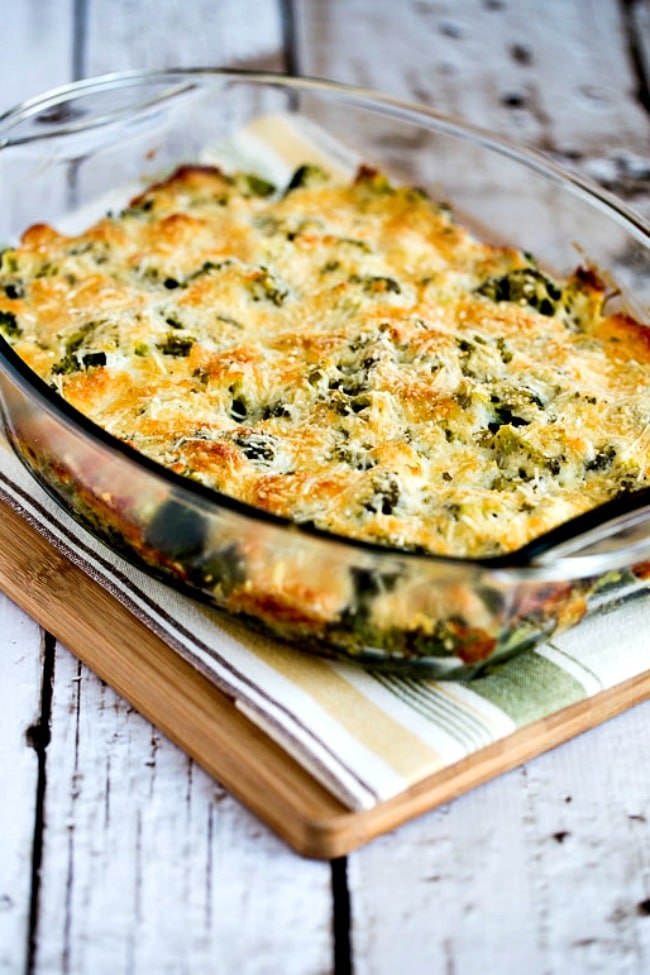 I could never skip this Broccoli Gratin without protests from some of my family members, who think this is a must-have vegetable dish for Thanksgiving.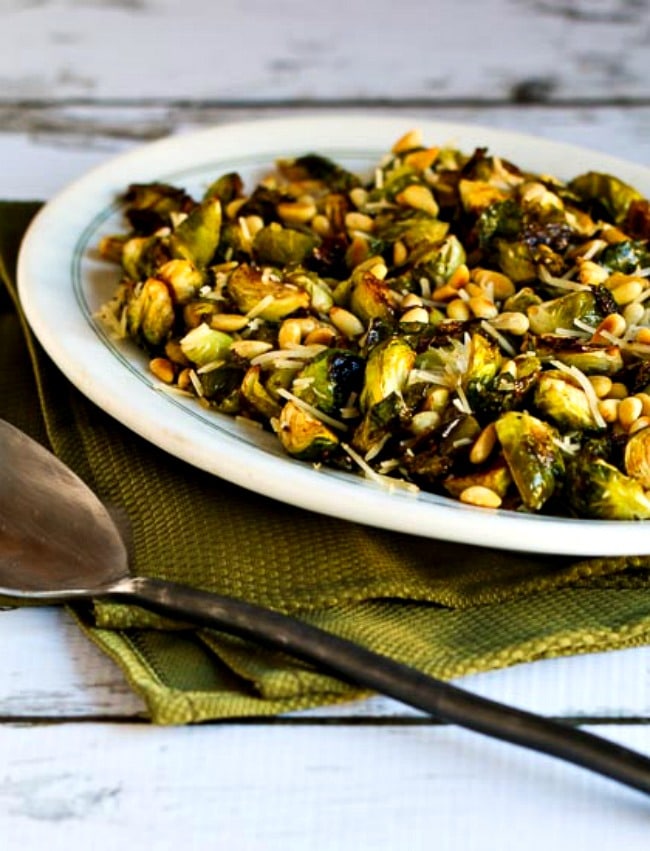 Balsamic Roasted Brussels Sprouts with Parmesan and Pine Nuts is the first Brussels Sprouts recipe I made for the blog and I still love this recipe. Many people have raved about this one through the years!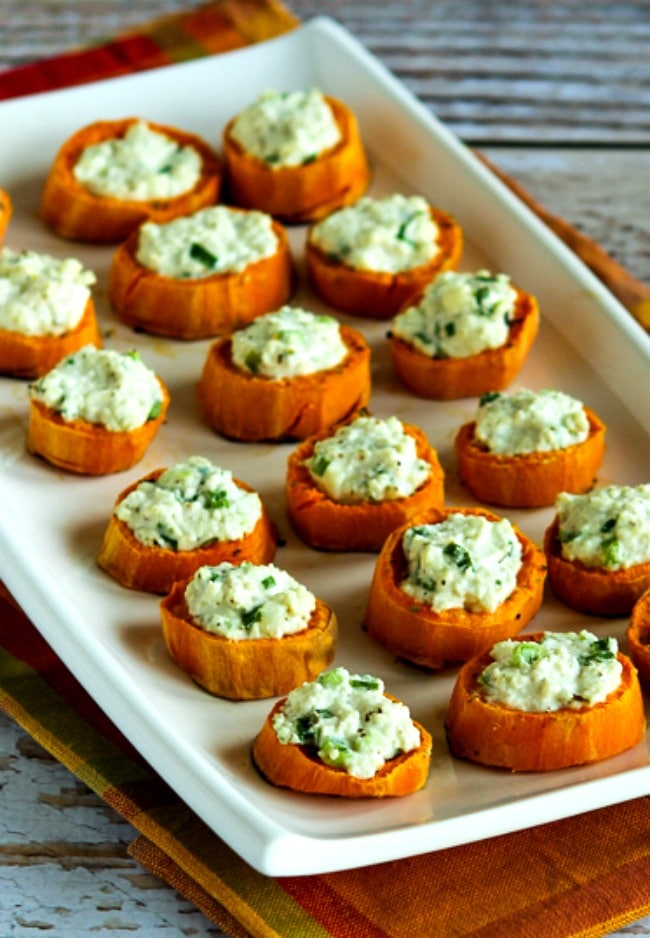 Another recipe that quickly became a Thanksgiving favorite was these absolutely amazing Sweet Potato Bites with Feta.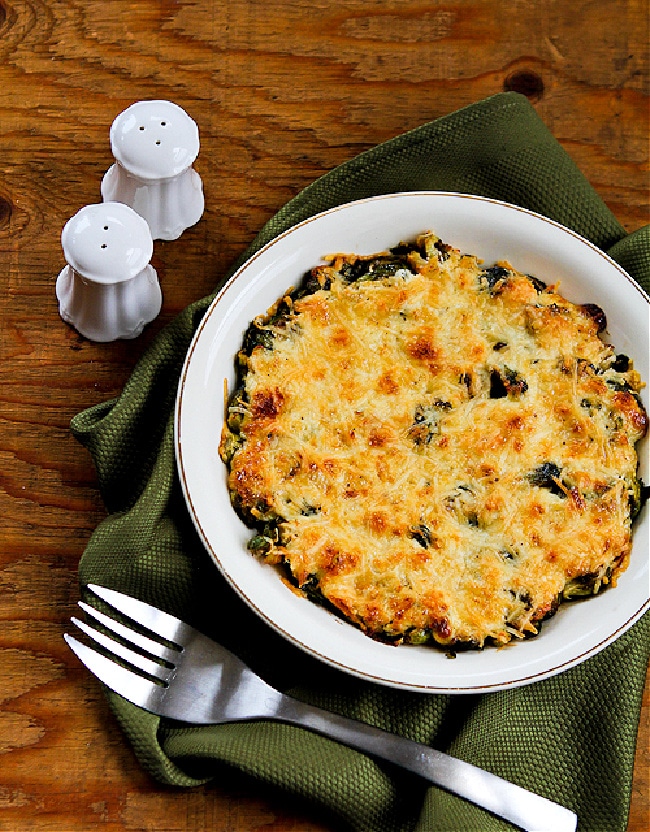 And finally, this Easy Brussels Sprouts Gratin is so good it just might win over some Brussels Sprouts avoiders!
More Favorite Thanksgiving Recipes from Kalyn:
We are a participant in the Amazon Services LLC Associates Program, an affiliate advertising program designed to provide a means for us to earn fees by linking to Amazon.com and affiliated sites. As an Amazon Associate, I earn from qualifying purchases.