Low-Sugar Pumpkin Cheesecake Pie
NOTE: This was a recipe I made for years for Thanksgiving, using a purchased graham cracker crust. Then in 2021 I had the inspiration to bake the Pumpkin Cheesecake Pie in a springform pan without a crust, which created a new version that was a Sugar-Free Pumpkin Cheesecake Pie. Both are delicious, so I am leaving the printer-friendly version here for anyone who was a fan of the original recipe!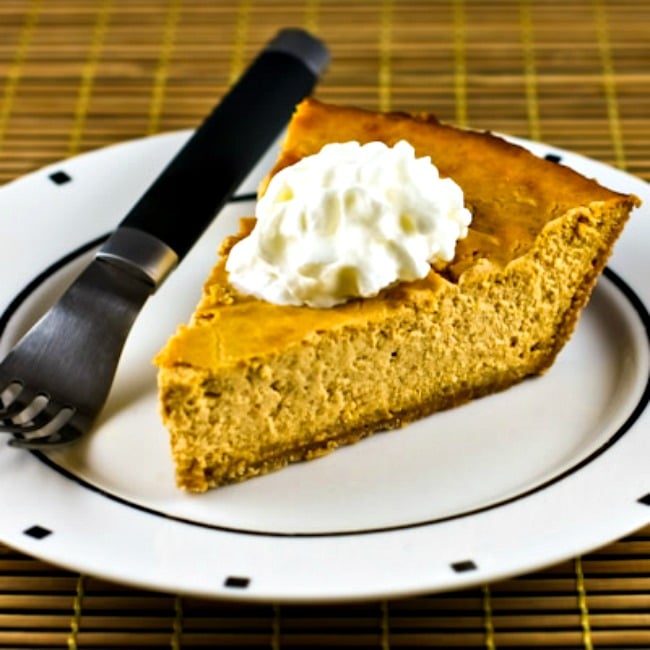 (Makes 8-10 servings, recipe created by Kalyn with inspiration from Sugar-Free Layered Pumpkin Cheesecake and pumpkin pie memories from childhood.)
Ingredients:
two 8 oz. pkg. cream cheese softened at room temperature for about 30 minutes (Use regular or light cream cheese. Don't use fat free.)
1 C Splenda granular or Stevia In the Raw Granulated Sweeter (see notes)
1/4 cup brown sugar, or use 1/4 cup more Splenda if you need less sugar. (see notes)
1 T vanilla
4 eggs
1 cup canned pumpkin puree (not pumpkin pie filling)
1/2 cup sour cream (use regular or light sour cream. Don't use fat free.)
1 tsp. Cinnamon
1/2 tsp. apple pie spice (contains cinnamon, nutmeg, mace and cloves if you don't have the blend)
1 purchased graham cracker pie crust (Use the large 9 oz. size, or bake some of the filling in another container if you want a smaller pie.)
whipped cream for serving, optional
Instructions:
Preheat oven to 325F/160C. Unwrap cream cheese and let it soften at room temperature for about 30 minutes. When cream cheese is soft, add Splenda, brown sugar, and vanilla and use a hand mixer to beat together until well combined.
Add eggs one at a time, beating about 10 seconds when each egg is added. Then add canned pumpkin, sour cream, cinnamon, and apple pie spice and beat together until the mixture is completely combined and smooth.
Fold up the metal edge of the purchased graham cracker crust, then pour the filling in until it comes just to the top. (If you have a smaller pie shell, bake some of the filling separately in a glass or crockery dish sprayed with non-stick spray.)
Carefully transfer pie to oven and bake for 50-60 minutes, or until pie is mostly set and barely starting to brown on top. It will still seem slightly wiggly when you remove it from the oven. Let pie cool for at least 30 minutes, then refrigerate to chill for several hours or overnight.
I ate this with a dollop of whipped cream. Pie will keep in the refrigerator for several days, if you can manage to keep it around that long.
(For a lower sugar version without a crust, spray a glass pie dish with non-stick spray and dust with almond meal, then pour in pie filling and bake.)
NOTES For many years I made this recipe with a combination of Splenda Granular Sweetener or Stevia in the Raw Granulated Sweetener, plus a little brown sugar for flavor. Then I discovered Golden Monkfruit Sweetener (affiliate link) and now I would use that to replace the other two sweeteners.
We are a participant in the Amazon Services LLC Associates Program, an affiliate advertising program designed to provide a means for us to earn fees by linking to Amazon.com and affiliated sites. As an Amazon Associate, I earn from qualifying purchases.