How About a Month of Daily Phase One Recipes to Start the New Year!
It's time for Phase One Recipes like these Asian Lettuce Wraps with Spicy Ground Turkey Filling And if you're thinking about doing Phase One this month, this post can help you find those recipes.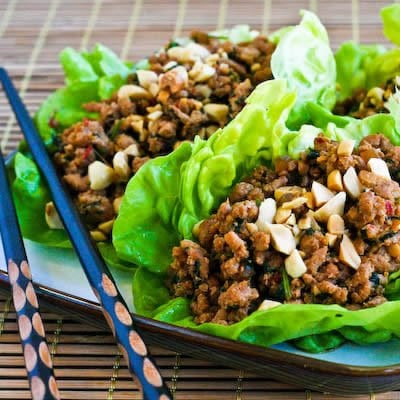 When the calendar flips to a new year, lots of us take stock of our lives and decide what needs to change. And I can tell from my blog stats that every year many people do a return to Phase One of the (original) South Beach Diet for a few weeks. I started Kalyn's Kitchen in 2005 after I'd lost 42 pounds on the South Beach Diet and was excited to share the recipes that helped me do it. This post was written many (many!) years ago as an introduction to a year when I posted a Phase One recipe every day for a whole month.
But the information that was originally posted here has to be updated. First The South Beach Diet was sold in 2016 to a company that now sells packaged food, and they somewhat re-did the diet. And then in 2017 I switched my blog to WordPress, which meant my old system of linking all these South Beach Diet Phase One Recipes together was no longer operational.
But no fear, you can still use this page to guide you to Phase One Recipes for the original diet plan before 2016, and many are still good for the current South Beach Diet.
See more posts that might be helpful in this page about South Beach Diet info.
My blog now features recipes for varied types of Carb-Conscious Diets, with the recipes sorted by diet in the Diet-Type Index. If you'd like to follow my blog in other ways, here's how to do that:
We are a participant in the Amazon Services LLC Associates Program, an affiliate advertising program designed to provide a means for us to earn fees by linking to Amazon.com and affiliated sites. As an Amazon Associate, I earn from qualifying purchases.