Grilled Fish with Lemon and Capers
Grilled Fish with Lemon and Capers is a delicious summer dinner, and you can make this with any fish that's firm enough to cook on the grill!
PIN Grilled Fish with Lemon and Capers!
This Grilled Fish with Lemon and Capers is something I first made back in the days when I was grilling fish on a houseboat at Lake Powell. I made this with halibut, back in the days before it was so expensive, and this was long before anyone thought about sustainable seafood. But now the wild-caught Mahi Mahi I get from Costco is classified as a good choice.
You may not think of capers as being an ingredient that goes with fish, but I love the tang they added to this recipe. I think this flavorful marinade with lemon juice, lemon zest, capers, Dijon, and just a touch of onion and garlic flavor would be good on just about any type of fish, and And you can make this with any type of fish white fish you have on. hand!
What ingredients do you need?
white fish fillets
oil for oiling grill
lemon pieces for serving fish (optional)
lemon zest
fresh squeezed lemon juice
Dijon mustard (affiliate link)
extra virgin olive oil
Capers (affiliate link)
Garlic Powder (affiliate link)
Onion Powder (affiliate link)
Dried Parsley (affiliate link)
fresh ground black pepper
What kinds of white fish can you use for Grilling?
What kind of fish should you use when a recipe calls for "white fish?" White fish refers to mild-flavored quick cooking fillets of fish such as cod, bass, grouper, haddock, catfish, and snapper and you can use any of those as long as they are thick enough for the grill. You can also use pieces of halibut, Mahi Mahi, Swordfish, or Tuna for this recipe.
Why did I use dried herbs in the fish marinade?
I love to use fresh herbs in cooking, but in marinades like this I use ingredients like onion powder, garlic powder and dried parsley because they dissolve a bit more into the liquid of the marinade and don't leave clumps of onion, parsley, or garlic on the fish or meat when it's grilled. If you prefer to use fresh onions, garlic, or parsley, I would increase the amounts a little.
What if you don't have an outdoor grill?
If you don't have an outdoor grill (or it's not grilling weather), grilled fish like this can easily be cooked on a stove-top grill pan with ridges (affiliate link) or a George Foreman Grill (affiliate link) with good results. Remember that the George Foreman Grill cooks both sides at once so grilling time will be a lot shorter!
How to Make Grilled Fish with Lemon and Capers:
(Scroll down for complete recipe with nutritional information.)
If you're using frozen fish it's best to thaw overnight in the fridge, but in a pinch you can thaw them in cold water. (The Mahi Mahi I got at Costco comes individually wrapped like this, and although I know it's extra packaging it does make them handy to keep in the freezer.)
Zest the lemon and squeeze the juice. Chop up the capers a little and then whisk together the lemon zest, lemon juice, Dijon, chopped capers, olive oil, garlic powder, onion powder, dried parsley, and black pepper.
Put the thawed fish pieces in a small Ziploc bag and pour in the marinade. Let fish marinate in the fridge for 2-3 hours. (Don't leave it much longer than that or the lemon juice will start to "cook" the fish.
Sorry I didn't get better photos of the fish on the grill! Remove fish from the marinade and grill about 10 minutes per inch of thickness.
I cooked these pieces about 9 minutes total.
Make it a Low-Carb Meal:
The salad served with the grilled fish in this photo is Chickpea Salad with Red Peppers, Mint, and Sumac, so check that out if you're a chickpea fan and don't mind a few carbs. For a low-carb dinner this would be delicious with Asparagus and Radish Salad with Feta and Easy Grilled Vegetables.
More Tasty Ideas for Cooking Fish:
Soy-Grilled Mahi Mahi with Korean Dipping Sauce
Kalyn's Lake Powell Fish Marinade
Baked White Fish with Pine Nut, Parmesan, and Pesto Crust
Yield: 4 servings
Grilled Fish with Lemon and Capers
Prep Time 15 minutes
Cook Time 10 minutes
Additional Time 2 hours
Total Time 2 hours 25 minutes
This Grilled Fish with Lemon and Capers is a delicious idea for cooking fish. You can use a stove-top grill pan if you don't have an outdoor grill.
Ingredients
Ingredients
4 Mahi Mahi filets
1 T oil for oiling grill grates
lemon pieces for serving fish (optional)
Marinade Ingredients
1 tsp. lemon zest (more or less to taste)
3 T fresh squeezed lemon juice
1 tsp. Dijon mustard
1/4 cup extra virgin olive oil
1 T capers, chopped (or more if you really like capers)
1 tsp. garlic powder
1 tsp. onion powder
1 tsp. dried parsley
1/2 tsp fresh ground black pepper
Instructions
Thaw frozen fish overnight in the fridge.
Let the fish come to room temperature, drain in a colander, and pat dry when you're ready to cook.
Zest the lemon, squeeze lemon juice and chop the capers.
Whisk together the marinade ingredients.
Put thawed fish filets into Ziploc bag or plastic container with a snap-tight lid.
Pour marinade over, and allow to marinate 2-3 hours. (Don't leave it longer than that for best results.)
When you're ready to cook the fish, spray grill with nonstick spray or brush with oil, then preheat the grill to high.
When grill is hot, put fish on, with the top side facing down. (For a gas grill, I lower heat to medium high when I put the fish on.)
To get nice grill marks, lay fish at an angle to grill grates, then rotate fish a quarter turn after about 3 minutes.
Cook about 3 minutes more on same side, then turn carefully and cook 3-4 minutes on other side.
Total cooking time will be about 10 minutes per inch of thickness of the fish, depending on how hot your grill is.
Fish is done when it feels firm, but not hard, to the touch.
Serve hot, with additional lemons to squeeze over if desired.
Nutrition Information:
Yield:
4
Serving Size:
1
Amount Per Serving:
Calories: 394
Total Fat: 20g
Saturated Fat: 3g
Trans Fat: 0g
Unsaturated Fat: 16g
Cholesterol: 174mg
Sodium: 290mg
Carbohydrates: 4g
Fiber: 1g
Sugar: 1g
Protein: 49g
Nutrition information is automatically calculated by the Recipe Plug-In I am using. I am not a nutritionist and cannot guarantee 100% accuracy, since many variables affect those calculations.
Low-Carb Diet / Low-Glycemic Diet / South Beach Diet Suggestions:
Grilled Fish with Lemon and Capers is not only delicious, it's perfect for any low-carb eating plan or any phase of the original South Beach Diet.
Find More Recipes Like This One:
Use Grilling Recipes to find more grilled fish recipes like this one.Use the Diet Type Index to find recipes suitable for a specific eating plan. You can also Follow Kalyn's Kitchen on Pinterest to see all the good recipes I'm sharing there.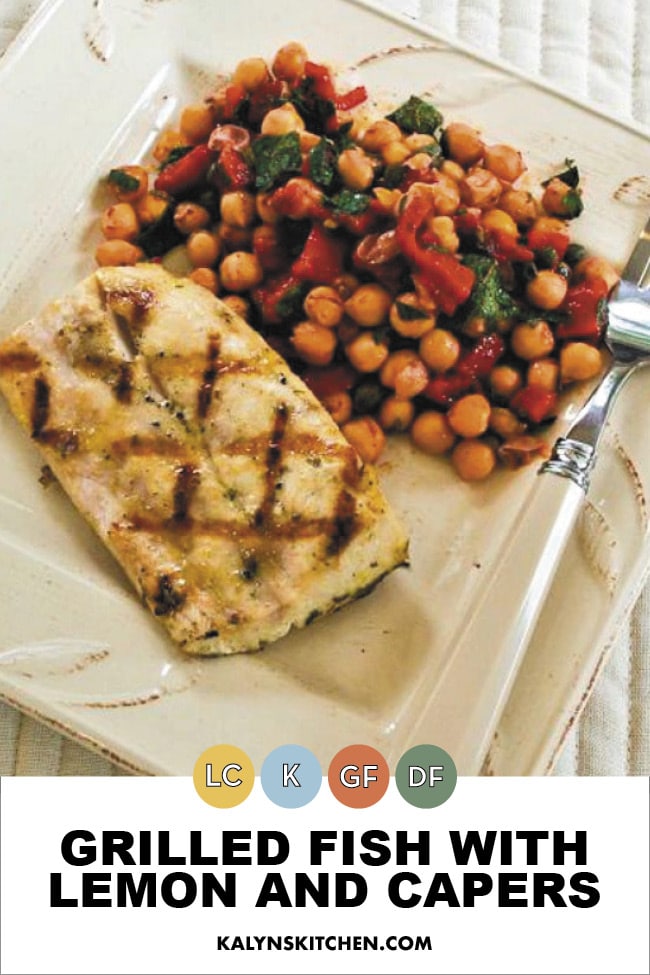 We are a participant in the Amazon Services LLC Associates Program, an affiliate advertising program designed to provide a means for us to earn fees by linking to Amazon.com and affiliated sites. As an Amazon Associate, I earn from qualifying purchases.