Rosemary Salt
Many years ago I bought some Rosemary Salt in San Francisco and then re-created it at home after my purchased bottle was gone! And this is one of my favorite things to make to give away for a food gift!
PIN the recipe to make some later!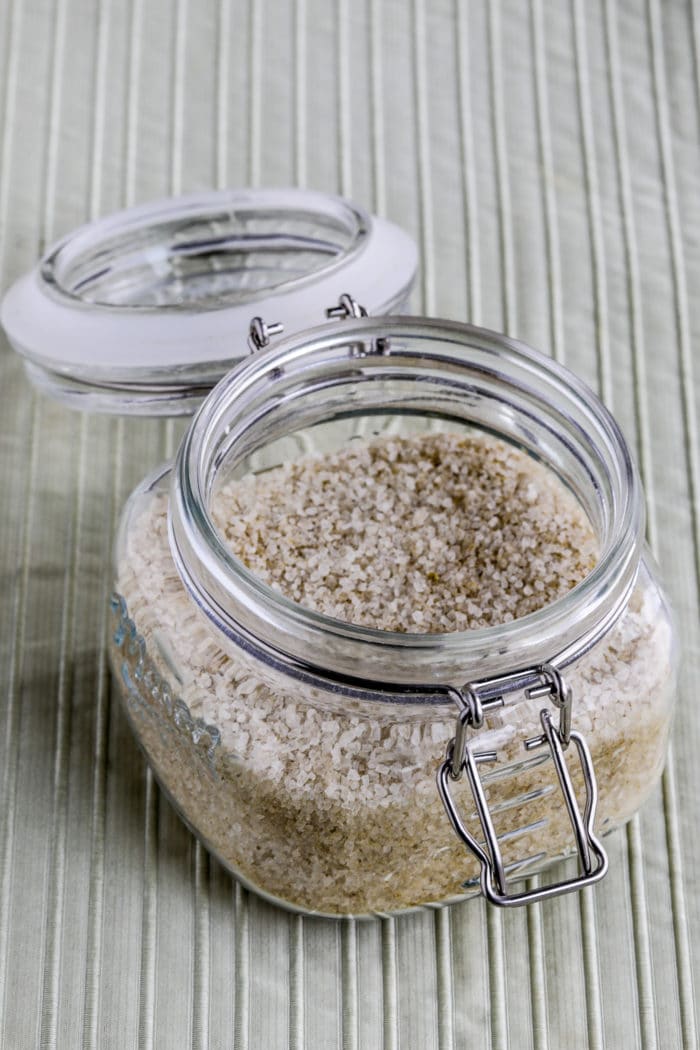 We all know those amazing people who make incredible holiday treats like homemade candies and baked goods and give them out to friends, neighbors, and co-workers. Even back in the days when I was more interested in sugary treats, I was never one of those people.
Still, even though I'm not a baker or a candy-maker, I do like to give some type of food gift during the holidays, and for many years I created interesting blends of herbs and spices to give as little holiday gifts.
What inspired me to make Rosemary Salt?
My recipe was inspired by the Rosemary Salt from Eatwell Farms that I bought at the Ferry Building Farmers Market when I went to San Francisco. All summer I ate it on tomatoes, grilled veggies, and chicken, and from the first time I tasted it, I knew I wanted to try making some.
What ingredients do you need?
How my recipe has evolved:
When I first made this recipe I used coarse sea salt and cracked rosemary. But through the years I started to dislike the woody pieces of the cracked rosemary. Then I discovered ground rosemary and never looked back! I've been using that for many years now.
How to Make Rosemary Salt:
All you need is coarse ground sea salt and ground rosemary to make this!
Put ingredients in a food processor with the steel blade.
Pulse a few times, just until ingredients are well-combined and some of the salt crystals are a bit more cracked.
Store in a glass jar. You can also put it in small Ziploc bags with a card staples on for an easy gift idea.
Suggested uses for the flavored salt:
Use sparingly, as you would regular salt.
Sprinkle on fresh tomatoes, cucumbers, or avocado.
This is an excellent seasoning for eggs, potatoes, butternut squash, or chicken.
Rosemary Salt is delicious on any type of roasted or grilled vegetables.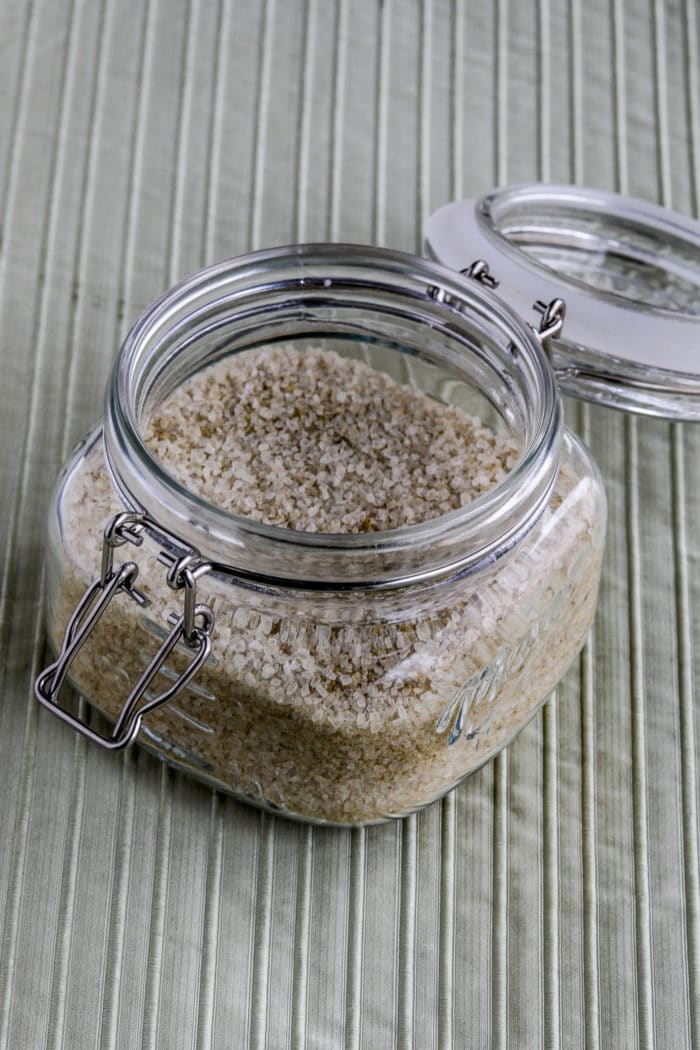 Want more ideas for holiday food gifts?
Check out Spice Blends to Give for a Holiday Gift for lots more ideas for seasonal gifts when you don't want to give sweets!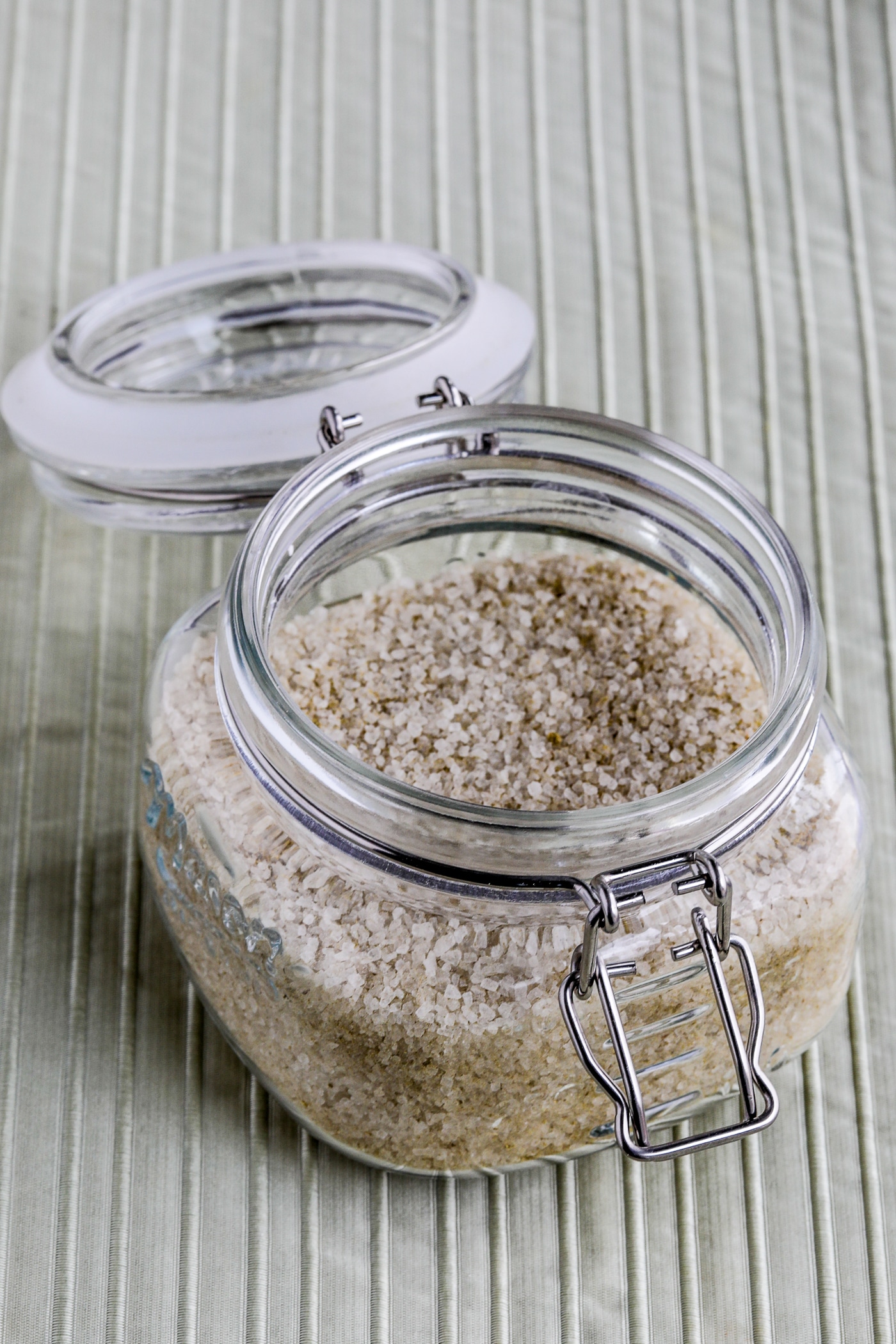 Yield: 3 1/2 cups
Rosemary Salt
Prep Time 10 minutes
Total Time 10 minutes
After I used all the Rosemary Salt I bought in San Francisco, I came up with this recipe to make it at home! Give it for a homemade food gift, or cut the recipe down if you're just making some for yourself.
Ingredients
3 cups sea salt crystals
1/2 cup ground rosemary
Instructions
Put salt and ground rosemary in the food processor and process with steel blade about 15 seconds, until salt and rosemary are well combined.
Store rosemary salt in a glass jar.
Notes
This recipe created by Kalyn, inspired by Rosemary Salt purchased in San Francisco!
Historical Notes for this recipe:
Years ago Kalyn's Kitchen was part of Holiday Recipes at Oprah.com, and this was one of the recipes featured there. This recipe was first posted in 2006 and was updated with better photos and an easier version of the recipe in 2021.
We are a participant in the Amazon Services LLC Associates Program, an affiliate advertising program designed to provide a means for us to earn fees by linking to Amazon.com and affiliated sites. As an Amazon Associate, I earn from qualifying purchases.