Friday Night Photos: Sunflowers by the Fence (2010 Garden Update #9)
Along the fence on the west side of my house is a small strip of grass with a narrow flower bed along the fence. For years I had a perennial called
Obedient Plant
growing there. I liked the shape of the flowers, but this was an area that had shade most of the day, and the plant got spindly and fell over onto the grass. It also spread out and I had to spend way too much energy containing it in the flower bed. Last year I pulled out all the Obedient Plants, and this spring I planted sunflower seess there. It will be even better next year when these sunflowers have dropped their seeds and there's a thick patch of sunflowers, but I love the way the sunflowers look growing along my fence!
It's such a long, narrow strip of grass and flower bed that it was hard to get a good photo, but here's the sunflowers looking from my back yard towards the street.
And here are the sunflowers looking from the front of the house towards my back gate.
I planted several types of sunflower seeds. I was hoping for some orange ones, but so far I have only yellow. It's okay; I love the way they look.
In this photo I was trying to get some of the clouds and blue sky behind the sunflowers.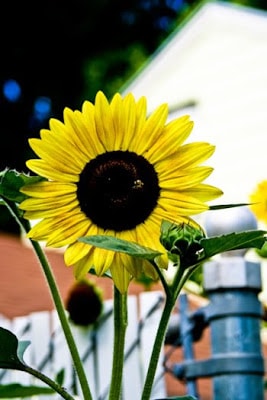 And it didn't show up as well as it could have, but this one has a bee visiting!
Sunflowers always make me think about back to school, because every year we would study
Vincent Van Gogh's famous painting
, and then I'd have the students paint their own version. What do you think about when you see sunflowers?
(You can see all my garden updates from this year by clicking the label 2010 Garden Updates.)
We are a participant in the Amazon Services LLC Associates Program, an affiliate advertising program designed to provide a means for us to earn fees by linking to Amazon.com and affiliated sites. As an Amazon Associate, I earn from qualifying purchases.