Black-Eyed Pea Recipes for Good Luck in the New Year!
Here are my favorite Black-Eyed Pea Recipes and I hope you'll be eating these on New Year's Day for good luck in the new year! And I really like Black-Eyed Peas, so I'm including more ways to cook them from other bloggers to give you even more ideas!
PIN the Black-Eyed Pea Recipes to try one on New Year's Day!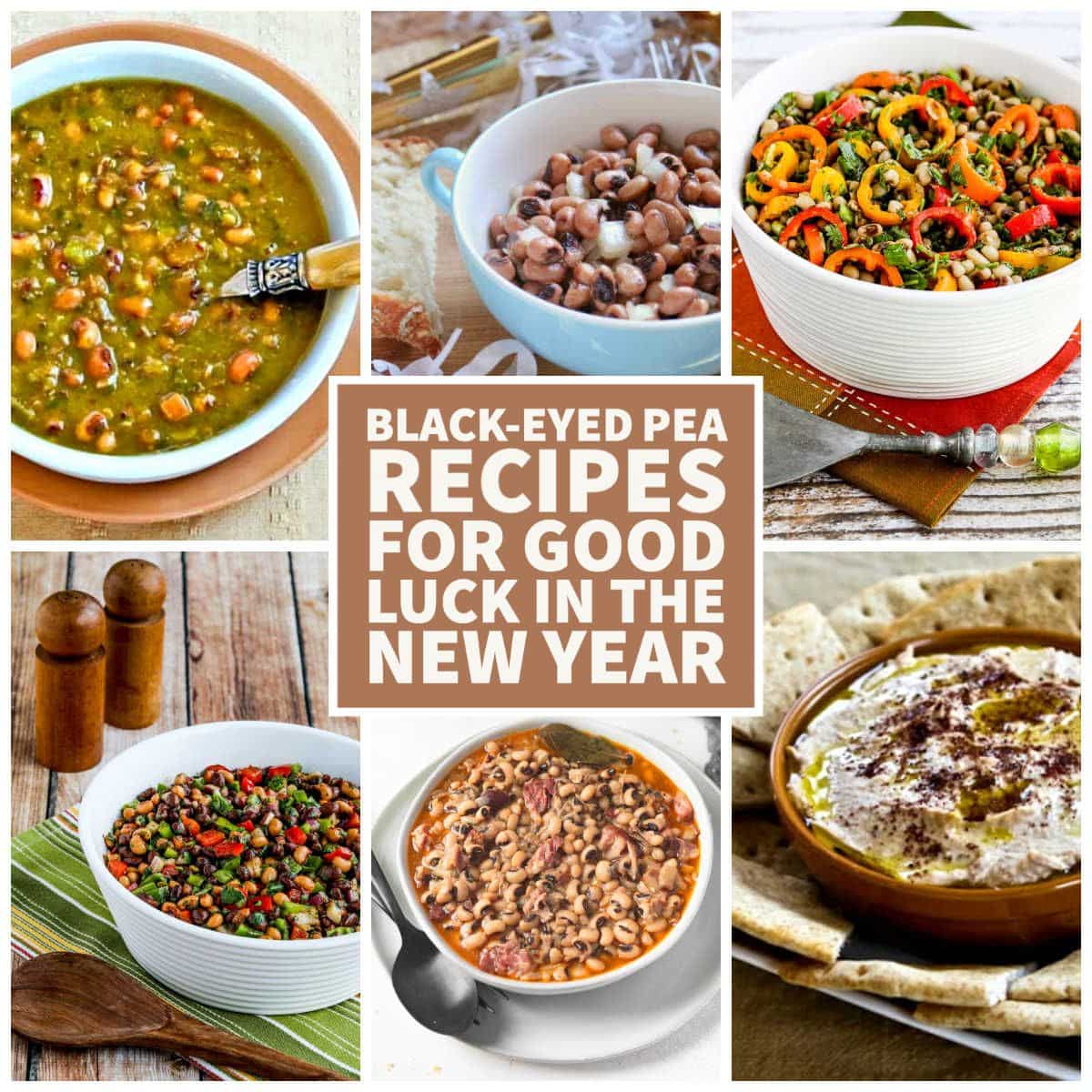 I'm a complete believer that you should celebrate New Year's Eve or New Year's Day by making Black-Eyed Pea Recipes for Good Luck in the New Year! So I'm sharing my favorite recipes with black-eyed peas to see if I can inspire you to make one of them for a lucky food to eat on New Year's Day!
I learned about this tradition in the early days of my blog, and the black-eyed peas have certainly brought me luck. And I love the flavor of this humble little ingredient, and I've had fun experimenting with it. All these recipes do have some carbs, but black eyed peas are tasty and loaded with fiber and I think they're worth enjoying once a year for a lucky food!
What are Black-Eyed Peas?
Black-eyed peas are part of the family called Cowpeas, and although they are called peas Black-Eyed Peas are really a bean.
Why are Black-Eyed Peas considered to be a lucky New Year's food?
Black-Eyed Peas are eaten to greet the New Year in the United States, especially in the southern states. They're often eaten with collard greens in a dish called Hopping John, and the peas (which expand when they're cooked) symbolize prosperity and the collard greens symbolize money. Legends about the luck-enhancing properties of these foods date back to the Civil War in the South. Read more about eating black-eyed peas on New Year's Day.
How do you get the complete recipe?
Just click any recipe title to see the complete recipe with nutritional information!
Lucky Black-Eyed Peas Recipes from Kalyn: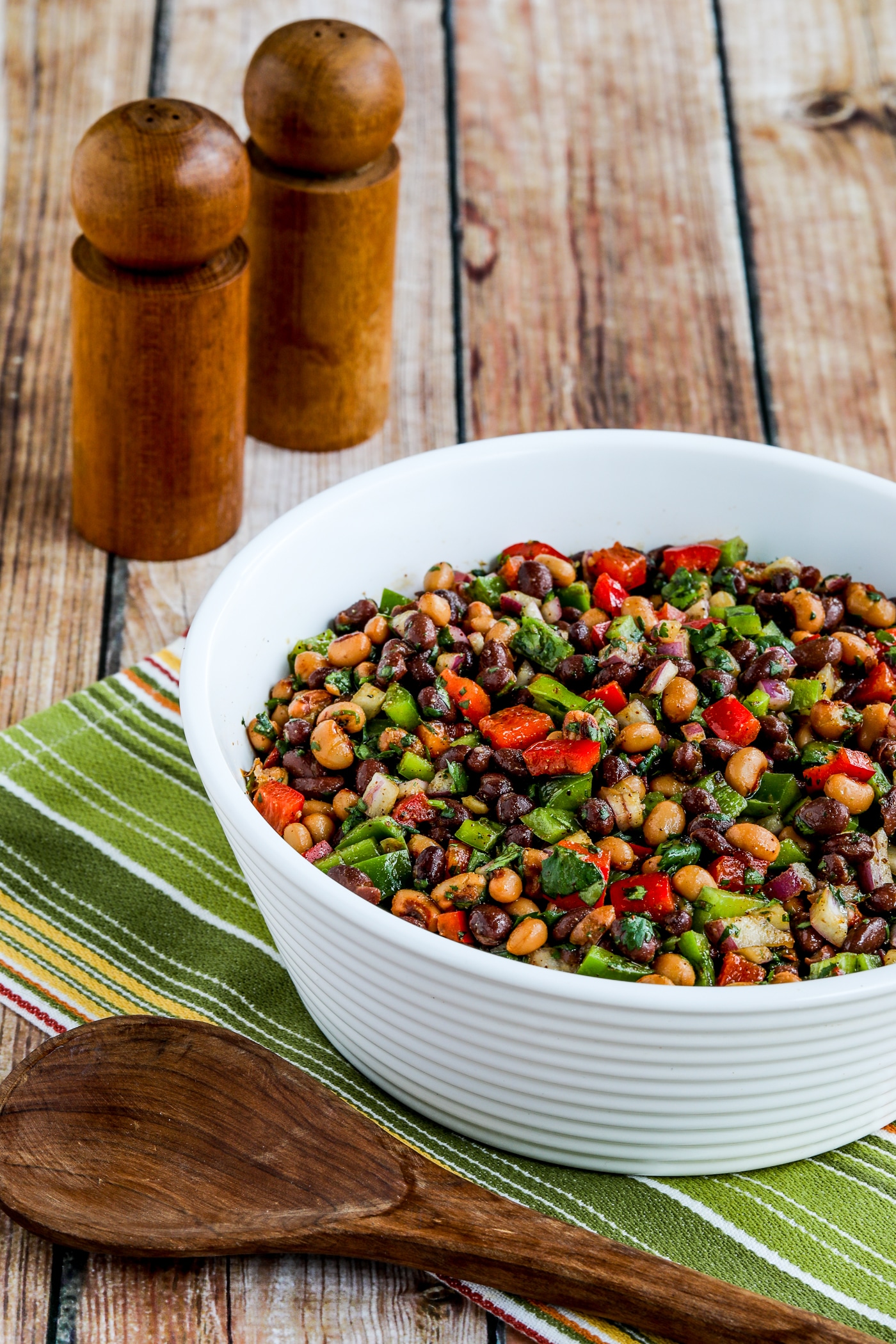 Black Bean Salad with Black-Eyed Peas has peppers, red onion, and cilantro, with a zesty dressing, and this is a lucky salad that's really flavorful. See tips in the recipe if you're not a cilantro fan.
Definitely this Hopping John Soup is the most popular black-eyed pea recipe on Kalyn's Kitchen. This is Black-Eyed Peas, Ham, and Collard Greens Soup for those who aren't familiar with it. So Yummy!
This Black-Eyed Pea Hummus is one of my personal favorites; do you like these flavors?
Another tasty option is this Black-Eyed Pea Soup that has chicken sausage and peppers, and this is a delicious soup that's relatively low in net carbs! Or see the lower-carb option in the post.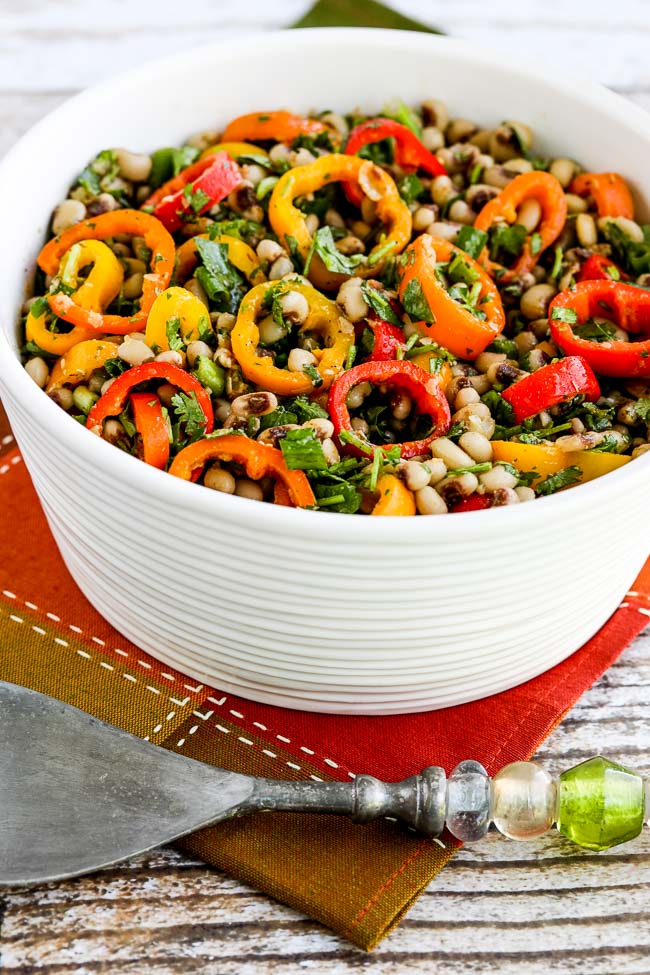 I updated the photos for this Black-Eyed Pea Salad to entice you to make it, and if you like Southwestern flavors you'll love this salad that has has peppers and a tasty lime-cumin vinaigrette!
Black-Eyed Peas Recipes from Other Blogs:
Black-Eyed Peas for New Years from Oh Sweet Basil has ham AND bacon, and this looks so good!
Easiest Ever Black-Eyed Peas from Chrstina's Cucina sounds easy and delicious!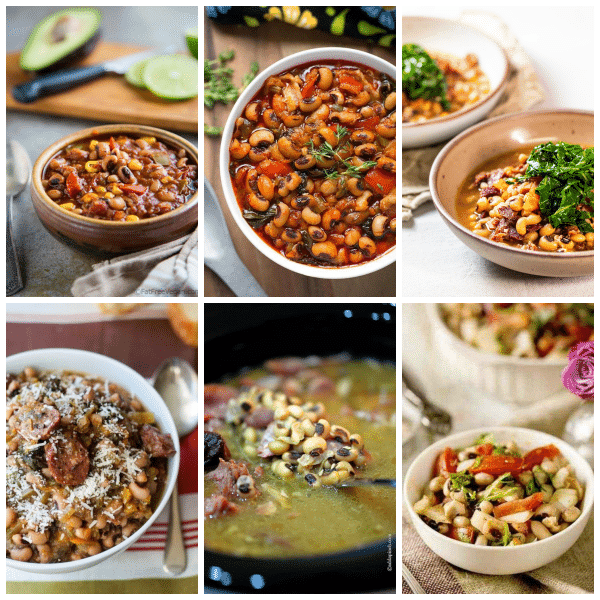 Check out Slow Cooker and Instant Pot Black-Eyed Peas Recipes on Slow Cooker or Pressure Cooker for more 18 more lucky food recipe ideas to celebrate the new year!
We are a participant in the Amazon Services LLC Associates Program, an affiliate advertising program designed to provide a means for us to earn fees by linking to Amazon.com and affiliated sites. As an Amazon Associate, I earn from qualifying purchases.