Baked Swiss Chard Stems with Parmesan
If you're a fan of nutritious Swiss Chard, save the stems and make this delicious Baked Swiss Chard Stems with Parmesan! This is a tasty idea that uses the part of the chard that often gets thrown away!
PIN Baked Swiss Chard Stems with Parmesan!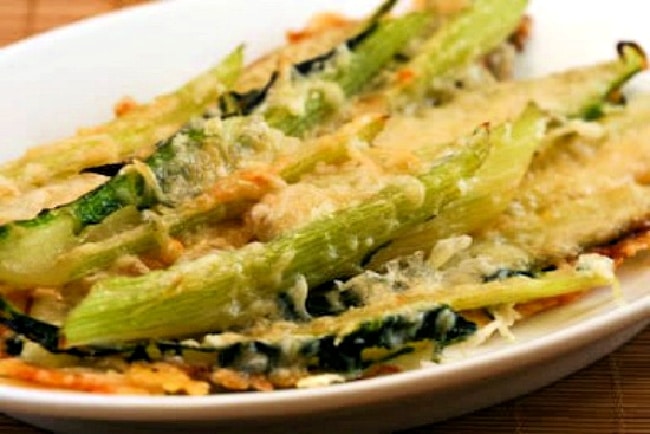 This recipe for Baked Swiss Chard Stems with Parmesan one I spotted in Vegetables Every Day (affiliate link) which is without a doubt one of the best cookbooks I've ever owned for vegetable recipes. I was looking for recipes to use the Swiss Chard I was growing my my garden, and I got tired of throwing away the Swiss Chard stems! And wow, was this ever a tasty way to use those stems after you've cooked something else with the rest of the Swiss Chard!
I think it would take about three bunches of chard to come up with the pound of chard stems the original recipe calls for, but I used the stems from one bunch of chard which made about two servings (or in my case, a whole dinner because I ate the entire thing at one sitting.) If you like chard but haven't stumbled on a good way to cook the stems, this is simple and delicious, and I love the idea that you're making a side dish out of something that might get thrown away.
What ingredients do you need for this recipe?
Swiss chard stems
salt
Olive Oil (affiliate link) (or melted butter)
coarsely grated parmesan cheese
coarse ground black pepper
Is Swiss Chard a healthy vegetable?
Once you read about how nutritious chard is, you might decide it's something you should be eating every week! And that's probably partly why Chard is grown all over the world and has a variety of names. Plus, if you're a vegetable gardener, here's an expert's take on why you should be growing swiss chard.
Is Swiss Chard a versatile type of leafy greens?
Swiss chard is also one of the most versatile ingredients you could ever ask for. It's not as tender as spinach but softer than kale, and it can be substituted in most recipes using other greens with just slight adjustments in cooking time.
Want more ideas with tasty Swiss Chard?
Check out my Healthy Swiss Chard Recipes for more Swiss Chard ideas!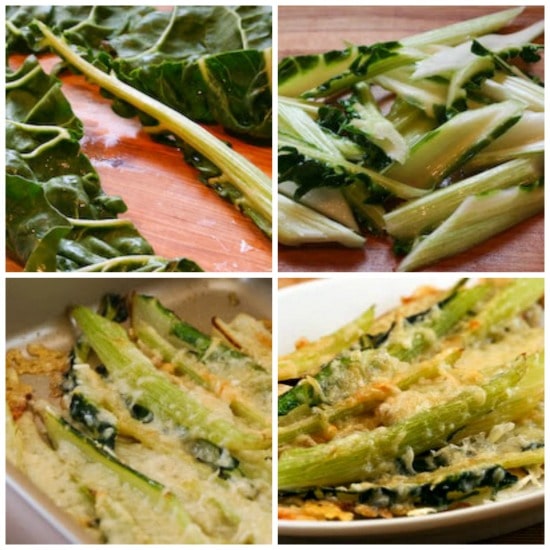 Tips for making Baked Swiss Chard Stems with Parmesan:
(Scroll down for complete printable recipe, including nutritional information.)
First, here's a reminder of how to cut the chard leaves away from the stems.
I think leaving a bit of leaf on the stem is fine; I actually liked the way it added some color to the stems.
I cut the stems on the diagonal, cutting each chard stem into 3 or 4 pieces, with each piece about three inches long.
Stems are parboiled in salted water for about six minutes, and drained well (Oops, I didn't get a photo of that step.)
Then the stems are misted with olive oil (or brushed with melted butter) and sprinkled with coarsely grated parmesan cheese.
Bake at 400 F for about 20 minutes. Yum!
More Ideas for Using Swiss Chard Stems:
Swiss Chard Leaves and Stems from Just Hungry
Swiss Chard Gratin from A Veggie Venture
Silverbeet Gratin from Green Gourmet Giraffe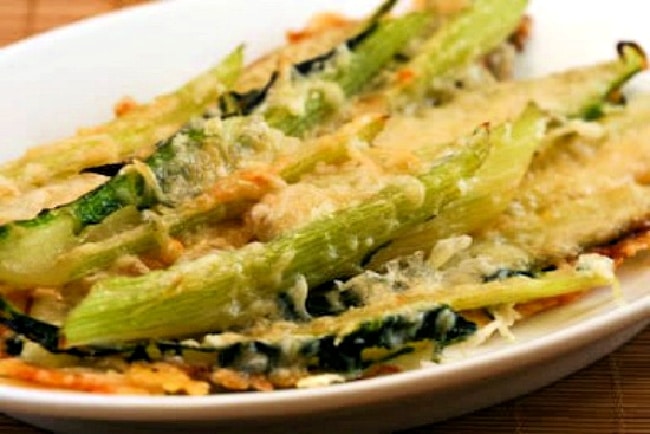 Yield: 2 servings
Baked Swiss Chard Stems with Parmesan
Prep Time 5 minutes
Cook Time 26 minutes
Total Time 31 minutes
This recipe for tasty Baked Swiss Chard Stems uses the part of the chard that usually gets thrown away!
Ingredients
2 cups trimmed Swiss chard stems
1/4 tsp. salt
olive oil for spraying pan and chard (see notes)
1/4 cup coarsely grated parmesan cheese
coarse ground black pepper to taste
Instructions
Trim any discolored ends from chard stems, then cut stems on an angle into pieces about 3 inches long.
If some stems are very thick, you may wish to cut them lengthwise so all pieces are approximately the same thickness.
Preheat oven to 400F/200C.
Bring a pot of water to a boil, add salt and chard stems and boil about 6 minutes.
Let chard drain well.
Spray a non-stick baking dish with olive oil.
Place chard in the pan and mist lightly with olive oil, then sprinkle with cheese. (If doubling the recipe, make two layers, misting each layer with oil and sprinkling with cheese.)
Bake about 20 minutes, or until chard is softened and cheese is slightly browned on the edges.
Season with fresh ground black pepper if desired and serve hot.
Notes
You can use a little melted butter to drizzle over the chard instead of olive oil if you prefer.
This recipe slightly adapted from Vegetables Every Day (affiliate link) by Jack Bishop.
Nutrition Information:
Yield:
2
Serving Size:
1
Amount Per Serving:
Calories: 84
Total Fat: 5.2g
Saturated Fat: 1.5g
Unsaturated Fat: 3.4g
Cholesterol: 5.4mg
Sodium: 493mg
Carbohydrates: 6.7g
Fiber: 2.9g
Sugar: 1.5g
Protein: 4.3g
Nutrition information is automatically calculated by the Recipe Plug-In I am using. I am not a nutritionist and cannot guarantee 100% accuracy, since many variables affect those calculations.
Low-Carb Diet / Low-Glycemic Diet / South Beach Diet Suggestions:
This is a good side dish for any low-carb diet including Keto, and Keto fans would probably prefer using butter. It might be a bit high in fat for the original South Beach Diet, especially if you use butter, but I would eat it occasionally as a personal choice.
Find More Recipes Like This One:
Use Side Dishes to see more tasty side dishes like this one. Use the Diet Type Index to find recipes suitable for a specific eating plan. You can also Follow Kalyn's Kitchen on Pinterest to see all the good recipes I'm sharing there.
Historical Notes for this Recipe
This recipe was posted in 2008 when I had lots of Swiss Chard growing in my garden. It was last updated with more information in 2021.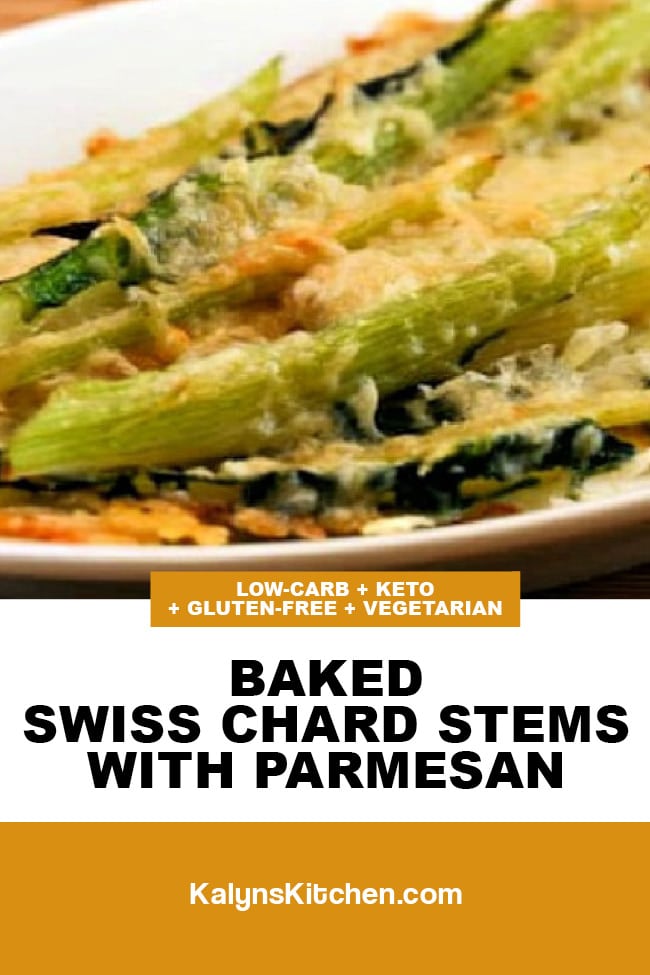 We are a participant in the Amazon Services LLC Associates Program, an affiliate advertising program designed to provide a means for us to earn fees by linking to Amazon.com and affiliated sites. As an Amazon Associate, I earn from qualifying purchases.