How to Make Zucchini Noodles
Here's How to Make Zucchini Noodles with three different tools you can use to make all the zucchini or vegetable noodles your heart desires. And check the links to all my favorite recipes using veggie noodles!
PIN this post to make zoodles or veggie noodles later!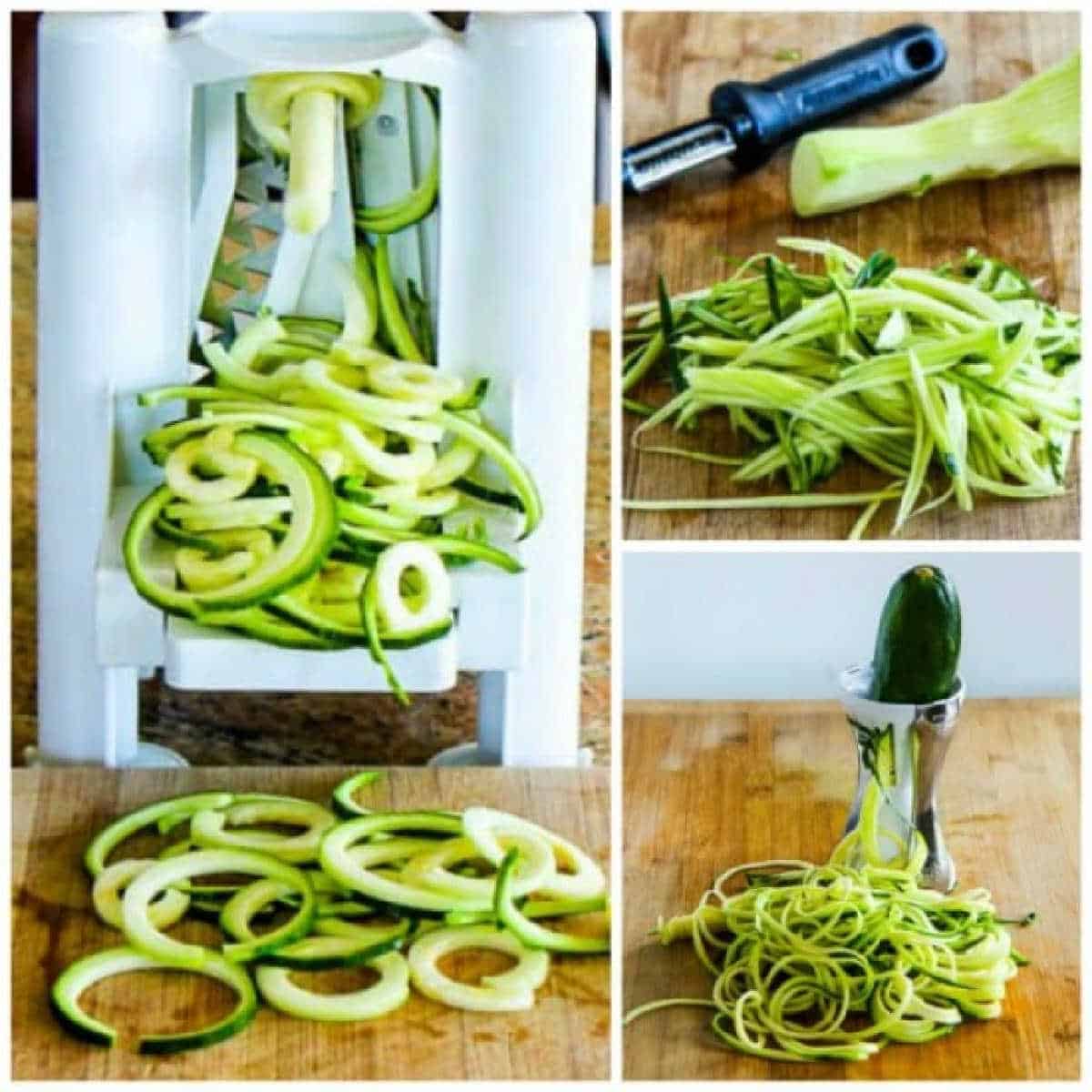 A few years ago people suddenly started making noodles from zucchini and other types of vegetables. And no doubt the abundance of zucchini noodles popping up everywhere was mostly due to an amazing machine called the Spiralizer (affiliate link). I've do love my Spiralizer, and through the years I've using it to make lots of recipes for zucchini noodles!
But now it seems like zucchini noodles have become mainstream! You can buy them pre-made in most every grocery store, and for those who don't want to spend enough to buy a Spiralizer, there are actually several less expensive noodle-making gadgets that work pretty well. I have three different cooking tools that make noodles from zucchini and other vegetables, so I thought it would be fun to remind you about them in this post about How to Make Zucchini Noodles.
Of course you can use most of these gadgets to make noodles from other types of vegetables as well. I especially like cucumber noodles when it's hot weather and I want to make a noodle bowl, and when the weather cools down I love to make zoodles to use in soup. I hope you have fun experimenting with noodles made with zucchini and other vegetables!

What are Zoodles?
Those trendy zucchini noodles are sometimes called Zoodles, just in case you didn't know that!
Want to see all my zucchini noodle recipes?
You can use Spiralizer Recipes to see all my recipes using zucchini or vegetable noodles.
Making Zucchini Noodles with a Julienne Cutter:
Several years ago I bought an inexpensive Julienne Cutter (affiliate link) which works just fine for vegetable noodles, especially if you're only cooking for one or two people. Basically you just drag the cutter along the edge of the vegetable, as if you were peeling a carrot. I like to cut longer vegetables in half, which makes them a little easier to julienne.
As you can see in the photo, there's some waste because eventually the piece is too small to hang on to. But even as low-tech as it is, I used the juliennne cutter to make this big pile of of zucchini noodles the first time I made Instant Pot Pasta Sauce. I've made a few other recipes using it since then as well.
Making Zucchini Noodles with the Vegetti Spiral Vegetable Cutter:
My brother Rand is the one who told me about this Veggetti Spiral Vegetable Cutter (affiliate link) that he found at CVS, and I immediately ordered one from Amazon.com. This is even a little cheaper than the Julienne Cutter and it's more versatile because it makes two thicknesses of noodles. It comes with a gripper to use when you're getting down to the end of the vegetables.
To use the Vegetti, just insert the vegetable into the desired end and turn it to make the noodles come out. For larger vegetables like potatoes, sweet potatoes, or jicama, you'll have to cut pieces that are small enough to be inserted into the end. Above you can see a comparison of the thin and slightly thicker noodles you can make . There's also some waste with this, because eventually the end gets so small you can't really turn it any more, even with the gripper.
One thing Jake and I quickly learned when we experimented with this is that if you don't cut a slice in the vegetable before you start to make noodles you'll end up with l-o-n-g strings of vegetables, which would be pretty difficult to eat. But if you cut a slit halfway through the piece of vegetable like you see on the last cucumber, you'll get perfect little short noodles.
Making Zucchini Noodles with the Spiralizer Vegetable Slicer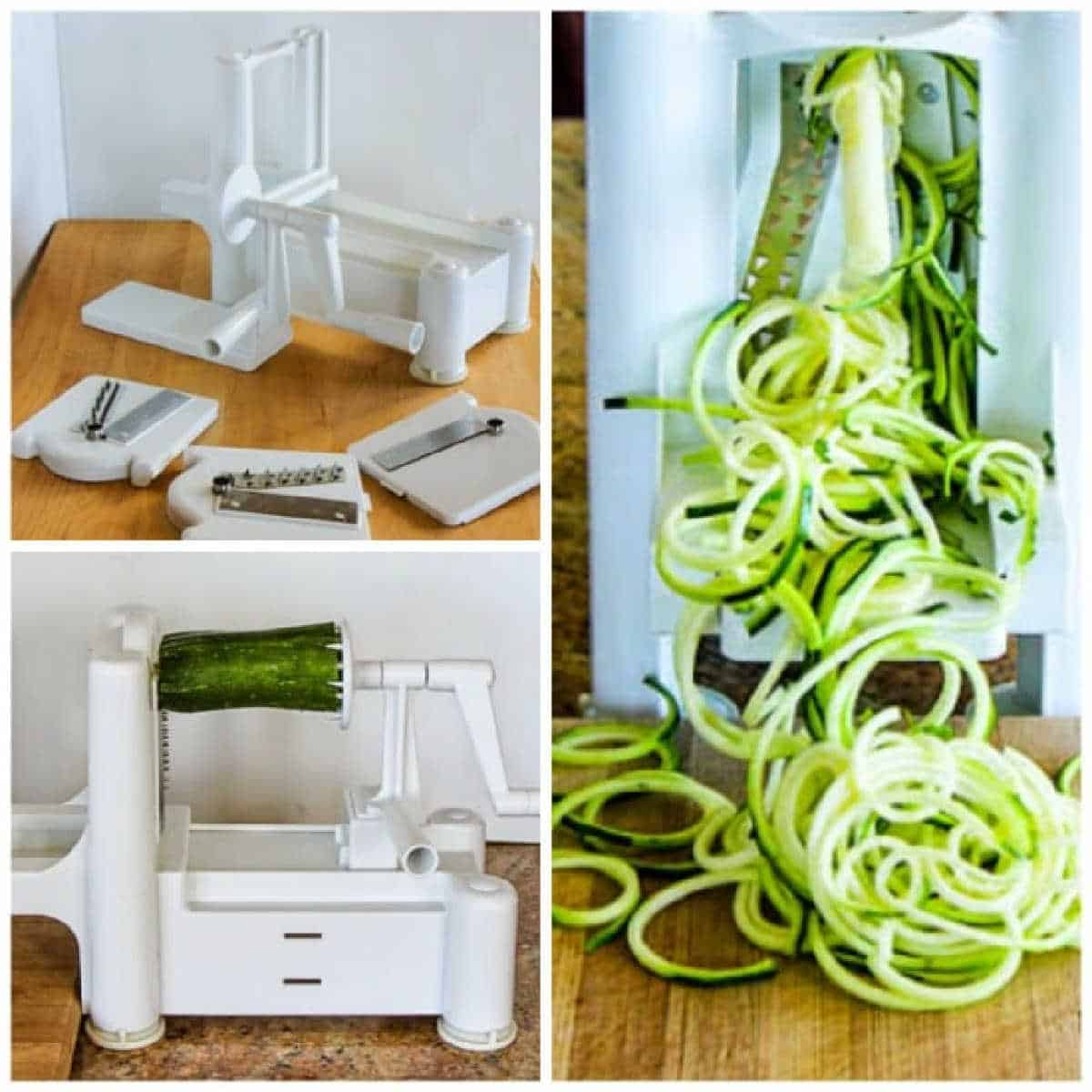 That brings us to the gadget that I think has created the vegetable noodle craze, the Spiralizer (affiliate link). The machine has five pieces, the base, the pushing mechanism that slides into the base, and three blades for very thin noodles, medium-sized noodles, and slices. There are suction cups on the legs to hold it in place when you're using it.
To use the Spiralizer, you attach the vegetable on to round disk that has teeth to hold it in place, and center it on the round hole at the top of the blade that helps keep the vegetable in place. Then just turn the handle and noodles come out like magic! This is the small size noodles, about the same diameter as cooked spaghetti. I cut a slit in the zucchini (as shown above with the cucumber) to get the short pieces of noodle.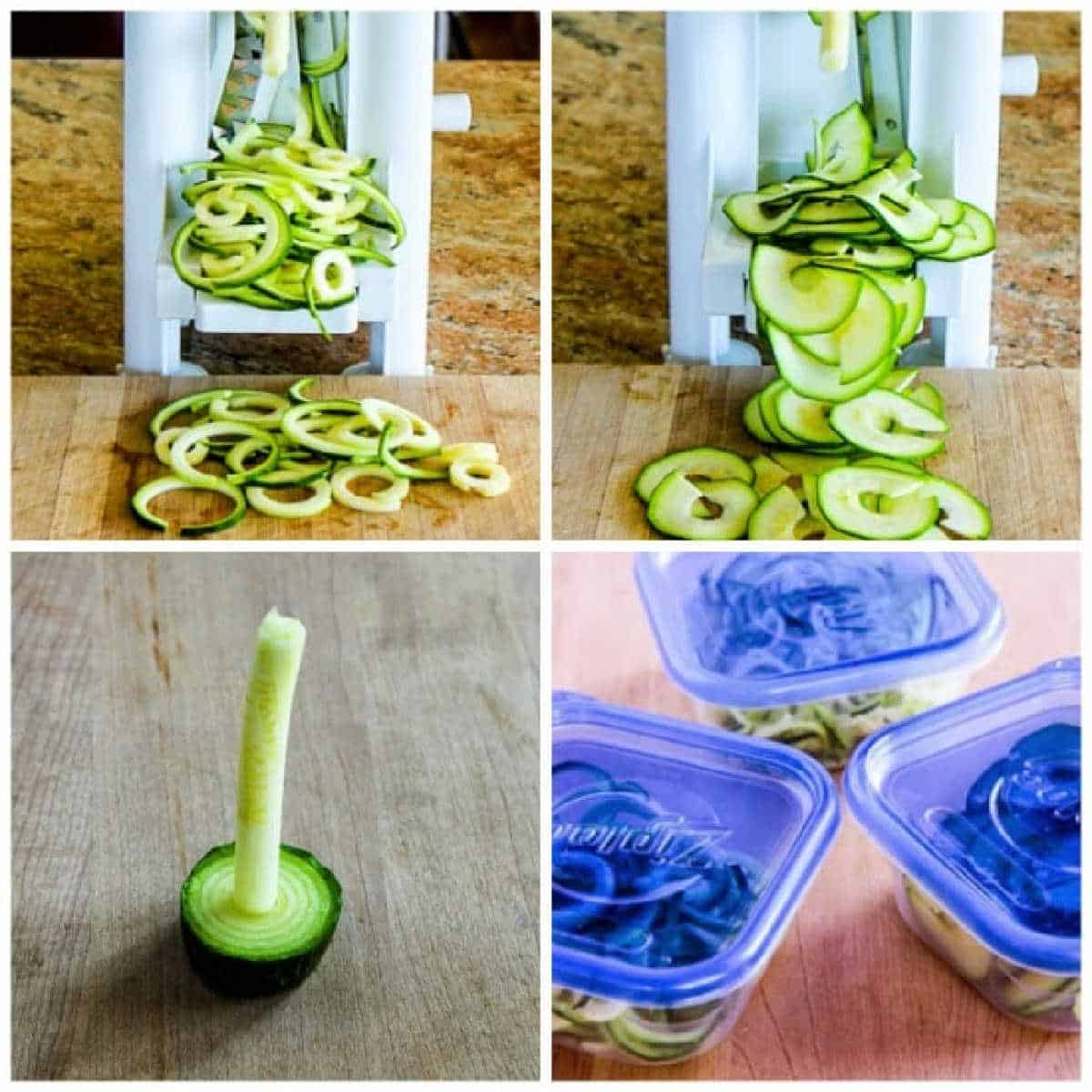 There's also a thicker noodle size, probably the one I'm going to use the most. You can also make thin slices, or cut slices like you see here if you cut a slit in the vegetable. Eventually you get to the point where the vegetable won't push in any more, and you're left with this core and a small piece of vegetable. And one thing I was delighted to discover is that the Spiralized zucchini kept remarkably well in the fridge for a day or so, and it was actually a little drier after it had been refrigerated. Depending on the recipe the vegetable noodles can be used raw or cooked slightly.
Recipes from Kalyn Using Zucchini Noodles:
Want more Zucchini Noodle Recipes for Soup?
If you'd like to see a great collection of zucchini noodle soups from around the web, check out Low-Carb and Keto Zucchini Noodle Soups for 18 different ideas for soup using noodles made from zucchini!
Weekend Food Prep:
This post has been added to a category called Weekend Food Prep where you'll find recipes you can prep or cook on the weekend and eat during the week!
Have You Made Noodles with Vegetables?
If you've made vegetable noodles using one of these gadgets (or something different that I haven't tried) or if you have a good recipe using noodles made from vegetables, please share what worked for you in the comments.
We are a participant in the Amazon Services LLC Associates Program, an affiliate advertising program designed to provide a means for us to earn fees by linking to Amazon.com and affiliated sites. As an Amazon Associate, I earn from qualifying purchases.