Things I'm Thinking About: Summer Tomato Salads and More
For years I've loved this Summer Tomato Salad with Goat Cheese, Basil Vinaigrette, and Fresh Herbs, so here's a shout-out for that favorite recipe and other things I'm thinking about today.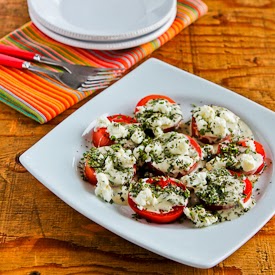 It's tomato salad and tomato sandwich season, and even though my new town has a weekly farmers market where I've been stocking up on tomatoes, cucumbers, and zucchini, I can't get over how much I'm missing my garden.
I love all the summer veggies, but tomatoes are the summer treat I wait for every year, and my favorite way to eat them is this Summer Tomato Salad with Goat Cheese. I've probably been making this salad for at least 20 years and I never get tired of it.
The other two tomato salads I make over and over are Middle Eastern Tomato Salad and Tomato, Olive, and Fresh Mozzarella Salad.
I'm savoring summer for at least another month here before I'm willing to even think about fall, so a lot more tomato salads are going to be on the menu!And I'm seriously investigating the idea of a greenhouse so I can grow things away from the deer and other critters for next year. If anyone has greenhouse suggestions, I am all ears!
Now here are a few more things I've been thinking about . . .
Here's the perfect butter knife (from Eater, via my friend Elise on Facebook.) And I want one!
Speaking of summer tomatoes, check out this Easy Way to Cut Cherry Tomatoes, Grapes, Olives, and Cherries from The Yummy Life. This has been featured all over the web, but Monica does an exceptional job of explaining the method.
From Message With a Bottle, this really might be The Greatest Letter Ever Sent Home from School.
I also love this list of 100 Wise Thoughts for Everyone from an economics teacher.
And from Brain Pickings (via my friend Lydia), a wonderful list of 7 Things I Learned in 7 Years of Reading, Writing, and Living.
And finally, if you hate oven cleaner spray like I do, here's an idea from The Kitchn for How to Clean an Oven with Baking Soda and Vinegar.
(You can use Things I'm Thinking About to see more posts like this one.)
What have you been thinking about lately? Please share in the comments, and if you're spotted something especially interesting online, links are welcome.
We are a participant in the Amazon Services LLC Associates Program, an affiliate advertising program designed to provide a means for us to earn fees by linking to Amazon.com and affiliated sites. As an Amazon Associate, I earn from qualifying purchases.