Mediterranean Eggplant
I'm hoping you'll give eggplant a chance because this Mediterranean Eggplant is easy and delicious and it's a perfect plant based meal! Eggplant is relatively low in net carbs because it's high in fiber and this recipe is also gluten-free.
PIN the Mediterranean Eggplant recipe to try it later!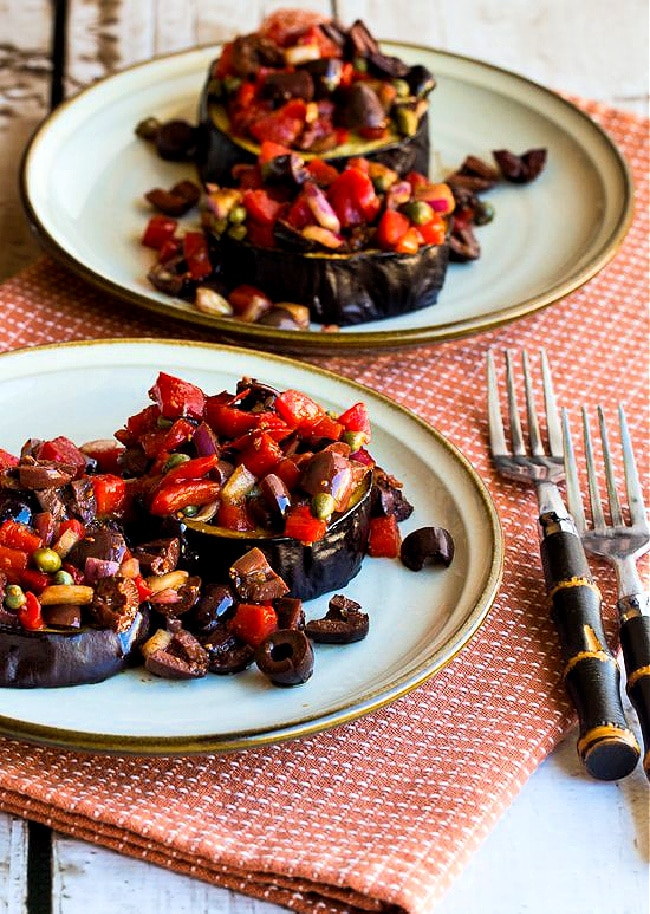 By the time you read this I will have arrived in Istanbul, and maybe even eaten some of the amazing Turkish Eggplant dishes that make up part of the food experience of Turkey. So I thought it would be fun to share an eggplant recipe while I'm traveling in Turkey!
I know eggplant can be a hard sell with some people, but back in the early days of this blog I fell in love with grilled eggplant, and I've been an eggplant fan ever since. Lately I've been loving roasted eggplant, and this meatless recipe for Mediterranean Eggplant couldn't be easier or more delicious.
Just choose a firm eggplant that's fairly straight on the sides, cut into thick slices, brush with olive oil and season, and roast in the oven while you make the delicious salsa that's loaded with Mediterranean flavors. And although eggplant isn't super low in carbs, it's high in fiber so low in net carbs, enjoy!
What ingredients do you need for this recipe?
(This is only a list of ingredients; please scroll down for complete printable recipe. Or if you use the JUMP TO RECIPE link at the top of the page, it will take you directly to the complete recipe.)
What gives this eggplant recipe Mediterranean flavors?
It's the Mediterranean salsa with roasted red peppers, Kalamata olives, red onion, capers, balsamic vinegar, and spicy hot pepper flakes that gives this Mediterranean Eggplant so much amazing flavor.
What if you're not a fan of eggplant?
If I can't convince you to give eggplant a chance, the Mediterranean Salsa used here would also be delicious over roasted zucchini or barely sauteed zucchini noodles as well.
How can you make Mediterranean Eggplant lower in carbs?
One ingredient that does add some carbs here is balsamic vinegar. Just switch that out for a lower-carb red wine vinegar if you'd like to save a few carbs.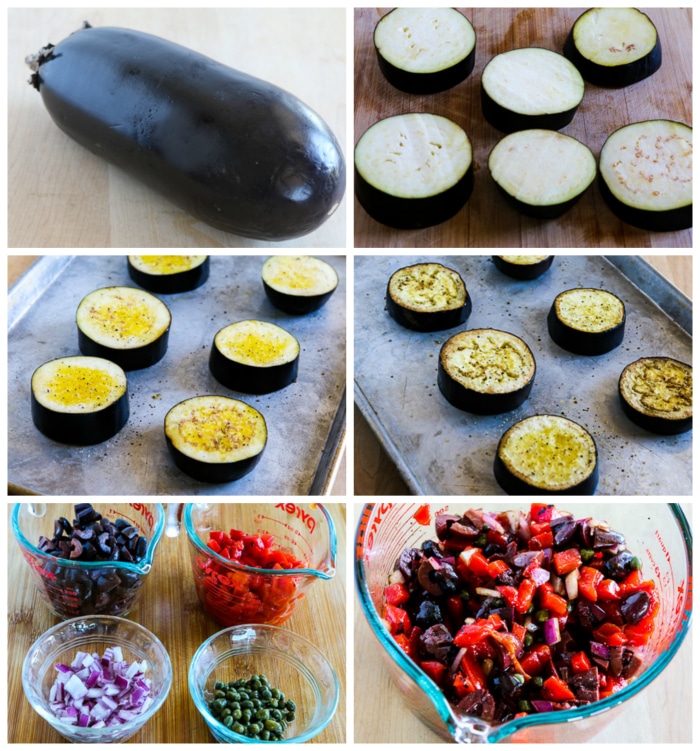 How to make Mediterranean Eggplant:
(This is only a summary of the steps for the recipe; please scroll down for complete printable recipe. Or if you use the JUMP TO RECIPE link at the top of the page, it will take you directly to the complete recipe.)
Choose a large eggplant with fairly straight sides to get same-sized slices.
Cut eggplant into slices about 1 inch thick, brush with olive oil, and season with a little salt and fresh-ground black pepper.
Roast the eggplant at 400F for about 20 minutes, or until it's as soft as you like it. I turn it over halfway through to get both sides brown.
While the eggplant roasts chop up the Kalamata olives, Roasted Red Peppers in a jar, and red onion, and measure the Capers.
Combine the salsa ingredients with the olive oil and balsamic vinegar and season with Aleppo Pepper (or other hot pepper flakes), salt, and pepper to taste.
Serve the eggplant hot or room temperature, with a generous amount of Mediterranean Salsa spooned over each piece.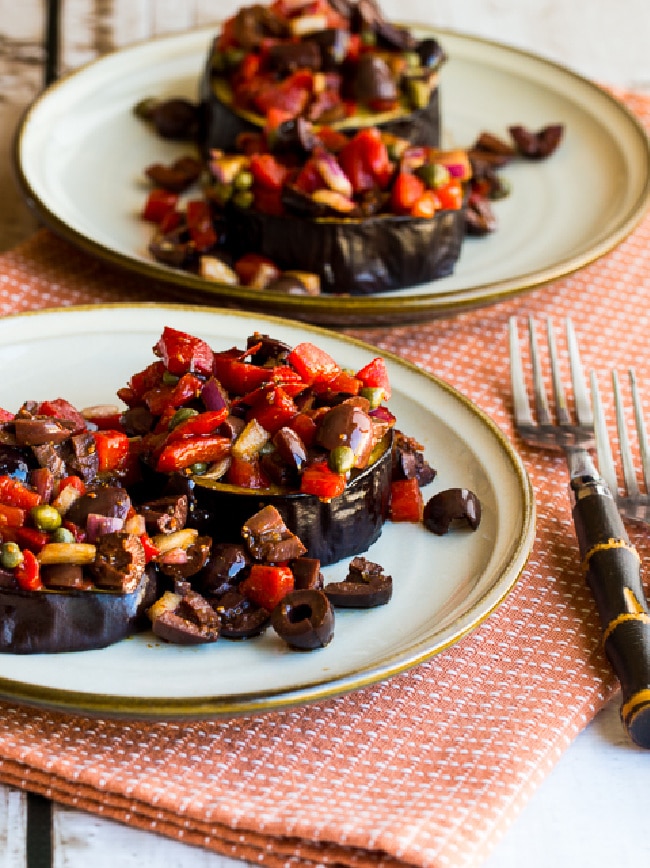 More Meatless Eggplant Recipes: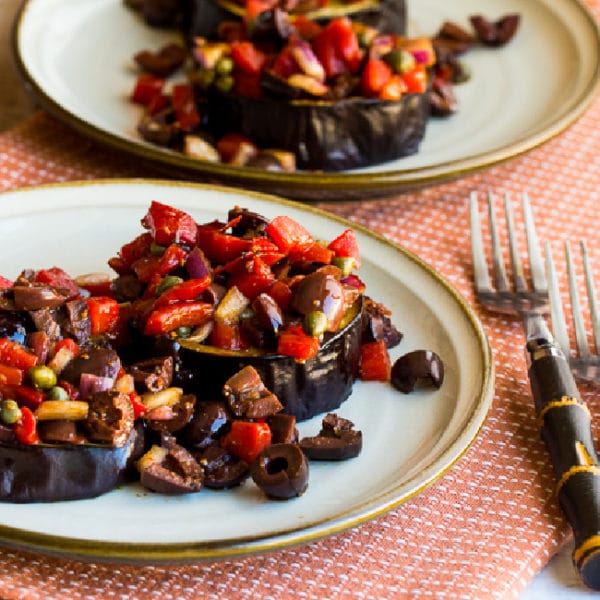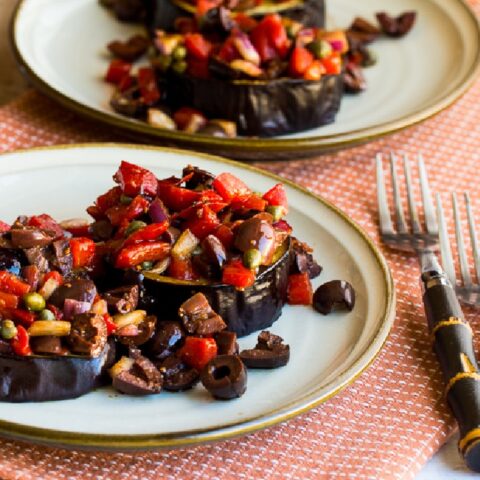 Yield: 4 servings
Mediterranean Eggplant
Prep Time 10 minutes
Cook Time 20 minutes
Total Time 30 minutes
Mediterranean Eggplant is easy and delicious for a plant based meal, and this can be on the table in 30 minutes. And the amazing red pepper salsa really kicks this up several notches!
Ingredients
1 large straight-sided eggplant
2 T + 2 T olive oil
salt and fresh ground pepper to taste
1/2 cup chopped Kalamata olives (or more)
6 oz. roasted red peppers, drained and chopped (see notes)
1/4 cup finely diced red onion (or less)
2 T capers
2 T balsamic vinegar
1 tsp. Aleppo Pepper (or other spicy hot pepper flakes)
Instructions
Preheat oven to 400F/200C.
Spray a baking sheet with non-stick spray or olive oil.
Wash eggplant if needed and trim off both ends; then cut the eggplant into slices 1 inch thick.
Lay eggplant slices out on a baking sheet, brush both sides with olive oil, and season with salt and fresh-ground black pepper to taste. (The olives are salty, so you don't need much salt on the eggplant.)
Roast eggplant about 10 minutes, then turn them over and roast about 10 minutes more (or until the eggplant is as soft as you prefer.)
While the eggplant cooks drain the jar of red peppers in a colander placed in the sink; then pat peppers dry with paper towels.
Chop the Kalamata olives and roasted red peppers into pieces not more than 1/2 inch across and finely chop the red onion.
Toss together the olives, peppers, onion, and capers; then stir in the 2 tablespoons of balsamic vinegar and 2 tablespoons of olive oil.
Season with Aleppo Pepper (affiliate link), fresh-ground black pepper (and salt if desired, although the olives have quite a bit of salt.)
Arrange several slices of eggplant on each plant and top with a generous amount of the Mediterranean Salsa.
Notes
Six ounces is half of a 12 oz. jar of roasted red pepper. Use more or less red pepper to taste.
Eggplant does have some carbs, but it's also relatively high in fiber which lowers the net carbs.
Recipe created by Kalyn.
Nutrition Information:
Yield:
4
Serving Size:
1
Amount Per Serving:
Calories: 194
Total Fat: 12g
Saturated Fat: 2g
Trans Fat: 0g
Unsaturated Fat: 10g
Cholesterol: 0mg
Sodium: 355mg
Carbohydrates: 22g
Fiber: 14g
Sugar: 9g
Protein: 2g
Nutrition information is automatically calculated by the Recipe Plug-In I am using. I am not a nutritionist and cannot guarantee 100% accuracy, since many variables affect those calculations.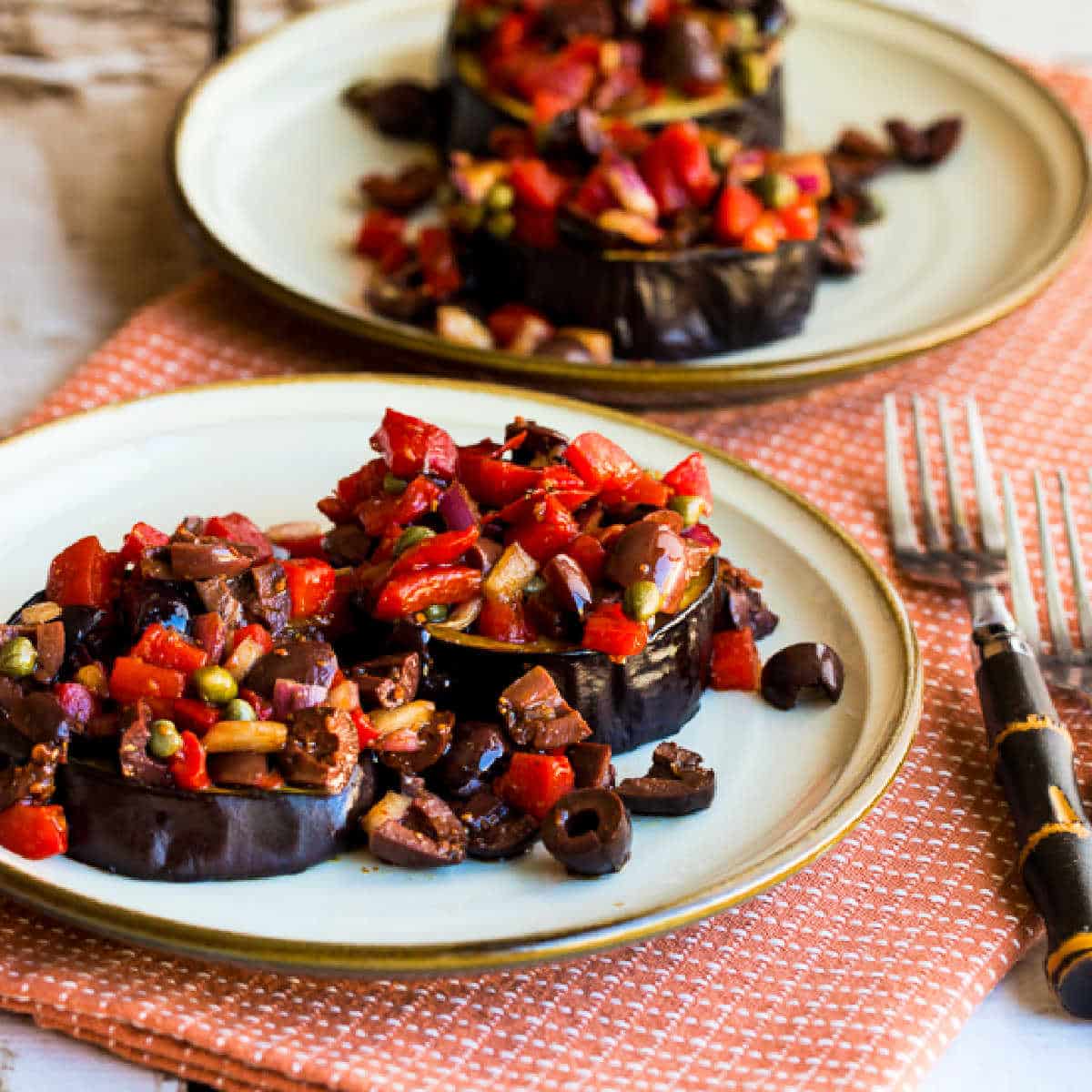 Low-Carb Diet / Low-Glycemic Diet / South Beach Diet Suggestions:
Eggplant is a relatively low-carb vegetable that has a lot of fiber, and this Mediterranean Eggplant recipe would be suitable for any phase of the original South Beach Diet and most low-carb eating plans, including Keto.
Find More Recipes Like This One:
Use Eggplant Recipes or Oven Dinners to find more ideas like this one.Use the Diet Type Index to find recipes suitable for a specific eating plan. You might also like to follow Kalyn's Kitchen on Pinterest, on Facebook, on Instagram, on TikTok, or on YouTube to see all the good recipes I'm sharing there.
Historical Notes for this Recipe:
This Mediterranean Eggplant was first posted in 2015. The recipe was last updated with more information in 2023.
We are a participant in the Amazon Services LLC Associates Program, an affiliate advertising program designed to provide a means for us to earn fees by linking to Amazon.com and affiliated sites. As an Amazon Associate, I earn from qualifying purchases.