Low-Sugar Harvest Cake
Low-Sugar Harvest Cake has two vegetables, one fruit, and nuts in the batter, and this is probably lower in carbs than you might think!
PIN Harvest Cake to try it later!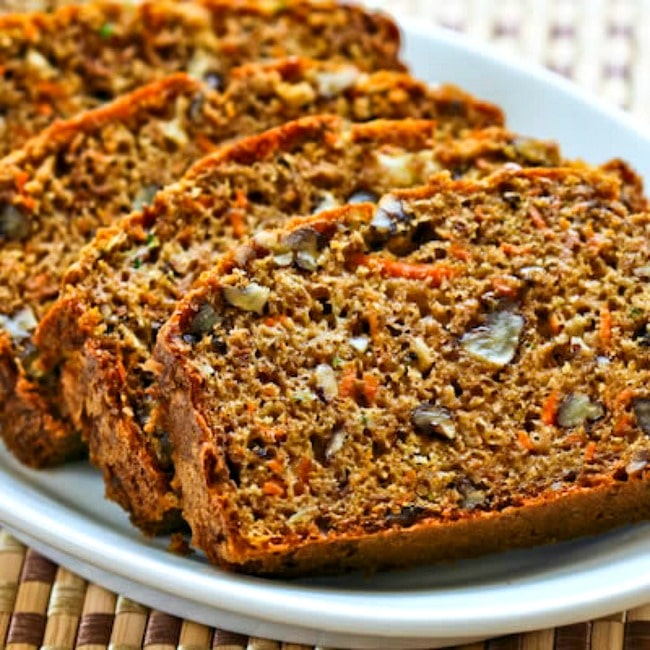 I originally decided to post this recipe for Low-Sugar Harvest Cake after I got two e-mails within a couple of days asking me if I had any recipes for healthier desserts. I'm not someone who loves to bake, but I have been working on a collection of Desserts and Baking Recipes.
Some of the things in that category are strictly low carb desserts recipes, and some of them (like this one) are the kind of recipe that would be an occasional treat if you're following a carb-conscious eating plan. But it seems perfect to mark the arrival of Fall with this low-sugar Harvest Cake that's a delicious loaf cake that has zucchini, carrot, apple, and nuts.
I heard about this recipe years ago from Twitter, and when my friend Addie sent out a link saying it was the most searched for recipe in the Austin American Statesman recipe database, I had to take a look. When I saw the recipe Addie tweeted for a cake with zucchini, carrots, and apple, I thought it would be fun to make a low-sugar and whole wheat version. (Now I can no longer find the original recipe online, so I'm even more glad I came up with a low-sugar version.)
I needed a slightly smaller loaf pan, so mine turned out a bit flat, but otherwise I loved this Harvest Cake, especially the way you see colorful flecks of carrot in the finished cake. Some people might consider this more of a bread than a cake, but this was delicious, no matter what you call it!
What ingredients do you need?
What sweeteners can you use?
I do feel that regular Monkfruit Sweetener dissolves slightly better than the brown-sugar flavored Golden Monkfruit Sweetener, but in this recipe with buttermilk I would use the Golden Monkfruit for flavor. You can use any sweetener you prefer, even brown sugar if you don't mind a few more carbs.
What if you don't have buttermilk?
I haven't tried making this with regular milk, although I'm guessing it will work. If anyone tries it, let us know in the comments!
Why is it called Harvest Cake?
I tried researching online to see how Harvest Cake got the name, but I didn't find anything more specific than lots of cake recipes referring to this being a cake made at harvest time. And that makes perfect sense that in the fall when garden produce is abundant people would love using those ingredients for a cake like this one.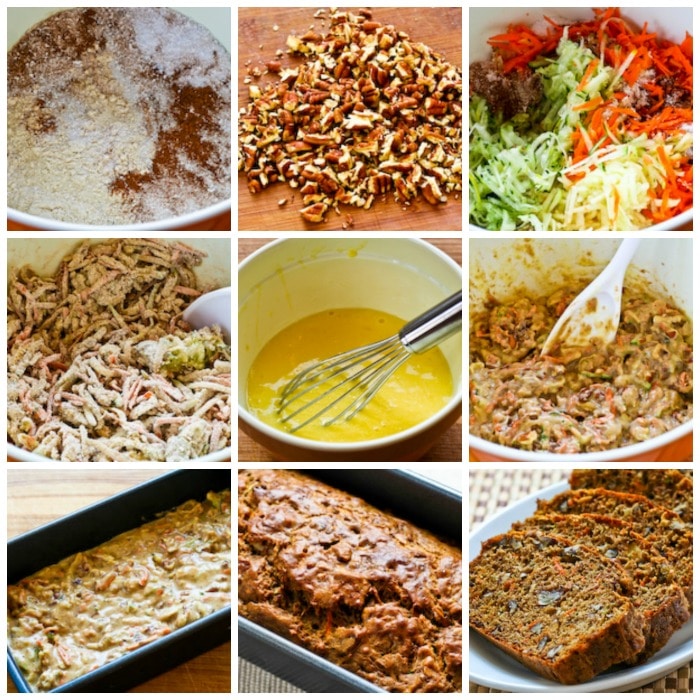 How to Make Harvest Cake:
(Scroll down for complete recipe with nutritional information.)
Start preheating the oven, then combine the white whole wheat flour, sweetener of your choice, cinnamon, baking soda, and salt and mix together.
Chop up the pecans if you're using them, which I do recommend!
Add the grated apple, grated carrot, grated zucchini, and chopped pecans to the flour mixture.
Then toss with a large spoon so all the ingredients are well-coated with flour.
In a smaller bowl, whisk together the oil, buttermilk, and eggs, beating together well.
Stir the egg mixture into the bowl with the flour mixture, and stir just until combined. The mixture was fairly stiff.
Pour into a loaf pan that has been sprayed with non-stick spray or oil. (Here's where you can see that I needed an 8 x 4 inch pan, but only had a 9 x 5 inch pan!)
And here's the finished cake, which I thought looked very tasty despite the fact that there was a slight crack in the top.
Want Low-Carb Baking?
Yield: 8 servings
Low-Sugar Harvest Cake
Prep Time 30 minutes
Cook Time 50 minutes
Total Time 1 hour 20 minutes
Low-Sugar Harvest Cake would be a nice treat to make for the family, and this is probably lower in carbs than you might think..
Ingredients
1 cup white whole wheat flour (see notes)
3/4 cup Golden Monkfruit Sweetener (see notes)
2 tsp. ground cinnamon
1 tsp. baking soda
1/4 tsp. salt (I used fine grind sea salt)
1/2 cup peeled and grated Granny Smith apple (1 medium-sized apple)
1/2 cup grated carrot (1 medium carrot)
1/2 cup grated zucchini
1/2 cup chopped pecans (or walnuts, original recipe used 1/4 cup)
1/4 cup neutral-flavored oil (see notes)
1/4 cup buttermilk
2 large eggs
non-stick spray or oil for coating loaf pan
Instructions
Preheat oven to 350F/175C and spray a 8 X 4 inch loaf pan with non-stick spray or oil (Or you can use a 9 x 5 inch pan and have a flatter cake like I did!)
In a large mixing bowl, add White Whole Wheat Flour (affiliate link), Golden Monkfruit Sweetener (affiliate link), cinnamon, baking soda, and salt.
Mix together with large spoon until well-combined.
Add grated apple, grated carrot, grated zucchini, and chopped pecans to the bowl with the flour mixture.
Use the spoon to toss ingredients together until all ingredients are well coated with flour.
In a smaller bowl, add oil, buttermilk, and eggs, and beat with a whisk for about 30 seconds, until well combined.
Pour egg mixture into the other bowl with the flour mixture and stir until just combined. (Mixture will be fairly stiff.)
Pour cake into oiled loaf pan.
Bake at 350F/175C for about 50 minutes, or until a toothpick inserted into the center of the cake comes out completely clean. (For me, that was exactly 50 minutes.)
Cool cake in the pan placed on a wire rack for 10 minutes. Then carefully remove cake from pan (I used a knife to go around the edge) and cool cake completely on rack before slicing.
This lasted several days in the refrigerator, but only because I was very diligently using portion control!
Nutrition Information:
Yield:
8
Serving Size:
1
Amount Per Serving:
Calories: 218
Total Fat: 15g
Saturated Fat: 1g
Trans Fat: 0g
Unsaturated Fat: 13g
Cholesterol: 47mg
Sodium: 268mg
Carbohydrates: 18g
Fiber: 3g
Sugar: 4g
Protein: 5g
Nutrition information is automatically calculated by the Recipe Plug-In I am using. I am not a nutritionist and cannot guarantee 100% accuracy, since many variables affect those calculations.
Low-Carb Diet / Low-Glycemic Diet / South Beach Diet Suggestions:
This Harvest Cake is probably too high in carbs for a strictly low-carb eating plan, although you might be surprised if you check the nutritional information. If it's made with white whole wheat flour and an approved sweetener, this cake would be approved for phase 2 or 3 of the original South Beach Diet and would probably work for other low-glycemic eating plans.
Find More Recipes Like This One:
Use Dessert Recipes to find more recipes like this.Use the Diet Type Index to find recipes suitable for a specific eating plan. You might also like to follow Kalyn's Kitchen on Pinterest or on Facebook to see all the good recipes I'm sharing there.
We are a participant in the Amazon Services LLC Associates Program, an affiliate advertising program designed to provide a means for us to earn fees by linking to Amazon.com and affiliated sites. As an Amazon Associate, I earn from qualifying purchases.