Red Lentil Dal
I'm not claiming this Red Lentil Dal is an authentic Indian recipe, but it's easy and filled with flavor from freshly-chopped ginger root. And if you check the nutritional information you'll find this is lower in net carbs than you might be thinking!
PIN Red Lentil Dal to try it later.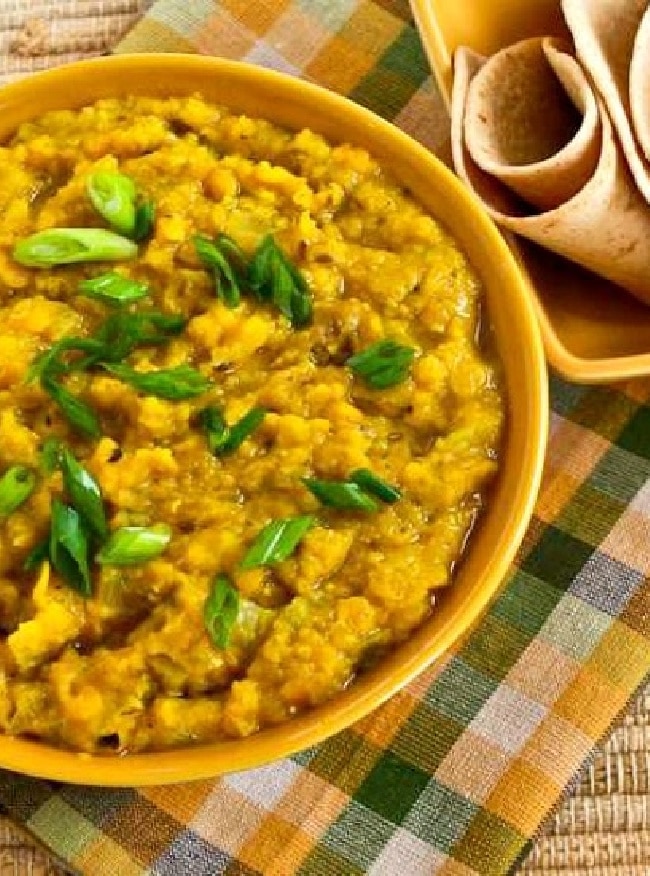 Before we get to the recipe for this Red Lentil Dal, let's talk a bit about Indian food! I've admitted many times to being intimidated by Indian cooking, even though I love to have Indian dishes in a restaurant. But recently I bought a little book called Betty Crocker Easy Indian (affiliate link) that had a lot of recipes that looked tasty, easy, and not too completely Americanized despite the name Betty Crocker on the book.
I made this recipe a couple of times to get a version of dal I was really happy with, and the one I'm sharing here uses a few tablespoons of diced fresh ginger that adds so much flavor to the red lentils. This recipe produces slightly-spicy red lentil dal that's fragrant and delicious. I ate this with low-carb flour tortillas, but any kind of Indian bread or even pita bread would be good.
What ingredients do you need?
dried red lentils
Ground Turmeric (affiliate link)
water
Grapeseed Oil (affiliate link) (or other neutral-flavored oil or ghee)
cumin seeds
onions
fresh ginger root
can of diced green chiles (affiliate link)
salt
chopped cilantro or sliced green onion for garnish (optional)
What is Dal?
Dal is one of the classic dishes in Indian cuisine. (It's also spelled dahl, daal, or dhal.) There are endless variations of this dish of split legumes or dried beans, simmered with spices until they are falling-apart soft and then often combined with a mixture of oil or ghee, fried onions, peppers and more spices. The world dal refers to the cooked dish and also the split legumes or beans that dal is made of, and in various parts of India different types of dal are eaten with rice, vegetables, or Indian flatbreads such as Roti.
What gives this red lentil dal Indian flavors?
Even though this isn't an authentically Indian recipe it still has lots of Indian flavors from turmeric, cumin seeds, onions, and fresh ginger root. The use of canned green chiles is something I used as a time-saver and to control the amount of heat in the finished dish, but replace that with one or two chopped fresh chiles if you prefer.
How to Make Red Lentil Dal:
(Scroll down for complete recipe with nutritional information.)
It's essential to use red lentils for this dish, because they cook quickly and dissolve, producing the creamy texture that makes dal so good.
Rinse the lentils with cold water until there is no more cloudiness; then drain.
Simmer lentils with 1 teaspoon of ground turmeric added for about 20 minutes. (Turmeric is the ingredient that makes curry powder yellow if you're not familiar with it.) When they're done lentils should be soft, slightly golden color from the turmeric, and most of the water should be absorbed.
While lentils cook, chop up two small onions and 2 tablespoons of finely minced fresh ginger.
I used a small can of diced green chile peppers to replace the chopped fresh chiles the recipe called for. (I'm kind of a lightweight on spicy food and I know how hot these canned chiles are, but if you like it hot use fresh Thai, Seranno, or Cayenne pepper, chopped.)
Heat the olive oil in a heavy skillet, then "sizzle" the cumin seeds for 30 seconds. Add the onions and cook about 1 minute.
Add ginger and cook 2-3 minutes, stirring a few times. (If you're using chopped fresh chiles, add them with the ginger.)
Then add the canned green chiles with juice and cook 2 minutes more.
Add the softened lentils and liquid, adding about 1/4 cup more water if there isn't much water left in the pan.
Season with 1 tsp. salt and simmer on low heat until the lentils are mostly dissolves and the liquid is mostly evaporated.
I'm guessing it's a personal preference how "soupy" you like the finished dal to be, but the next-to-last photo shows how mine looked when I stopped cooking it. You can see the lentil shapes a little, but if you touch them they're mostly dissolved and they're slightly thick.
Eat hot, with chopped cilantro or green onions sprinkled on if desired.
More Tasty Ideas for Lentils:
Bengali Red Dal Curry from Jake
Sausage and Lentils with Fried Sage
Yield: 8 servings as a side dish
Red Lentil Dal
Prep Time 20 minutes
Cook Time 47 minutes
Total Time 1 hour 7 minutes
This recipe for Red Lentil Dal may not be 100% authentically Indian, but this dish is easy to make and delicious. Fresh ginger root is one ingredient that adds so much flavor here.
Ingredients
2 cups dried red lentils, rinsed, and drained
1 tsp. ground turmeric
5 cups water
2 T grapeseed oil (or other neutral-flavored oil)
2 tsp. cumin seeds
2 small onions, chopped
2 T finely diced fresh ginger root
one 4 oz. can diced green chiles with juice (see notes)
1 tsp. salt
chopped cilantro or sliced green onions for garnish (optional)
Instructions
If you buy lentils in bulk you may need to pick over the lentils to see if there are any stray rocks or other types of legumes mixed in.
Rinse lentils with cold water until the water is not cloudy, then drain into a fine strainer.
Put 5 cups water in a medium saucepan, add lentils and turmeric, and simmer until the lentils are starting to soften and water is mostly absorbed. This will take 15-25 minutes, depending on how fresh your lentils are.
While lentils are cooking, chop the onion, peel and finely dice the ginger root, and chop fresh chiles (if using).
Heat the oil in a large heavy skillet, add the cumin seeds, and "sizzle" them for 30 seconds.
Add the onions and stir-fry about 1 minute.
Add the minced ginger root and stir-fry 2-3 minutes more or until the onions and ginger are both starting to soften and slightly brown. (If you're using fresh chiles, add them with the ginger.)
Add the can of diced green chiles with juice and cook about 2 minutes more.
When lentils are soft, add them to the pan with the cumin seeds, onions, ginger, and chiles, and season with 1 tsp. salt.
If there isn't much more water left in the lentils add 1/4 cup more water and then cook at a low simmer about 10-15 minutes more, or until the lentils are mostly dissolved and liquid is mostly evaporated.
I think it's a personal preference how soupy you like this dish, but I cook it until the lentils are mostly dissolved and the mixture is slightly thick.
Eat hot, garnished with cilantro or sliced green onions if desired.
This is good eaten with something like Indian flatbread, flour tortillas, or pita bread to scoop up the lentils.
Notes
If you prefer more heat, replace canned chiles with 3 fresh Thai, Serrano, or Cayenne peppers, seeds removed and chopped.
This recipe adapted from Betty Crocker Easy Indian (affiliate link).
Nutrition Information:
Yield:
8
Serving Size:
1
Amount Per Serving:
Calories: 120
Total Fat: 4g
Saturated Fat: 0g
Trans Fat: 0g
Unsaturated Fat: 3g
Cholesterol: 0mg
Sodium: 436mg
Carbohydrates: 17g
Fiber: 5g
Sugar: 6g
Protein: 5g
Nutrition information is automatically calculated by the Recipe Plug-In I am using. I am not a nutritionist and cannot guarantee 100% accuracy, since many variables affect those calculations.
Low-Carb Diet / Low-Glycemic Diet / South Beach Diet Suggestions:
Lentils and other low-glycemic legumes are approved for any phase of the original South Beach Diet. Lentils are somewhat high in carbs for a low-carb eating plan, although they do have a lot of fiber and if you check the net carbs on this you might decide you could indulge in a small serving.
Find More Recipes Like This One:
Use Side Dishes for more tasty ideas like this one.Use the Diet Type Index to find recipes suitable for a specific eating plan. You might also like to follow Kalyn's Kitchen on Pinterest or on Facebook to see all the good recipes I'm sharing there.
We are a participant in the Amazon Services LLC Associates Program, an affiliate advertising program designed to provide a means for us to earn fees by linking to Amazon.com and affiliated sites. As an Amazon Associate, I earn from qualifying purchases.