Asian Green Salad with Soy-Sesame Dressing
Asian Green Salad with Soy-Sesame Dressing and Sesame Seeds is an amazingly flavorful salad idea that tastes great any time of year! Skip the carrots and/or tomatoes if you want fewer carbs, but be sure to make the tasty dressing; it's good on so many things!
PIN Asian Green Salad with Soy-Sesame Dressing to try it later!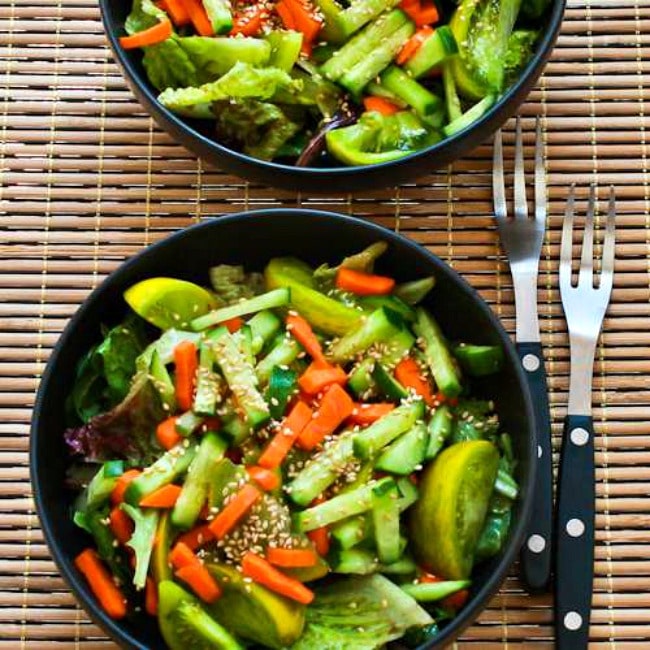 I'm infatuated with salads. Many days I'll eat a big salad for lunch and then have another small salad as part of my dinner. I like salads of every kind, and that's why there's such a huge category for Salad Recipes on this blog. With all the salad love going on around here, every so often a salad comes along that really knocks my socks off, and for more than a week now I've been eating this amazing Asian Green Salad with Soy-Sesame Dressing.
The salad came from Food to Live By (affiliate link), a great cookbook written by one of the owners of Earthbound Farms, and it's a recipe she got from the owners of Flying Fish Grill, where it's one of her favorite things to order. It's the flavorful shake-in-a-jar dressing that makes this salad.
Romaine lettuce and baby greens are tossed together with the dressing and then top with slivered carrots, slivered cucumbers, diced tomatoes, and sesame seeds. If you want it to be a lower-carb salad, feel free to use more cucumbers and less carrots and tomatoes.
That's all there is to it for this salad, and truthfully when I was making it I was skeptical, especially about the dressing which seemed awfully thin to be a dressing for lettuce. But the ultra-flavorful salad was absolutely devoured by Jake and I the first time we made it, and I think I've made it five more times in a week. If you're a salad lover like I am, I promise this is a salad worth paying attention to.
How to Make Asian Green Salad with Soy-Sesame Dressing:
(Scroll down for complete recipe with nutritional information.)
Combine soy sauce, unseasoned rice vinegar, neutral-flavored oil, sesame oil, and sweetener of your choice in a jar. Put the lid on and shake until everything is dissolved together. Be sure to use Gluten-Free Soy Sauce (affiliate link) if needed.
If I hadn't been skeptical about the dressing I might have done a better job on my matchstick cucumbers and carrots!
I couldn't resist using a few of my Green Zebra tomatoes which are still hanging on, but small grape tomatoes would be great in this. And if it's not tomato season I'd just skip the tomatoes!
Tear apart one heart of Romaine lettuce and wash and dry in a salad spinner (or by hand.)
Combine the Romaine with about 4 cups of baby greens and toss with enough dressing to coat the lettuce.
Arrange the dressed lettuce on a plate or in a salad bowl, top with carrots, cucumbers, tomatoes, and a generous sprinkling of toasted sesame seeds.
This Asian Green Salad with Soy-Sesame Dressing will be devoured by anyone who tries it. And this recipe is perfect for Weekend Food Prep; make the dressing and cut lettuce, cucumber and keep them in the fridge to make salads later in the week!
Make it a Meal:
I'd eat a big bowl of this for lunch or serve it as a side salad for dinner with something like Forbidden City Chicken or Chicken Breasts with Cilantro and Red Thai Curry Peanut Sauce.
More Green Salad with International Flavors:
Mediterranean Lettuce Salad with Purslane from Kalyn's Kitchen
Fresh Green Salad with Lemon-Lime Dressing from My Colombian Recipes
Ottolenghi's Perfect Lettuce Salad from Kalyn's Kitchen
Crispy Lettuce Wedge with Low-Fat Russian Dressing from The Perfect Pantry
Peperoncini Chopped Salad with Romaine, Red Bell Pepper, and Feta from Kalyn's Kitchen
Weekend Food Prep:
This recipe has been added to a new category called Weekend Food Prep to help you find recipes you can prep or cook on the weekend and eat during the week!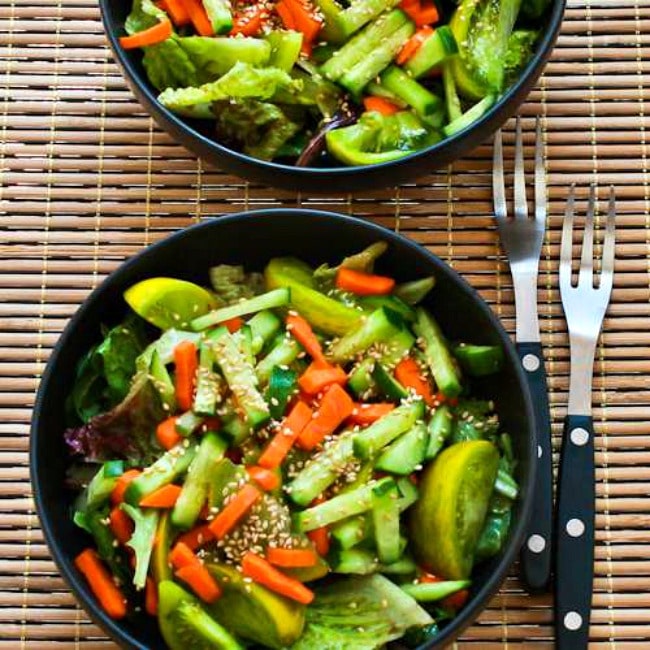 Yield: 4 servings
Asian Green Salad with Soy-Sesame Dressing
Prep Time 20 minutes
Total Time 20 minutes
Asian Green Salad with Soy-Sesame Dressing is a delicious combination of flavors; the dressing recipe came from Flying Fish Restaurant.
Ingredients
Dressing Ingredients:
1/4 cup soy sauce (see notes)
1/4 cup unseasoned rice vinegar (see notes)
1/4 cupneutral-flavored oil (see notes)
1 T sesame seed oil
1/4 cup sweetener of your choice (see notes)
Salad Ingredients:
I heart of Romaine lettuce, torn apart, washed, and dried
4 cups baby greens
1 cup diced tomato
1/2 cup matchstick carrots (see notes)
1/2 cup matchstick cucumber
2 tsp. toasted sesame seeds
Instructions
Combine the soy sauce, rice vinegar, oil, sesame oil, and sweetener of your choice in a jar with a tight-fitting lid. Put lid on and shake jar until all the ingredients are dissolved.
Tear apart the Romaine heart, wash, and spin dry or dry with paper towels.
Dice tomato. Cut carrots and cucumber into matchstick strips until you have about 1/2 cup of each.
Toast sesame seeds in a dry frying pan for 1-2 minutes, just until they start to smell toasted. (Or buy pre-toasted sesame seeds and you can use them right from the jar.)
Put the washed Romaine and baby greens into a medium sized bowl and toss with enough dressing to coat all the greens (about 2-3 tablespoons dressing.)
Arrange the dressed greens on individual salad plates or in bowls.
Top each salad with some tomato, carrots, and cucumber and sprinkle with sesame seeds.
Serve immediately.
Notes
Be sure to use Gluten-Free Soy Sauce (affiliate link) if needed. Be sure not to use seasoned rice vinegar which contains sugar. Grapeseed Oil (affiliate link) or Peanut Oil (affiliate link) will be good in this salad. I would use Golden Monkfruit Sweetener (affiliate link) for this recipe. If you want less carbs, skip the carrots and double the cucumbers. This recipe was adapted from Flying Fish Salad in Food to Live By (affiliate link).
Nutrition Information:
Yield:
4
Serving Size:
1
Amount Per Serving:
Calories: 179
Total Fat: 8g
Saturated Fat: 1g
Trans Fat: 0g
Unsaturated Fat: 6g
Cholesterol: 0mg
Sodium: 931mg
Carbohydrates: 23g
Fiber: 13g
Sugar: 6g
Protein: 10g
Nutrition information is automatically calculated by the Recipe Plug-In I am using. I am not a nutritionist and cannot guarantee 100% accuracy, since many variables affect those calculations.
Low-Carb Diet / Low-Glycemic Diet / South Beach Diet Suggestions:
You'd have to omit the carrots from this Asian Green Salad with Soy-Sesame Dressing if you're eating it for phase one or another strict low-carb plan and maybe go easy on the tomatoes, but as long as you use an approved sweetener in the dressing, everything else here is a great choice for any phase of the South Beach Diet and other low-carb eating plans.
Find More Recipes Like This One:
Use Salad Recipes for more recipes like this one. Use the Recipes by Diet Type photo index pages to find more recipes suitable for a specific eating plan. You might also like to Follow Kalyn's Kitchen on Pinterest to see all the good recipes I'm sharing there.
We are a participant in the Amazon Services LLC Associates Program, an affiliate advertising program designed to provide a means for us to earn fees by linking to Amazon.com and affiliated sites. As an Amazon Associate, I earn from qualifying purchases.