Marinated Cauliflower Antipasto Salad (Video)
This Marinated Cauliflower Antipasto Salad is good any time of year, and if you like antipasto ingredients you'll love this salad. And this fun salad idea is low in carbs but loaded with flavor!
PIN the Marinated Cauliflower Salad to try it later!
I love summer salads, but this Marinated Cauliflower Antipasto Salad is a low-carb salad I'd eat any time of year. This recipe was inspired by some little packets of salami and provolone cheese I discovered at Costco, and the salad turned out to be a wonderful low-carb dish that's easy to make ahead and keeps in the fridge for days.
And I've been making and enjoying this salad for years so this week I'm featuring it for my Friday Favorites pick!
There's another cauliflower salad on the blog that uses roasted cauliflower to add flavor. But I didn't want to use the oven so for this one I used a steamer insert (affiliate link) in a large pot to cook the cauliflower just until it was barely tender; then I drained the cauliflower well and marinated it for several hours to get the cauliflower infused with the tangy flavors in the dressing.
And for this recipe you can really use any combinations of meat, cheese, and vegetables you'd like. The ingredient with the most carbs is the roasted red peppers, so use less peppers or skip those if you prefer. Just don't skip the step of marinating the cauliflower, because that's what makes the salad a wow!
What ingredients do you need?
(This is only a list of ingredients; please scroll down for complete printable recipe. Or if you use the JUMP TO RECIPE link at the top of the page, it will take you directly to the complete recipe.)
What does Antipasto mean?
In Italian cooking Antipasto means an appetizer typically consisting of olives, anchovies, cheeses, and meats.
What Antipasto ingredients did we use?
Jake and I made this marinated cauliflower salad a couple of times to get it just right and for the antipasto part of the recipe we settled on marinated mushrooms, strips of salami, strips of Provolone, black olives, roasted red pepper strips, and plenty of capers.
What other meats, cheese, or vegetables could you use for Marinated Cauliflower Salad:
Other things you could use in the salad if you don't have some of the ingredients we used include diced ham, diced turkey, artichoke hearts, hearts of palm, marinated asparagus, anchovies, string cheese, Pepperoncini, and Prosciutto.
Want more salads with cauliflower?
Check out Low-Carb and Keto Cauliflower Salads to see a collection of salads with cauliflower from Kalyn's Kitchen and around the web!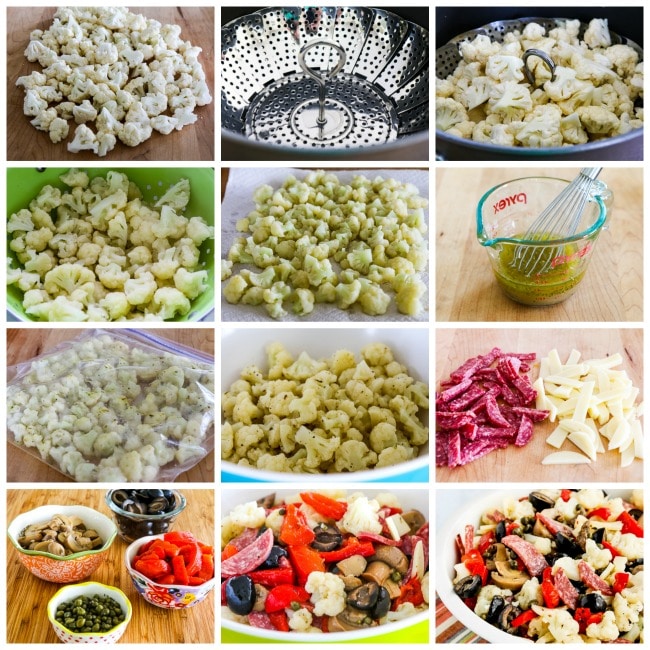 How to make Marinated Cauliflower Antipasto Salad:
(This is only a summary of the steps for the recipe; please scroll down for complete printable recipe. Or if you use the JUMP TO RECIPE link at the top of the page, it will take you directly to the complete recipe.)
Cut up enough cauliflower to make 4 cups bite-sized cauliflower pieces.
I used an inexpensive steamer insert (affiliate link) over a pan of water, but you can use a vegetable steamer (affiliate link) if you have one.
Steam the cauliflower for 4 minutes (or until it's barely tender).
Drain cauliflower well and when it's drained, spread out on paper towels and pat dry.
While cauliflower drains whisk together the dressing.
Put the well-drained cauliflower in a large Ziploc bag, add about half the dressing, and let cauliflower marinate for as long as you can, preferably 4-6 hours, or even all day while you're at work.
When you're ready to make the salad, transfer the marinated cauliflower with dressing to a large bowl.
Slice the salami and cheese into strips.
Slice mushrooms, cut drained roasted red peppers into strips, and cut drained olives in half. Measure out the capers.
Toss the meat and vegetables with the cauliflower, adding more dressing to taste. (You might not want all the dressing.)
Season with salt and fresh-ground black pepper and serve.
Low-Carb Marinated Cauliflower Antipasto Salad can be made ahead and refrigerated, and keeps well in the fridge for several days.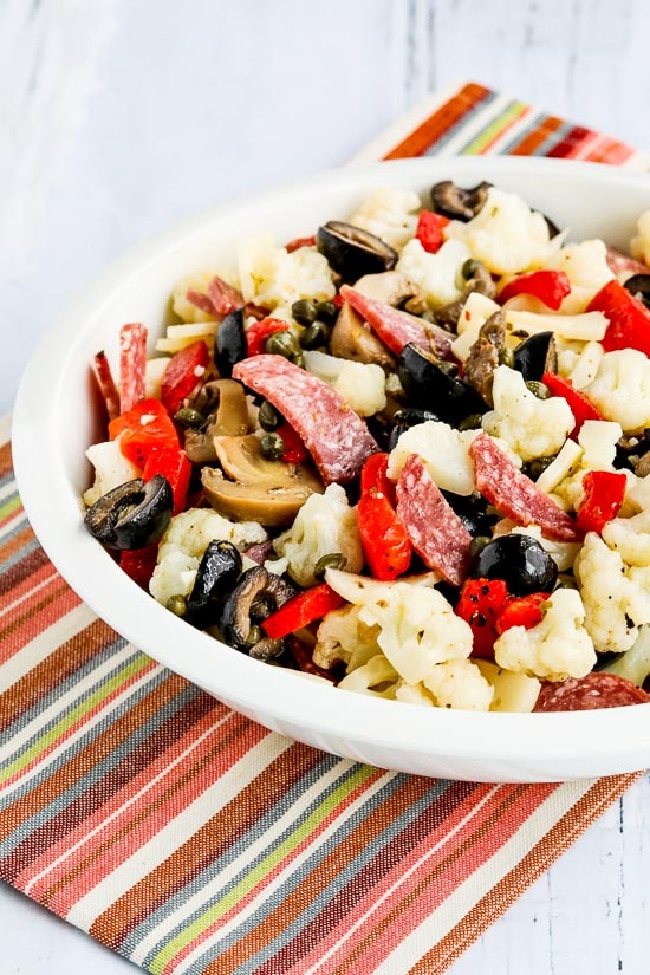 More Low-Carb Salads with Cauliflower:
Weekend Food Prep:
This recipe has been added to a category called Weekend Food Prep where you'll find recipes you can prep or cook on the weekend and eat during the week!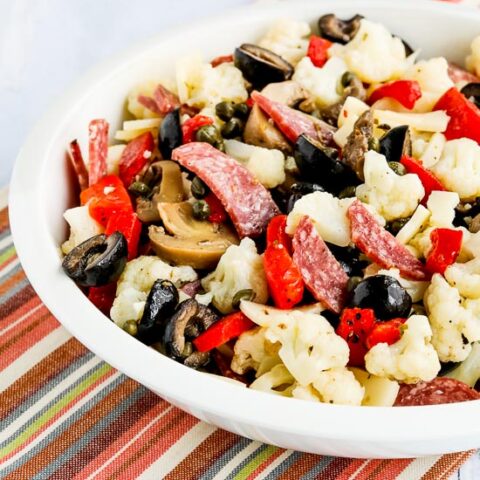 Yield: 6 servings
Marinated Cauliflower Antipasto Salad
Prep Time 20 minutes
Cook Time 4 minutes
Additional Time 3 hours
Total Time 3 hours 24 minutes
Marinated Cauliflower Antipasto Salad is a wonderful year-round salad with antipasto ingredients that add flavor and keep it low in carbs!
Ingredients
4 cups chopped raw cauliflower
1 cup marinated mushrooms, sliced
2 oz. salami, cut into short strips
2 oz. Provolone cheese, cut into short strips
6 oz. can black olives, drained and cut in half
12 oz. jar roasted red peppers, drained and cut into strips
3 T capers, drained (more or less to taste)
Dressing Ingredients:
1/4 cup vinaigrette dressing (see notes)
1  T extra virgin olive oil
2 T fresh-squeezed lemon juice
1 T caper juice (from the jar of capers)
1/2 tsp. dried Greek oregano
Instructions
Prepare a pan with a few inches of water, with a steamer insert in the pan. (You can also use an electric vegetable steamer (affiliate link) if you're lucky enough to have one!)
Bring water to boil while you cut up the cauliflower.
Cut out the core of the cauliflower and discard and cut cauliflower into bite sized pieces.
When the water is boiling, add the cauliflower to the steamer or steamer basket and cook just 4 minutes. (Test a piece of cauliflower to be sure it's tender but still slightly crisp.)
Dump cauliflower into a colander placed in the sink and let it drain well.
While the cauliflower drains, whisk together vinaigrette dressing, olive oil, lemon juice (I used my fresh-frozen lemon juice), caper juice, and dried oregano to make the dressing.
When cauliflower has drained well, put a double layer of paper towels on the counter, spread cauliflower out on the towels and pat dry with more towels. Be sure to get the cauliflower as dry as you can get it, or the salad will be watery.
Put the dried cauliflower into a large Ziploc bag with about half the dressing and let cauliflower marinate in the fridge, preferably for 4-6 hours or as long as all day. (Minimum marinating time is 2-3 hours if you don't plan far enough ahead.)
When you're ready to assemble the salad, slice the salami, Provolone, and drained red peppers into strips, slice mushrooms, and drain olives and cut in half. Measure out the capers.
Put the marinated cauliflower in a large bowl and toss with the salami strips, Provolone strips, red pepper strips, sliced mushrooms, olives, and capers.
Add more dressing until the salad is as moist as you prefer. (You may not want all the dressing.)
Season to taste with salt and fresh-ground black pepper and serve.
This salad can be made several hours ahead and will also keep in the fridge for a few days.
Nutrition Information:
Yield:
6
Serving Size:
1
Amount Per Serving:
Calories: 223
Total Fat: 15g
Saturated Fat: 4g
Unsaturated Fat: 10g
Cholesterol: 17mg
Sodium: 734mg
Carbohydrates: 9.6g
Fiber: 4g
Sugar: 10g
Protein: 7g
Nutrition information is automatically calculated by the Recipe Plug-In I am using. I am not a nutritionist and cannot guarantee 100% accuracy, since many variables affect those calculations.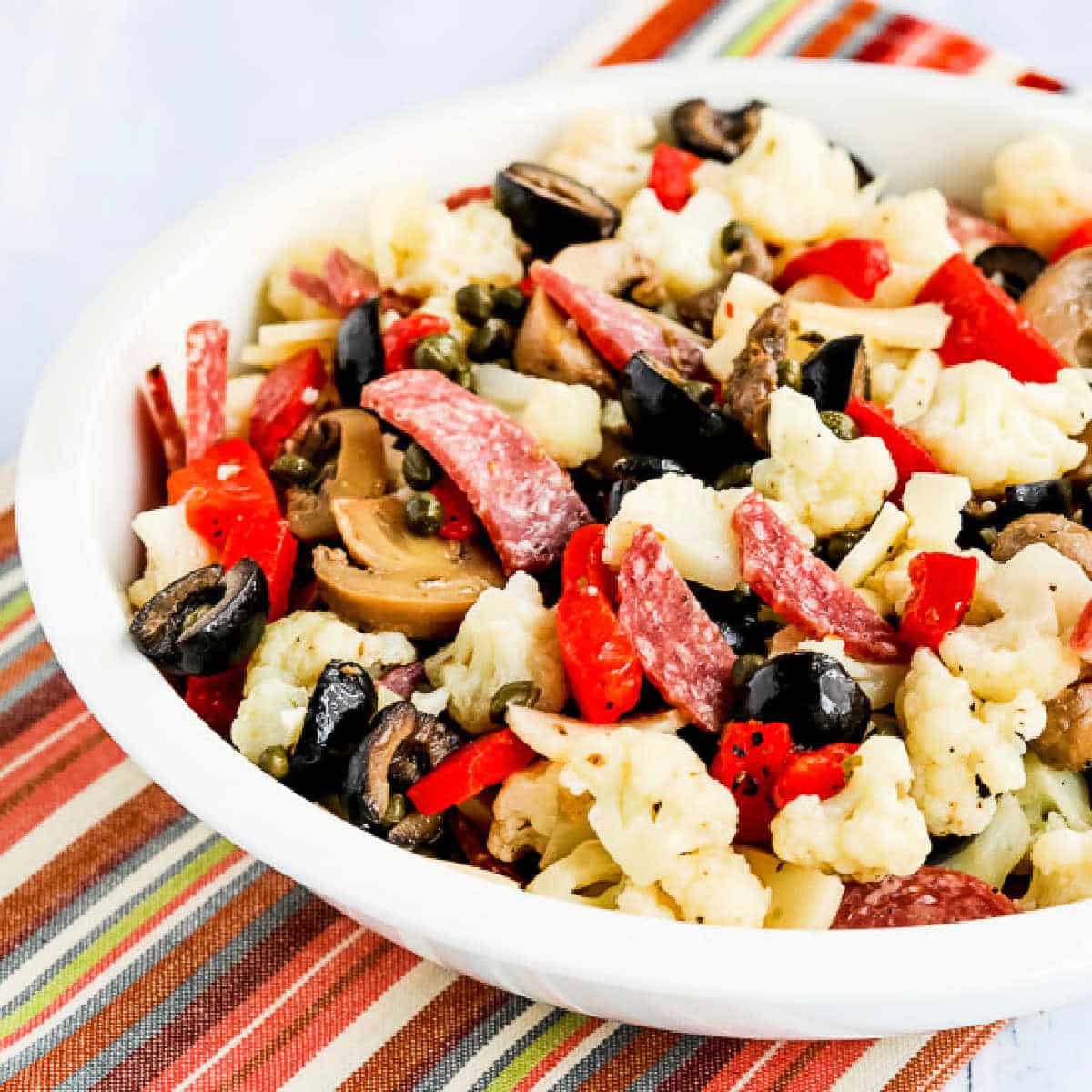 Low-Carb Diet / Low-Glycemic Diet / South Beach Diet Suggestions:
As long as you use a dressing that's low in sugar, this Marinated Cauliflower Antipasto Salad is low-carb, Keto, and gluten-free. The salad is probably a bit high in fat for the original South Beach Diet, but you could sub lower-fat cheese and turkey pepperoni and still make a salad that was tasty if you're wanting it for South Beach.
Find More Recipes Like This One:
Use Salad Recipes to find more recipes like this one. Use the Diet Type Index to find recipes suitable for a specific eating plan. You might also like to follow Kalyn's Kitchen on Pinterest, on Facebook, on Instagram, on TikTok, or on YouTube to see all the good recipes I'm sharing there.
Historical Notes for this Recipe:
This marinated cauliflower salad recipe was first posted in 2017. It was last updated with more information in 2023.
We are a participant in the Amazon Services LLC Associates Program, an affiliate advertising program designed to provide a means for us to earn fees by linking to Amazon.com and affiliated sites. As an Amazon Associate, I earn from qualifying purchases.