Kalyn's Kitchen Picks: Better Than Bouillon Organic Vegetable Base
If you don't have time to make your own vegetable stock, Better Than Bouillon Organic Vegetable Base is a good substitute.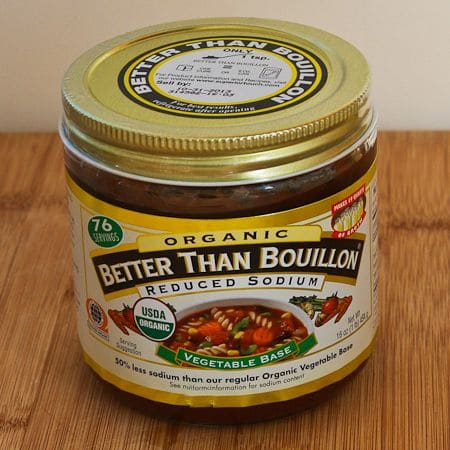 You may have noticed there's a little more emphasis on meatless recipes around here the last six months or so. No, I'm not planning to become a vegetarian, but I am trying to use less meat in my cooking. And truthfully, some of my very favorite foods are vegetables, and with increased evidence that less meat is good for our bodies and good for the planet, it's not something I find hard to do.
In the process of cooking more meatless dishes I've discovered this vegetable base product that I think has much better flavor than canned vegetable stock. The vegetable base from Better Than Bouillon is organic and low sodium, and the ingredient list is filled with natural foods. The product has 2 carbs per teaspoon, but since I use it in very small amounts to add flavor, I'm not worried about that. I am planning to try making my own vegetable stock from scraps that I save in the freezer, but meanwhile this product is what I'm using when I need a little vegetable broth for a recipe.
(Edit: Shirley from Gluten Free Easily tells me that Better than Bouillon no longer guarantees their products are gluten-free, so it won't work for people who have to avoid gluten.)
Who Else Likes This Product:
In Praise of Better Than Bouillon from The Kitchn
Bacon and Kale Risotto with a Fried Egg from Healthy Delicious
Ragu Sauce from Kokblog
Gift from the Kitchen Gods: Better than Bouillon from The Garden of Eating
Red Chile Sauce for Tamales from Herbivoracious
Quick Vegetarian Meals, Part 1 from You Are What You Eat
Recipes from Kalyn's Kitchen with Vegetable Broth:
Spicy Vegan Black Bean Soup with Cilantro and Green Tabasco
Vegan Lentil Chili with Roasted Red Peppers, Olives, and Green Onion
Vegetarian Lentil Soup with Spinach, Tomatoes, and Cumin
Red Lentil, Chickpea, and Tomato Soup with Smoked Tomato
Mexican Red Lentil Stew with Rice and Cilantro (Vegan)
Better than Bouillon probably doesn't know I'm alive and they have never paid me or given me samples to write about their products. All items featured as Kalyn's Kitchen Picks are things I will happily buy over and over, and because I want readers to know that my opinions are completely unbiased, I no longer accept sample products of any kind. See the list of other
Kalyn's Kitchen Picks
if you'd like to see what other products I've liked well enough to feature them on the blog.
We are a participant in the Amazon Services LLC Associates Program, an affiliate advertising program designed to provide a means for us to earn fees by linking to Amazon.com and affiliated sites. As an Amazon Associate, I earn from qualifying purchases.