Healing Asian Soup with Ginger
I first made this healing Asian Soup with Ginger for a food blogging friend who was going through chemotherapy, and it's warm and comforting.
PIN Healing Asian Soup with Ginger!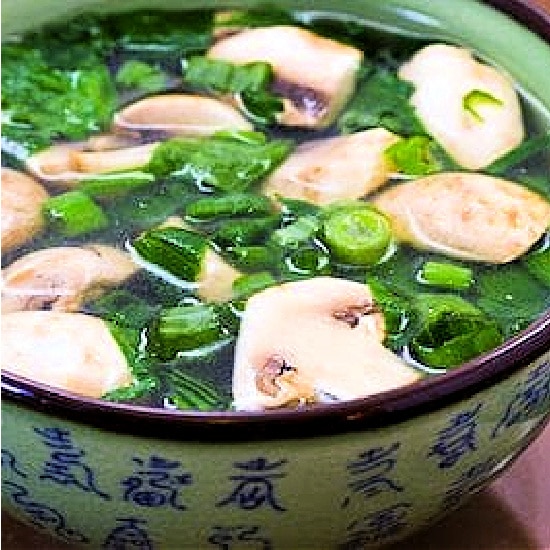 This Healing Asian Soup with Ginger is a recipe I created when a lovely food blogging friend was going through chemotherapy, and it's a wonderful tummy soothing soup whenever you need something like that. Of course chicken broth is a well-used treatment for all kinds of sicknesses, so the soup has that for the base.
But the most important thing about the soup is lots of fresh ginger, simmered in the broth to bring out all the ginger flavor and healing properties! Ginger is known to help with stomach issues. And this soup is easy to make, because of course you don't want to cook much when your stomach feels queasy. And while I hope you don't need to make a soup like this one too often, it will be soothing and also tasty if you need it!
What ingredients do you need?

Easy Steps for Making Healing Asian Soup with Ginger:
(Scroll down for complete recipe with nutritional information.)
Nothing sounds more healing to me than soup with lots of ginger to soothe the tummy. You can change the rest of this recipe any way you wish, but don't skip the step of simmering the thick slices of ginger root in chicken stock.
For a clear soup, strain the chicken broth after you've simmered the ginger. (You can skip this step, but definitely the soup will be prettier and more appetizing if it's strained. A coffee filter works well if you don't have a yogurt strainer like the one I used above.)
Once you've infused the chicken stock with ginger and then strained it, add mushrooms, and cook one minute, then spinach and cook one minute more.
Then add just the slightest bit of green onion for another few seconds. This is a soup that's healing, soothing, and easy to make.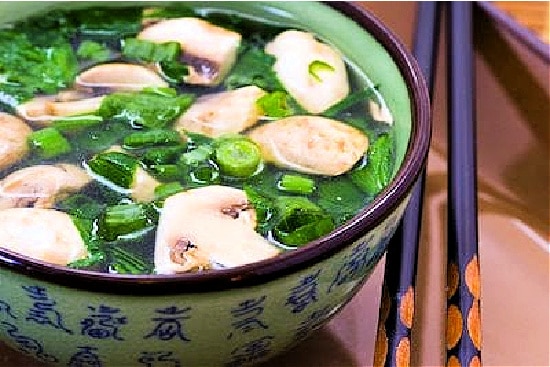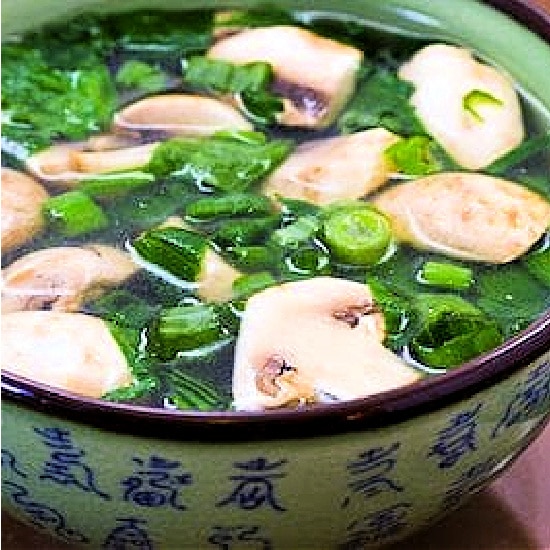 Yield: 4 servings
Healing Asian Soup with Ginger
Prep Time 15 minutes
Cook Time 25 minutes
Total Time 40 minutes
Whenever your tummy needs something warm and comforting. this Healing Asian Soup with Ginger will hit the spot!
Ingredients
4 cups chicken broth
4 thick slices fresh ginger root (or more)
1 cup sliced mushrooms
1 cup spinach leaves, sliced into thin ribbons
1 green onion, very thinly sliced
Instructions
In medium saucepan, bring chicken stock to a low simmer. (If you're starting with canned chicken broth, I would simmer an additional 15-20 minutes to reduce the broth and make it more flavorful before you add the ginger.)
Add ginger slices and let simmer at least 15 minutes or longer. (Taste to see if you have as much ginger flavor as you'd like.)
If you'd like a clear soup, use a yogurt strainer or coffee filter to strain the ginger-infused chicken stock, then rinse pan and put strained stock back into pan. You can add a small amount of water if you feel the stock has reduced too much.
While ginger simmers in stock, wash and slice mushrooms and thinly slice spinach leaves.
Clean green onion and slice into very thin slices.
Bring infused stock back to a low simmer, then add mushrooms and simmer 1 minute.
Add sliced spinach and simmer one minute more.
Turn off heat and add green onions, then serve soup hot, with chopsticks to eat the veggies after you drink the broth.
Notes
I used my homemade chicken stock for this soup, but if you don't have homemade stock just use three cans of chicken broth and simmer to concentrate the flavor.
This recipe created by Kalyn with inspiration from several Asian cookbooks.
Nutrition Information:
Yield:
4
Serving Size:
1
Amount Per Serving:
Calories: 37
Total Fat: 1g
Saturated Fat: 0g
Trans Fat: 0g
Unsaturated Fat: 0g
Cholesterol: 5mg
Sodium: 957mg
Carbohydrates: 5.1g
Fiber: 2g
Sugar: 2.3g
Protein: 3.8g
Nutrition information is automatically calculated by the Recipe Plug-In I am using. I am not a nutritionist and cannot guarantee 100% accuracy, since many variables affect those calculations.
Low-Carb Diet / Low-Glycemic Diet / South Beach Diet Suggestions:
This healing and tasty soup is low in carbs and suitable for all phases of the original South Beach Diet, and it's also gluten-free, Paleo, and Whole 30 approved.
Find More Recipes Like This One:
Use the Recipes by Diet Type photo index pages to find more recipes suitable for a specific eating plan. You might also like to Follow Kalyn's Kitchen on Pinterest to see all the good recipes I'm sharing there.
Historical Notes for this Recipe:
Barbara from Winos and Foodies was one of those wonderfully genuine and positive people that everyone loved, even those of us who lived halfway around the world from her and could only enjoy her spirit through the internet. When Barbara courageously shared the news that her cancer had returned, Ilva and Bron organized a giant virtual hug for Barbara to let her know how much healing energy was being sent her way. This soup was my contribution to that event. Sadly, Barbara lost her battle with cancer in 2012. At that time I dedicated a recipe to her memory, and her spirit is greatly missed in the food blogging world.
We are a participant in the Amazon Services LLC Associates Program, an affiliate advertising program designed to provide a means for us to earn fees by linking to Amazon.com and affiliated sites. As an Amazon Associate, I earn from qualifying purchases.