Friday Night Photos: Cute Kids, New Friends, and Another Fun Time at Hires
The family tradition continues with Aunt Kalyn taking the kids to Hires!
It's interesting how the most ordinary of events can turn into a family tradition. Many of you who read my blog know I have a huge extended family, and for years my 39 nieces and nephews have been taking turns visiting Aunt Kalyn and eating at
Hires
. Now there are a generation of great nieces and nephews (52 at last count!) Many of them have also eaten at Hires with Aunt Kalyn just like their parents did. I started this Hires tradition long before I ever heard of the South Beach Diet, and a Big H with onion rings from Hires is a real indulgence for me now, but don't you agree that family traditions are more important than sticking to your diet every single day of your life?
This week I've been enjoying a visit from Ethan and Mitchell, my two youngest nephews. We've had fun going school shopping, going out to eat, and going to
The Clark Planetarium
. Yesterday we had a special day with cousins and new friends that included lunch at Hires and then going to Liberty Park where kids had fun splashing around in the
Seven Canyons Fountain
.
Ethan is introspective and thoughtful and doesn't miss anything that's going on. He's a voracious reader and has already read three chapter books while he's been visiting.
Mitchell is outgoing and fun-loving and is ready to try anything. He's really good at making up the sofa bed in Aunt Kalyn's office where the boys sleep when they're visiting.
For this visit to Hires, the kids were joined by more cute kids belonging to my niece Kara. Here's Mitchel and Ethan with their second cousin Cooper in the middle. Too bad these cousins don't live closer to each other because they have so much fun together.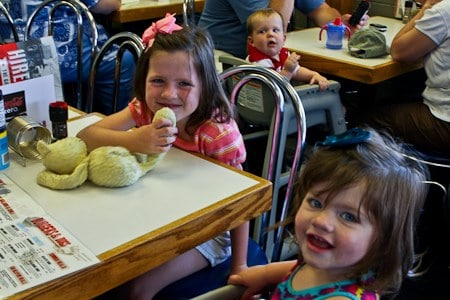 Aunt Kalyn was distracted at Hires and forgot to change the white balance in her camera, so this was the only shot that turned out of Cooper's sisters Sophie and Quinn, both of whom are beautiful girls. (Cooper, Sophie, and Quinn are grandkids of my sister Pam, who is understandably proud of them!)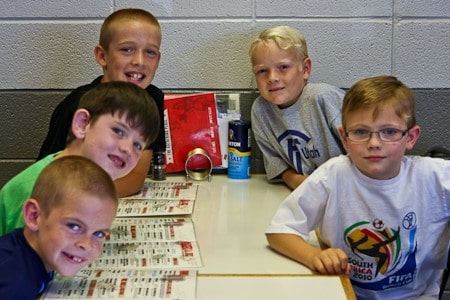 And most fun of all was a chance to make new friends when two more cute boys belonging to my good friend Dara from
Cookin' Canuck
joined us for lunch at Hires and the outing to Liberty Park. Dara's boys hit it off so well with Ethan and Mitchell that I predict lots more play dates coming up in the future! (And if you haven't seen
Dara's beautiful blog
, do be sure to check it out.)
Other Visits to Hires:
People at Hires know I'm a food blogger but they have never given me free food and have no idea I'm writing about visits to Hires on my blog.
If you live in Utah or have been here for a visit, have you eaten at Hires? If you're a Hires fan we'd love to hear about it in the comments!
We are a participant in the Amazon Services LLC Associates Program, an affiliate advertising program designed to provide a means for us to earn fees by linking to Amazon.com and affiliated sites. As an Amazon Associate, I earn from qualifying purchases.