Tatsoi Salad with Sesame-Ginger Dressing
Tatsoi Salad with Sesame-Ginger Dressing is a fun way to use the interesting Asian greens called Tatsoi and you'll love this dressing that's just a bit spicy.
PIN Tatsoi Salad with Sesame-Ginger Dressing to try it later!
A few weeks ago I went to the Salt Lake Downtown Alliance Farmer's Market for the first time this year and got some Tatsoi. I had only vaguely heard of Tatsoi, but it's a type of Asian greens related to bok choy that can be eaten raw or cooked. It's becoming popular and is now grown around the world, and I thought it would be fun to try it.
Interestingly, the plant is resistant to cold, and several sources mentioned it can be harvested from underneath the snow. Apparently Tatsoi grows in a lovely bunch like this, but what I got was a bag of leaves, and more searching revealed that you can harvest the whole plant or individual leaves.
I did find a few other bloggers talking about Tatsoi (mostly people who had received it in their CSA box and were wondering what to do with it!) Some people compare the flavor to mustard greens, but I found it to be milder, more like Swiss Chard, and very pleasant. I had fun adapting a recipe from The New York Times into this Tatsoi Salad with Sesame-Ginger Dressing; hope you enjoy!

WHAT INGREDIENTS DO YOU NEED FOR THIS RECIPE?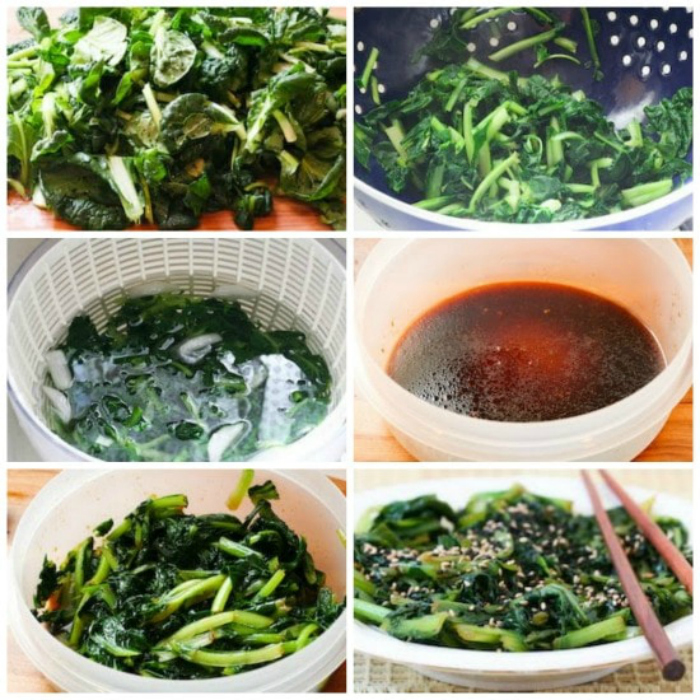 How to Make Tatsoi Salad with Sesame-Ginger Dressing:
(Scroll down for complete recipe with nutritional information.)
This first photo is how my Tatsoi leaves looked when I finally dumped them out of the bag, and after I washed the leaves, I sliced them into strips.
I consulted a recipe that called for blanching the Tatsoi for a minute in boiling water, then draining it quickly.
Then the drained Tatsoi should be plunged into ice water to stop the cooking process. I used the salad spinner (affiliate link) for this step.
You're going to love this next part. I mixed the asian dressing right in the bowl I was going to use for the salad, which eliminated dirtying another dish.
Then the wilted Tatsoi is added to the dressing and chilled for an hour or more before serving.
I ate this on a very hot day, and it was a refreshing change from more traditional salad.
More Bloggers Who've Discovered Tatsoi:
Char Sui Lo Mein from Tigers and Strawberries
Tatsoi with Mushrooms and Indian Spices from The Crispy Cook
Tatsoi Sauteed with Mushrooms and Garlic from Anna's Cool Finds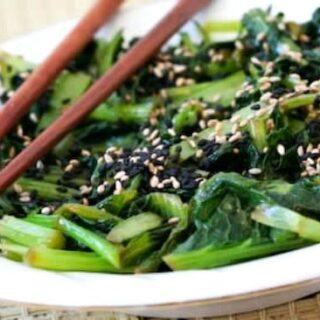 Yield: 2 servings
Tatsoi Salad with Sesame-Ginger Dressing
Prep Time 15 minutes
Cook Time 1 minute
Additional Time 1 hour
Total Time 1 hour 16 minutes
Tatsoi Salad with Sesame-Ginger Dressing is a fun way to use the interesting Asian greens called Tatsoi, and this chilled salad is refreshing on a hot day.
Ingredients
Ingredients:
12 ounces Tatsoi leaves
1 T sesame seeds, for garnish (see notes)
Dressing Ingredients:
2 T soy sauce (see notes)
1 T rice vinegar (not seasoned)
1 tsp. grated ginger root
1 tsp. Golden Monkfruit Sweetener (see notes)
1/2 tsp. Sriracha Sauce (see notes)
fresh ground black pepper to taste
Instructions
Bring a large pot of salted water to a boil, and fill another bowl with cold water and a handful of ice cubes.
Wash Tatsoi leaves and cut into thick strips. I used a salad spinner (affiliate link) for this.
Dump Tatsoi into boiling water, time for exactly one minutes, then drain immediately into colander and dump into bowl with ice water. (I used the salad spinner again for the ice water.)
While Tatsoi is cooling in ice water, get a plastic bowl with a tight fitting lid that's large enough to hold all the Tatsoi.
Mix dressing ingredients in this bowl, then drain Tatsoi well and add to dressing.
Chill in the refrigerator an hour or more, turning bowl over a few times so Tatsoi remains coated with the dressing.
To serve, use tongs or a slotted spoon to remove Tatsoi from bowl and arrange on serving plates.
Toast sesame seeds for 1-2 minutes in a dry pan and sprinkle over salad. (If using a mixture, the black seeds burn more quickly than the white ones.)
Serve immediately.
I ate half of this and kept the other half in the fridge for a day. It was still okay the second day, but much better freshly made.
Notes
I used a mix of black and white sesame seeds, but you can use whichever type you have. Use Gluten-Free Soy Sauce (affiliate link) if needed. I love Golden Monkfruit Sweetener (affiliate link) but use any sweetener you prefer. I used Sriracha Sauce (affiliate link) but any type of spicy Asian sauce would work.
Recipe adapted from Big Oven, who got it from the New York Times.
Nutrition Information:
Yield:
2
Serving Size:
1
Amount Per Serving:
Calories: 38
Total Fat: 2g
Saturated Fat: 0g
Trans Fat: 0g
Unsaturated Fat: 2g
Cholesterol: 0mg
Sodium: 914mg
Carbohydrates: 3g
Fiber: 1g
Sugar: 1g
Protein: 2g
Nutrition information is automatically calculated by the Recipe Plug-In I am using. I am not a nutritionist and cannot guarantee 100% accuracy, since many variables affect those calculations.
Low-Carb Diet / Low-Glycemic Diet / South Beach Diet Suggestions:
Chilled Wilted Tatsoi Salad with Sesame-Ginger Dressing is a great dish for low-carb diet plans, and for any phase of the original South Beach Diet.
Find More Recipes Like This One:
Use Salad Recipes for more Salads like this one. Use the Recipes by Diet Type photo index pages to find more recipes suitable for a specific eating plan. You might also like to Follow Kalyn's Kitchen on Pinterest to see all the good recipes I'm sharing there.
Historical Notes for this Recipe:
This recipe was first posted for an event called Weekend Herb Blogging which request focusing on herbs or unusual plant ingredients, hosted by Simona from Briciole.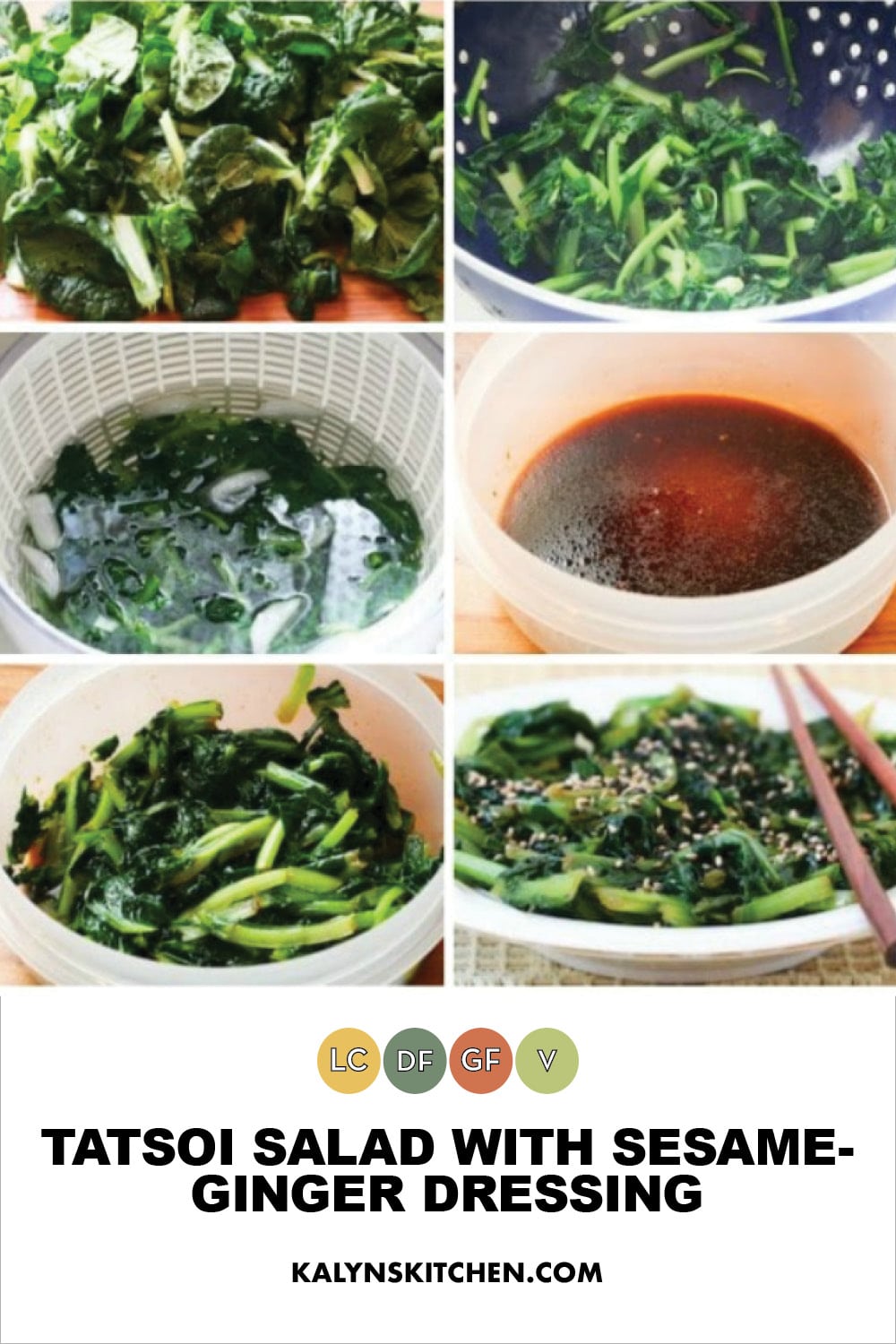 We are a participant in the Amazon Services LLC Associates Program, an affiliate advertising program designed to provide a means for us to earn fees by linking to Amazon.com and affiliated sites. As an Amazon Associate, I earn from qualifying purchases.