Hearts of Palm Salad with Avocado and Radicchio
Hearts of Palm Salad with Avocado and Radicchio would be perfect for a special meal, and hearts of palm are delicious any time of year!
PIN Hearts of Palm Salad with Avocado and Radicchio to try it later!
During November I've been spotlighting vegetables and salads that I'd love for Thanksgiving. And personally I'd love this Hearts of Palm Salad with Avocado and Radicchio on the Thanksgiving table to balance out the other higher-carb foods. And I absolutely LOVE hearts of palm, a tasty and low-carb delicacy that I learned to like years ago when I worked at Le Parisien, a French Restaurant in Salt Lake that's no longer in business.
This Hearts of Palm Salad with Avocado and Radicchio includes avocado, radicchio, butter lettuce, and pine nuts, all things that aren't really everyday ingredients which may be why the inspiring recipe called it Rich Salad! But when you need something for a special dinner party, this is a delicious salad that's sure to impress.
What ingredients do you need?
Boston lettuce or Butter Lettuce
radicchio,(optional but good)
Hearts of Palm (affiliate link)
avocado
pine nuts (or slivered almonds would work)
lemon zest (zest the lemon first before you squeeze the juice)
fresh-squeezed lemon juice
Worcestershire Sauce or Gluten-Free Worcestershire Sauce (affiliate link)
Coarse ground black pepper
salt
extra virgin olive oil (use your best olive oil for this)
What Are Hearts of Palm?
Hearts of Palm are are literally the heart of a palm tree, usually the Sabal Palmetto which is the State Tree of Florida. In the U.S. they used to be called swamp cabbage, and were considered food for the poor during the depression, but now they're a luxury item all over the world. For a while they were controversial because harvesting the hearts killed the tree, but that has changed with modern growing methods. Hearts of palm are not only delicious, but they are low in fat, calories, and carbs, and very high in fiber.
Who else loves hearts of palm?
Check out Low-Carb and Keto Salads with Hearts of Palm for more good ideas for using them.
What is Radicchio?
Radicchio is a purple salad green that's a member of the a leaf vegetable that belongs to the chicory family. Here are more ways to use radicchio.
Want more ideas for Thanksgiving?
Check out the My Top Ten Healthy Thanksgiving Recipes if you're still working on your menu!
How to make Hearts of Palm Salad with Avocado and Radicchio:
(Scroll down for complete recipe with nutritional information.)
Cut one cup of thickly-sliced hearts of palm. I broke the hearts of palm into rings (or pieces for the ones that didn't easily separate into rings.)
Chop up half a head of radicchio (or skip this if you want a more budget-friendly version.)
I'm crazy about butter lettuce, and I'd splurge on it for a salad like this but you could use green leaf lettuce or romaine if you prefer.
Tear the lettuce apart and wash in a salad spinner or by hand.
Whisk together lemon juice, lemon zest, Worcestershire sauce, salt and pepper, then whisk in the olive oil to make the dressing. (It's important to do this before you cut the avocado. Use Paleo Worcestershire Sauce if you're eating Paleo.)
Combine the hearts of palm and diced avocado and toss with about 2 T of the dressing.
Toss together the lettuce and radicchio and put a handful in each salad bowl, then top with the hearts of palm and avocado mixture.
Drizzle over a little more dressing and sprinkle with pine nuts if using. (I was out of pine nuts when I made this, but they are really good in the salad!)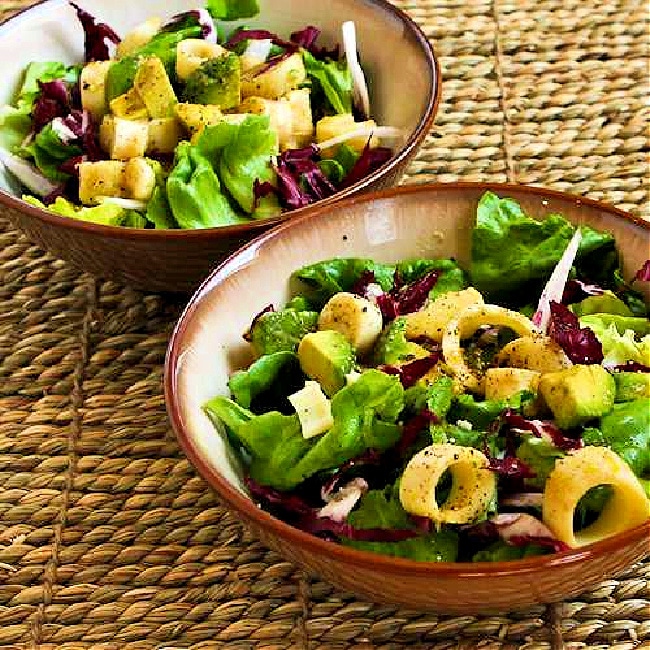 More Tasty Ideas with Hearts of Palm: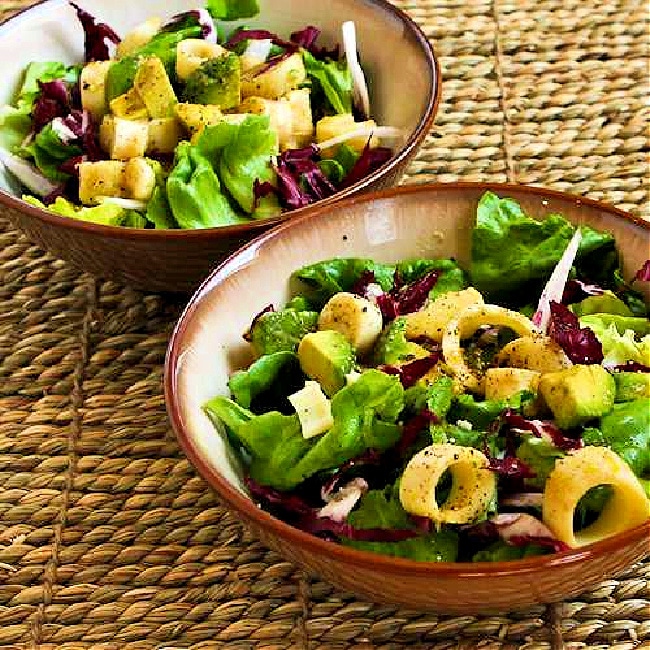 Yield: 4 small servings
Hearts of Palm Salad with Avocado and Radicchio
Prep Time 30 minutes
Total Time 30 minutes
Hearts of Palm Salad with Avocado and Radicchio would be perfect for a holiday dinner or a special meal.
Ingredients
Ingredients
1 small head Boston lettuce
1/2 head radicchio, thinly sliced (optional but good)
1 cup sliced hearts of palm
1 avocado, peeled and diced
2 T pine nuts
Dressing Ingredients
1/2 tsp. lemon zest (zest the lemon first before you squeeze the juice)
2 T fresh lemon juice
1 tsp. Worcestershire sauce
Coarse ground black pepper to taste
salt to taste
2 T extra virgin olive oil (use your best olive oil for this)
Instructions
Tear the lettuce into pieces and wash in salad spinner or by hand, then dry well.
Slice the radicchio into thin slices.
Toss the lettuce and radicchio together.
Stir together the lemon zest, lemon juice, Worcestershire sauce, black pepper, and salt, then whisk in the olive oil to make the dressing. (Make the dressing before you cut the avocado so it doesn't turn brown.)
Slice hearts of palm and put into bowl, separating into rings or breaking into pieces.
Peel and dice the avocado and add to hearts of palm; pour over 2 T dressing and toss.
Arrange the lettuce (and radicchio if using) on individual plates or in salad bowls.
Layer the avocado/heart of palm mixture over lettuce.
Drizzle a little more dressing on each salad, sprinkle with pine nuts and serve.
Notes
You can make this salad more budget friendly by substituting a less-expensive lettuce or using other nuts instead of pine nuts and it will still be delicious!
Recipe adapted from The Silver Spoon (affiliate link).
Nutrition Information:
Yield:
4
Serving Size:
1
Amount Per Serving:
Calories: 189
Total Fat: 17g
Saturated Fat: 2g
Trans Fat: 0g
Unsaturated Fat: 14g
Cholesterol: 0mg
Sodium: 322mg
Carbohydrates: 9g
Fiber: 5g
Sugar: 1g
Protein: 3g
Nutrition information is automatically calculated by the Recipe Plug-In I am using. I am not a nutritionist and cannot guarantee 100% accuracy, since many variables affect those calculations.
Low-Carb Diet / Low-Glycemic Diet / South Beach Diet Suggestions:
This salad is a perfect low-carb salad, and it's also suitable for all phases of the original South Beach Diet. If you skip the Worcester Sauce or use an approved version the salad could easily be Whole 30 or Paleo.
Find More Recipes Like This One:
Use Salad Recipes to find more special salads like this one. Use the Diet Type Index to find more recipes suitable for a specific eating plan. You might also like to Follow Kalyn's Kitchen on Pinterest to see all the good recipes I'm sharing there.
Historical Notes for this Recipe:
This salad was first posted in 2006! It was updated with better photos in 2013 and updated with more information in 2021.
We are a participant in the Amazon Services LLC Associates Program, an affiliate advertising program designed to provide a means for us to earn fees by linking to Amazon.com and affiliated sites. As an Amazon Associate, I earn from qualifying purchases.