Mexican Red Lentil Stew (Video)
Mexican Red Lentil Stew is an easy recipe that's always a hit, and this delicious inexpensive dish is vegan and gluten-free!
PIN this tasty Mexican Red Lentil Stew to make it later!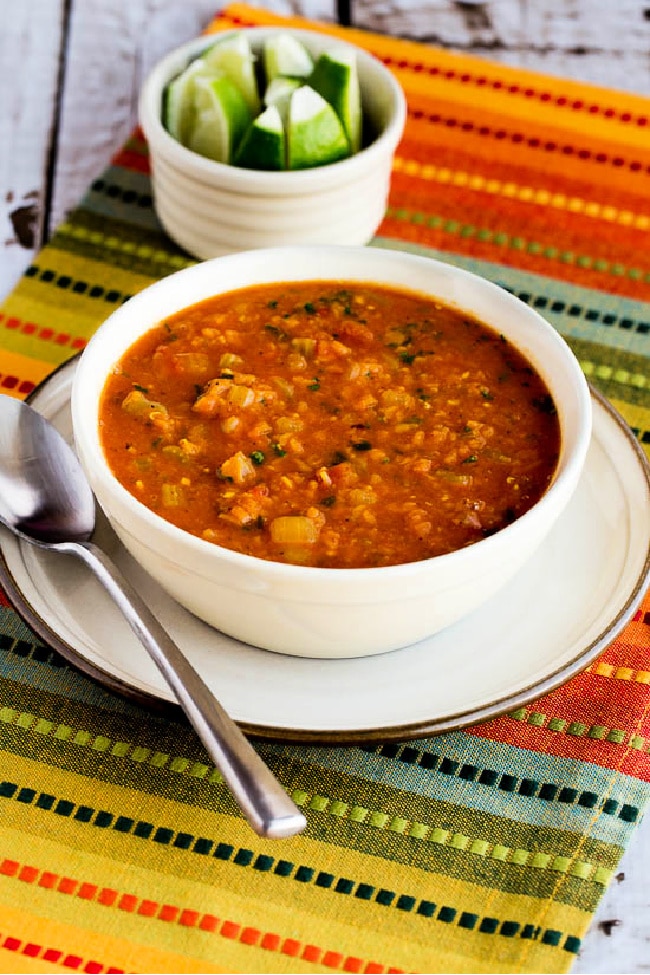 This amazing Mexican Red Lentil Stew is another soup I made for my annual soup party this January, and even though I didn't mind the original photos for this dish, I couldn't resist updating them with better ones when I had the chance. This soup was a huge hit at the party, and when I looked at the notes for the original post, I noticed that I made it for a soup party when I first posted the recipe, so this has been a favorite!
The soup was adapted from this recipe from Budget Bytes, who had adapted it from Andrea Meyers, so you can tell the recipe has had a lot of fans! I love red lentils in soup because they cook quickly and dissolve into the soup more than regular lentils, and in this soup the lentils are seasoned with turmeric, ground cumin (affiliate link), and chile powder. Those spices plus the combination of lime and cilantro makes this soup a winner for me. I eat mine with a dollop of sour cream, but if you skip the sour cream this tasty soup is vegan, and it can even be phase one for the South Beach Diet if you have a small serving.
What ingredients do you need for this recipe?
How to Make Mexican Red Lentil Stew:
(Scroll down for complete printable recipe plus nutritional information.)
The recipe starts by bringing the lentils and water to a boil, then letting the lentils sit covered for 30 minutes.
While the lentils are pre-cooking in the hot water, saute chopped onions and celery in olive oil for a few minutes, then add Minced Garlic (affiliate link) and cook a bit more. Add ground Turmeric (affiliate link), cumin (affiliate link), and ground Ancho chile (affiliate link) and cook for 1-2 minutes more.
Then add the vegetable broth, canned tomatoes, and hot sauce, and let simmer.
When lentils have cooked in the hot water for 30 minutes, add the softened lentils and water to the soup pot and cook about 15-30 minutes more, until lentils are soft.
At this point the soup isn't too much in the looks department, but your kitchen will be smelling wonderful.
Taste and see if you want to add salt, pepper, or any more hot sauce.
While soup cooks, chop up a good-sized bunch of cilantro. (I used a whole cup of chopped cilantro, but you could get by with less.)
When lentils are soft and starting to dissolve into the soup, add the lime juice and cilantro and cook about 5 minutes more.
Serve the soup with more limes to squeeze if desired. This is good with a dollop of sour cream or vegan sour cream substitute.
More Soup Ideas with Lentils:
Photo Index for Beans and Legumes ~ Slow Cooker or Pressure Cooker
Spicy Red Lentil and Chickpea Stew ~ Kalyn's Kitchen
Indian-Spiced Slow Cooker Red Lentil Soup ~ Kalyn's Kitchen
Vegan Red Lentil Soup with Lemon and Cumin ~ Cafe Johnsonia
Yield: 6 servings
Mexican Red Lentil Stew
Prep Time 50 minutes
Cook Time 30 minutes
Total Time 1 hour 20 minutes
This Mexican Red Lentil Stew was a hit at my annual soup party this year, and this vegan stew is delicious and inexpensive.
Ingredients
1 cup dry red lentils
2 cups water
1 T olive oil
1 onion, finely chopped
1 cup finely chopped celery
1 T minced garlic (see notes)
1/4 tsp. ground turmeric
1 tsp. ground cumin
1 tsp. chile powder
1 14.5 oz. can roasted tomatoes (see notes)
2 cups vegetable broth
1 tsp. green Tabasco sauce (see notes)
salt and fresh ground black pepper to taste
1/4 cup fresh squeezed lime juice (see notes)
1 cup chopped fresh cilantro (see notes)
Instructions
Put red lentils in a small pot, rinse and drain if needed, then add 2 cups water. Bring to a boil, turn off heat and cover. Let lentils sit in the hot water 30 minutes.
While lentils are cooking in the water, finely chop onions and celery and mince garlic (or you can use minced garlic from a jar like I did.)
Heat olive oil in heavy soup pot, add onion and celery and saute for 3-4 minutes, just long enough that vegetables are starting to soften.
Add garlic and cook a few minutes more.
Add ground turmeric, ground cumin, and chile powder, stir, and cook 1-2 minutes more.
Add diced roasted tomatoes, vegetable broth, and hot sauce. I used Green Tabasco Sauce (affiliate link) for this recipe.
Add lentils after they have soaked for 30 minutes, then let soup simmer for 15-30 minutes (or until lentils are as soft as you'd like them. I simmered it about 25 minutes.)
While soup cooks, wash, dry and finely chop 1/2 – 1 cup fresh cilantro and squeeze limes to get 1/4 cup fresh lime juice.
When the lentils are softened as much as you'd like, stir in chopped cilantro and lime juice and cook 5 minutes more.
Serve hot, with additional cut limes to squeeze into the soup if desired. You can top the soup with sour cream or vegan substitute if desired.
Notes
You can get by with less garlic, but I like a lot of garlic in this. I like petite dice tomatoes for soup.
Use any hot sauce of your choice if you don't have Green Tabasco Sauce (affiliate link). You may want less if you use a different brand.
Use the juice of 2-3 limes, or less if you're not that into lime. You can use less cilantro, or use thinly-sliced green onion if you're not a cilantro fan.
Recipe adapted from Mexican Lentil Stew at Budget Bytes and Spicy Red Lentil and Tomato Soup at Andrea Meyers.
Nutrition Information:
Yield:
6
Serving Size:
1
Amount Per Serving:
Calories: 162
Total Fat: 3g
Saturated Fat: 0g
Unsaturated Fat: 3g
Cholesterol: 0mg
Sodium: 372mg
Carbohydrates: 26g
Fiber: 5g
Sugar: 3g
Protein: 9g
Nutrition information is automatically calculated by the Recipe Plug-In I am using. I am not a nutritionist and cannot guarantee 100% accuracy, since many variables affect those calculations.
Low-Carb Diet / Low-Glycemic Diet / South Beach Diet Suggestions:
This recipe is a great main dish for any phase of the South Beach Diet, although dried beans and lentils are limited to a small serving for Phase One. It's also suitable for other low-glycemic diets, but probably too high in carbs for a traditional low-carb diet plan.
Find More Recipes Like This One:
Use Stew Recipes to find more recipes like this one. Use the Recipes by Diet Type photo index pages to find more recipes suitable for a specific eating plan. You might also like to Follow Kalyn's Kitchen on Pinterest to see all the good recipes I'm sharing there.
We are a participant in the Amazon Services LLC Associates Program, an affiliate advertising program designed to provide a means for us to earn fees by linking to Amazon.com and affiliated sites. As an Amazon Associate, I earn from qualifying purchases.