How to Make Slow Roasted Tomatoes
This post will show you How to Make Slow Roasted Tomatoes, which I think are one of the best things about summer! And be sure to check out the recipe ideas using slow roasted tomatoes linked below!
PIN How to Make Slow Roasted Tomatoes to try it later!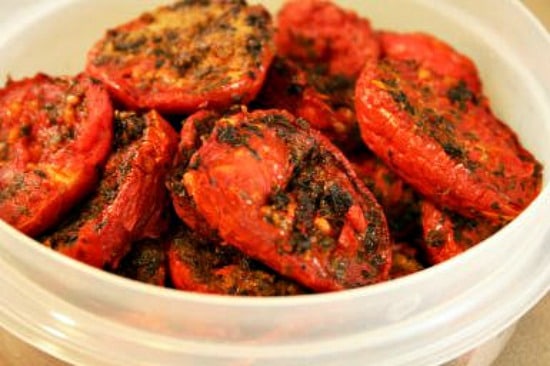 If you have a garden, or even access to a farmer's market where you can get good fresh tomatoes, and you haven't tried making slow roasted tomatoes, you've missed an absolute treat. I first learned about slow roasted tomatoes last year when I was just starting to read food blogs.
Suddenly it seemed like everyone was making roasted tomatoes, from Cookiecrumb, to Stephen, to Alanna, who tried lots of variations and posted the master recipe for slow roasted tomatoes which I (mostly) followed here. For years I had made tomato sauce from the tomatoes in my garden and frozen it to use all winter in soups, stews, and pasta sauce. But I hadn't ever made roasted tomatoes.
Here's what I did to get those lovely looking roasted tomatoes you see in the photo above, which I'm going to be turning into pasta salad with roasted tomatoes on Thursday, when some very special guests are coming for dinner. I usually make several trays of these at a time, because they do require a long time in the oven, but I'm giving the base recipe that uses 20 tomatoes, enjoy! And here's a nice tribute to the slow roasted tomatoes. Use Tomato Recipes to find more recipes like this one.
Starting the process for Slow Roasted Tomatoes:
(Scroll down for complete recipe with nutritional information. Warning: these concentrated tomatoes are quite high in carbs. But luckily it doesn't take many to add intense tomato flavor.)
If possible, use a Roma type tomato for best flavor. You need about 20 tomatoes to fill a cookie sheet .
Cut the tomatoes in half, leaving the stem piece whole.
I tossed the tomatoes with olive oil, ground fennel, dried basil, dried oregano, and dried marjoram.
I sprayed the cookie sheet with an olive oil mister, then arranged the tomatoes cut-side down on the cookie sheet. I had pre-heated the oven to 250F. (see recipe notes.)
After 3 hours, the skins of the tomatoes are just starting to wrinkle up a bit, and the house is starting to smell tomatoey.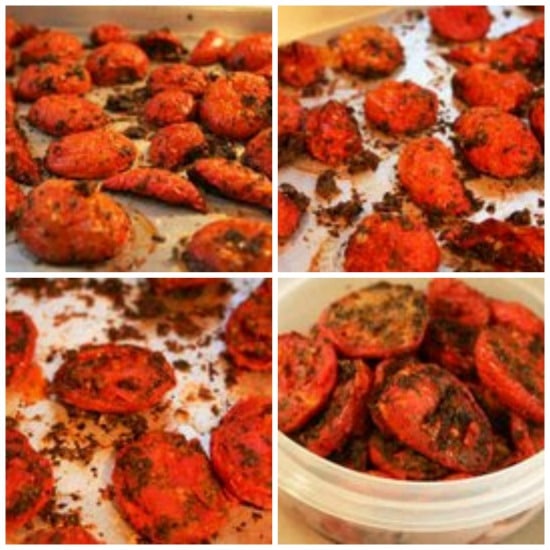 Finishing the Slow Roasted Tomatoes:
After six hours, the tomatoes are considerably more shriveled looking.
After two more hours, the smaller tomatoes are done. I took the tomatoes out, let them cool a bit, and pinched off the skins. Most of the skins came off easily. Leave the water running to rinse your hands.
I turned the larger tomatoes over and put them back in the oven for one more hour.
This round bowl 5 1/2 inches across and 2 1/2 inches high is how many tomatoes I got (minus a few that I ate!) The tomatoes taste like a month of summer experienced in one day.
How to use the Slow Roasted Tomatoes:
You can use slow roasted tomatoes (in a smaller amount) in any soup or stew recipe where you'd use canned roasted tomatoes.
The roasted tomatoes would be delicious chopped, tossed with freshly cooked pasta with a bit of olive oil, some fresh basil, and some freshly grated parmesan cheese.
Slow Roasted tomatoes would be an amazing ingredient to add to pasta salad or marinated vegetable salad.
The slow roasted tomatoes were great in Roasted Tomato Hummus.
Last year I didn't make nearly enough roasted tomatoes and ran out long before winter was over! And if you're going to use the oven this long to make roasted tomatoes I recommend making as many as you can fit in the oven!
Yield: 20 roasted tomatoes
Slow Roasted Tomatoes
Prep Time 20 minutes
Cook Time 9 hours
Total Time 9 hours 20 minutes
I think Slow Roasted Tomatoes are one of the best things about summer! The long cooking time at a low temperature concentrates the tomato flavor in a remarkable way.
Ingredients
20 Roma type tomatoes (same size tomatoes are best if your garden cooperates)
2 T olive oil, plus a little to oil the pan if you don't have a mister
1 T ground fennel
2 T dried basil
1 T dried oregano
1 T dried majoram (Any combination of herbs that appeals to you can be used.
Instructions
Preheat oven to 250 F (about 9 hours roasting time) or 200 F (10-11 hours roasting time.) I used the shorter time, but mainly because my antique oven will not stay at 200 F.
Wash tomatoes, dry, and cut each tomato in half lengthwise, keeping the stem spot in one piece (to grab when peeling the tomatoes later.)
Put tomatoes in a bowl and toss with olive oil and herbs.
Spray cookie sheet with olive oil mister (or brush very lightly with oil).
Arrange tomatoes cut-side down on cookie sheet.
After about 8 hours, start checking tomatoes. They're done when skins puff up and tomatoes are reduced in size by at least half. It's a personal preference as to how dried you like them, and I prefer to cook mine until they look fairly dense, but still a tiny bit juicy.
These tomatoes have an intense tomato flavor that you probably can't get any other way. They can be eaten hot or cold. They freeze wonderfully to use all winter in soups, stews, and pasta sauces.
Notes
I definitely made these Slow Roasted Tomatoes before people became more energy conscious, and you may not want to turn on the oven for such a long time these days. I haven't tried roasting the tomatoes at a higher temperature or in the Air Fryer for a shorter time, but I think it would be worth trying.
I am considering two tomatoes to be a serving for nutritional information for this recipe, because these Slow Roasted Tomatoes are mostly used in small amounts to flavor a recipe.
Nutrition Information:
Yield:
10
Serving Size:
1
Amount Per Serving:
Calories: 84
Total Fat: 5g
Saturated Fat: 1g
Trans Fat: 0g
Unsaturated Fat: 4g
Cholesterol: 0mg
Sodium: 14mg
Carbohydrates: 10g
Fiber: 3g
Sugar: 7g
Protein: 2g
Nutrition information is automatically calculated by the Recipe Plug-In I am using. I am not a nutritionist and cannot guarantee 100% accuracy, since many variables affect those calculations.
Low-Carb Diet / Low-Glycemic Diet / South Beach Diet Suggestions:
One medium tomato has about five carbs and quite a bit of that is sugar, so the carbs could add up if you're using these slow roasted tomatoes in a recipe. I would use them sparingly with other low-carb ingredients if you're following the South Beach Diet or another low-carb eating plan.
Find More Recipes Like This One:
Use Cooking for Gardeners to find more recipes like this one. Use the Diet Type photo index pages to find more recipes suitable for a specific eating plan. You might also like to follow Kalyn's Kitchen on Pinterest, on Facebook, on Instagram, on TikTok, or on YouTube to see all the good recipes I'm sharing there.
Historical Notes for this Recipe:
This recipe was post in 2006, in the early days of my blog when food bloggers would find and try recipes from other bloggers, and when passionate cooks didn't think twice about using the oven all day long to make wonderful-tasting slow roasted tomatoes! The recipe was last updated with more information in 2022.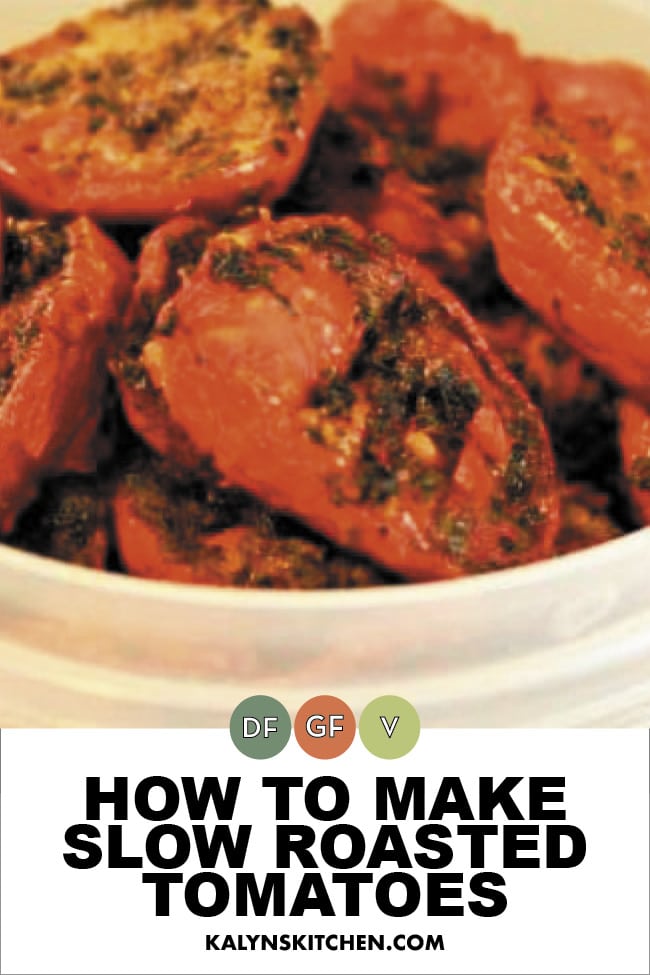 We are a participant in the Amazon Services LLC Associates Program, an affiliate advertising program designed to provide a means for us to earn fees by linking to Amazon.com and affiliated sites. As an Amazon Associate, I earn from qualifying purchases.