Tomato Chickpea Soup
This Tomato Chickpea Soup has spinach and basil (or basil pesto), and this is a delicious meatless soup that's also gluten-free. And there's a fair amount of spinach in this tasty soup, so for a moderate serving size it's only about 12 net carbs per serving.
PIN Tomato Chickpea Soup to try it later!
This Tomato Chickpea Soup is one of the soups I made during the holidays for my annual soup party, only when it came time to stir in the basil I found I didn't have any of that wonderful frozen basil that usually lasts me through the winter.
What I did have in my freezer was plenty of basil pesto, so I just stirred some of that into the soup instead. And the Tomato Chickpea Soup with pesto was such a hit that I'm going to add that option to the recipe along with the new photo you see above.
Before I give you the recipe I'm going to make a confession: this is the first time I've soaked dried chickpeas and cooked them. Not that there's anything shameful about using canned chickpeas, but WOW did the freshly cooked chickpeas taste wonderful in this soup. Even better, the liquid the chickpeas were cooked in became the base of the soup, which made it extra flavorful.
What ingredients do you need for this recipe?
(This is only a list of ingredients; please scroll down for complete printable recipe. Or if you use the JUMP TO RECIPE link at the top of the page, it will take you directly to the complete recipe.)
dried chickpeas or canned chickpeas
canned vegetable broth (affiliate link)
onion
garlic
Olive Oil (affiliate link)
tomatoes
spinach
basil (or basil pesto)
salt and black pepper
Can you make this soup with canned chickpeas?
I loved the flavor I got when I soaked dried chickpeas and used them in this soup, and that's also much less expensive. But if that's just not happening at your house you can use two 15 oz. cans of chickpeas. The cooking time will be shorter.
What if you don't have fresh basil?
I'd definitely use my frozen basil for this recipe if I had some of that, but you can also use purchased basil pesto if that's what you have.
How can you make the Tomato Chickpea Soup lower in carbs?
I was surprised to discover that a moderate-sized serving of this tasty soup only has about 12 net carbs per serving, but if you'd like a version that's even lower in carbs just use fewer chickpeas and double the amount of spinach.
More Soups with Chickpeas: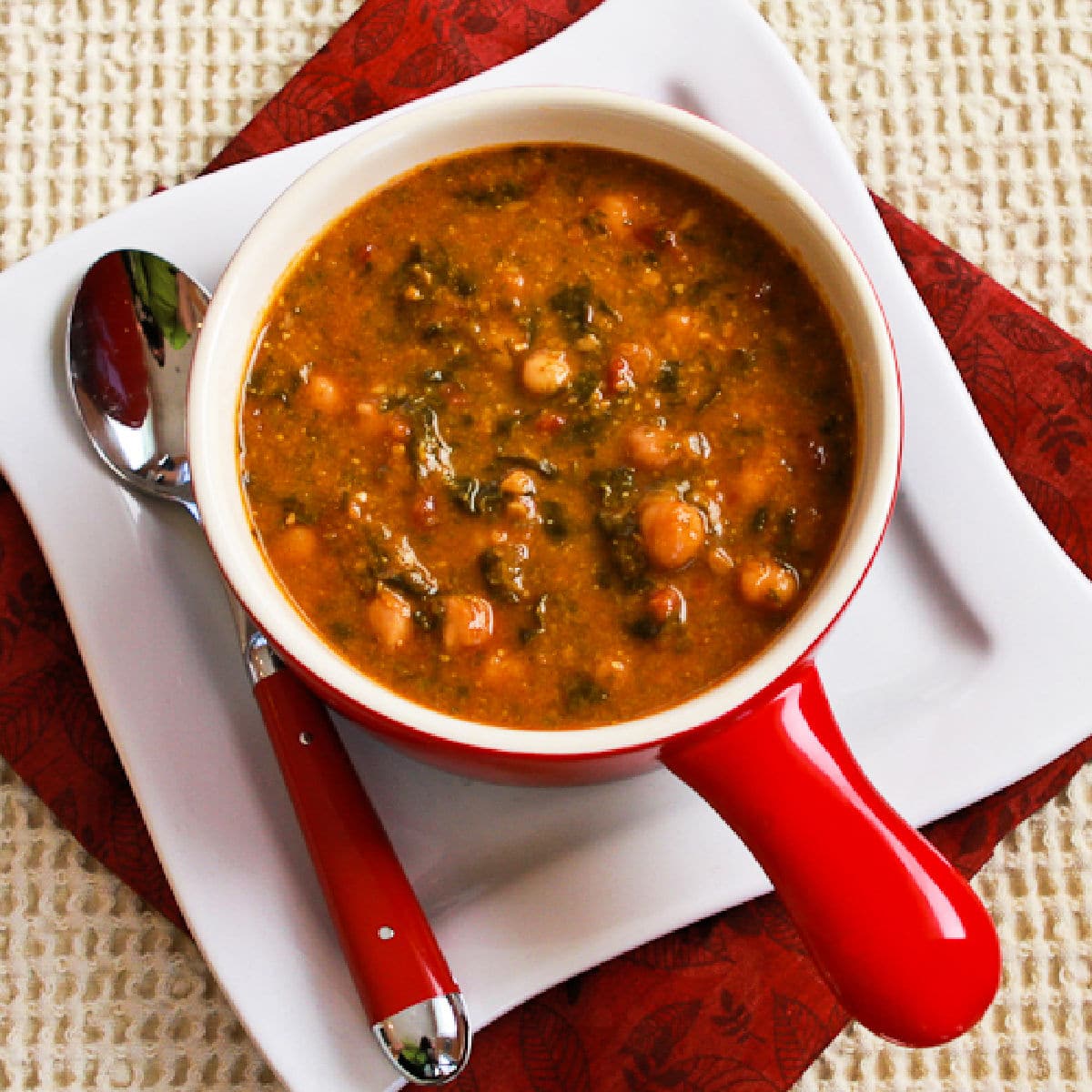 Weekend Food Prep:
This Tomato Chickpea Soup recipe has been added to a new category called Weekend Food Prep to help you find recipes you can prep or cook on the weekend and eat during the week!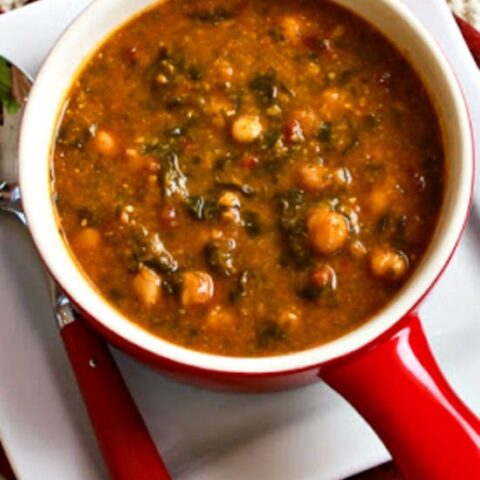 Yield: 6 servings
Tomato Chickpea Soup
Prep Time 30 minutes
Cook Time 2 hours
Total Time 2 hours 30 minutes
This Tomato Chickpea Soup is loaded with flavor from spinach and basil (or basil pesto) and this is a delicious meatless soup to enjoy for lunch or dinner.
Ingredients
1 cup dried chickpeas (garbanzo beans), soaked at least 8 hours or overnight in cold water (see notes)
6 cups vegetable broth (see notes)
1 yellow onion, diced
8 cloves garlic, diced very small
1 T olive oil (or less, depending on your pan)
one 14.5 oz can diced tomatoes with liquid
4 cups chopped baby spinach (measure before chopping)
4 T chopped fresh basil (see notes)
salt and fresh ground black pepper to taste
Instructions
Soak chickpeas overnight or for at least 8 hours in cold water.
Drain chickpeas and discard water, and pick out any loose skins that have come off.
Put chickpeas in heavy soup pot with vegetable stock and bring to a boil, then reduce heat and simmer until chickpeas are tender. This will depend on how fresh the dried chickpeas were, but for me it took about an hour.
Use a spoon or stock skimmer to remove any foam that appears.
When chickpeas are tender, heat olive oil in heavy frying pan, then saute onions about 5 minutes, until fairly soft.
Add garlic and cook 2-3 minutes more.
Add onions and garlic to soup pot with diced tomatoes.
Let soup simmer on low heat about 30 minutes.
Add chopped spinach to soup (adding a bit more water or stock if needed) and simmer 15-30 minutes more.
I used my beloved Immersion Blender (affiliate link) at this point to slightly break up the ingredients. If you don't have an immersion blender, you can put about 1/3 of the soup into a Food Processor (affiliate link) or blender and pulse a few times. You can skip this step completely too, if you'd like a chunkier soup.
Stir in chopped basil (I used my frozen basil, can also use basil pesto if you don't have any basil) and cook 5 minutes.
Season soup with salt and fresh ground black pepper to taste and serve hot.
Notes
You can use 4 cans vegetable broth for the soup. I used my frozen basil for the recipe but you can also use basil pesto if you don't have any basil.
You can make this soup with two 14 oz. cans of chickpeas if cooking the dried chickpeas is not going to work for you.
This is wonderful topped with freshly grated Parmesan cheese, although I know most Parmesan is not vegetarian!
Recipe created by Kalyn with inspiration from this Vegetarian Lentil Soup from The Sugar Solution Cookbook.
Nutrition Information:
Yield:
6
Serving Size:
1
Amount Per Serving:
Calories: 108
Total Fat: 3g
Saturated Fat: 0g
Trans Fat: 0g
Unsaturated Fat: 3g
Cholesterol: 0mg
Sodium: 868mg
Carbohydrates: 16g
Fiber: 4g
Sugar: 5g
Protein: 5g
Nutrition information is automatically calculated by the Recipe Plug-In I am using. I am not a nutritionist and cannot guarantee 100% accuracy, since many variables affect those calculations.
Low-Carb Diet / /Low-Glycemic Diet / South Beach Diet Suggestions:
Tomato Chickpea Soup is a bit high in carbs for low-carb diet plans, but you can make it lower in carbs by using less chickpeas and more of the other ingredients, especially spinach. Soup like this is a perfect main dish for any phase of the original South Beach Diet.
Find More Recipes Like This One:
Use Soup Recipes to find more recipes like this one. Use the Diet Type Index to find more recipes suitable for a specific eating plan. You might also like to follow Kalyn's Kitchen on Pinterest, on Facebook, on Instagram, on TikTok, or on YouTube to see all the good recipes I'm sharing there.
Historical Notes for this Recipe:
This soup recipe with tomatoes and chickpeas was posted in 2008, and I've made it many times for my annual soup party. It was updated with better photos in 2012 and was last updated with more information in 2023.
We are a participant in the Amazon Services LLC Associates Program, an affiliate advertising program designed to provide a means for us to earn fees by linking to Amazon.com and affiliated sites. As an Amazon Associate, I earn from qualifying purchases.