Bengali Red Dal Curry from Jake
I swooned over this Bengali Red Dal Curry when my nephew Jake brought some to my house for me to try!
Click here to PIN Bengali Red Dal Curry from Jake!
I've written on this blog more than once about my feelings of being intimidated about making authentic Indian food, and this fear of Indian cooking is still alive somewhere in my cooking psyche. But when my 20-something nephew Jake raved about a dal recipe he'd made, and then showed up at my house with this Bengali Red Dal Curry, I realized I need to get over it.
Jake is a good cook, an almost-vegetarian, and a fan of Indian food, and he found this recipe online and pretty much followed it exactly except for removing the dried red chiles at the end. The recipe was posted by Jonathan Kandell, but I don't know if he created the recipe or was just reposting it. Maybe he'll google his name sometime and find it here.
However the recipe came about, it was an incredibly flavorful blend of interesting tastes. If there are readers who are more knowledgeable about this type of food than I am, please chime in about the five spice mixture used here, something I'm learning about for the first time. And be sure to read the notes in the recipe for more about Panch Phoron spice mix and other notes from Jake!
What ingredients do you need?
red lentils
water
Serrano chiles (or Jalepeno chiles)
Ground Turmeric (affiliate link)
salt
vegetable oil (or use ghee if you have it)
onions
chopped tomatoes
grated fresh ginger or Minced Ginger (affiliate link) from a jar
Panch Phoron spice mix (affiliate link)
dried small red chilies
crushed garlic or Minced Garlic (affiliate link)
What is Dal?
In Indian cuisine, dal refers to dried, split pulses (including lentils, peas, and beans) that do not require soaking before cooking. The name Dal is also used for different types of soupy stews prepared from these types of ingredients.
What is Panch Phoron Spice Mix?
Panch Phoron is a blend of five whole spices that are used in the cooking of Bangaladesh or Northern India. You can buy Panch Phoron spice mix (affiliate link) at Amazon.com, or see more notes in the recipe about what spices are used and how to make it.
More Recipes with Curry Flavors:
Chicken Broccoli Curry Casserole with Cauliflower Rice
Yield: 6 servings
Bengali Red Dal Curry from Jake
Prep Time 10 minutes
Cook Time 40 minutes
Total Time 50 minutes
My nephew Jake brought this Bengali Red Dal Curry to my house for me to try, and it was so delicious!
Ingredients
1 1/2 C dried red lentils
3 1/2 C water
6 Serrano chiles (or 3 Jalepeno chiles) either whole or sliced in quarters
1/4 t turmeric, or more to taste
1 1/2 t salt
4 T + 2 T vegetable oil (or use ghee if you have some)
1 C minced onions
1 C chopped tomatoes
1 T grated fresh ginger (or minced ginger from a jar)
1 T Panch Phoron spice mix
4 dried small red chilies
1 T crushed garlic (or minced garlic from a jar)
Instructions
There are three basic steps to this recipe: cooking the lentils in water, making a tomato/onion/ginger mush, and making a spiced oil.
Rinse lentils well, add water, Serrano chilies, turmeric and salt.
Bring carefully to boil and cook over low to medium heat, partially covered, for 25 minutes.
Cover and cook another 10 minutes.
Adjust salt.
While lentils are cooking, cook onions in a frying pan in the oil until they are golden brown (approximately 10 minutes), stirring constantly.
Add tomatoes and ginger and continue cooking until the tomatoes decompose into a delicious and fragrant mush (approximately 8 minutes.)
Stir constantly so that tomato mixture doesn't stick.
Turn heat to low if necessary.
Scrape out this mush into the lentils and stir it in. Let lentils sit while you make the spiced oil.
Do a quick rinse of the frying pan, without soap, and dry thoroughly.
Add the remaining 2T oil and heat over medium high heat.
When oil is hot add Panch Phoron (affiliate link) mix and heat until the seeds begin to pop, about 15 seconds.
Add red chilies and fry for another 15 seconds, until they turn a little darker.
Turn off heat and add the crushed garlic and let sizzle for about 30 seconds.
Stir this mixture into the lentil/tomato mixture and serve with rice. Adjust salt.
Notes
Notes about the Key spice used in this recipe:This recipe cannot be authentic without Panch Phoron (affiliate link) spice Mix, also known as Five Spice – do not substitute Chinese Five Spice! Mixture consists of equal proportions of whole cumin, fenugreek, anise, mustard, and kalunji ("Indian black onion" seed). You will need to go to an Indian Store to get the last ingredient if you make your own. It is not related to the onion.
Note from Kalyn added 2-26-07 – Jonathan Kandell spelled the spice mixture Panch Phanon, but after reading about this Bengali Five Spice Mixture online, I have changed the spelling, since it seemed to be spelled with an *r* everywhere I saw it. Thanks to Sandeepa for the tip to look up Panch Phoron on Wikipedia. Apparently you can buy the Panch Phoron already mixed or you can mix your own.
Jake adds this note to the recipe: Dried small red chilies have a burnt taste and should be taken out of the final dish. This would be great served with rice, but when Jake brought it to my house, we just ate a bowl of it alone. I had eaten nearly half of mine with enthusiasm before I had the presence of mind to try to take a few photos so I could share it here.
Recipe posted online here by Jonathan Kandell, shared with Kalyn by her nephew Jake. Reposted with only slight editorial changes to the recipe by Kalyn.
Nutrition Information:
Yield:
6
Serving Size:
1
Amount Per Serving:
Calories: 127
Total Fat: 5g
Saturated Fat: 0g
Trans Fat: 0g
Unsaturated Fat: 4g
Cholesterol: 0mg
Sodium: 709mg
Carbohydrates: 17g
Fiber: 5g
Sugar: 4g
Protein: 6g
Nutrition information is automatically calculated by the Recipe Plug-In I am using. I am not a nutritionist and cannot guarantee 100% accuracy, since many variables affect those calculations.
Low-Carb Diet / Low-Glycemic Diet / South Beach Diet Suggestions:
Bengali Red Dal Curry is a good side dish for any low-glycemic diet, including any phase the original South Beach Diet, although limit the serving size for phase one. Lentils (Dal) are too high in carbs for a low-carb diet.
Find More Recipes Like This One:
Use Side Dishes to find more recipes like this one! Use the Diet Type Index to find recipes suitable for a specific eating plan. You might also like to follow Kalyn's Kitchen on Pinterest or on Facebook to see all the good recipes I'm sharing there.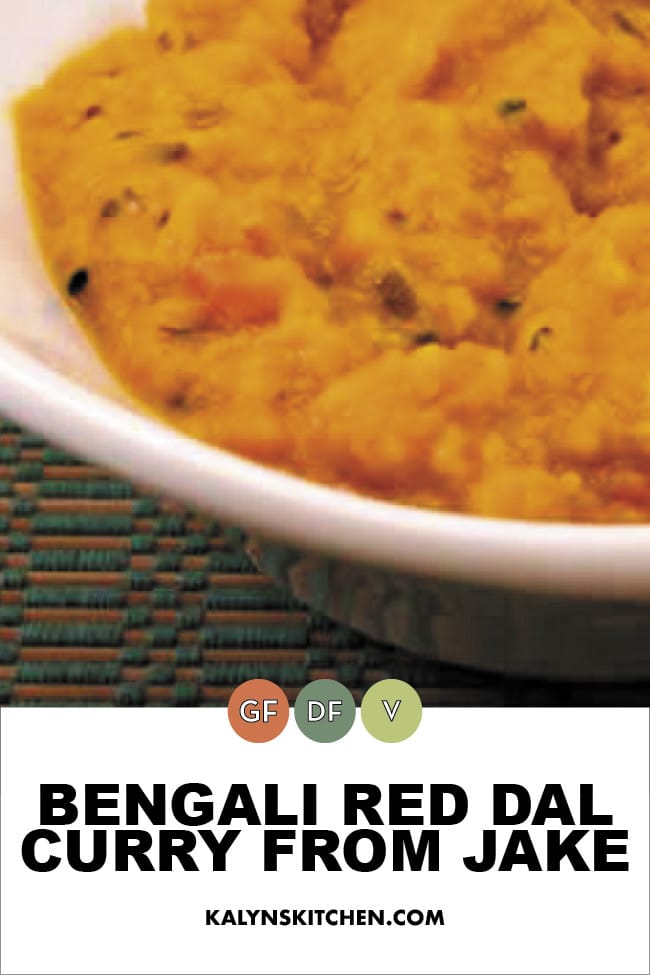 We are a participant in the Amazon Services LLC Associates Program, an affiliate advertising program designed to provide a means for us to earn fees by linking to Amazon.com and affiliated sites. As an Amazon Associate, I earn from qualifying purchases.