Tuna and White Bean Salad
This Tuna and White Bean Salad is a fun idea for using canned tuna, and this is a tasty lunch any time of year! Please don't be skeptical about the parsley, because it's the tuna and parsley combination that makes this so good.
PIN the tuna salad to try it later!
This Tuna and White Bean Salad is a favorite recipe of mine for a quick lunch salad, and if you've never thought of combining these ingredients, you might be surprised what a delicious lunch salad this is. In the early days of my blog I discovered Genova Tuna Packed in Olive Oil (affiliate link), which changed my way of thinking about canned tuna forever. That tuna plus my love of parsley and lemon inspired this delicious tuna salad.
I updated the photos for this recipe when I had plenty of fresh parsley from the garden, but parsley is an herb that's available and inexpensive all year from the grocery store, and I love that this salad uses ingredients I always have on hand.
What ingredients do you need for this recipe?
How can you make a lower-carb version of this salad?
If you'd like a lower carb option, try doubling the amount of tuna and adding a generous amount of chopped celery for a lower-carb version.
What other fresh herbs could you use?
I've never tried the salad with other fresh herbs, but I think both fresh basil and fresh cilantro would be delicious used instead of parsley in this salad.
What other salads can you make with tuna and beans?
I'd love this Tuna and White Bean Salad with some baby kale added to the mix. I also love this Cannellini Bean and Tuna Salad with Peperoncini and this Pinto Bean Salad with Tuna, Tomatoes, and Peperoncini.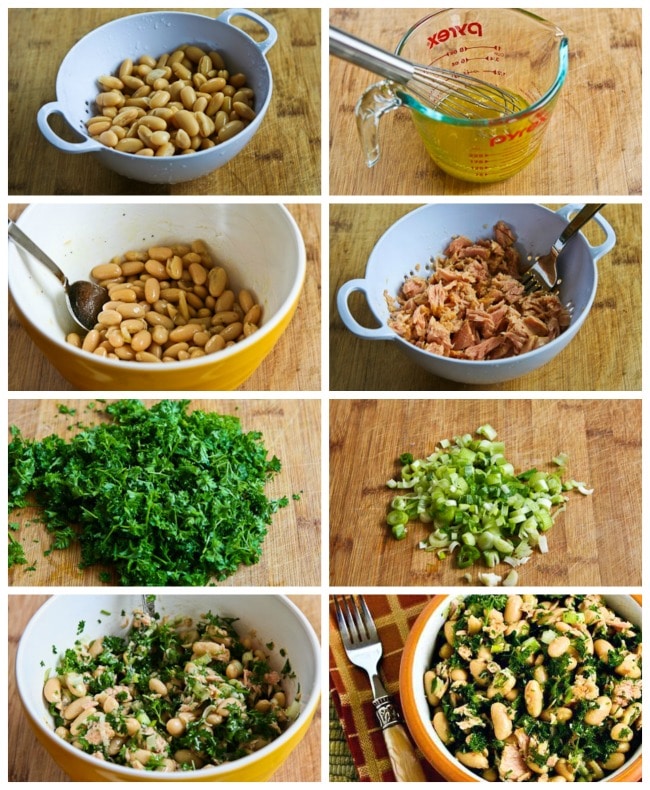 How to make this salad:
(Scroll down for complete recipe with nutritional information.)
I use Cannellini beans for the salad, but most any white beans will work. Rinse beans and let them drain well.
Whisk together olive oil, lemon juice, salt, and fresh ground black pepper to make the dressing.
Put the beans in a bowl and add the dressing. Let beans marinate while you drain the tuna and chop the parsley and onion.
I use the same mini-colander to drain the tuna.
I use a generous amount of parsley, probably a packed cup of chopped parsley, but if you're not that much of a parsley fan you can use less.
Chop up some sliced green onion or chopped red onion, whichever you prefer.
Gently stir the chopped parsley, sliced green onion, and drained tuna into the marinating beans.
Season to taste with more salt and fresh ground black pepper if desired and serve immediately.
More Tasty Salads with Parsley:
Cucumber Salad with Onion, Parsley, and Feta ~ Kalyn's Kitchen
Lebanese Lentil Salad ~ Kalyn's Kitchen
Quinoa Tabbouli Salad ~ Kalyn's Kitchen
Tabbouleh with Almonds ~ Kalyn's Kitchen
Yield: Makes 3 servings
Tuna and White Bean Salad
Prep Time 20 minutes
Total Time 20 minutes
If you like tuna, Tuna and White Bean Salad is a tasty lunch any time of year!
Ingredients
Ingredients:
one 15.5 oz. can white beans, rinsed and drained well
one 5 oz. can tuna in olive oil (see notes)
1 cup chopped curly parsley (more or less to taste)
1/4 cup sliced green onion (see notes)
Dressing Ingredients:
3 T good quality extra-virgin olive oil
2 T fresh lemon juice
black pepper and sea salt to taste
Instructions
Put beans in colander and rinse well with cold water, until no more foam appears. Let drain, then pat dry with paper towels.
In small bowl, whisk together olive oil, lemon juice, salt, and pepper.
Put the beans into a bowl big enough to hold all the salad ingredients and mix in dressing.
Let the beans marinate while you drain the tuna, chop the parsley, and dice or slice the onions.
Put the tuna into the same colander you used to drain the beans and let the oil drain off. (I wipe out the colander with a paper towel so the tuna doesn't get wet.)
Chop the parsley and thinly slice green onion, whichever you're using.
Add chopped parsley, red or green onion, and drained tuna to the marinating beans and gently combine. (Don't overstir, you want the tuna to stay chunky.)
I usually taste and see if I want a bit more lemon juice.
Season to taste with fresh ground black pepper and sea salt and serve.
This will stay good in the refrigerator for at least a day or two, but it probably won't last that long.
Notes
I love Genova Tuna Packed in Olive Oil (affiliate link) but any brand of olive oil packed tuna will work. You can use finely chopped red onion if you prefer.
This recipe created by Kalyn, inspired by many other similar salads seen in cookbooks and on the web.
Nutrition Information:
Yield:
3
Serving Size:
1
Amount Per Serving:
Calories: 718
Total Fat: 27g
Saturated Fat: 5g
Trans Fat: 0g
Unsaturated Fat: 21g
Cholesterol: 120mg
Sodium: 1818mg
Carbohydrates: 36g
Fiber: 9g
Sugar: 1g
Protein: 80g
Nutrition information is automatically calculated by the Recipe Plug-In I am using. I am not a nutritionist and cannot guarantee 100% accuracy, since many variables affect those calculations.
Low-Carb Diet / Low-Glycemic Diet / South Beach Diet Suggestions:
This salad with beans is too high in carbs for a low-carb diet, but see the tips above for making a lower-carb version. This salad would be fine for any phase of the original South Beach Diet, but limit portion size for phase one. (If you make it like I do with lots of parsley, you can probably have about a cup for phase one, since the salad is about half tuna and parsley.)
Find More Recipes Like This One:
Use Salad Recipes to find more tasty salads like this one. Use the Diet Type Index to find more recipes suitable for a specific eating plan. You might also like to Follow Kalyn's Kitchen on Pinterest to see all the good recipes I'm sharing there.
Historical Notes for this Recipe:
This recipe was first posted in 2007. The recipe was updated with new photos in 2011 and it was updated with more information in 2021.
We are a participant in the Amazon Services LLC Associates Program, an affiliate advertising program designed to provide a means for us to earn fees by linking to Amazon.com and affiliated sites. As an Amazon Associate, I earn from qualifying purchases.